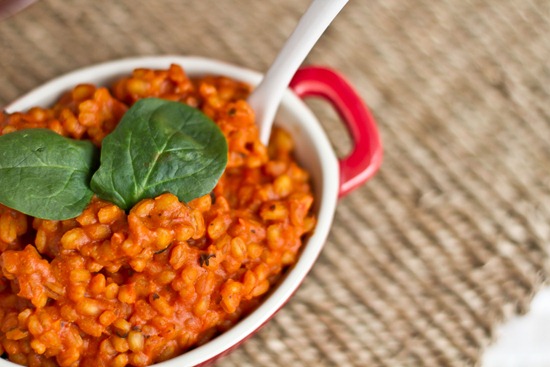 Well, I never did make it to Body Pump today after all! It turns out that my muscles do not appreciate the Booty Camp DVD after a long time off. I'm quite sore today and opted to give my muscles some time to repair themselves. The body builds muscles quicker when it has time to repair, right?
There is a Body Pump class tomorrow morning that I am hoping to go to to end 2010 with a bang!
In the meantime, I decided some healthy comfort food was in order. This dish blew me away and I think you will love it too! It is really easy to make and the prep work is very minimal. The recipe below makes enough for 4 side servings (~1/2 cup each), but you could easily double it if you wanted to serve it as a main for 4 people. Otherwise, it makes enough for 2 people for dinner.
Or you know…in a pinch, a food blogger who happens to be cooking at 7:30am and wants something for breakfast…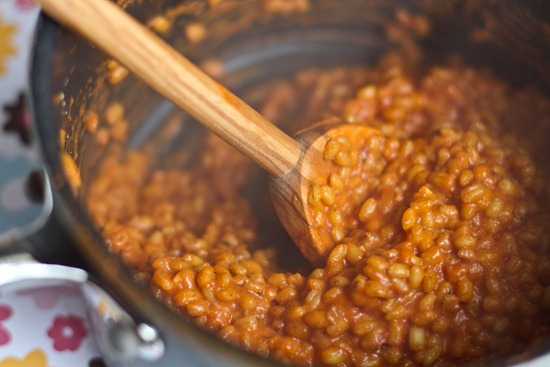 [print_this]
Easy Creamy Tomato Barley Risotto
Adapted from Vegan Yum Yum Cookbook.
Yield: ~2 cups
Ingredients:
1 cup dry pot barley
1 tbsp extra virgin olive oil
1/2 tsp dried oregano
1/2 tsp dried basil
1 large garlic clove, minced
1.5 cups canned pureed/diced tomatoes (15 oz can)
1 cup almond milk (or other milk)
1/2 cup water
1/4 cup nutritional yeast (provides the cheesy/creamy taste)
1/2 tbsp Miso, mixed with 1/2 tbsp water
1/4-1/2 tsp kosher salt, to taste
Directions: Rinse pot barley in a strainer and place into medium sized pot that has a lid. Add olive oil, basil, and oregano and stir well until barley is coated with oil. Turn heat to medium until barley begins to sizzle.
Once the barley sizzles, add in the minced garlic and reduce heat to low-medium. Cook for 1 minute and then add in the tomatoes, milk, water, nutritional yeast, miso, and salt. Stir well and bring to a gentle boil and then cover and reduce heat to low.
Cook, covered (with a bit of air escaping) for 30-35 minutes, stirring every 5 minutes or so, being careful not to burn the barley on the bottom of the pot.
The mixture should be creamy, but not soupy, and the barley will be very chewy and not mushy. Serve immediately. Serves 4 side dishes and makes 2 cups worth.
Note: I read that it can take 2 hours to cook, but after just 35 minutes, I deemed it ready to eat. If you don't want it as chewy you could always cook it longer.
[/print_this]
This recipe is very easy to make and requires just a few steps!
Mince your clove of garlic and gather your barley, oil, and herbs.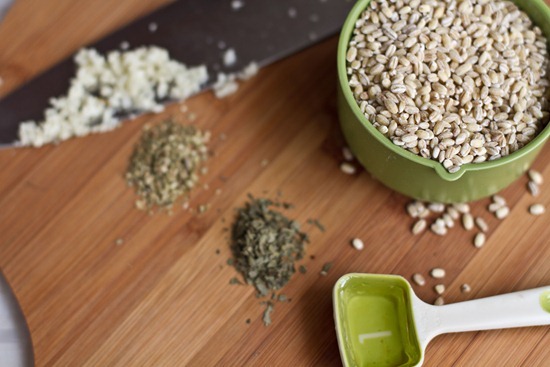 Looking good.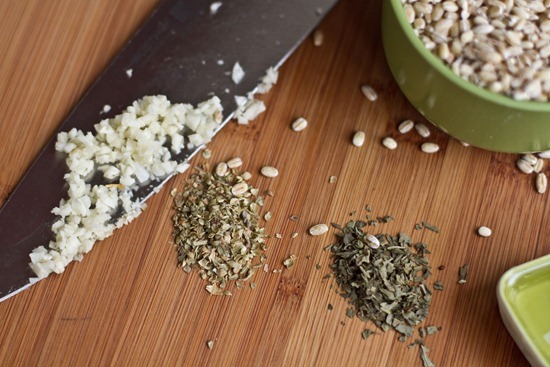 Add the above ingredients into a medium sized pot and heat over medium until the barley begins to sizzle. Now add in the minced garlic and reduce to low heat. Cook for 1 minute.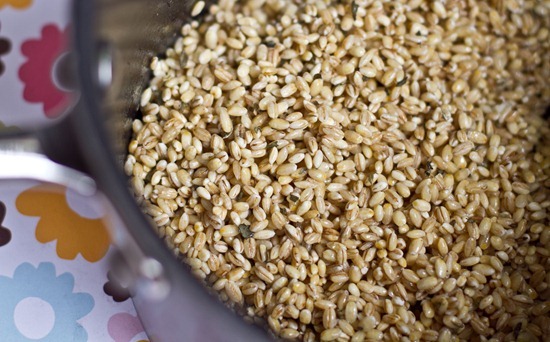 Gather your canned tomato, milk, water, nutritional yeast, salt, and miso…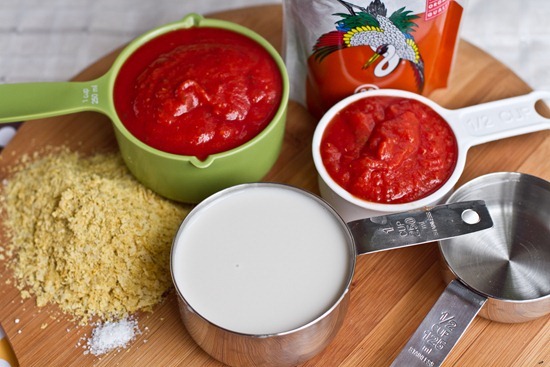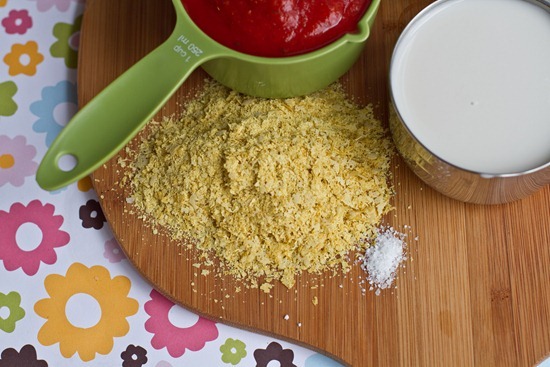 The original recipe called for 3 tablespoon of miso, but I thought that was way too much sodium for my liking. I needed only 1/2 a tablespoon and it tasted awesome. The great thing about cooking (as opposed to baking), is that you can always adjust dishes to taste because everyone will prefer different things.
You might be able to get away with leaving the Miso out (if you don't have any), but make sure to add in more salt to taste.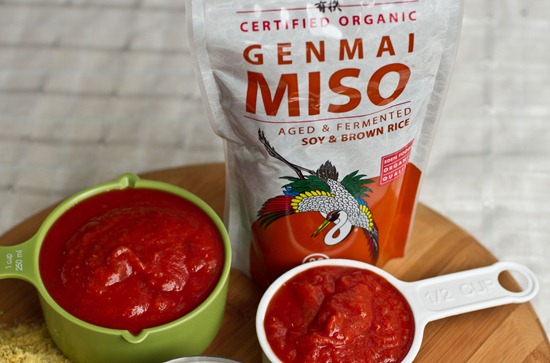 Add to pot and mix well. Bring to a boil and then cover and reduce to low.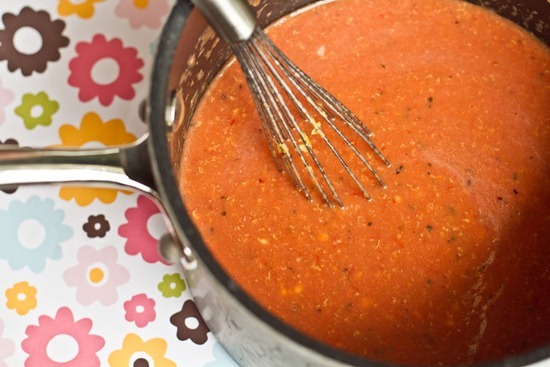 Cook on low, covered, for about 35 minutes, stirring every 5 minutes or so to ensure that the barley doesn't stick to the bottom of the pot (it will if you leave it, so be careful!).
The result is a healthy, creamy, chewy, and rich barley risotto that makes the perfect winter dish. No dairy required.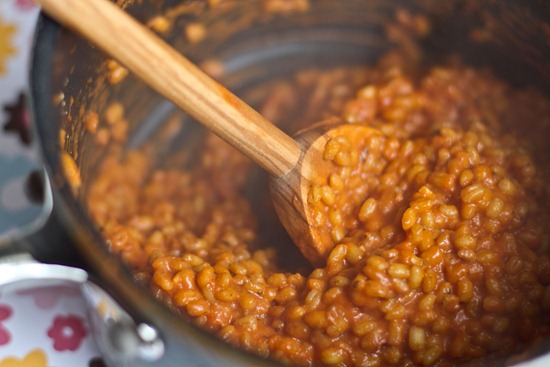 This would make such a great dish to serve on New Year's day if you are not into the whole black eyed peas thing.
I continue to be blown away by the delicious foods I can eat as a vegan!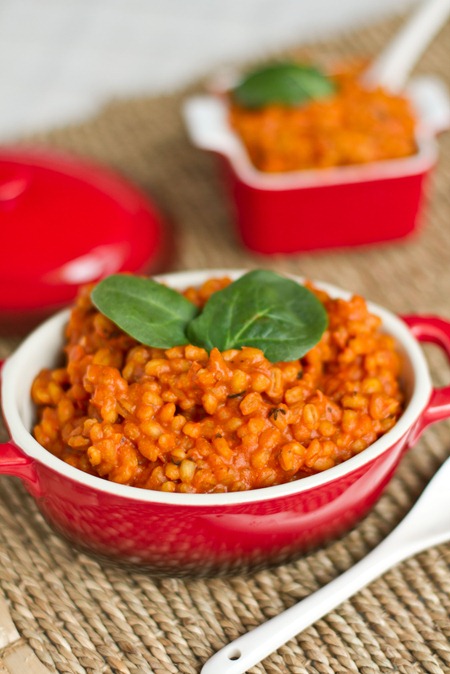 The original recipe calls for pearled barley, but I picked up pot barley instead because it is much more nutritious. Not having cooked with either before, I wasn't sure what to expect, but I absolutely loved the pot barley's chewy texture!
From what I understand, pearled barley kernels are polished to remove the double outer hull and the bran layer, which also removes many of the nutrients, sort of like white rice. It cooks much more quickly as a result.
Pot (Scotch) barley, on the other hand, is polished like pearl barley, but to a lesser extent. The kernels are less refined, retaining more of the bran layer and it takes longer to cook, but the outcome is a wonderful chewy texture similar to wheat berries! You can use either pearled or pot barley in this recipe.
It has a great nutty flavour too.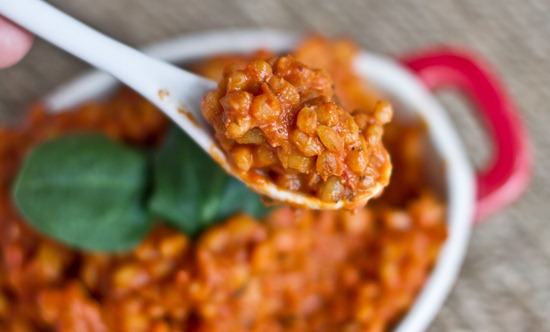 It was love at first creamy bite.