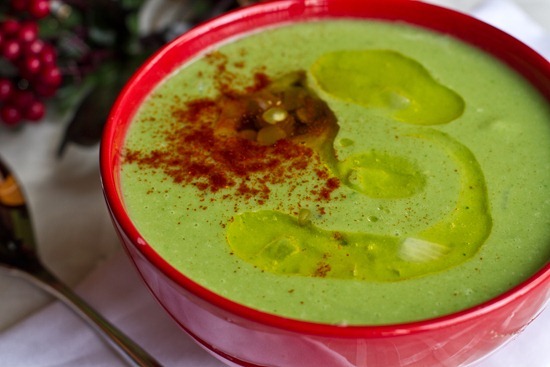 As a baker, I love how ripe with opportunity the holidays are.
Nothing is off limits, no sweet is too indulgent, and I get to satisfy my urge for vegan dessert experimentation.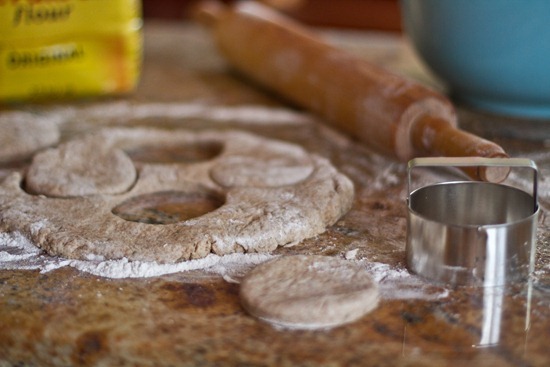 It is a fun time in my kitchen!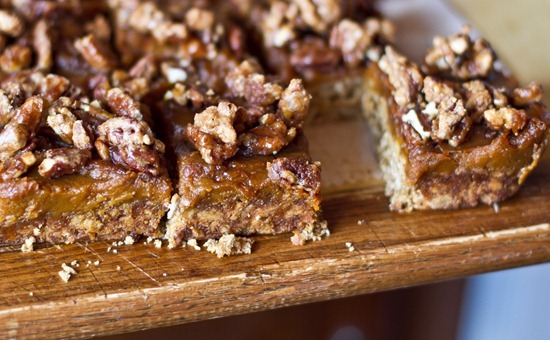 Flour is flying everywhere, sweetener is never far, and my passion for baking vegan desserts is as strong as ever.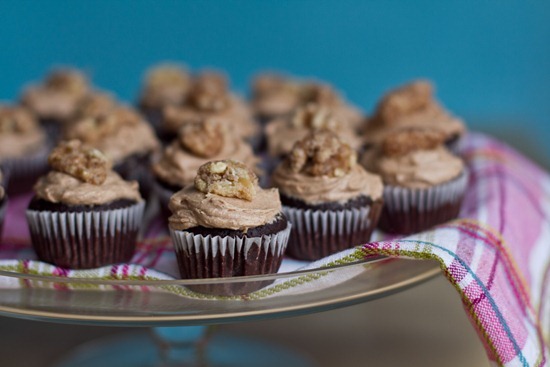 Despite my love for baking around the holidays, the fact that I try to lead a balanced and healthy lifestyle remains unchanged.
Desserts and cookies are certainly a part of my family's holiday tradition, but I also try to achieve a balance during this time of the year. I eat holiday desserts in moderation and the rest of the time I try to base my diet around whole grains, protein sources, vegetables, and fruit, just like I do any other time of the year. Now of course, this doesn't mean that I never over-indulge– because trust me, as a bakery owner and food blogger I do- but I try to get back on track and fill up on the proper fuel for most of the time.
Today's post is not about cookies, or pie, or cake, even though those surely do have their place in my balanced diet.
Today's post is about planning for our health.
I decided to make a healthy and festive holiday soup that I could bring when visiting family this weekend. This Green Monster soup is a fun take on the traditional Split Pea Soup and it is packed with protein that will keep you going for hours and hours! It never hurts to have a few healthy foods around in case we should become so sick of sweets and desserts that we just can't bring ourselves to eat one more holiday cookie.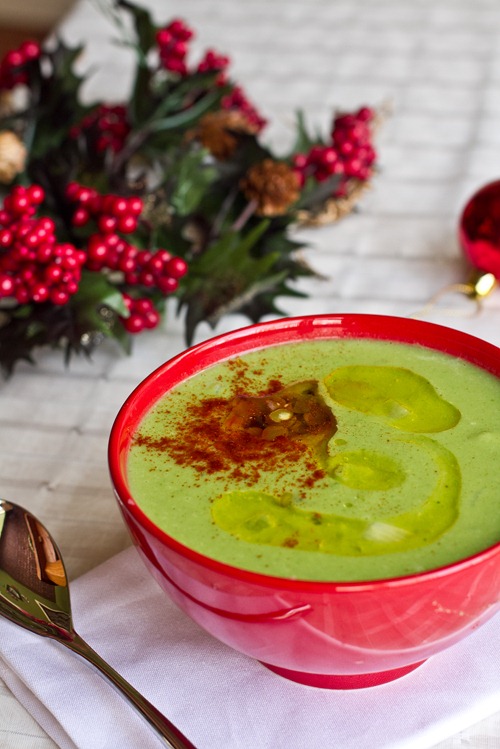 It has never happened to me personally, but I imagine that it could…
[print_this]
High Protein Green Monster Holiday Soup
This is a fun take on traditional split pea soup with a sneaky vegetable hiding inside. Packed with protein and fiber, this soup will keep you buzzing along for hours.
Adapted from 101 Cookbooks.
Yield: 10-11 cups
Ingredients:
1 tablespoon extra virgin olive oil + more for drizzling
1.5 large sweet onions, chopped
1/2-1 teaspoon kosher salt (use less if using vegetable bouillon)
2 cups uncooked split green peas (~450 grams dry), picked over and rinsed, makes 4 cups cooked approx
5 cups boiling water + 1 vegetable bouillon cube, dissolved
1 large handful of spinach, rinsed
1 tsp fresh lemon juice (reserve the zest)
Smoked paprika, to garnish (or use regular paprika if necessary)
Directions: In a large pot, add olive oil over medium heat. Stir in onions and salt and cook until the onions soften, just for a few minutes. Reduce heat if necessary so you don't burn the onions.
Add the uncooked split peas and boiled water + bouillon mixture. Bring to a boil, dial down the heat, and simmer for 20-25 minutes, or until the peas are cooked through (but do not overcook). The peas should still be slightly crunchy.
Ladle half of the soup into a bowl and set aside. Using a blender, puree the other half of the soup. Add a large handful of spinach and blend until smooth. The soup will be a gorgeous green colour.
Stir the reserved (chunky) soup back into the pureed mixture – you should have a soup that is nicely textured. If you need to thin the soup out with more stock do so a bit at a time. Stir in the lemon juice and taste. Adjust seasonings if necessary.
Scoop into bowls or cups, and serve each with a swirl of olive oil, a pinch of smoked paprika, and lemon zest. Makes about 10-11 cups.
[/print_this]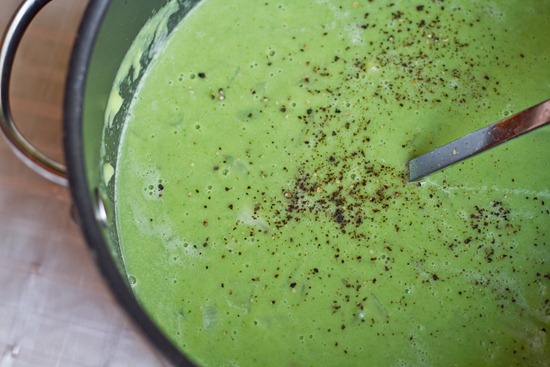 What I love about this split pea spinach soup is that it could not be any easier! The only chopping you have to do is for the onions.
Gather your rinsed and uncooked split peas, onions, olive oil, salt, lemon.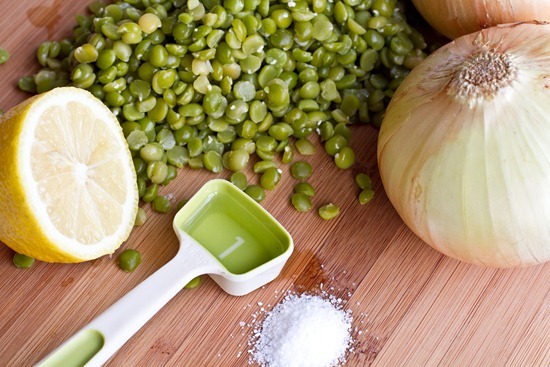 Grab a huge handful of spinach and set aside…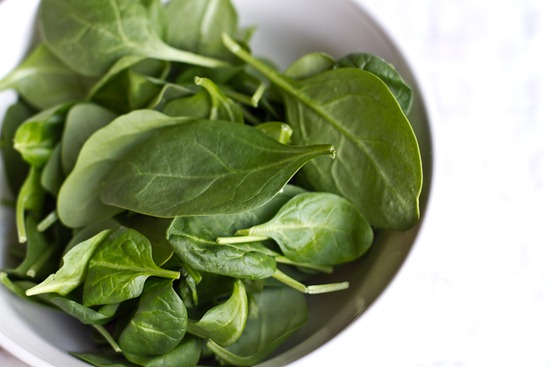 The spinach makes the soup go from blah yellow-green to a gorgeous bright green just like a Green Monster!
Add your olive oil to a pot over medium heat and sauté your onions for a few minutes.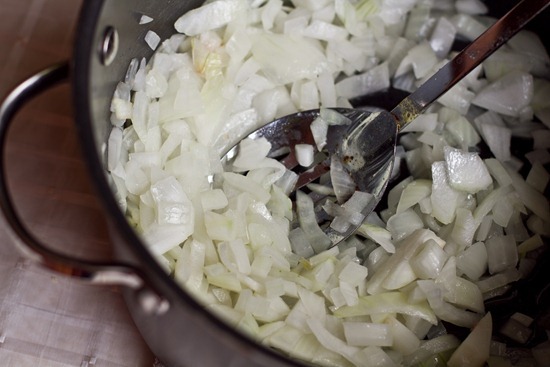 Now add split peas and your 5 cups of vegetable broth. I made my broth using 5 cups of boiling water and a bouillon cube. If you use a bouillon cube you will probably need less salt, so adjust to taste and always add the salt slowly.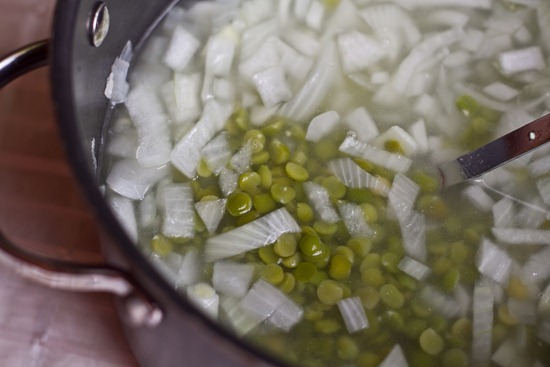 Cook for 20-25 minutes over medium heat. Now take 1/2-2/3 of the soup and place into the blender.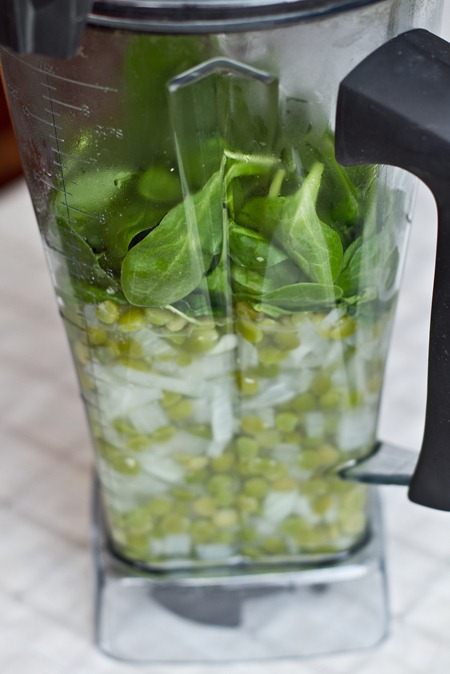 Add the spinach and blend until smooth.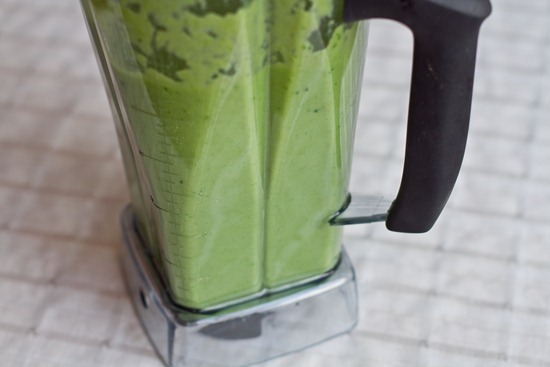 If I wasn't mistaken, I would think this was a Green Monster for breakfast!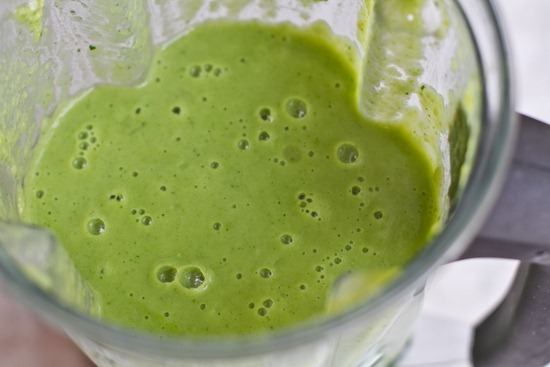 Add it back to the other reserved potion of the chunky, non-blended soup.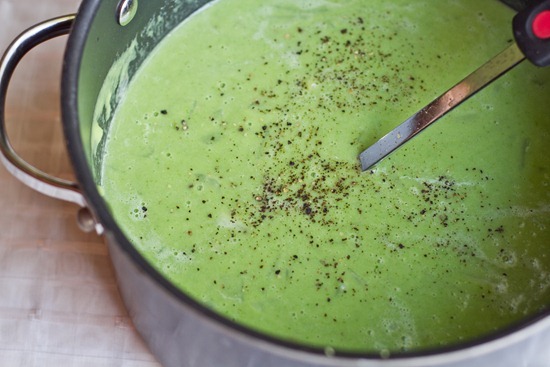 Stir well. Add lemon and adjust seasonings to taste. Alternatively, you can blend the entire soup until smooth. It just depends on what you prefer. I did not blend all of it because Eric has some texture issues with blended soups. He likes it nice and chunky!
Ladle into bowls and add a swirl of olive oil, a pinch of smoked paprika, and a dusting of lemon zest.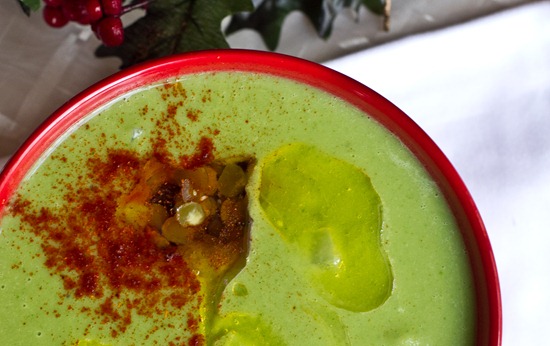 Perfecto!
This soup is LOADED with protein and fibre! Did you know that split peas have 23 grams of protein and 17 grams of fibre per 3/4 cup?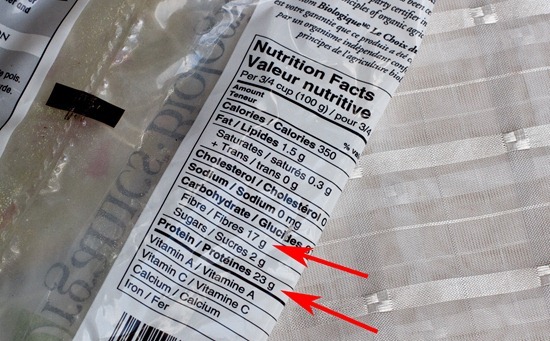 Amazing!!!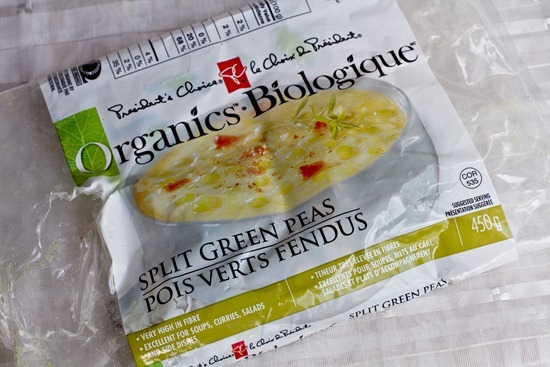 Eric loved this soup and he is not a soup fan by any means. He said the green colour scared him at first, but he actually enjoyed it! I was floored. He also said it tasted a bit like mashed potatoes and it would go nicely with ketchup.lol. He kills me, he really kills me.
If you have never had split pea soup before, prepare yourself because it is more of a bland tasting soup, but with the right seasonings it tastes lovely. I think the only thing I would change next time is that I would blend more of the mixture to create a thicker soup and leave less of it chunky. I am used to eating Amy's brand split pea soup and I love how it is very thick and 100% pureed. It is a personal preference though!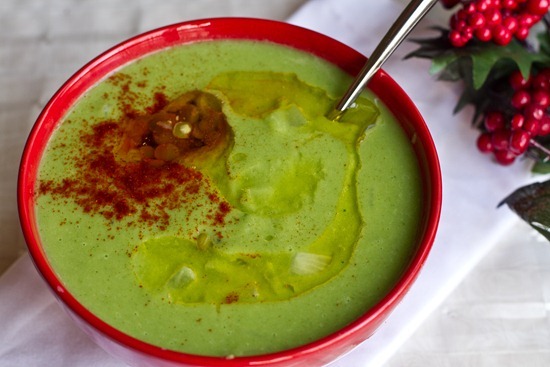 You can play around with it to suit your needs. This soup also goes lovely with fresh bread or crackers.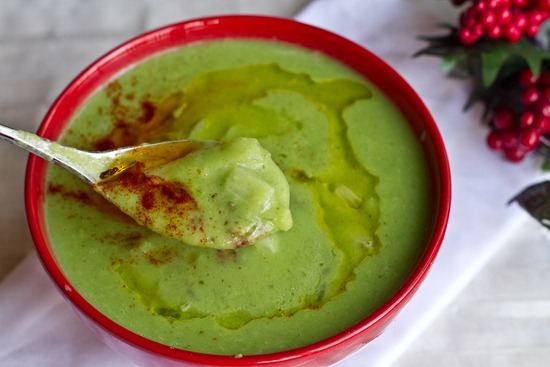 I will be bringing a big container of soup this weekend so I have a high-protein option whenever I need it for lunches.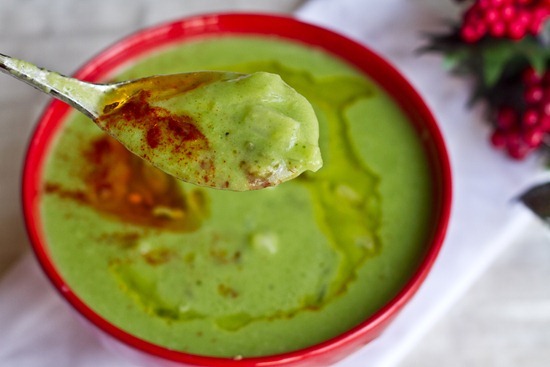 I've also got some Wheat Grass powder in my holster if things get ugly…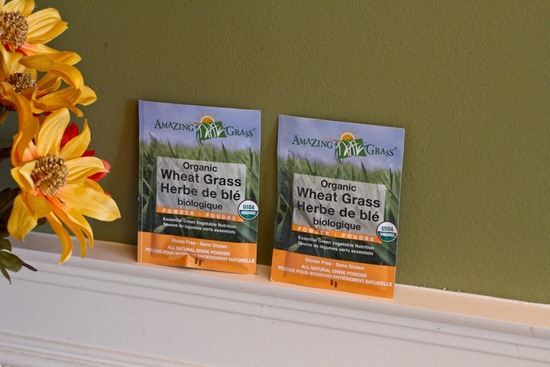 If you are looking for another easy + festive holiday soup, I highly recommend this Holiday Soup For The Soul. It's one of my favourites.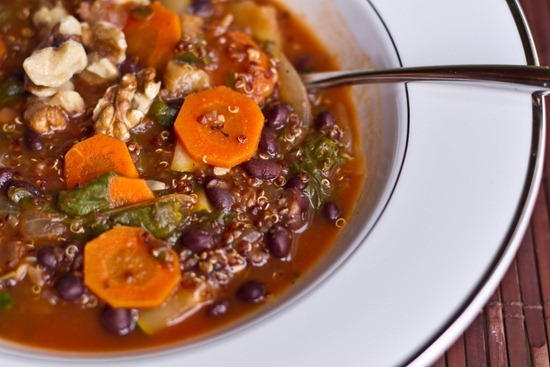 Now that the holidays are here, are you thinking about how you will achieve a balance? Do you plan in advance or make any healthy dishes?
Let's get social! Follow Angela on Instagram @ohsheglows, Facebook, Twitter, Pinterest, Snapchat, and Google+