Good morning!
Thank you all so much for your kind words about my final post in Project Food Blog!
You guys just blow me away with your positive spirit. I was reading over your comments and stories and found myself getting all misty eyed. I would like to blame it on my lack of sleep this past week, but really, I'm just a big sap… ;)
The final round of voting is now open and I would love your support! It also helps if you 'like' the post on Facebook and re-tweet it too. Thank you so much in advance and I greatly appreciate it!
This Friday we will find out the results at 3pm EST.
Pins and needles!
…and a few cookies for good measure…
An Edible Love Story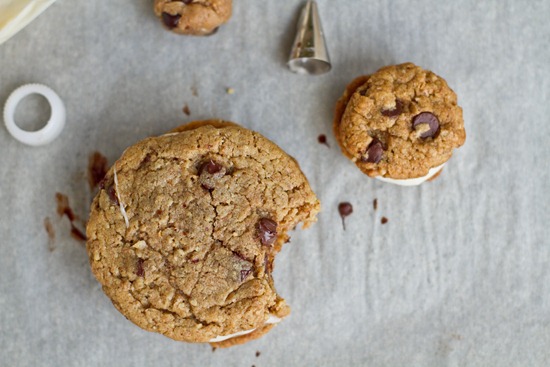 This is the tale of an edible love story.
This story is not for the faint of heart, but only for the most romantic cookie dreamers out there.
This is for those of us who revel in the thought of edible cookie dough and rich, soft chocolate chips… 
Chewy, soft interiors with a slightly crisp outer edge…
Cream cheese buttercream frosting…and a cookie dough patty.
Let me explain.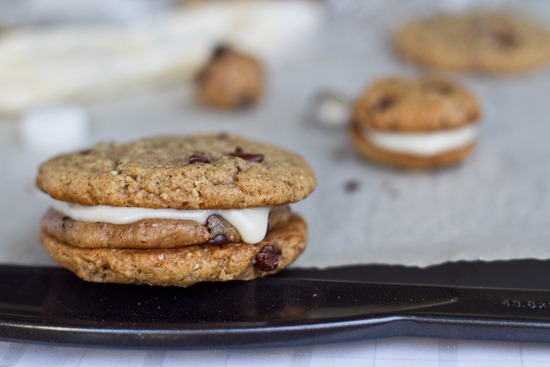 This story began as a simple quest to bake vegan chocolate chip cookies and it turned into something much more than that.
My initial recipe idea for my final post in Project Food Blog was not Nanaimo Bars…
It was a vegan chocolate chip cookie!
I spent several days testing different recipes and methods. In the end, I went with the 3 vegan Nanaimo bars, but these cookies still have a very special place in my heart!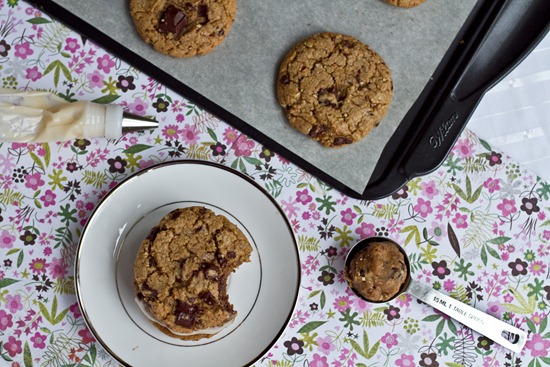 It all started when I came across the famous chocolate chip cookie recipe from Jacques Torres a while back. Jacques refrigerates his cookie dough for 24 hours before baking. Apparently, when you refrigerate the cookie dough, it allows the flavours to develop and results in a better tasting cookie.
I found there was an improvement in taste after refrigerating the cookie dough for 12 hours as compared to baking immediately.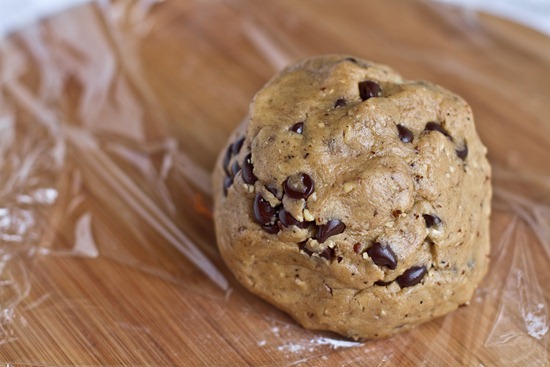 Of course, Eric also sampled each batch that I baked, offering his opinion.
The winning cookie was clear to both of us.
I like when that happens.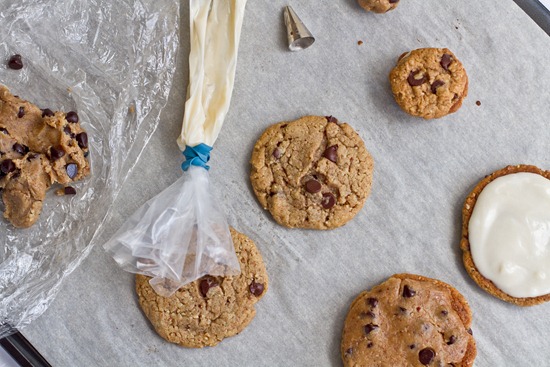 Things got a little crazy.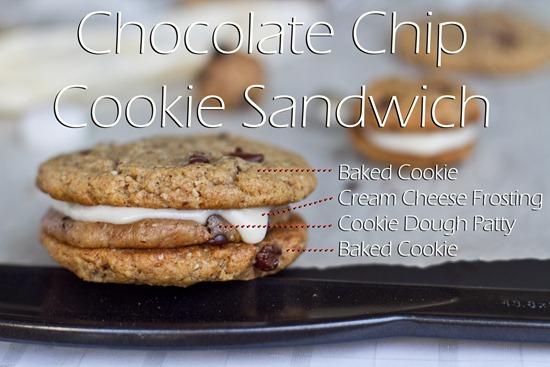 [print_this]
Chocolate Chip Sandwich Cookies
Two chewy cookies sandwich a cookie dough patty with a light coating of cream cheese frosting. While these chocolate chip cookie sandwiches technically aren't a holiday cookie, they are so delicious I think they should be!
Chocolate Chip Cookie recipe adapted from (Never Home) Maker, Jacques Torres, and Kohala.
Ingredients:
1/2 cup Earth Balance (or butter), at room temperature
1/4 cup + 2 tbsp sugar
1/2 cup brown sugar (lightly packed)
1/2 tbsp egg replacer + 3 tbsp warm water, mixed [Bob's Red Mill is good] Flax egg may also work.
1/2 tsp vanilla extract
1/2 tsp vanilla bean paste (or you can use another 1/2 tsp pure vanilla extract)
3/4 cup white flour
1/2 cup whole wheat flour
1/2 tsp kosher salt, plus more for garnish (if desired)
3/4 teaspoon baking soda
1/4 tsp baking powder
1/2 cup pecans, toasted and processed
1/2 cup walnuts, toasted and processed
1/2-3/4 cup dark chocolate (chopped) or chocolate chips (I used chocolate chips)
Cream cheese frosting (if making sandwich cookies)
Directions:
**Please note that even small adjustments to the recipe resulted in a different texture or taste, so keep that in mind if adjusting. Also, I highly recommend the 12 hour refrigeration as the flavour was much better after being chilled! :)
Preheat the oven to 350F and toast the nuts for 8 minutes being careful not to burn. Once nuts are toasted allow to cool slightly and process until fine in a food processor. Set aside. Alternatively, you can chop the nuts by hand if you need to, but if going this route it may be easier to chop first and toast after.
In a small bowl whisk together your egg replacer with water and set aside for several minutes.
In a large bowl or in the bowl of electric mixer, beat the Earth Balance for about 60 seconds until smooth. Now add in the brown sugar (making sure there are no clumps) and the white sugar. Beat for 4 minutes, scraping the bowl when necessary.
Place vanilla extract into the egg replacer mixture and stir well. Now add this mixture to the Earth Balance and Sugar mixture and beat for another 3-4 minutes, scraping the sides of the bowl with a spatula every minute or so. The mixture will look at bit like whipped frosting (see below).
In a separate large bowl, whisk together the dry ingredients (white flour, whole wheat flour, baking powder, baking soda, salt). Now gradually add this mixture to the wet mixture and mix until just combined.
Add in your chocolate chunks or chips and processed and toasted nuts and beat for a few more seconds until combined.
Now place the dough into a ball and cover in plastic wrap, making sure to cover all sides. Refrigerate dough overnight or for 8-12 hours. Remove from fridge and allow to come to room temperature for about 60 minutes. Please note that there was a great improvement in flavour after chilling for 12 hours! 
Roll into balls about 1.5 tbsp large and slightly flatten each ball with your hand. The more you flatten it, the bigger the cookie will spread. Place the cookies about 1.5-2 inches apart on the sheet. You can also make mini cookies, but the cooking time will likely be less than I state below. Set aside about 1/3 of the cookie dough if you are planning to make sandwich cookies (you will need the raw dough for the patties).
Sprinkle the balls with a very small amount of kosher salt (optional). This will make the sweetness of the cookie pop. Allow cookies to come to warm room temperature for an additional 5-10 minutes. 
Bake for 10 minutes at 350F until slightly golden around the edges with a pale centre. Let sit on the sheet for 5-10 minutes before removing from pan. Serve warm! :) The cookies will firm up quite a bit so not to worry if they are initially soft.
If making sandwich cookies, Grab some unbaked cookie dough and make a small patty the size of a cookie about 1/2 cm in width. Flip 1 cooled cookie so it is bottom side up and place the cookie dough patty on top. Now grab another baked (and cooled) cookie and spread on some cream cheese frosting (recipe linked above). Sandwich the two cookies together. Repeat as necessary! See below for pictures.
[/print_this]
The fun thing about this chocolate chip cookie recipe is that there are pecans and walnuts in it…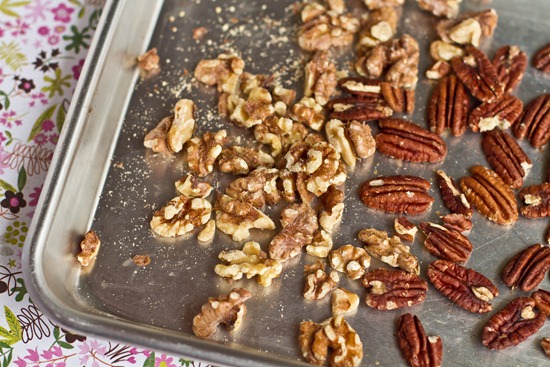 I decided to toast the nuts like I did in my Ultimate Oatmeal Raisin Cookie recipe because it really makes the nutty flavour pop.
After toasting for 8-10 mins, process until fine in a food processor.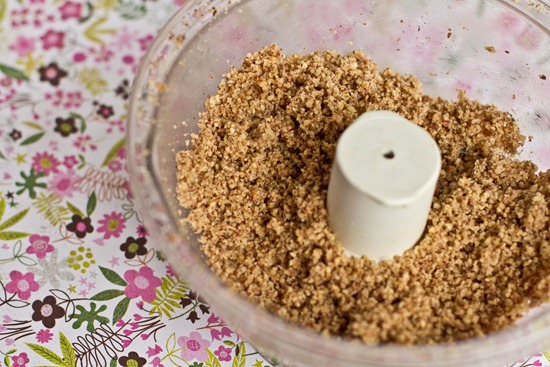 Then I mixed the egg replacer with water and set aside.
Now, cream the Earth Balance (or butter) for a minute with a mixer and then add the sugars and beat for 3-4 minutes until it looks like this:
Add the vanilla extract to the egg replacer mixture and stir. Then add this to the Earth Balance/sugar mixture.
Beat for 3-4 more mins. on medium to high speed. It will look a bit like frosting or cream cheese!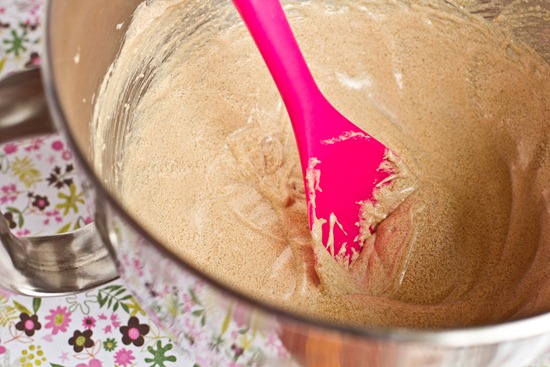 Now whisk together the dry ingredients…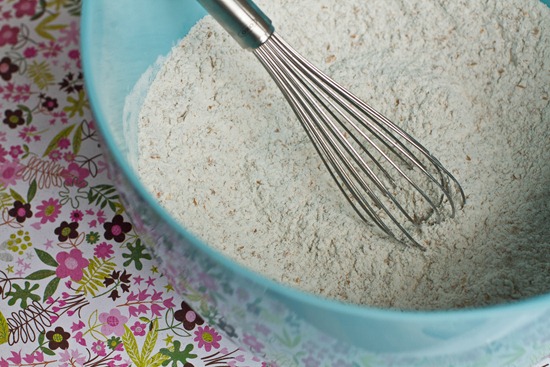 Add the dry ingredients gradually to the wet, and mix until just incorporated.
Looking good!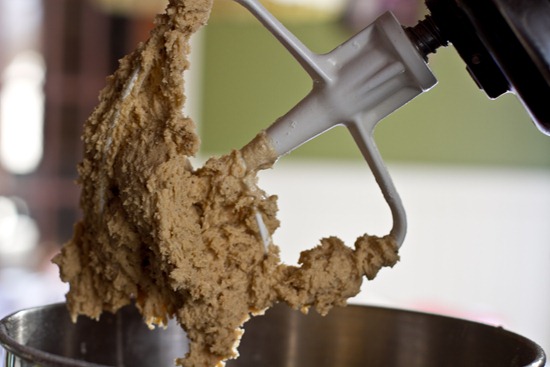 (and tasting good!)
Add the processed nuts and the chocolate chips or chunks.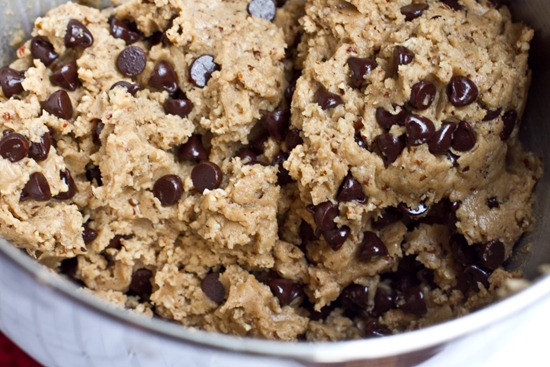 The chopped chocolate is great because you get little slivers of chocolate throughout the cookie, but the chips are great because the cookie and chocolate flavours are a bit more distinct. Personal preference! I enjoy both.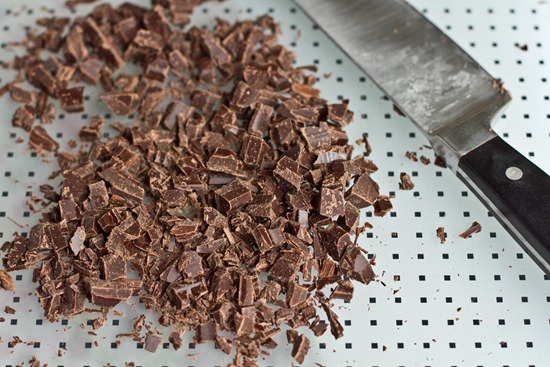 Refrigerate the dough, covered in plastic wrap overnight…or for 8-12 hours.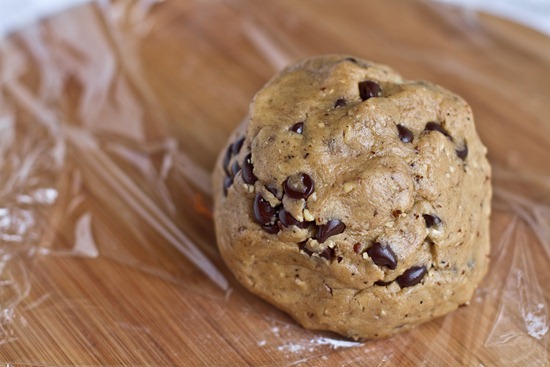 This allows the flavours to really develop and is a method used by Jacques Torres (although he refrigerates for 24-36 hours- I tried this and this dough was a bit dry for my liking).
Allow the chilled dough to come to room temperature for about 60 minutes. Now preheat the oven to 350F.
Form into balls and then place on lined cookie sheet about 1.5-2 inches apart.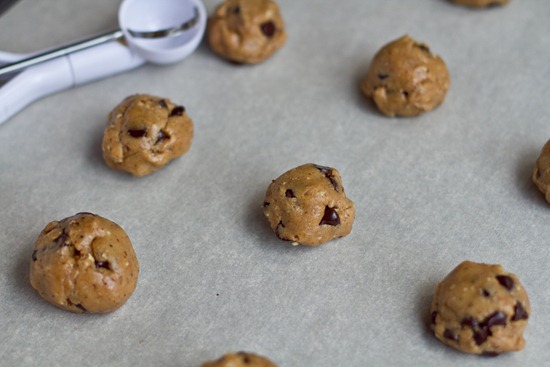 Goodness me.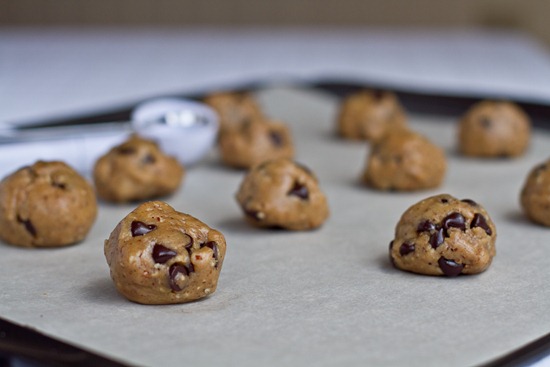 They are dreamy little balls of deliciousness!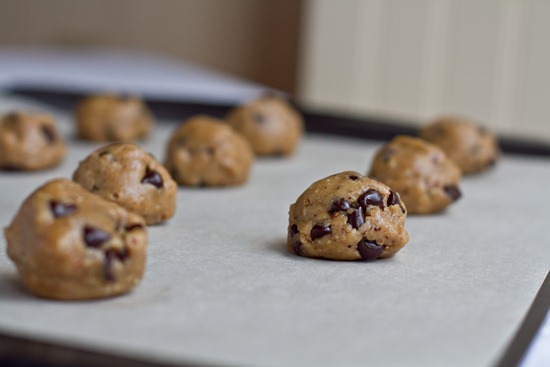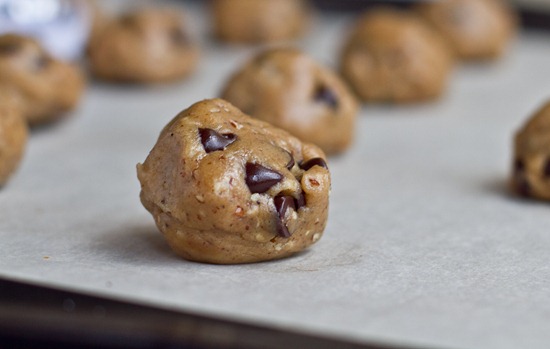 I flattened each ball slightly with my hand and then sprinkled with a bit of kosher salt.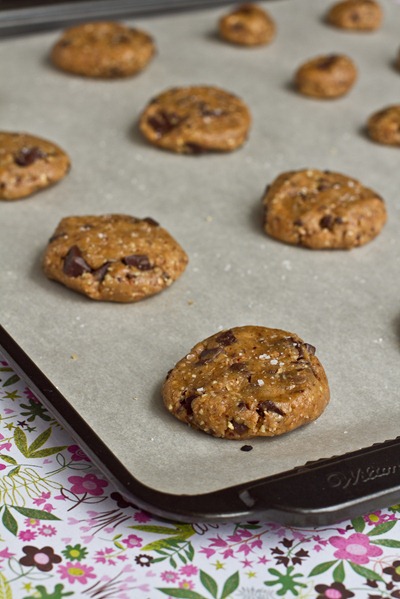 Bake for 10 minutes at 350F. The cookies will firm up quite a bit so not to worry if they are initially soft.
Depending on how large or small your cookies are, you will have to adjust the baking time. :)
Cool for 5 minutes, and then make your sandwich cookie! Flip cookies bottom side up and spread one with cream cheese frosting (recipe linked above). Grab some cookie dough and form a patty and cover another cookie with it.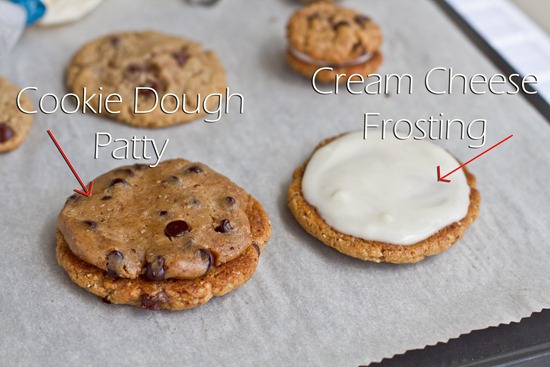 Sandwich the two cookies together!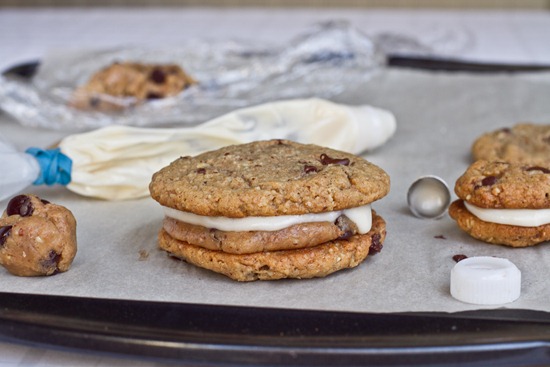 The result is sheer ecstasy.
Baked cookies, cookie dough, and frosting. You can see why I made some into mini cookies! Actually the mini cookie is the perfect size, but the large ones are real show stoppers..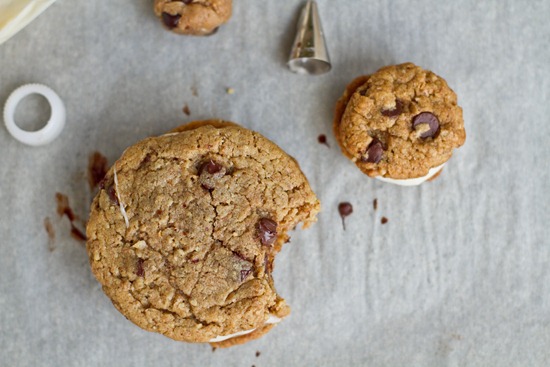 An edible love story and perhaps one of the best tasting cookie sandwiches to ever cross my lips.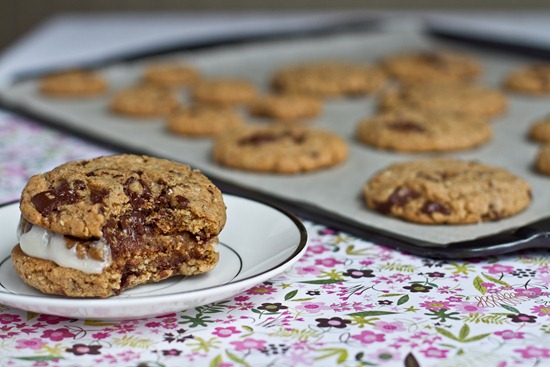 It's time to get back to business for this gal.
Have a wonderful Tuesday!! :)