Thank you guys for your votes for my Challenge #9 post! So many of you are re-tweeting your votes and liking the post on Facebook. Thank you all for your support! :)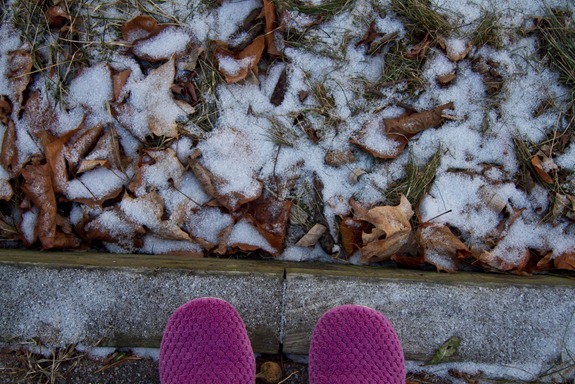 Winter Rituals
The alarm goes off in the morning around 7am and the first thing I notice before I even open my eyes is the cool chill on my face. That would be the cold morning air trying desperately to find its way inside, which isn't a rather difficult thing to do with old, leaky windows long overdue for replacement.
Sketchie is cuddled and folded up so tightly between us, I start to wonder if he can breathe the way his small body is contorted. The alarm goes off with this annoying music from Eric's Blackberry and I look at Sketchie as he squints at me with one eye before closing it and resting his head back down on his paws. His tail wraps around himself tightly and his paws tuck underneath his chest as if trying to seal in his body heat.
The three of us linger in bed, neither one wanting to make the first brave attempt to remove oneself from the warm cocoon that 4 layers of blankets create. Not enjoying the chill on my face, I take a blanket and put it over my head before drifting off to sleep for 10 minutes until that annoying music goes off again.
I cringe.
I'm not really one for broken up sleep unlike Eric who will happily hit snooze 6 times in a row. I take a deep breath and remove a few covers from my body and then I bravely leap into the cold air, immediately throwing on my robe and slippers simultaneously and with great precision. I have nailed this routine down to an art. My robe and slippers are always within arm's reach beside my bed during the colder months.
Once awake and washed up, I scurry downstairs, slippers clunking and dragging against the floor as I go. Sketchie is at my feet, or should I say underfoot, waiting anxiously for the clanking of his food in his dish. I realize that I probably look like a real sight for sore eyes, but I don't care.
I have a mission.
The first thing I do on my mission is turn up the thermostat. Within seconds, Sketchie and I hear the loud humming noise of the heat pumping through the vents. It is music to our ears. Sketchie sits beside the heat vent, eyes starting to drift off into a blissful moment he has been waiting for all morning.
After my first mission is complete, I walk into the kitchen and pour 8 cups of water into the kettle, trying not to glance at the temperature outside. But I do, and it is never good.
This morning, the temperature reads -8C/17.6F.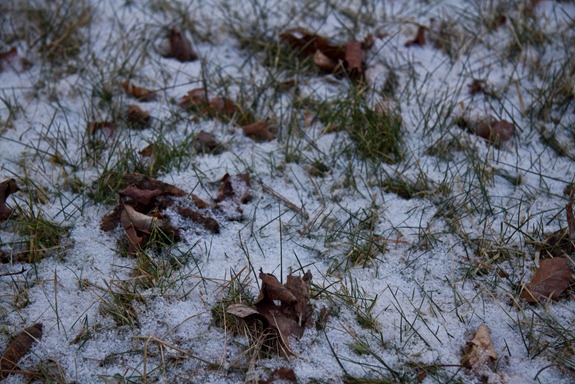 A chill runs down my spine, but I admire the pretty frost and snow from the kitchen window. I open the dishwasher and gather my loose leaf tea pot components and fill it with Japanese Sencha Loose leaf tea. Some mornings I enjoy French Press, but on cold mornings like this, tea is a quicker medium for warmth. It also makes 8 cups worth (versus 3 in my French Press) and I drink every drop.
Waiting for the tea to steep is the hardest part. It feels like an eternity before the tea is the right temperature for drinking. Still, I often drink it too soon, burning as it goes down and promising to myself I will wait a couple more minutes. While I play this charade, I often decide what I will have for breakfast. Most mornings- unless I am blogging about a special breakfast recipe- are quite simple. Lately I have been enjoying PB & J hot oatmeal, Green Monsters, or VOO depending on my mood. One thing is for sure, I have been avoiding pumpkin like the plague.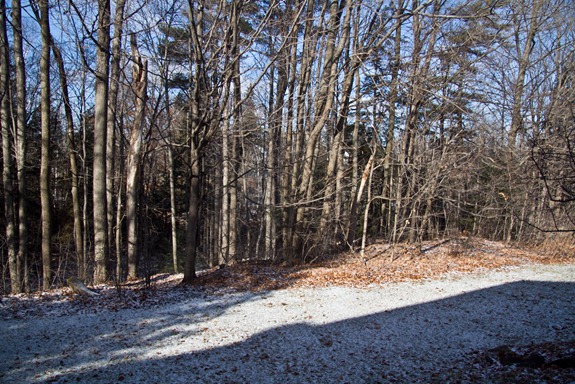 Despite the cold this morning, I couldn't stop thinking about a smoothie recipe that I saw in The Coup Cookbook. With my piping hot tea in hand, I braved the chill of the smoothie and I didn't regret it for one second.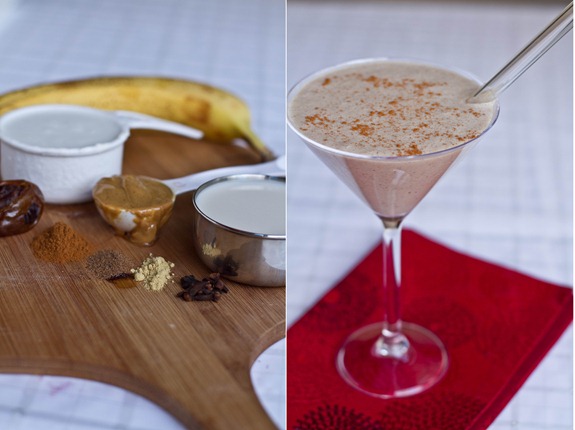 Banana Spice Smoothie
This comforting smoothie is worth braving the cold for.
Adapted from The Coup Cookbook.
Ingredients:
1/2 cup almond milk
1/2 cup full-fat coconut milk
4 ice cubes
1 heaping tbsp almond butter (or PB)
1 pitted medjool date
1/2 scoop vanilla protein powder (optional)
1 large peeled banana, frozen
1/2 tsp ground cinnamon
1/4 tsp cloves
1/4 tsp ginger
1/4 tsp nutmeg
1/4 tsp cardamom powder (optional, I didn't have any)
Directions: Starting with the milk, add all ingredients to the blender and process until smooth. Add more ice if necessary. Pour into glass and sprinkle with cinnamon. Serves 1.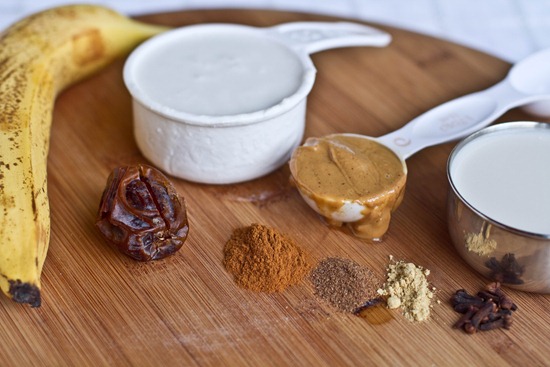 This is quite possibly one of the best tasting smoothies that has ever crossed my lips! Despite the fact that it is a cold beverage, it is rich, buttery, creamy, and comforting.
The workday now begins.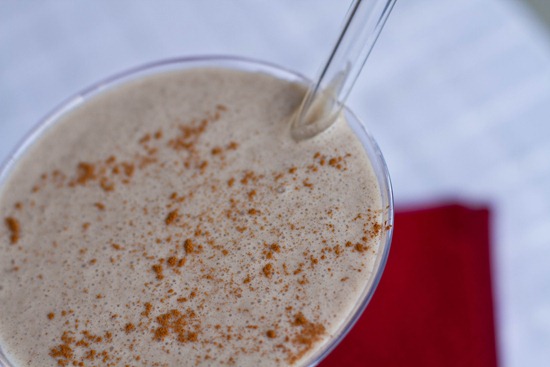 What are your winter morning rituals?