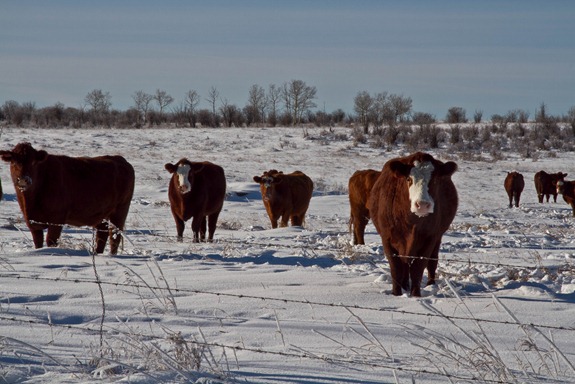 Surrounded by acres of cattle fields, cowboy boots, and hay stacks, the last place you'd expect to find a thriving vegetarian restaurant is in the centre of a beef-loving city known by many as Cowtown.
Calgary, Alberta is known for their juicy beef and world-famous Calgary Stampede, but many aren't aware of the vegetarian movement that has been gaining momentum over the past decade.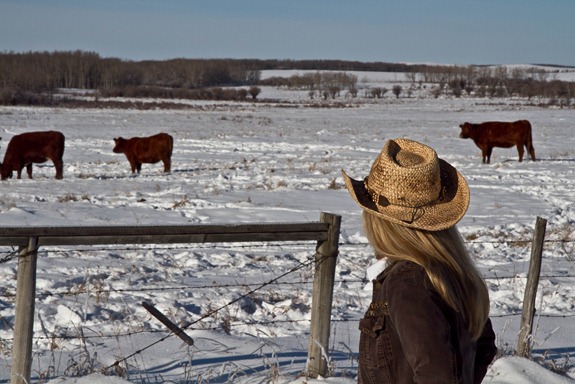 Ten years ago, Tabitha Archer and Dalia Kohen met as 20-year-olds while slinging bacon and pouring coffee, perhaps an odd vocation for two long-time vegetarians, but a vocation that would serve as inspiration for a better future. With the world as their oyster, they would share their aspirations over steaming hot coffee and crisp mountain air, dreaming to one day open a vegetarian restaurant.
'We all must eat, so why not do our part with social and environmental responsibility?', they questioned.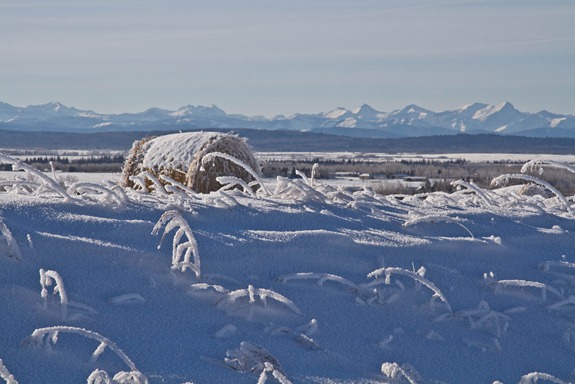 Like many successful people, their ambitions were met with criticism, concern, and discouragement from others; many thought their risky business venture would never make the cut. Tabitha and Dalia stood their ground believing that Calgary was now ready for its first vegetarian restaurant. They grabbed the bull by the horns- or rather, the weed by the root- and began a journey on a road less traveled.
Because sometimes, taking the road less traveled is what makes life truly worthwhile.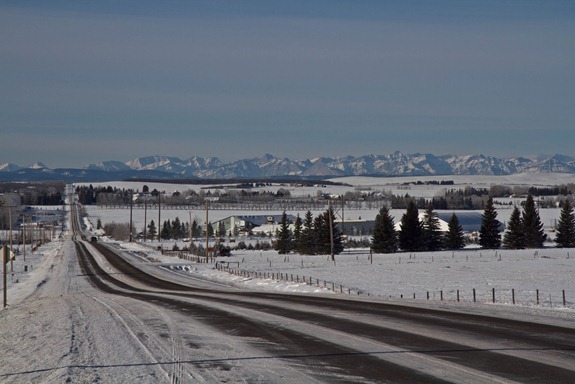 In November 2004, The Coup opened its transparent doors, inviting herbivores and carnivores alike to experience their creative vegetarian fare and vibrant, hip atmosphere that supports local, whole, and organic foods. Much to the surprise of their critics, the community welcomed them with open arms.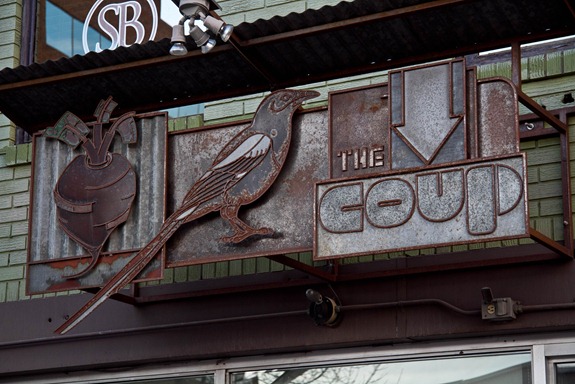 Their mission was simple, yet empowering: The Coup would be a space to gather, socialize, and meet new people while enjoying creative vegetarian cuisine made from scratch. Supporting local farmers is a priority and their unused food is composted for use as soil in their vegetable garden. To help reduce waste, customers receive a discount on take-out fare if they bring in their own containers and to offset their own waste, they plant trees every year with Tree Canada. Tabitha and Dalia also give back to the community by donating a percentage of their profits to local charities.
Now this, was something I could sink my teeth into.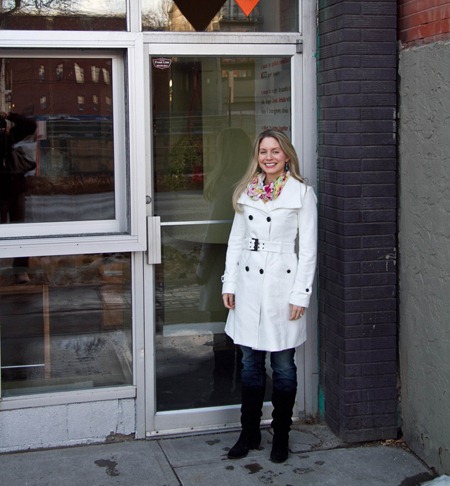 With my pen, tiny notepad, and camera in hand, I grabbed my two best taste-testing buddies and experienced all that The Coup has to offer.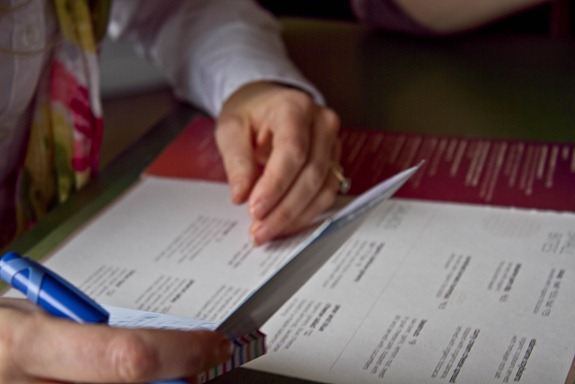 I was willing to eat as much as required to accomplish my mission.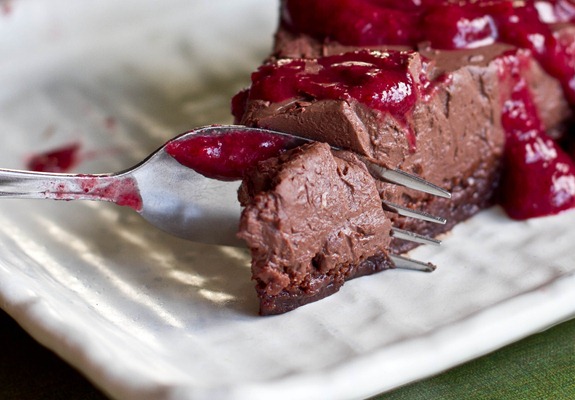 Dining on a Tuesday around lunchtime, we were quickly greeted at the door and seated by the large, front window overlooking a street view of monochromatic concrete.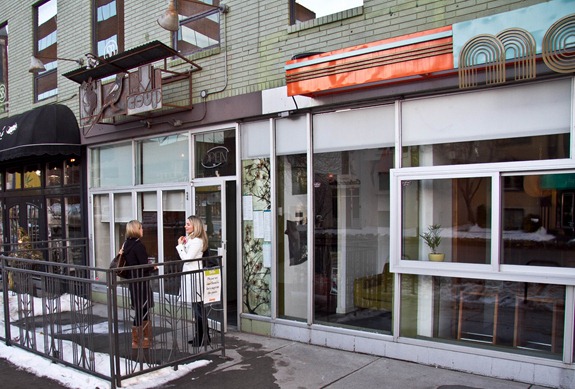 The concrete interior, however, was revived with bright paint and vivid decor, resulting in an unpretentious eclectic charm. Fun and unapologetic, this restaurant doesn't try to be something it's not. The walls are bursting with funky peacock blue and canary yellow, accented with local artwork and vivid, fresh green plants.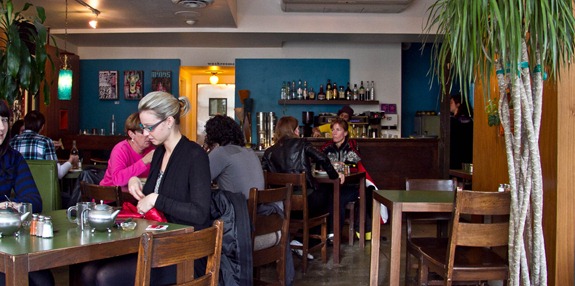 Earthy green painted wooden table tops and matching wooden chairs pack the intimate and casual 40-seat room with a small bar at the back featuring a plethora of local and organic wines, beer, and liqueurs.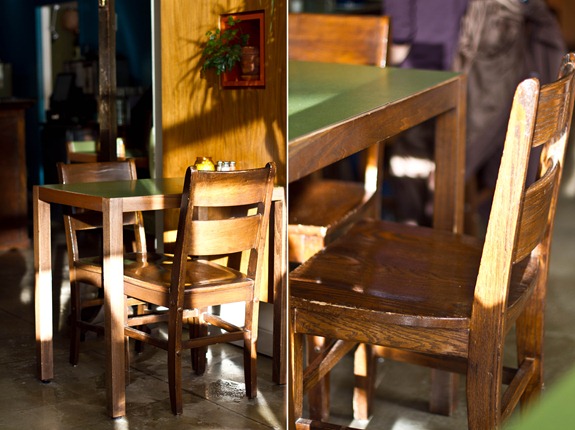 The restaurant was about half full, made up of casual, cowboy boot wearing Westerners and laid-back hipsters from university students to the retired crowd. While snagging a table was no problem on a weekday, there are often long waits on the weekend due to The Coup's strict no reservation policy.
Our server, referred to as 'Hell-yea' on the receipt, was the shy and sweet hippie type with curly tussled hair whose big doe eyes lit up the room and enticed us with each of her favourite menu picks. She was patient with our questions and walked us through the small but varied and seasonal menu, starting with soul-warming drinks, leading us through small bite appetizers and all-time favourite entrées. I was pleased to find out that adapting vegetarian menu items into vegan fare was 'no problem at all', with Hell-yea winking her pretty eye as if she had done it herself a million times.
Something to warm our souls, the hot mugs arrived to our table in just a few minutes.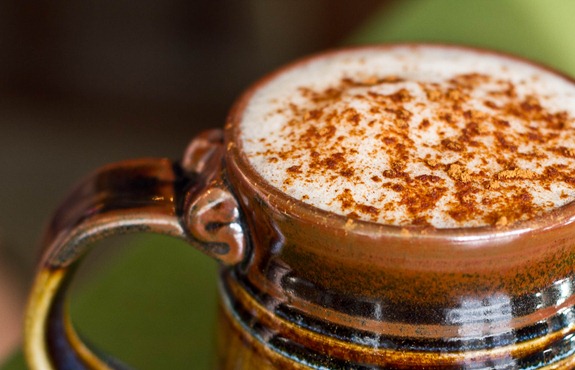 The heavenly aroma of luscious coconut and spicy cinnamon floated through the air as the Coconut Chai Latte was proudly presented to our table with a knowing smile from Hell-yea.
Chai tea, almond milk, coconut milk, cinnamon, and a touch of maple syrup were steamed together to create a drink that was creamy on the palate, warming the insides as it went down. The whimsical and playful coconut was brought back to earth with the serious woody flavour of the Chai. With each sip I was transported to a sunny, tropical beach that made me forget about the snow, cold, and ice teasing me through the frosted window.
Well, almost.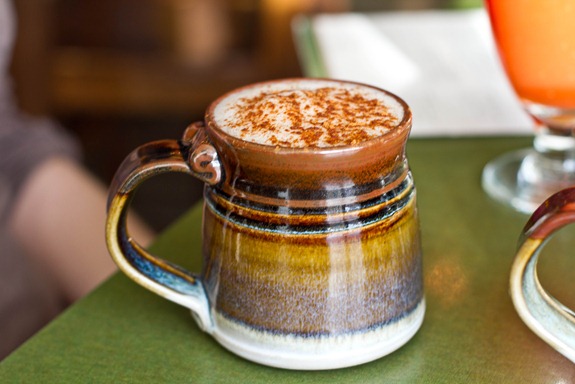 The short ingredient list of the Matcha Latte (steamed almond milk and Matcha green tea powder) appealed to my love for simple, uncomplicated food. The fluffy, green clouds intrigued me in a strange way, but then again I've never been one to shy away from green drinks.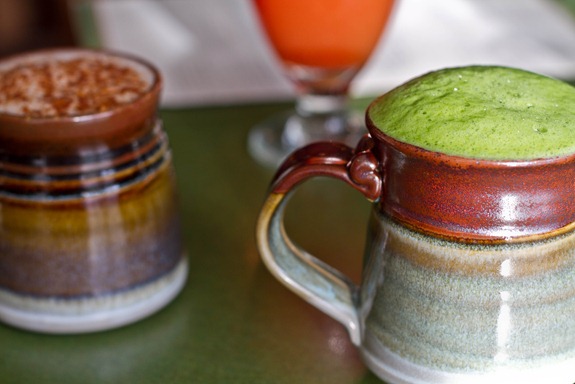 The Matcha Latte was offered with a shot of pure maple syrup as most customers find the combination alone quite bitter tasting, but I didn't mind the lack of sweetener. While it was the complete opposite of the luscious Coconut Chai Latte, I loved its minimalist quality and how the sharpness of the Matcha was caressed by the creamy, steamed almond milk. It warmed and energized me without filling me up before the meal.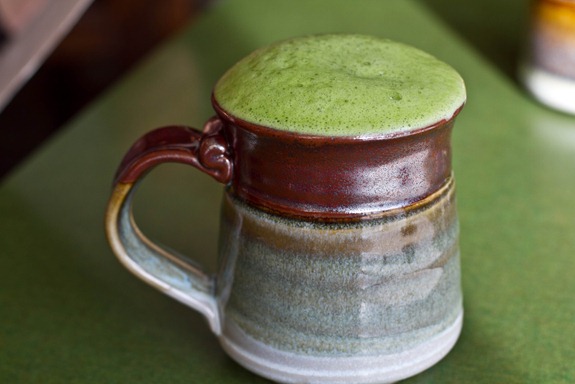 Not long after lingering over our hot mugs, the appetizers came out at just the right moment.
We shared the exuberant Beatnuts Paté composed of mixed nuts, sunflower and pumpkin seeds, beets, garlic, lemon, kosher salt, dill, and olive oil. The Goat cheese, which is normally stacked on top of the paté, was served on the side for an easy vegan adaptation.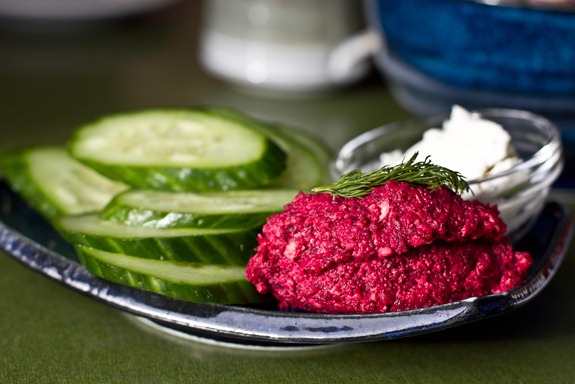 Its vibrant deep pink hue was unexpected and inviting as were the crisp, fresh slices of juicy cucumbers. The paté was crunchy and thick thanks to the processed mixed nuts, but it wasn't heavy due to the lingering sweetness from the beets and gentle tartness from the lemon, dill, and garlic. Everything was smoothed out with a splash of olive oil that made this unique paté one to remember.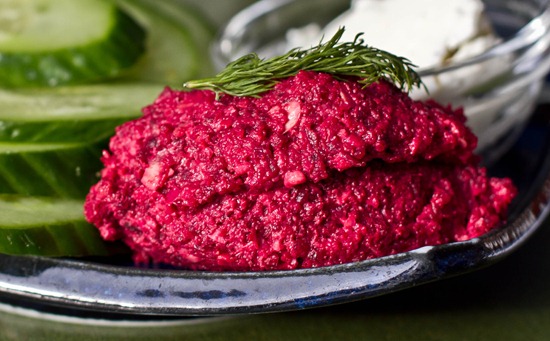 Other appetizers included the Sesame Yam Dip and the Sundried Tomato Hummus served with toasted organic Foccacia bread and blue corn chips (a substitute for the non-vegan lavash).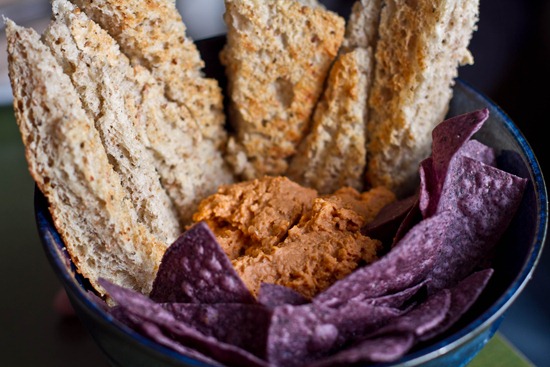 Made up of yams, kosher salt, date paste, and pure sesame oil, the Sesame Yam Dip was creamy and smooth, but a bit too fruity and sweet.
The Sundried Tomato Hummus was a crowd pleaser: smooth and savoury with a bite from the garlic and sundried tomatoes. It went well with both the toasted Foccacia bread and chips, making this the favourite dip at our table.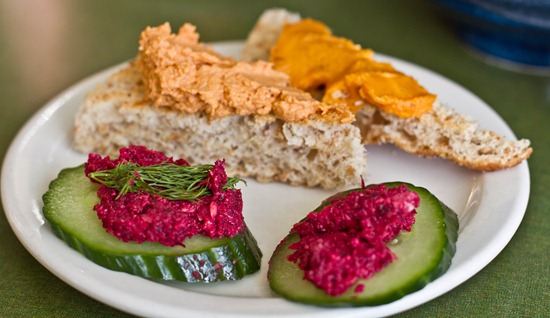 The entrées also arrived at the right moment, just as our conversation turned to thoughts of our next course. Eric and I shared the El Tacos that were made up of naturally sweetened beans, avocado, shredded carrots, quinoa, and salsa grilled in a sprouted grain tortilla served with a side of soy yogurt .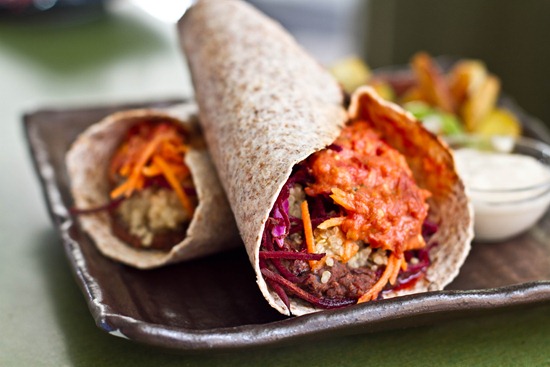 The El Tacos are a creative and delicious take on traditional beef tacos. The beans were heated up with chili powder, jalapeno and chipotle peppers and cooled down with a touch of sweetener. The fresh shredded carrots and beets provided a juicy, crunchy texture and the quinoa and salsa mixture was an unusual twist that surely beefed up the tacos, making this dish one that you could easily share with another. The only thing I missed was a traditional crunchy corn taco shell packing everything in.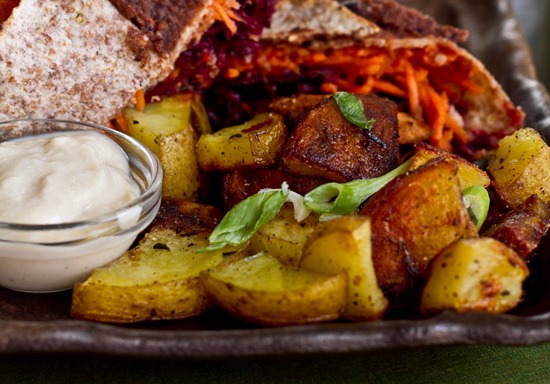 On the side, Organic Hash Potatoes that were crispy, flavourful, and garnished with kosher salt, freshly ground black pepper, and chopped green onions, pan seared and seasoned to perfection.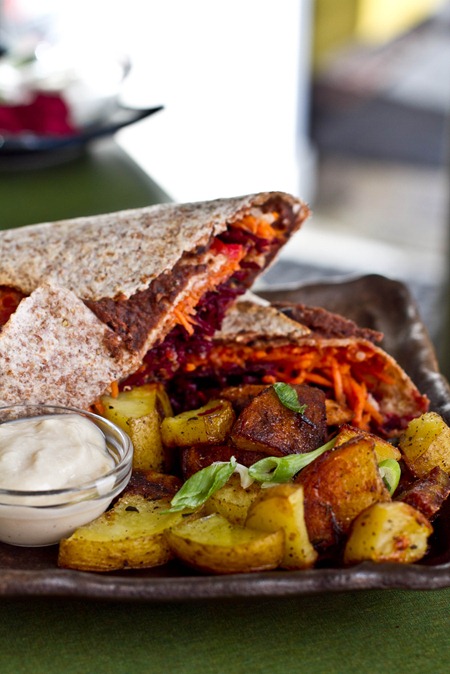 We also shared the Club Med Salad, a hefty portion of falafel, pickles, olives, shredded carrots, sundried tomatoes, sprouts, and banana peppers on top of organic mixed greens.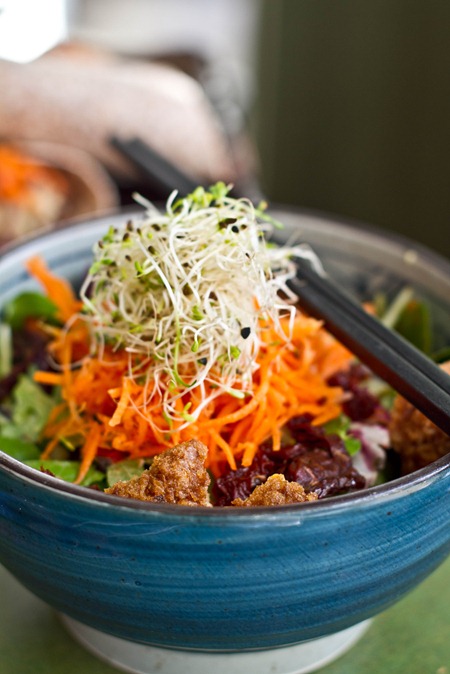 Thick, lush, and creamy with a sharp, peppery quality, the Tahini Lemon Garlic dressing had me coming back for more and made eating a bowl of vegetables downright exciting. While the vegetables were plentiful and fresh, the falafel was lacklustre in taste and dry in texture.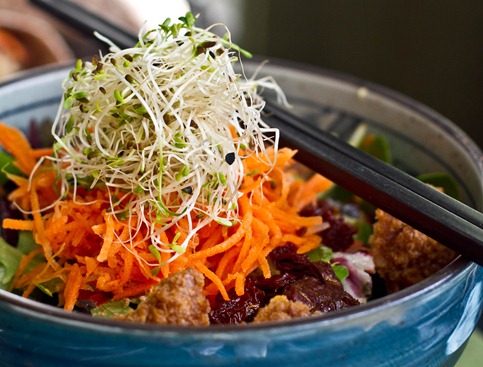 To wet my whistle during the meal, I sipped on fresh Cranberry Mango Ginger juice that was the perfect combination of sweet mango, followed by a kick of tangy cranberry and spicy ginger going down the hatch.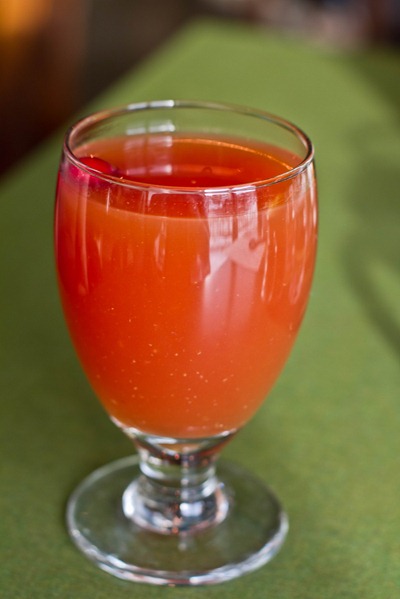 Dessert was the only time we noticed the wait during our meal, taking about 20 minutes to arrive. I sampled the flirtatious Organic Chocolate Torte complete with a chocolate spelt crust drizzled with raspberry compote and garnished with mint.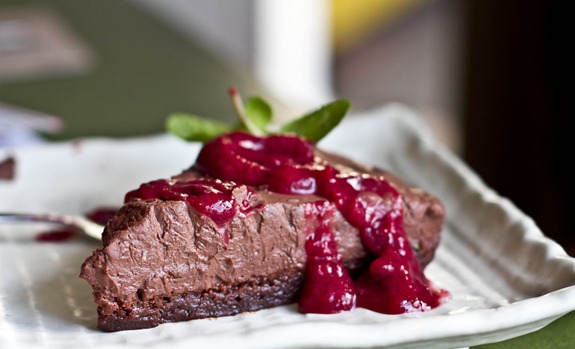 Rich, chocolaty, and moist, the chocolate spelt crust was the highlight of the torte. The chocolate filling, however, was tofu based and resulted in a strange, spongy texture and a dull, bland flavour that left a lot to be desired. Even the fruity and tart raspberry compote couldn't save this tofu heavy pie.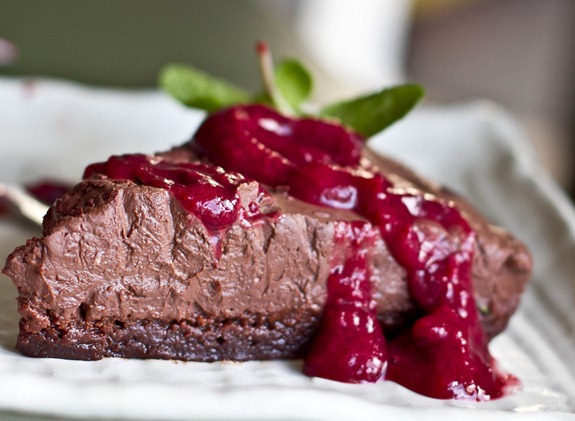 I would have loved to see this pie brought to the next level with a less processed tofu alternative.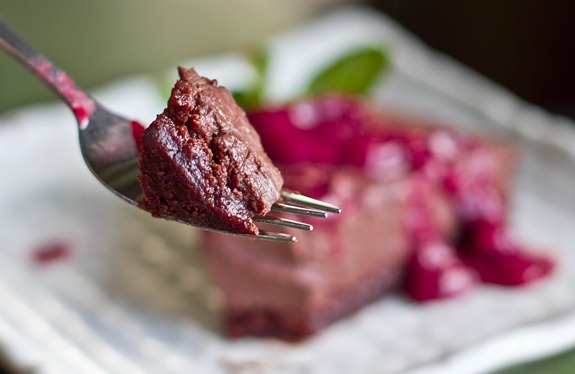 Up next, a classic frozen dessert that we were all excited about: The Banana Split.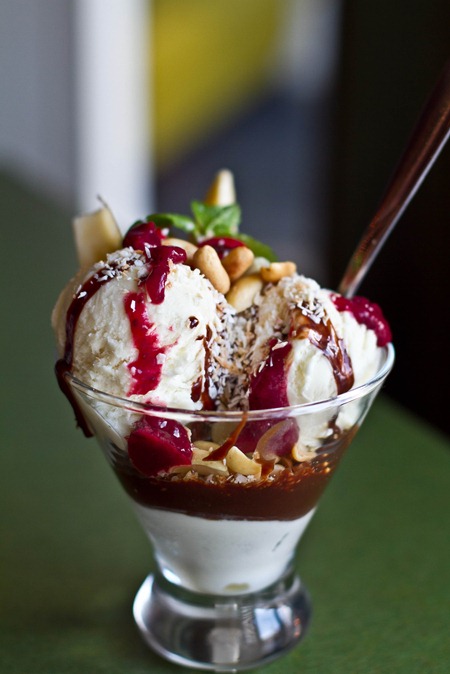 A delectable show-stopper that made our jaws drop and mouths salivate, the Banana Split was made up of organic banana, peanuts, warm chocolate sauce, and raspberry compote on top of 3 scoops of vegan ice cream sprinkled with toasted coconut. The portion was large enough to share, but it was so delicious we wished we didn't have to.
The vegan ice cream was undeniably smooth and rich with a salty peanut crunch and a waterfall of cascading sauces, without tasting overly sweet or syrupy. The mix of warm chocolate and cold ice cream was almost sinful on the palate satisfying every greedy bite.
The three of us enjoyed a relaxing meal together reminiscing old times and devouring mouth-watering, simple food. We finished our meal feeling energized and full, but not at all weighed down.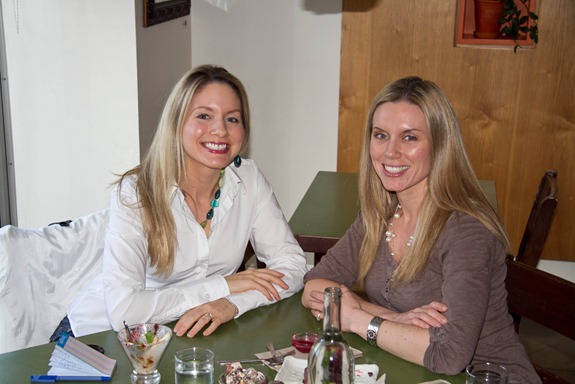 Smiling and satisfied, our romance with The Coup was drawing to a close. Just as we were leaving, I spotted from the corner of my eye The Coup cookbook featuring The Coup's most loved recipes of all time.
It wasn't ideal, but I figured I could make a long-distance relationship work…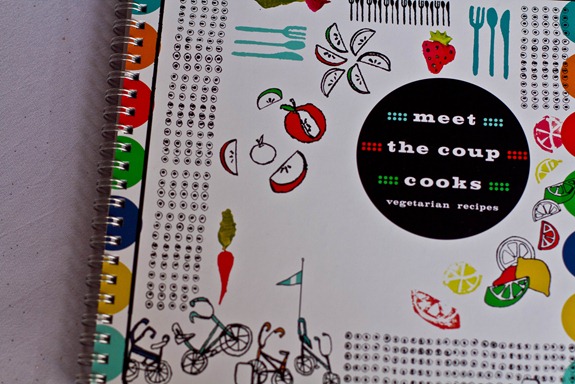 As soon as I stepped off the plane, I walked into my kitchen and cooked my little heart out. I didn't stop until I was covered in flour, beet juice, coconut milk, and other unidentifiable ingredients.
These are a few of my favourite dishes that I adapted from the cookbook (with permission) so you can experience The Coup in your very own kitchen! All of the recipes below are quick to prepare and incredibly delicious.
I also made my own version of a vegan Chocolate Torte. I will be featuring a step-by-step post of the torte this week so keep your eyes peeled. Click here for a PDF of the recipes.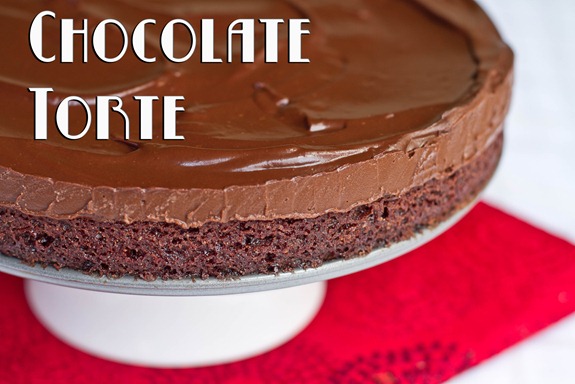 The Coup's popularity is exceeding expectations and its vibrant and creative cuisine- aside from a few soy heavy items- are breaking stereotypes about vegetarian and vegan food. Even celebrities like Moby and Casey Affleck have been known to pop in for a tantalizing bite. The service is down to earth, the portions are hefty, and the price tag is easy to swallow with entrées in the $7-$13 range.
Dalia and Tabitha are strong entrepreneurial women who have paved the way for vegetarian fare in Cowtown and have inspired those around them to discover a new way of eating that is not only delicious, but also friendly to our earth, animals, ourselves, and those around us.
I walked away from The Coup, with cookbook clenched in hand, feeling more inspired and empowered than I have in a long time.
Sometimes you just have to march to the beat of your own drummer.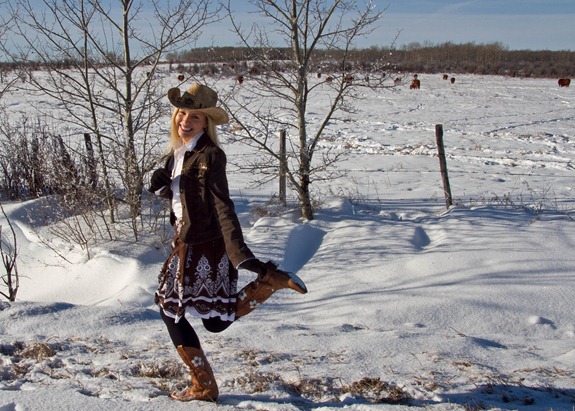 Yeehaw.
The Coup, 924- 17th Avenue South West, Calgary, AB., 403.541.1041. Hours: Monday: Closed; T/W/Th 11:30am-3pm & 5-10pm; Fri 11:30am-3pm & 5-11pm; Sat 9am-3pm & 5-11pm; Sun 9am-3pm & 5-9pm. www.thecoup.ca
~~~~
This is my official entry for Challenge #9 'You're the Critic' in Project Food Blog. Voting is now open! I appreciate your support. :)