Greetings!
We are home safe and sound from Alberta and are running on little sleep.
I am downing French Press like the best of 'em, but I'm not even sure this is going to save my lack of sleep. Time changes are always hard to adjust to, aren't they?
I am also suffering from a bad case of I-miss-my-family-blues.
As I mentioned last week before I left to visit my family, I am featuring a holiday cookie special on the blog called 'Favourite Vegan Holiday Cookies' where I promised to show you holiday cookies with a wholesome, vegan twist.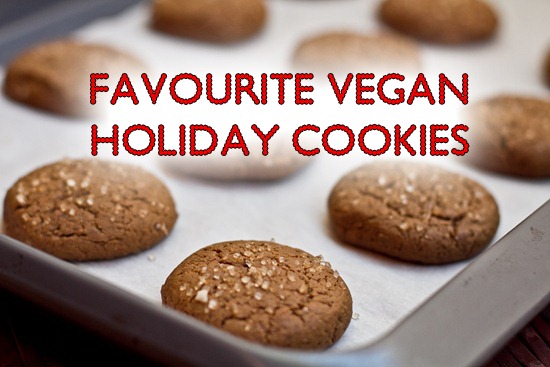 I've already showed you My Favourite Snickerdoodle…last week.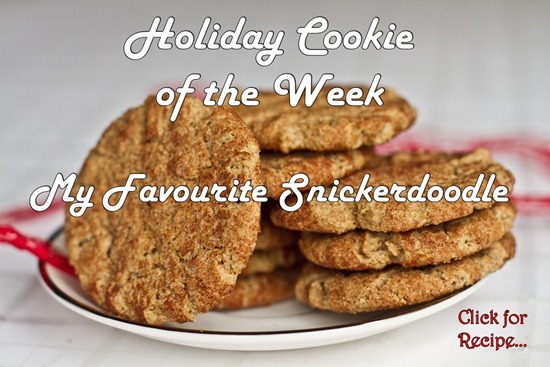 I will be making a list on my recipes page of all the holiday cookies that I make, so be sure to check that out.
I also made Auntie Angie's Soft Peanut Butter Cookies…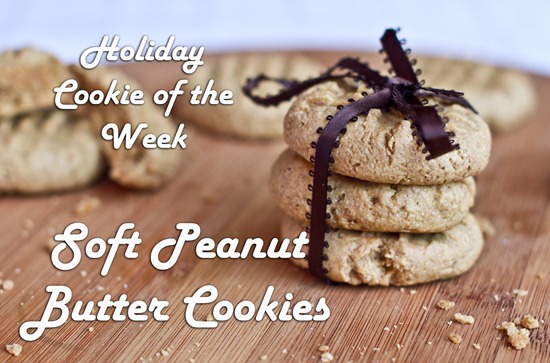 Today I'd like to move to a cookie a bit more unconventional…
First of all, it is a ball.
It is no bake.
It is dipped in chocolate.
It is vegan.
It contains no added sugar.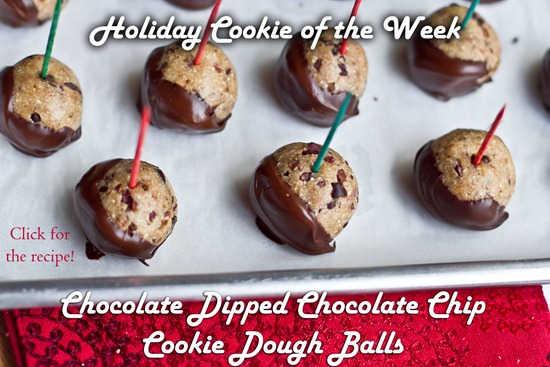 These are also adapted from my Glo Dough balls that I sold at the Farmer's market this past summer.
This unexpected delight is the perfect holiday party appetizer to serve on a cute little tray, stuck with red and green toothpicks. I served something like this at my Ugly Christmas Sweater Party last December 2009.
I made these last week before I left for my trip and it took all my restraint to wait to blog about them.
The first thing I did when I got home from the airport last night was pop one of these bad boys out of the freezer and into my mouth.
I needed a chocolate fix.
And fast.
I shoved that cookie ball into my mouth and had a moment of sheer bliss as I stood in front of the freezer with my luggage in one hand and balls in the other.
Peace at last.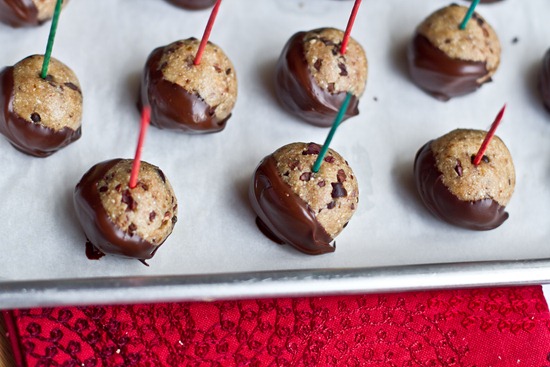 [print_this]
Chocolate Dipped Chocolate Chip Cookie Dough Balls
Adapted from my Raw Chocolate Chip Cookies from May 2009. Stick idea from Joy the Baker.
Ingredients:
2/3 cup cashews
1/2 cup + 1 tbsp regular oats
3/4 cup whole grain spelt flour (or other flour)
1 tsp kosher salt
5 pitted medjool dates, chopped
1 tsp pure vanilla extract
3-5 tbsp pure maple syrup, to taste
3-4 tbsp dark chocolate or my homemade raw chocolate, chopped
1/3 cup dark chocolate, melted, for dipping
Directions: Line a baking sheet with parchment paper or a non stick mat. In a food processor, process the cashews and oats until a fine crumble (see picture below). Now add in the flour, kosher salt, and roughly chopped pitted medjool dates. Process until fine.
Add in the vanilla and pure maple syrup and process until the mixture comes together in a ball.
Transfer to a large bowl and stir in the 3-4 tbsp of chopped dark chocolate. Roll into balls and stick with toothpicks.
In a double boiler or carefully in the microwave, melt 1/3 cup of dark chocolate in a small bowl. Be careful not to burn. Now roll each ball into the chocolate and place on parchment paper lined baking sheet.
Freeze for 1 hour to set. Serve immediately.
Yield: Approx. 25 balls.
[/print_this]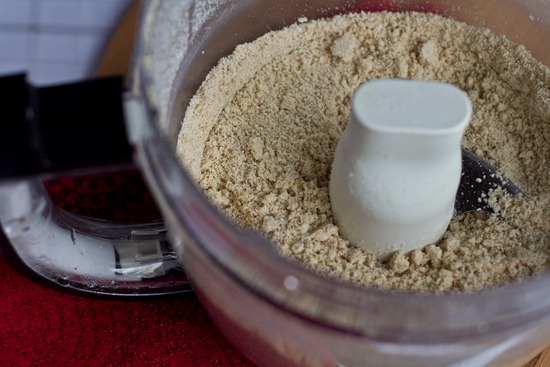 Process the oats and cashews until a fine crumble forms like above.
Now add in the flour, dates, and kosher salt: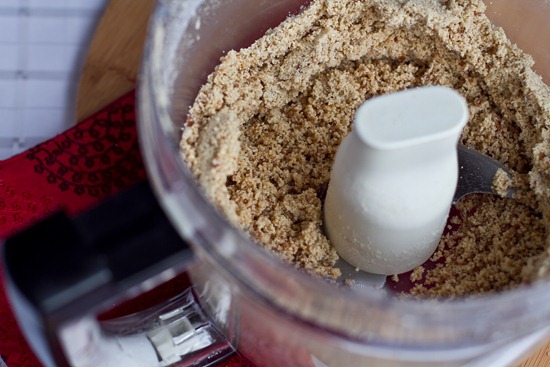 Process until fine.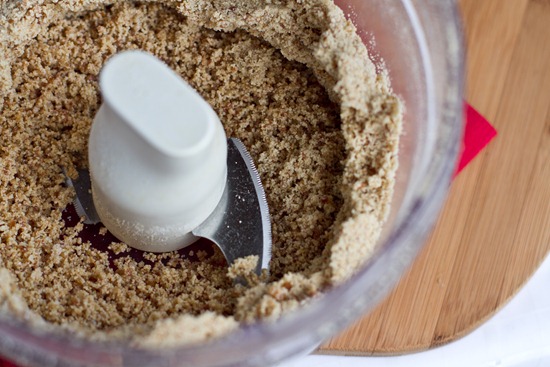 Now add in the pure maple syrup and vanilla. A ball will form.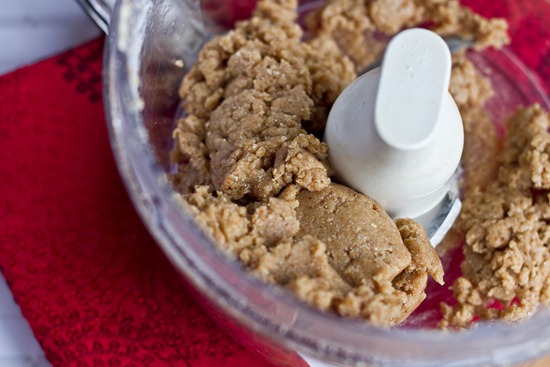 Now add in the chopped chocolate and process until incorporated. Alternatively you can stir this in a bowl if the mixture is too sticky for your processor.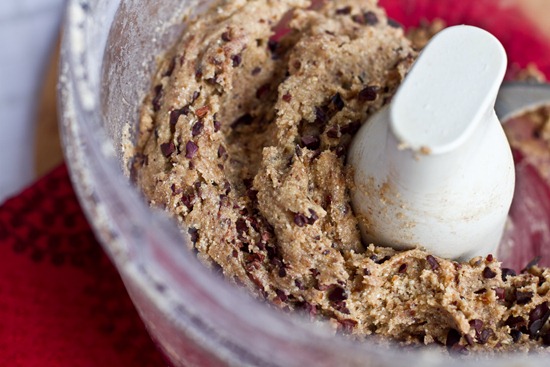 Shape into balls and stick with a toothpick!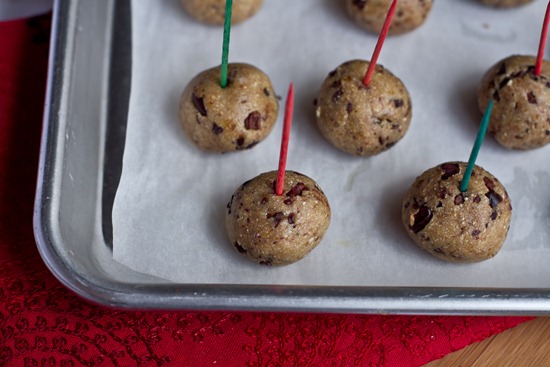 They already taste delicious, but we must dip them in chocolate.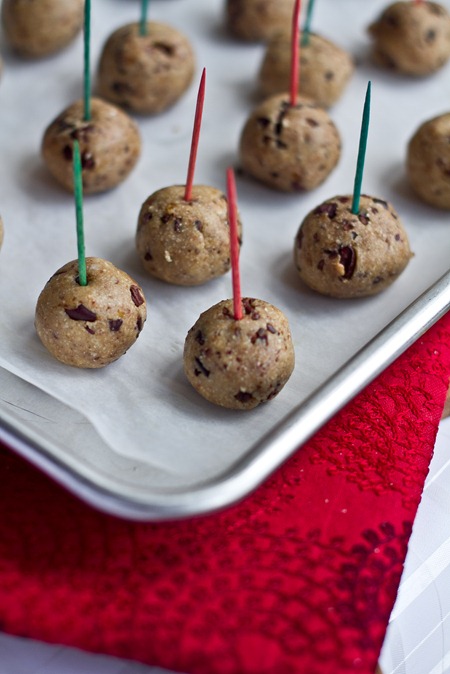 This is 1/3 cup melted dark chocolate.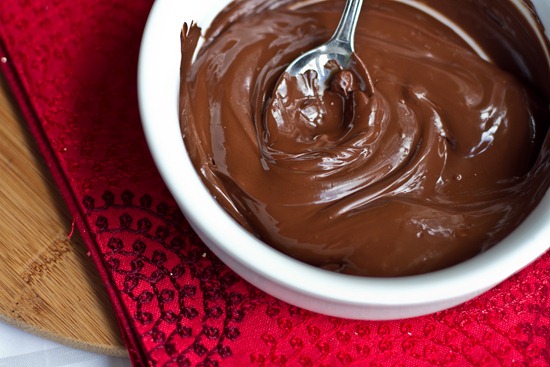 Dip half way and place on the parchment.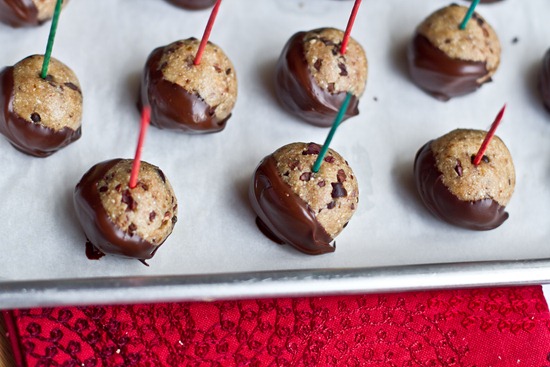 Now freeze the balls for 1 hour to set. Sprinkle with icing sugar and serve immediately.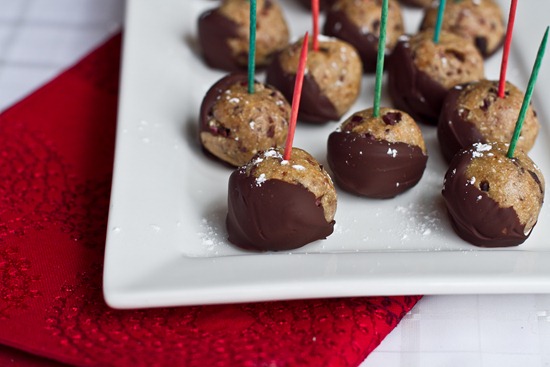 These have a nutty flavour thanks to the cashews and spelt flour and a great texture thanks to the chunks of chocolate. They taste like a healthier cookie dough that is wholesome but won't give you the dreaded sugar crash. They don't taste exactly like cookie dough, but they are delicious anyways.
And perfect straight out of the freezer.
Mmmmm.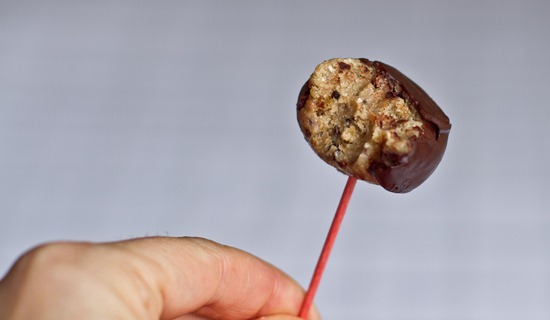 The other day, my nephew asked me, 'Auntie Angie, why do you take pictures of your food?'
I stopped and laughed for a moment and thought about my strange ways.
I also realized that I had turned into the token weird Aunt. I knew it was bound to happen.
I looked at him eagerly awaiting my reply and said,
'Because taking pictures of my food makes me happy….just like you do.'
And then I distracted him with a cookie.
It worked for now, but there will be many more questions and I need to think of answers.
I think I shall go clean out my freezer now.