Hi everyone!
Thank you for your kind words about my Pumpkin Pie Cinnamon Rolls entry for Challenge #8! The post was in the works for about 3 weeks now and I was soooo happy to finally hit publish. Voting is now open if you care to show your support. They are cutting 50% of contestants, so only 12 will remain for round #9.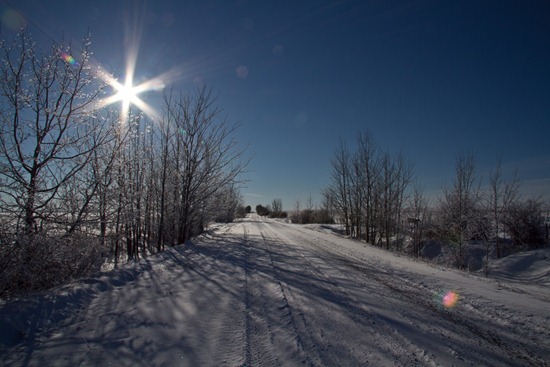 What's with all this snow, you ask?
Eric and I are in Alberta visiting my family for an early Christmas celebration!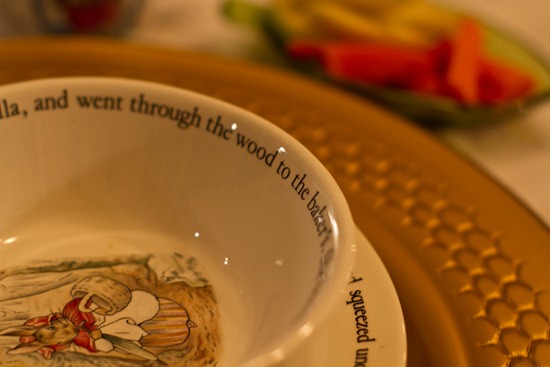 We leave on Wednesday and I am already very sad to say goodbye to my family. I'm pretty sure I am going to stuff my nephews in my suitcase and make a run for it. ;)
We were a bit scared during the days leading up to our trip out West because we heard that there was a deep freeze going down in the Prairies…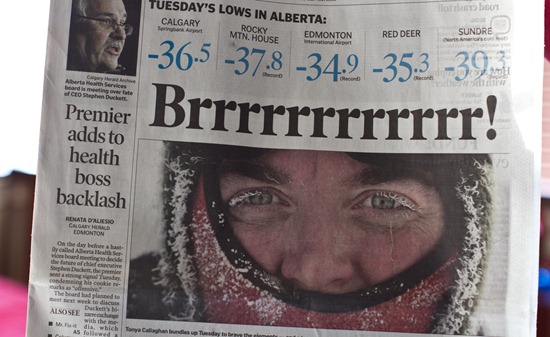 Burrrrrr.
Luckily, OSGMOM told us that it would be 'warming up' to –10C by the time we arrived.
Err… ;)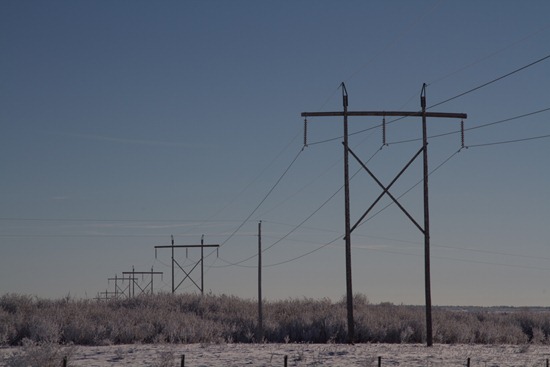 I need layers…lots and lots of layers.
I have also been drinking my body weight in hot chocolate and tea.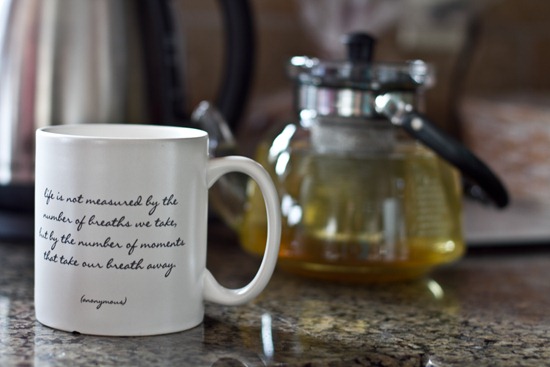 Luckily, fur ball Rudi has been keeping us warm…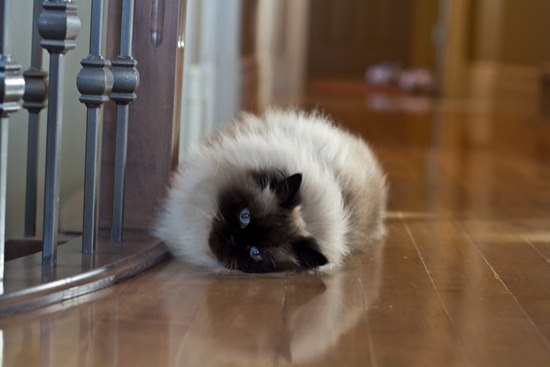 He is never cold!
Well, sometimes…when he wants to snuggle up to The Cat Whisperer (Eric).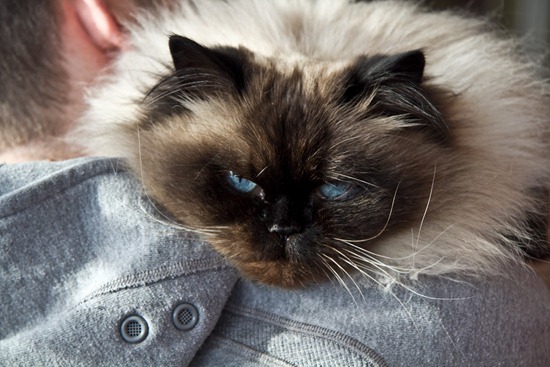 I hope Sketchie doesn't see this!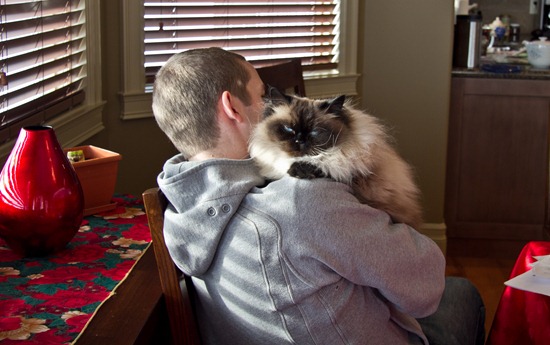 They have a view of The Rockies from their backyard. I guess this makes up for the cold! :)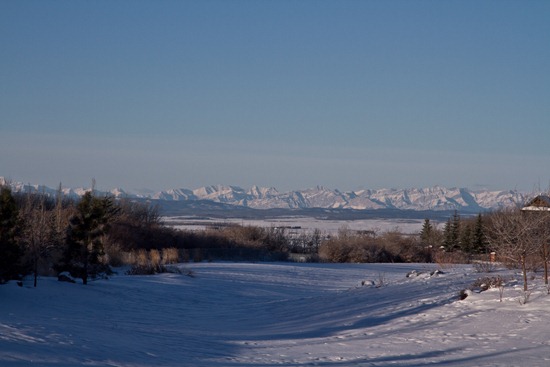 Gorgeous, eh?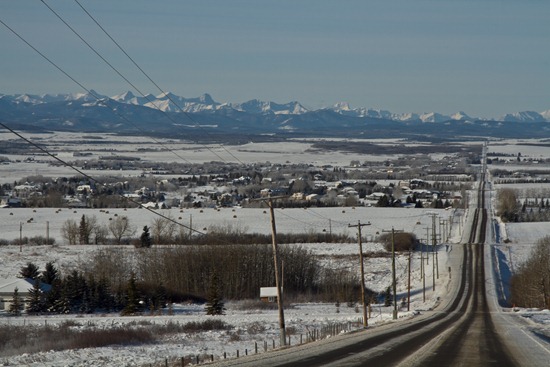 My mom and sister Kristi surprised us with a mostly vegan Christmas dinner on Sunday night.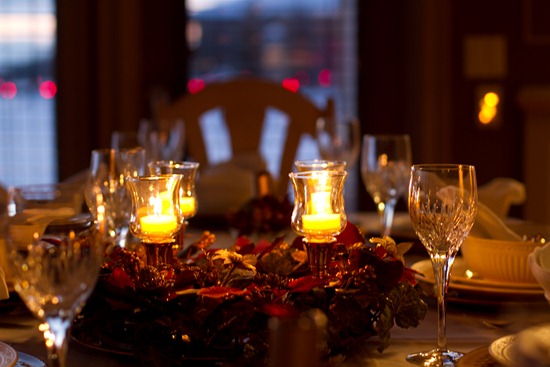 It was very exciting.
I came into the kitchen to find that they were working hard on a bunch of my recipes!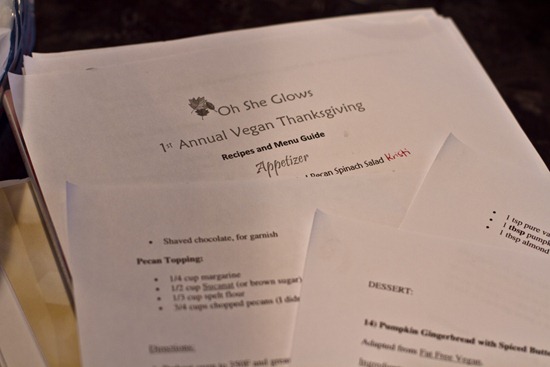 This time I got to have it made for me!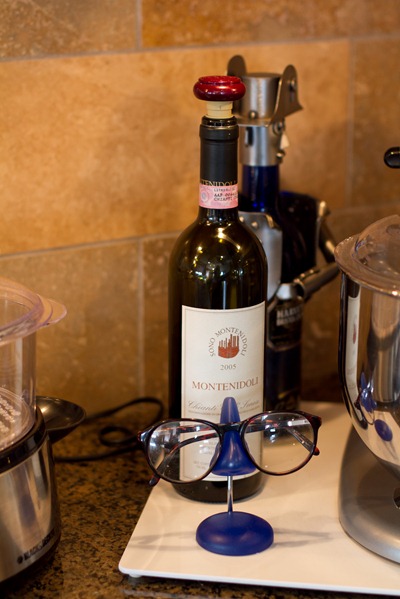 Mom said, 'I hope you will still love me if I screw up these recipes!!'
I said, "I don't care what you do as long as I don't have to cook!' ;)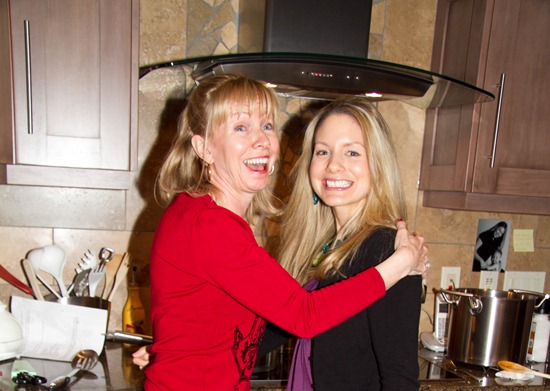 I had total faith in my worker bees.
I kept them in line with a spoon!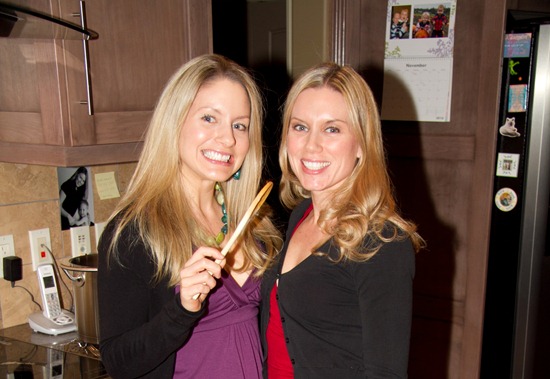 I got to make the vegan gravy and then I forgot about it on the burner and nearly fried it! Just a day in the life…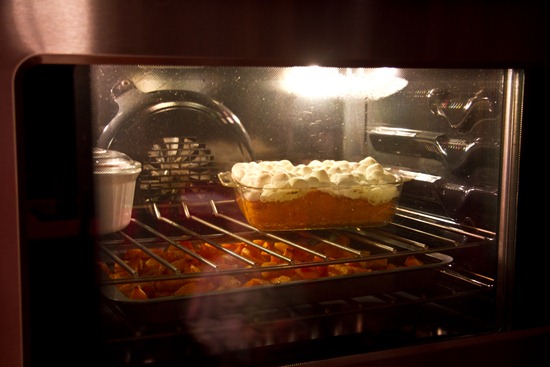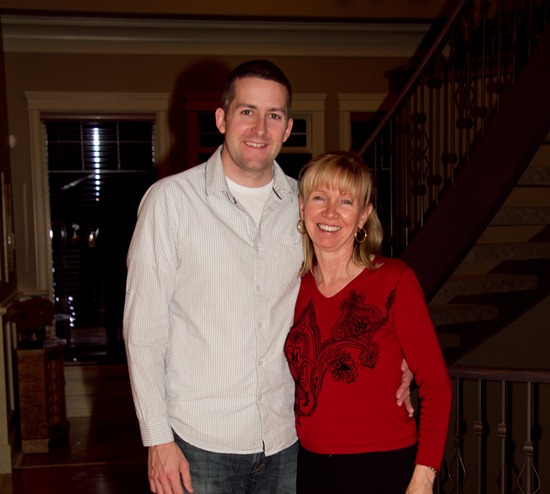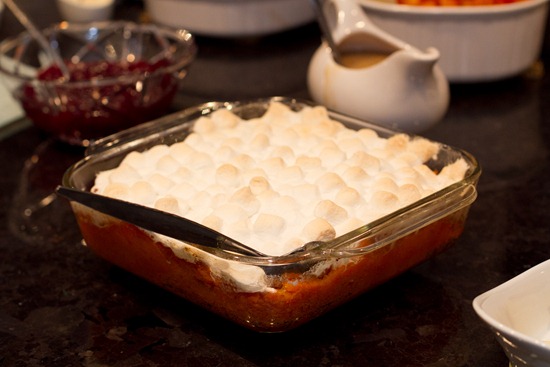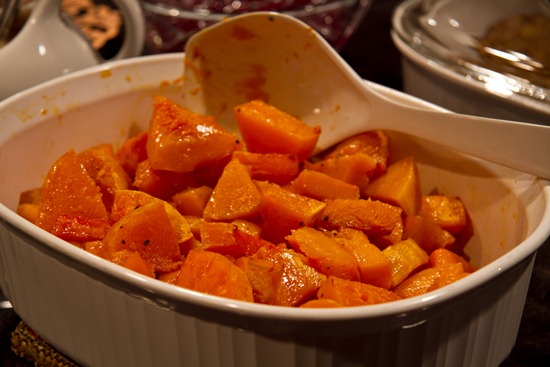 The non-vegans had stuffed chicken and myself and my friend Ashley had In A Jiffy spelt veggie patties.
They were awesome in a roll with vegan gravy! It was a great idea to make for the vegan protein portion.
High Protein Garlic Mashed Potatoes: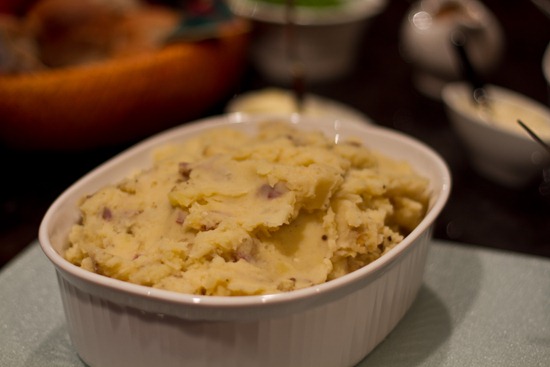 I also brought along Soft Peanut Butter Cookies for my nephews and the rest of my family. They were a huge hit!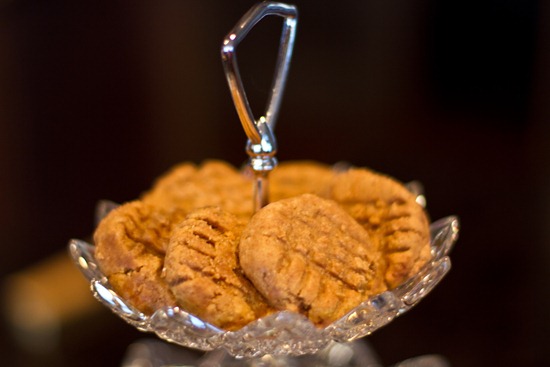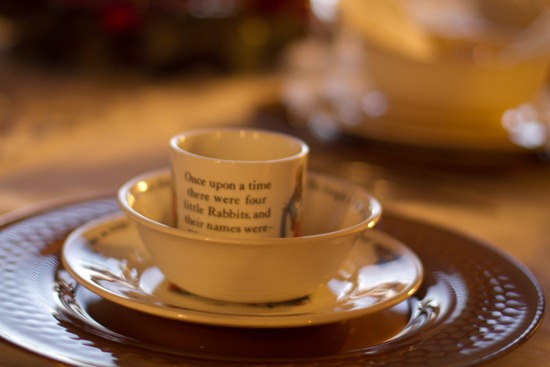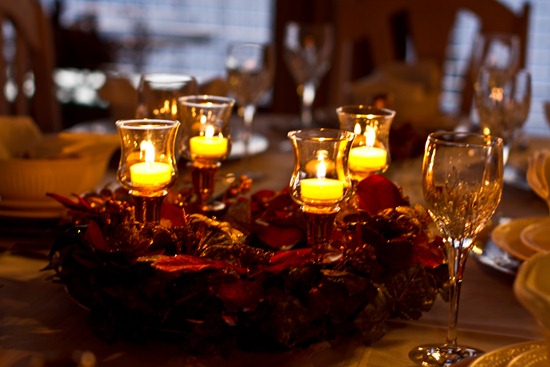 Mmmm, I filled my plate and was one happy vegan!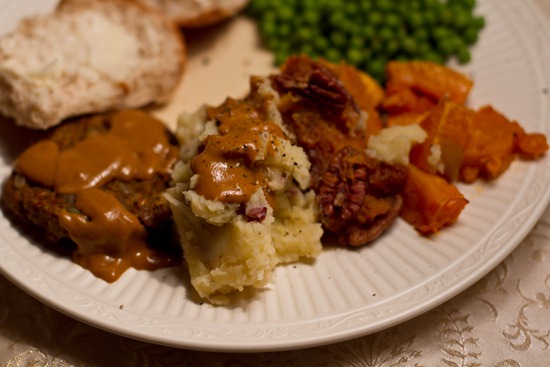 I had a whole wheat dinner roll with vegan butter, peas, butternut squash, This Ain't Grandmas Sweet Potato Casserole, High Protein Garlic Mashed Potatoes, In A Jiffy Veggie Spelt patties, vegan gravy, and Cranberry, Pear, and Pecan Spinach Salad.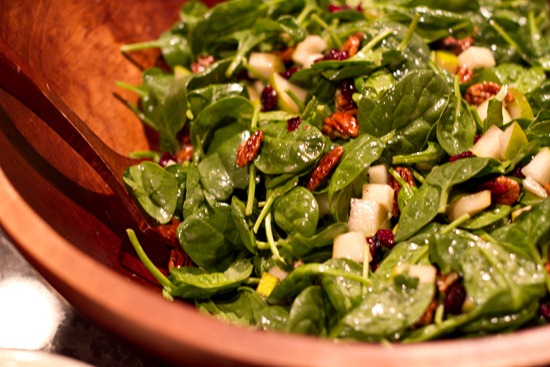 For dessert, my mom made my Pumpkin Gingerbread with Spiced Buttercream!! Gosh I love this dessert.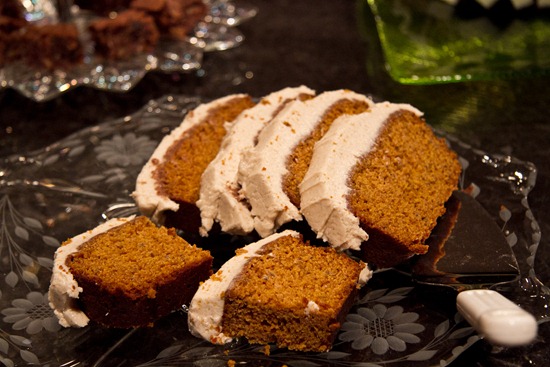 And some non-vegan layered cake!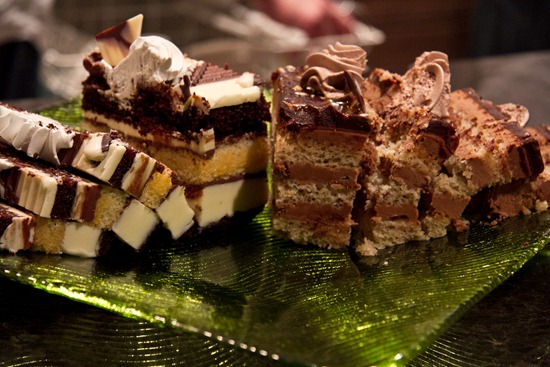 The boys watched the Grey Cup football…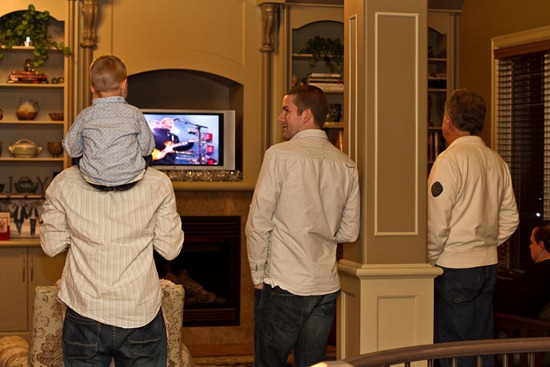 The ladies did not. :)
Then we exchanged gifts with Kristi and the family. I got some amazing pictures of my nephews, a new apron, a holiday table runner, and artwork from my oldest nephew. :)
I told my nephew that my fridge was covered in his artwork, but I was going to add all of the new drawings to it too, and his eyes lit up like a Christmas tree and he said, 'REALLY???'
Then Papa and mammoth Kinder Eggs stole the show and that was that!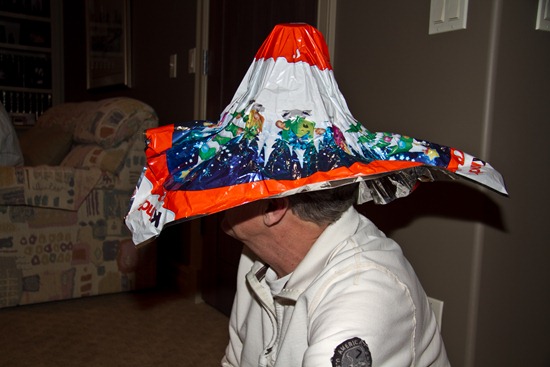 Well, we are off for another day of adventures. See you later!