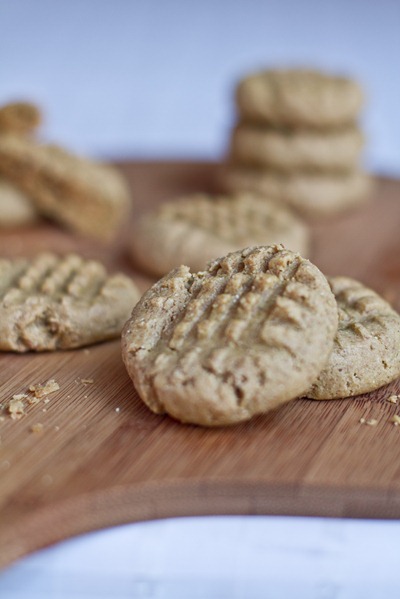 I don't get to see my two nephews in Alberta nearly enough. Having family live far away is difficult at times, especially when you have to watch your precious nephews grow up without being able to see them whenever you want to.
Or I talk to them on the phone and I miss them even more…
Yesterday our phone conversation went a little something like this:
'Auntie Angie, when are you coming to visit us?'
'Saturday. Only 2 more sleeps!'
'Are you going to give me lots of hugs and kisses?'
'I sure am! and tickles too…'
(giggles)
'Are you bringing any treats, Auntie Angie?' (devious giggles)
'You'll have to see on Saturday…'
'Bye.'
[The quick and unexpected departures on the phone are always funny.]
One year, I made the mistake of giving my oldest nephew clothing for Christmas. I was not a cool Aunt at all, and to make up for it, I made copious amounts of Glo Bars during my stay.
For this trip, I decided to bring my nephews Glo Bars (which they go nuts over) and cookies. I shall reclaim my cool Aunt status and not let them down.
Uncle Eric will be cool by association.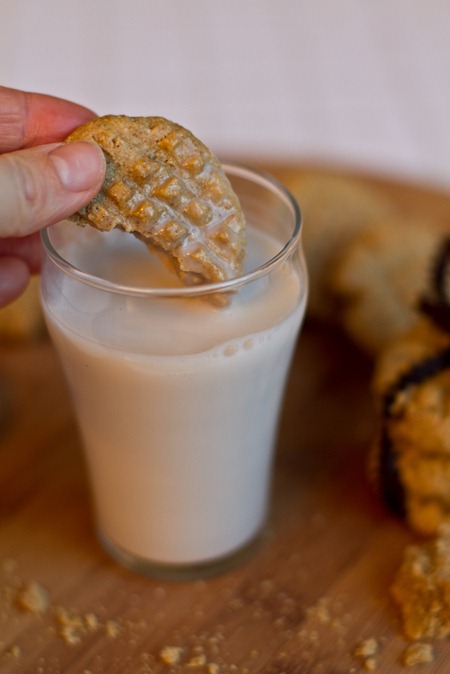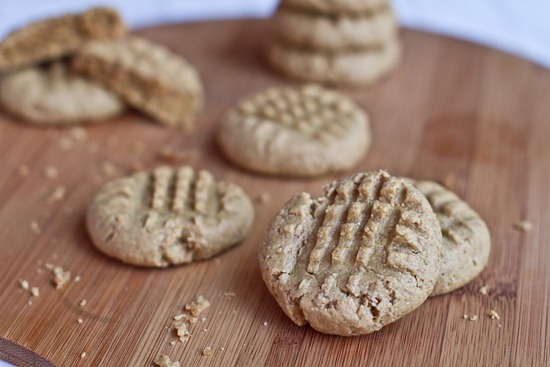 [print_this]
Auntie Angie's Soft Peanut Butter Cookies
Soft and moist, with lots of peanut butter flavour. Dip these cookies in almond milk for a delicious treat that is not too sweet. I used protein packed and nutritious whole grain spelt flour here, but you can also use all-purpose or whole wheat pastry flour too.
Adapted from 101 Cookbooks.
Ingredients:
2 cups spelt flour (or all-purpose or whole wheat pastry flour)
1 tsp baking soda
3/4 tsp kosher salt
1 cup peanut butter (see note)
3/4 cup pure maple syrup
1.5 tsp vanilla extract
1/4 cup almond milk
Turbinado & kosher salt, for sprinkling on cookie before baking
Directions: Preheat oven to 350F degrees. Line a baking sheet with parchment or a non-stick mat. In a medium mixing bowl mix the flour, baking soda, and salt. in a large bowl combine the peanut butter, maple syrup, optional oil (see note below), and vanilla. Stir until combined. Pour the flour mixture over the peanut butter mixture and mix. Place the batter into the fridge for 30 minutes to set or simply wet your fingers and shape into balls. Wet a fork and press down onto the cookie crosswise. Sprinkle with turbinado sugar and kosher salt. Bake for 11 minutes at 350F and let cool for 5 minutes.
Note: The original recipe calls for 1/3 cup of extra virgin olive oil, however I omitted this due to the fact that my peanut butter was very oily and slick (the result of a brand new jar!). If your peanut butter is a bit on the dry side, you might want to add 3-4 tbsp of extra virgin olive oil into the mix to ensure that your cookies don't come out too dry.
Yields 26 cookies.
[/print_this]
Gather the wet ingredients: PB, maple syrup, and vanilla.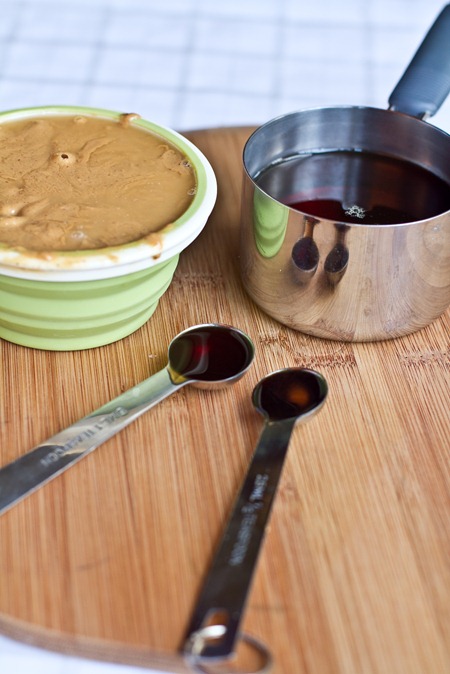 Note: there should also be 1/4 cup of almond milk mixed in with the wet. This was something I added in later, but I would mix it in with the above ingredients if I made them again.
Mix.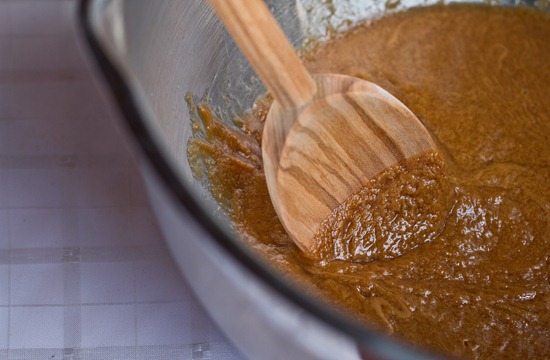 Gather dry ingredients: Spelt flour, baking soda, salt.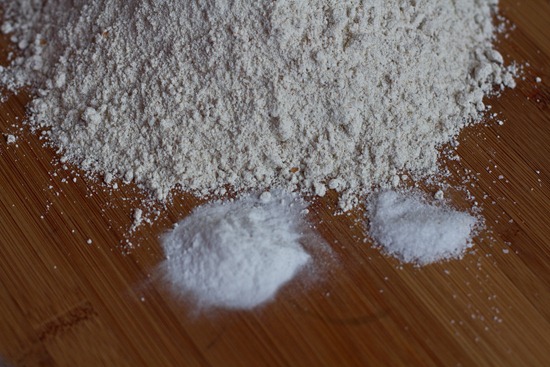 Mix dry ingredients in a bowl and then add into the wet and stir with a big spoon. The batter will be very thick and sticky.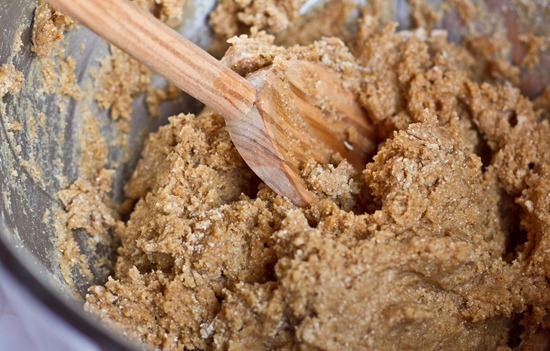 Now, you can either refrigerate the dough for 30 minutes or if you are impatient (ME) and fighting daylight for photography (ME), you can simply wet your fingers and shape the balls that way. If the dough sticks to your hands make sure to keep wetting them.
Same goes for the fork. Keep it wet and you will be fine.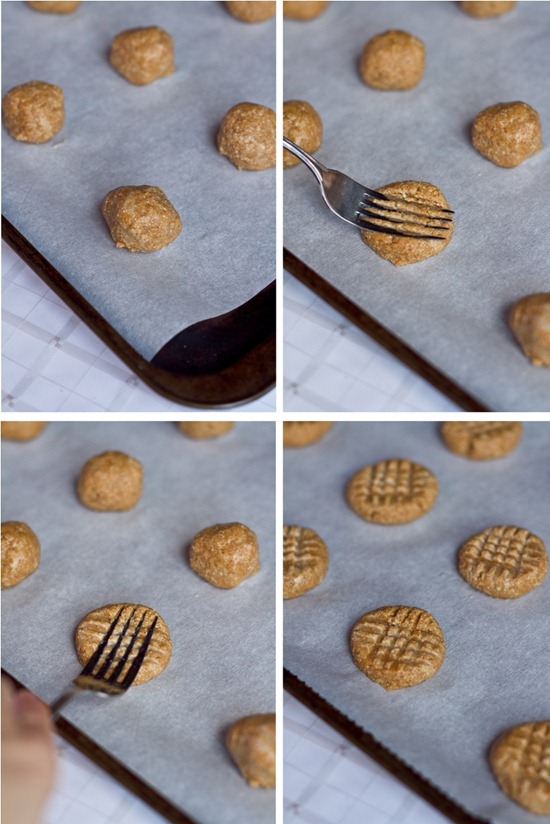 Sprinkle with turbinado sugar and kosher salt and bake for 11 minutes at 350F. I baked 12 cookies at a time. This recipe makes about 26 cookies.
Cool for 5 minutes.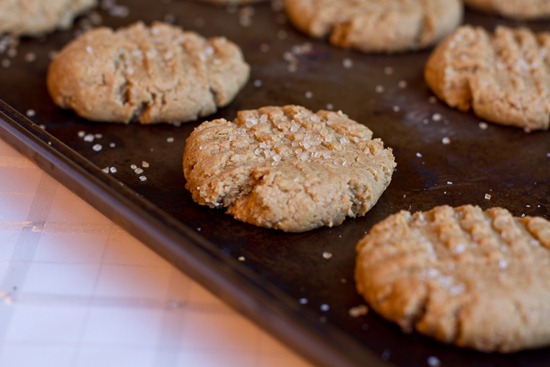 Easy as that!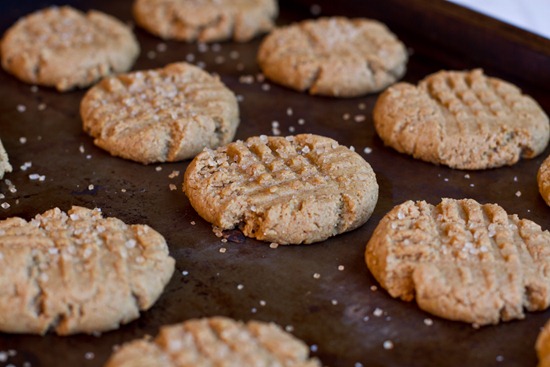 Mmmmm.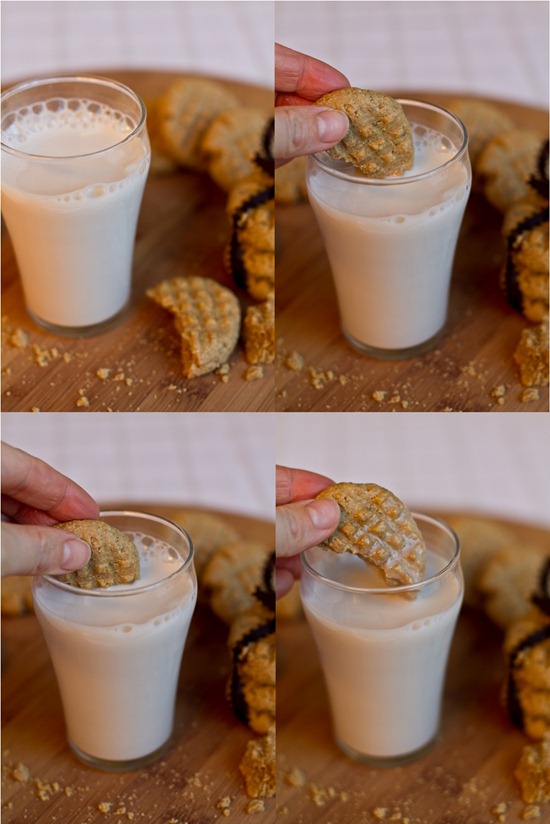 If you are a crunchy peanut butter cookie fan, this probably isn't your recipe because these cookies are quite soft. Any ideas on how to get them really firm and crunchy (aside from cooking them longer)?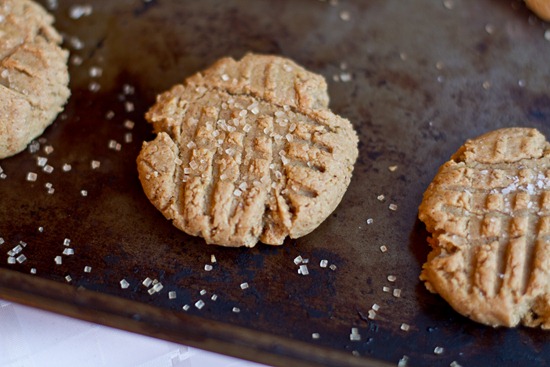 All wrapped up and put in my suitcase for my nephews. :)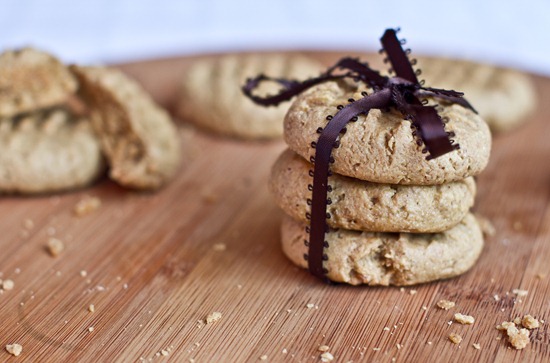 4am wake-up call tomorrow…Better get to sleep!