If you were reading OSG this time last year, you might remember that I signed up with an organization called Project Feed Me as a way to rally myself and others to donate food items to local food banks.
It was a big success with many of you participating and donating whatever food items you could.
To participate in this Virtual Food Bank Party all you have to do is commit to donating food items to one of your local food banks.
It can be as much or as little as you want from a can of beans to a couple boxes of food. Even just 1 item makes a difference to those who need it.
Here is how you can participate:
1) Find a local food shelter near you:
If you are in Canada try Food Banking.

If you are in the US try Feeding America.

If you are in the UK try The Trussell Trust.

If you cannot find a local food bank via those means, try searching: '[your town name] + food bank' in Google.
2) Check for a list of most needed food items.
The most needed foods items will vary by food bank. You can also call the food bank and ask what they need.

As an example, a local food bank near me has this list on their website as the 'most needed items':

Beans (Dry or canned)
Boxed macaroni & cheese
Canned fish and meat
Canned fruit and vegetables
Canned stew
Cereal
Dry pasta
Juice (boxes or cans)
Pasta sauce
Peanut butter
Rice
Snacks (Think nutritious!)
Soup (Dry or canned)
Toiletries, personal hygiene products, cleaning supplies, and laundry detergent
If you want to know what your local shelter is in need of it is best to call or check their website. Of course, you can also simply give whatever non-perishable food items you currently have in your cupboards too.
3) Drop off your food items to the food bank or a local drop box.
Drop boxes can often be found in grocery stores and sometimes Police or Fire stations serve as drop off spots too. Be sure to check the procedure for your food bank.
Today, I will be donating: Flour, cereal, sugar, quinoa, pumpkin, tomato paste, kidney beans, black beans, and a box of tea.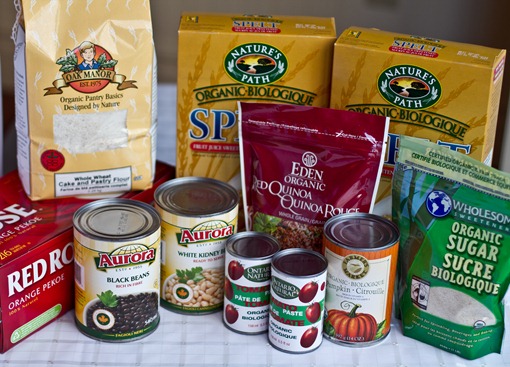 One of my goals is to start donating food on a regular basis (not only during the holidays, although the holidays are good reminders).
While the challenge is indeed a virtual one and we can't all be in the same city together, I still think we can make a positive impact and do some good. :) 
Let me know if you'd like to join in on the fun!
I will see you around lunchtime for a recipe and fun announcement.