Well, my dear readers you have done it again. Thank you so much for voting for me in the Project Food Blog video challenge. I received the Reader's Choice award. I can't thank you enough for taking the time to vote for me each round. :)
I was grateful that I moved on because I have been working hard on Challenge #8 for a couple weeks now and I am excited to show it to you next week (it's due Nov. 28th). I'm hoping to finish baking + shooting my entry this weekend because I'm flying out West to visit family next weekend and won't have time to do it then.
I thought I would share with you a booty-kicking treadmill interval workout that I have been enjoying lately when the weather is too poor to run outside. It whips my butt and leaves me drenched in sweat.
Treadmill Interval Workout:
Warm up: 5 mins of walking
Running 0.25 mile repeats (6.0mph, incline 4% & 7.0 mph, incline 2%) <—I switch every 1/4 mile
Abs: After every mile, I pause the workout, drink water, and do two ab planks for 60 seconds
Distance: 3-4.5 miles (depending on how long I can go)
Cool down: 5 minutes of walking
Stretch/yoga poses/meditation for 5 mins.
It is one of the hardest workouts I have done in a while. The beauty of it is that you can switch up the times and inclines to suit your own needs. The workout is tough, but it goes by much quicker than if you just did 35 minutes all at the same pace and incline. The key to preventing indoor workout boredom is to keep switching it up as much as possible.
During my workout last night, I was dreaming about fun cookie flavours and I suddenly got the urge to make a carrot cake cookie.
A cookie that would be fabulous crumbled over a hot bowl of oats or in a Vegan Overnight Oat parfait.
A breakfast carrot cake cookie.
Or a mid-morning snack type of cookie.
Or a 'it's-4'oclock-and-I-want-to-inhale-the-vending-machine' cookie.
Really, this is an anytime, just-because bite-sized cookie.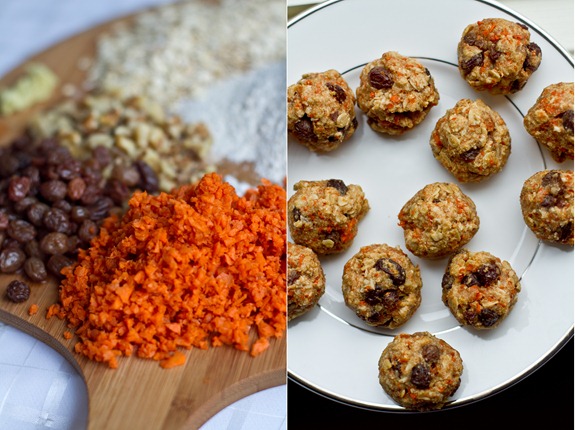 Itty Bitty Carrot Cake Cookies
These mini cookies are soft yet crunchy, delicate, moist, bite-sized, and most of all, they taste just like carrot cake in cookie form!
Inspired by 101 Cookbooks.
Ingredients:
1/2 cup whole wheat pastry flour (I'm sure other flours would work!)
1/4 cup regular oats
1/4 cup unsweetened coconut
1/2 tsp baking powder
1/4 tsp kosher salt
1/4-1/3 cup chopped walnuts
1/2 cup shredded carrots, packed
1/4 cup raisins, soaked in water overnight
1/4 cup pure maple syrup, room temperature
1/4 cup coconut oil, warmed for about 25 seconds in microwave
1/2 tsp fresh ginger, grated
Pinch of ground cinnamon
1/2 tsp pure vanilla extract
Directions: Preheat oven to 350F and line 1 baking sheet with parchment or a non-stick mat. Whisk together the flour, cinnamon, baking powder, salt, and oats in a large bowl. Add in the nuts, coconut, raisins, and shredded carrots. In a small bowl mix the maple syrup, softened coconut oil, vanilla, and freshly grated ginger. Add this to the flour mixture and stir until combined.
Drop about 1 heaping tablespoon of dough onto lined baking sheet, leaving about 2 inches between each cookie. Shape into a ball with hands. Bake for about 12 minutes and cool for 10 minutes on a baking rack.
Yield: 15 bite-sized cookies.
Nutritional info: (per cookie): 54kcals, 2 grams fat, 8 grams carbs, 1 gram fibre, 1 gram protein, 5 grams sugar.
Did you guys notice I got a Recipe Print function finally?? :) Hope it works for you!
If you want juicy and plump raisins in your baked goods, soak them for a couple hours or overnight in water!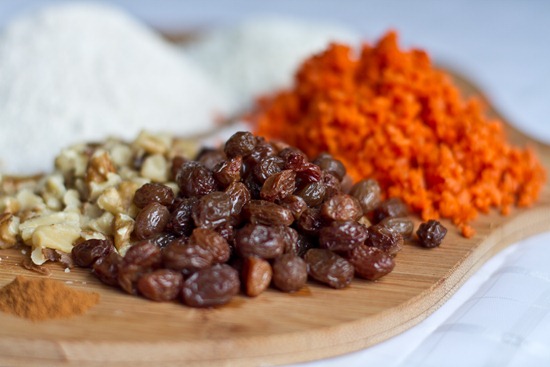 The raisins doubled in sized. Bliss.
On a side note, sometimes shooting recipes in the early morning (before French Press or tea) is not the best idea. I was fumbling all over the place and I dropped my camera twice this morning! Luckily it seems to have made it out ok…but I nearly had a heart attack.
Gather up your dry ingredients…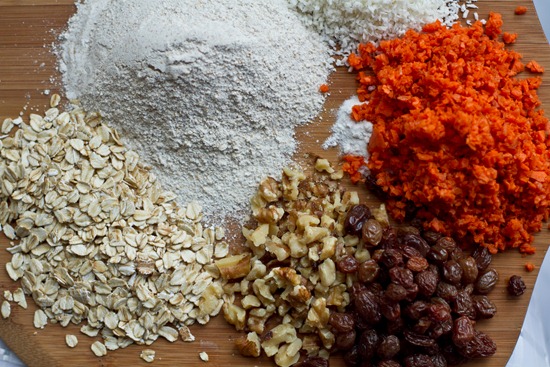 The wet ingredients…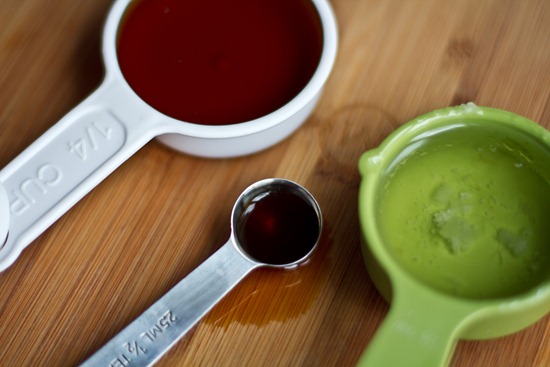 If you can't get your hands on some coconut oil, I would guess that olive oil might work too.
Add wet to dry and mix…the batter will be very moist and saturated. This is a good thing. :)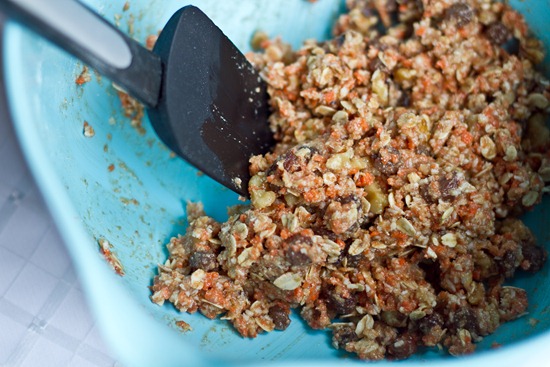 Scoop 1 heaping tablespoon of batter and shape into a ball. Make 15 balls if you want bite-sized cookies.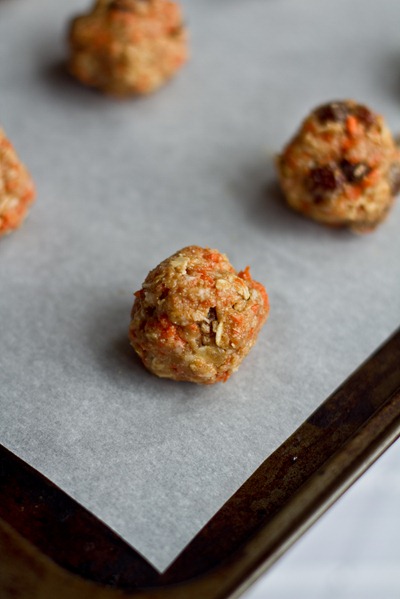 That'll do.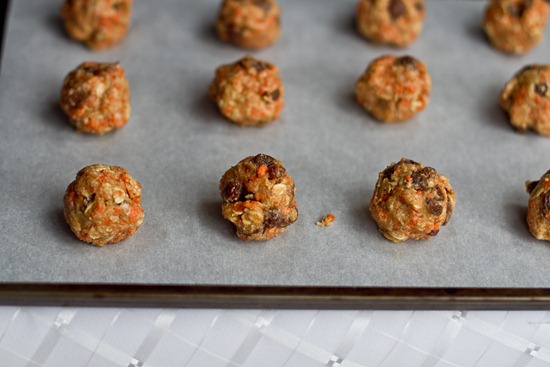 Now bake for 12 minutes at 350F. Allow the cookies to cool for at least 10 minutes so they can firm up a bit as they will be very delicate.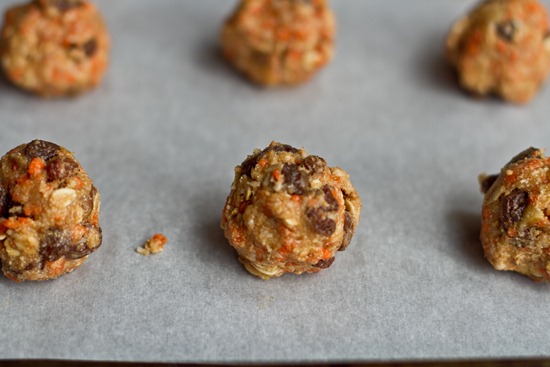 The result is a very moist, delicate, soft yet crunchy, bite-sized cookie that tastes just like carrot cake!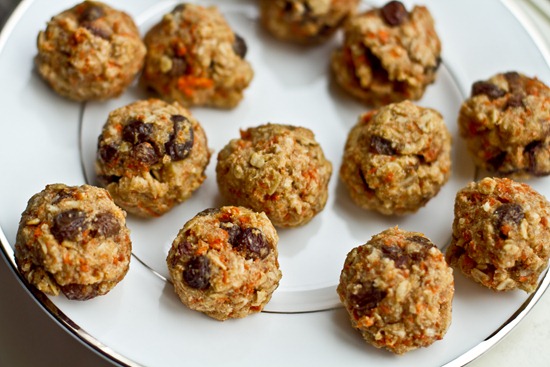 Start to finish I was done and had a cookie in my mouth in under 30 minutes flat. :)
If you are a carrot cake fan, you might also enjoy my Healthy Carrot Cake Power Scuffins.
I probably won't have time to post again until Monday because I'm going to be up to my ears in pumpkin for Challenge 8 all weekend. Good times, good times. ;) Have a great weekend!