If you would like to wow your guests with an unusual side dish at your next holiday dinner…
This one is for you!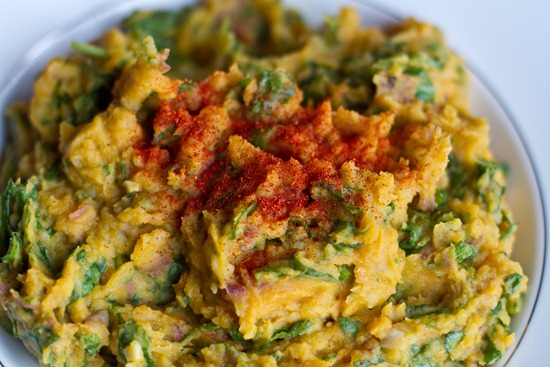 There is nothing I love more than taking classic dishes and shaking them up a little.
Before we get to this beautiful dish…two quick things:
1) Daily Pictures are up. [My excitement got the best of me and I posted them at 12:01 am. Is that nerdy or what?]
2) I am organizing and updating my recipes page.
Hallelujah! Can you hear the angels singing? I sure can.
I fell off the recipe-updating wagon for about 2-3 months, but I hope to get caught up by my 53rd birthday with any luck.
Ok, ok my 50th birthday. So demanding.
Tonight, I updated, organized, and alphabetized my Breads, Cakes/cupcakes/pies, Cookies, Muffins, Raw foods/No Bake, and Other categories!
It is incredible how long the list is getting.
It is also incredible that I remember how to alphabetize.
Or spell alphabetize for that matter.
I still have to update my Dinner, Lunch, Breakfast, and Appetizer categories though. That will be a massive undertaking. I will need a Green Monster to my right and a glass of wine to my left for that one.
I have also added my Project Food Blog posts at the top of my recipes page. If you are looking for any of the recipes I have made for PFB, that is where they are hiding!
Whew. There is hope for me yet.
Tonight, I whipped up a delicious holiday-inspired side dish that will have heads turning, tongues wagging, and drool dripping.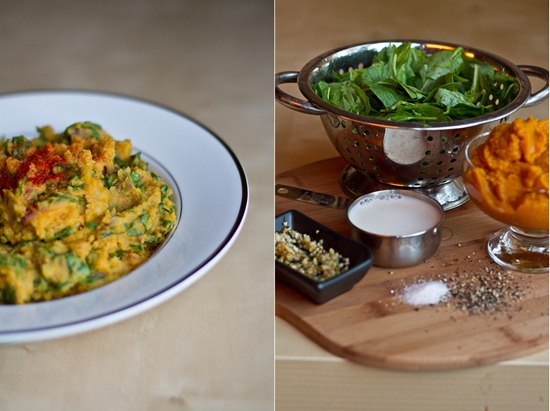 Or people might look at your dish and run like hell. I really can't guarantee anything here.
Garlic Pumpkin Mashed Potatoes with Spinach
Pumpkin mashed potatoes…with SPINACH! Such a crazy, yet lovely flavour combination. I fell in love with these potatoes as did Eric. The flavours of the pumpkin, garlic, sea salt, and spinach really go lovely with the potatoes.
Adapted from Cake, Batter, Bowl.
Ingredients:
7 red potatoes, scrubbed & chopped (or Yukon Gold variety)
1/2 tablespoon olive oil
2 cloves garlic, minced
1-1.5 cups pumpkin puree, to taste
Two handfuls spinach, stems removed & chopped
1/2 cup Almond milk
2 tbsp Earth Balance or butter
1.5 teaspoons kosher salt, or more to taste
Freshly ground black pepper, to taste
Paprika, for garnish
Directions: Bring a large pot of water to a boil over high heat and boil potatoes for 18 to 22 minutes or until fork tender. Drain and place in a very large bowl. Meanwhile, heat olive oil over low heat in a skillet and sauté garlic for about 1 minute. be careful not to burn it like I did! Drain and mash potato chunks in the large bowl with a fork. Mix in pumpkin puree, spinach, almond milk, Earth Balance/butter, black pepper, and salt. Makes 5-7 servings.
*Best served immediately- the potatoes tend to get a bit watery (from the pumpkin) if they are put in the fridge.
Recipe note: This is the last pumpkin recipe I am making for a while!!!
Gather the troops!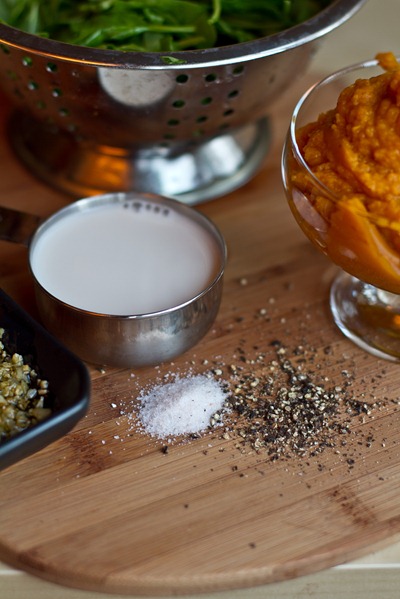 Cook, drain, and admire the beauty of zee taters.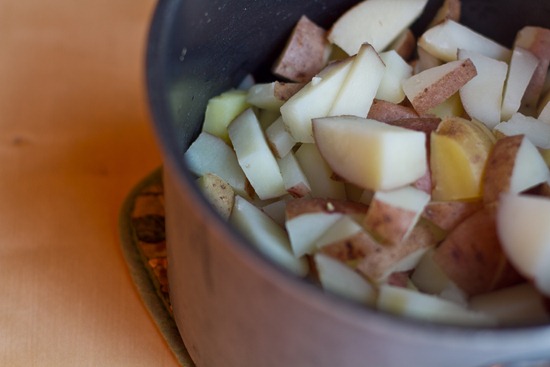 Also, admire the beauty of your tired hand-me-down pots and pot holders.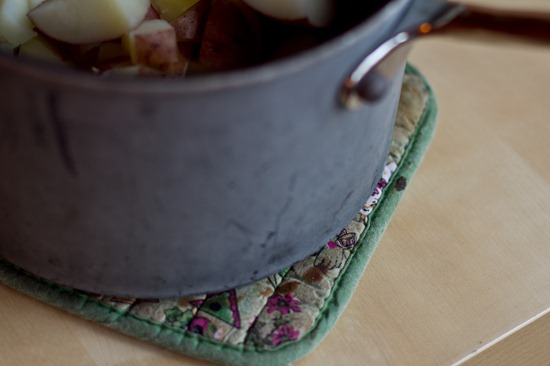 New things are over rated.
Now magic happens….
A beautiful unison of two things I never thought I would see together: Pumpkin and Potatoes.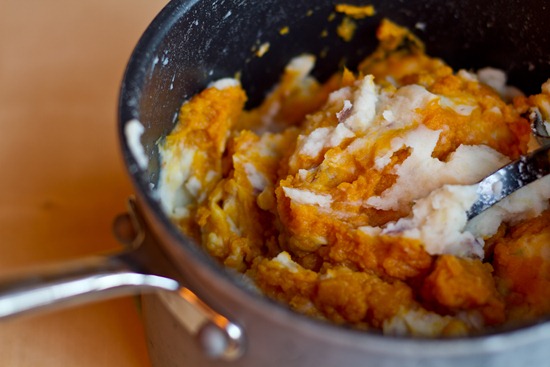 Isn't that just lovely?
Add in your salt, pepper, spinach, almond milk, and [hopefully not burned] garlic and give that arm a workout.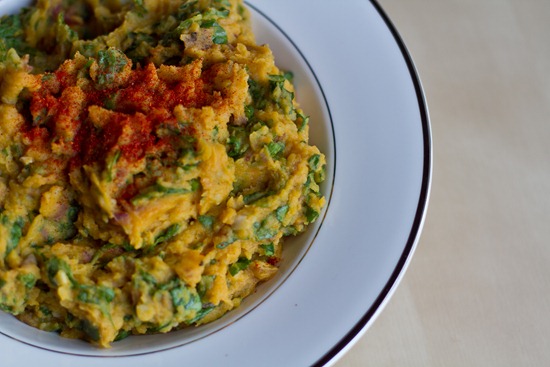 Sprinkle with Paprika if you dare.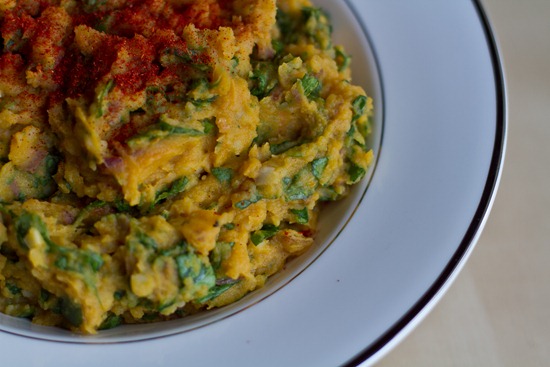 It adds a little flare.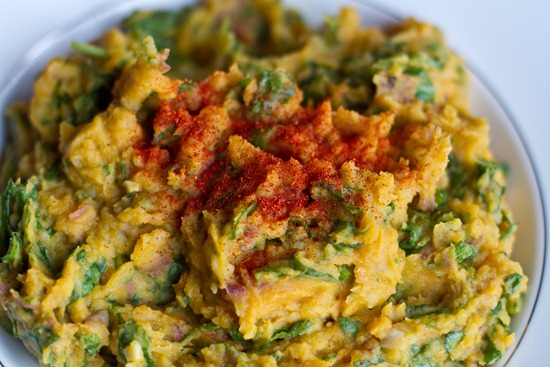 Uh oh, the poet in me is coming out.
I best get myself to bed.
Speaking of sleep, I have been having the craziest dreams lately….and many nightmares about random things! Many of them involve people chasing me or trying to hurt me. I even had a few dreams about Project Food Blog this past week. One of them was that I went to submit my video this coming Sunday and Foodbuzz told me that I handed it in a week late and was disqualified. I tried to show them that my video was uploaded on November 7th, but they didn't care. Then my head was chopped off.
Ok, that last part didn't happen, but it could have!
I can go for weeks without remembering any significant dreams and then all of a sudden I have a slew of strange dreams and nightmares all at once and random people popping up from my past. Sometimes I 'see' people in my dreams and I think to myself, 'Where the hell did you come from!?'
Do you remember your dreams much or give much thought to them? Do you think that they mean anything or are they just a product of random thoughts swirling through your mind?