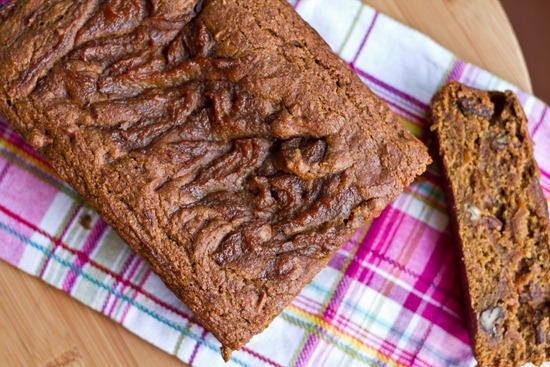 Hello again! ;)
We are experiencing the most gorgeous weather in Southern Ontario right now. Crystal clear blue skies and daily highs of about 10 Celsius. This is very welcomed after a couple months of rain, gloom, and doom! I find that I am looking forward to my outdoor runs so much lately!
Despite the weather making me want to lay outside with a beach towel in my swimsuit, I had a really productive start to my week yesterday, cranking through my orders and also finalizing the new Glo Bar flavour, nutritional info, and labels. It was a great start to the week and I hope I can keep this momentum going.
Today, I am working on a Glo Bar donation for a charity volleyball tournament that is this weekend and I also have a meeting late this afternoon about a project coming up.
But right now, I bake.
I take photographs.
And I then tell you about it.
It's basically like an adult version of show and tell, really.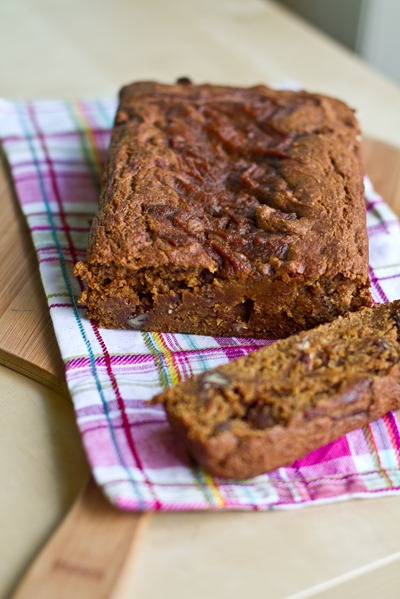 [No, not that kind of adult show and tell!] ;)
And by 'adult' I mean, that I'm about 1 slice of bread away from squealing like a 6 year old.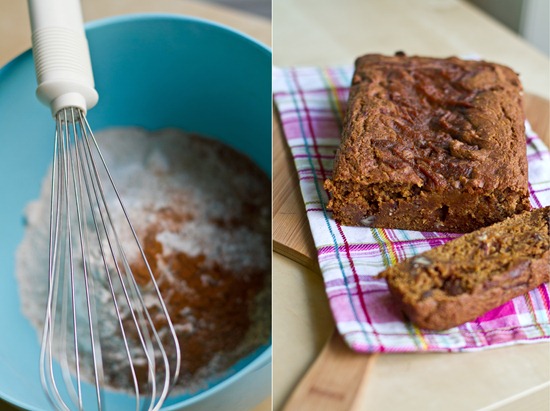 Pumpkin Butter Swirl Butternut Pecan Bread
Pumpkin Butter was swirling through my dreams last night and I came up with this swirly and delicious bread. This is quite possibly the most moist, dense, and tempting bread I have ever made, but still packed with healthy ingredients of course. If you are not a fan of very moist breads this isn't for you, but luckily I just love them. The bread is so moist you don't need a lick of butter and will be coming back for more and more. Don't worry if you don't have any Butternut squash puree, you can easily sub in pumpkin in this recipe.
Ingredients:
Dry ingredients
1 2/3 cups spelt flour (or all-purpose, Kamut, white whole wheat)
1/2 cup Sucanat or packed brown sugar
1 teaspoon baking soda
1 teaspoon cinnamon
1/2 teaspoon sea salt
3/4 teaspoon ginger
3/4 teaspoon baking powder
1/2 teaspoon nutmeg
1/8-1/4 teaspoon ground cloves (optional)
Wet ingredients:
1/2 cup pure maple syrup (honey might work)
1 cup canned butternut squash or canned pumpkin
1/4 cup melted coconut oil (or canola oil)
1/4 cup apple sauce
1 ground flax egg (1 tbsp ground flax + 3 tbsp warm water, mixed)
To stir in:
3/4 cup Pumpkin Butter
1/2 cup pecans or walnuts, chopped and toasted if desired
Directions: Preheat oven to 350 F. Line a loaf pan with parchment and then lightly grease with oil. In a large bowl whisk together the dry ingredients. In a medium sized bowl, mix together the wet ingredients. Add wet to dry and stir well until fully incorporated. Be careful not to over mix. You want to stop stirring just when it comes together. Fold in the nuts.
Pour half the batter into the pan and spread out with a spatula. Take half of your pumpkin butter and scoop out onto the middle of the pan (see below). Now grab a spoon and swirl the pumpkin butter all around (see below). Now take the rest of the batter and pour over top. Spread around with spatula to smooth out. Now take the rest of your pumpkin butter and scoop onto top and swirl throughout the batter.
Place the pan into the oven preheated to 350F. Bake for approx. 50-55 minutes. The bread will very slowly bounce back when pressed with your finger. Allow to cool before removing from pan for about 30 mins. Makes enough for 8-10 slices.
Note: This bread is very heavy + dense and as a result did not rise that much. This might be partly due to using whole grain spelt flour, and also, due to the layers of pumpkin butter. If you want a less moist bread you can sub the maple syrup for more sugar as a start. I would also guess that it would rise higher if you don't use whole grain spelt as it is a heavy flour.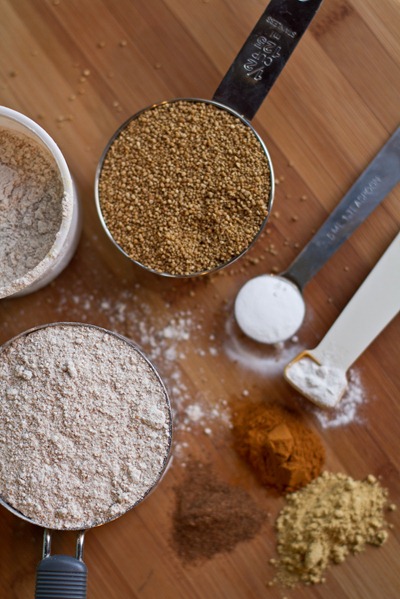 Assemble the dry ingredients…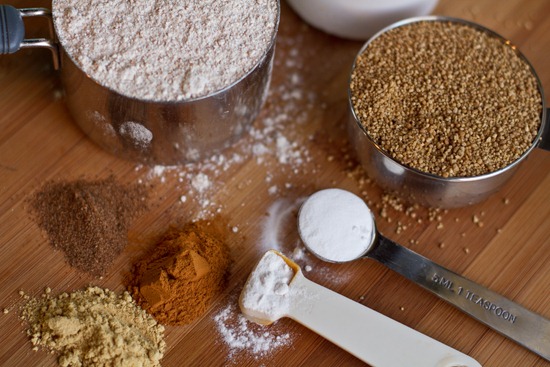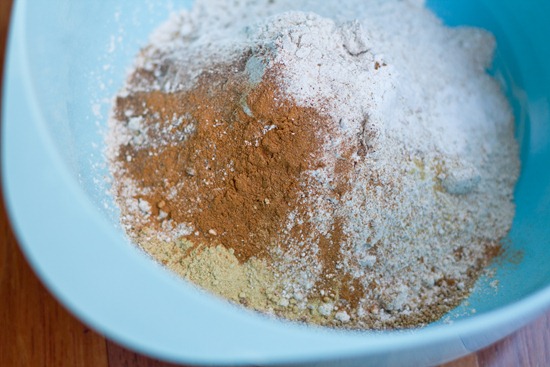 Dump in large bowl!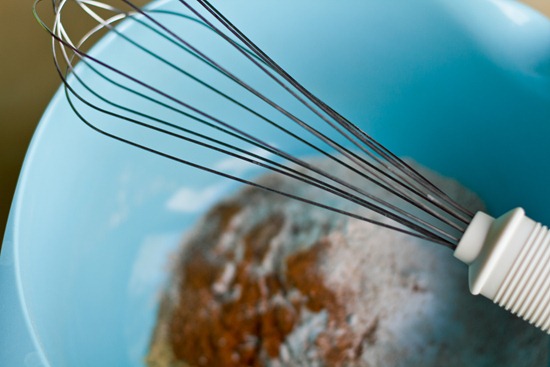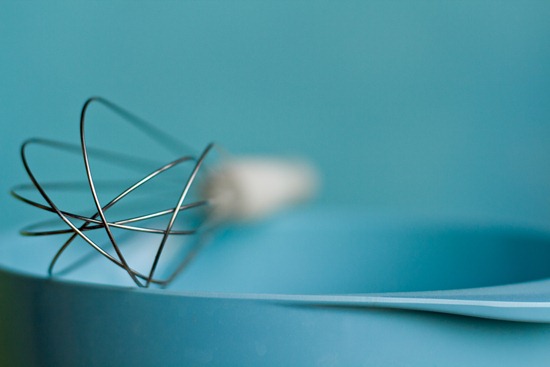 I fell in love with the whisk pictures and they sorta stole my heart. I get a bit distracted at times. ;)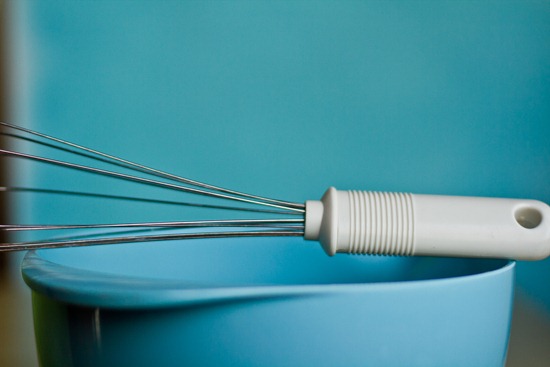 Whisk!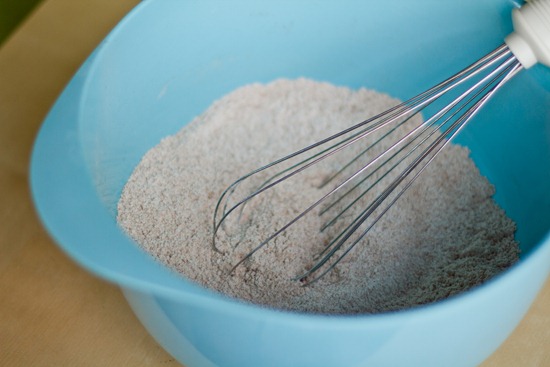 Assemble the wet ingredients: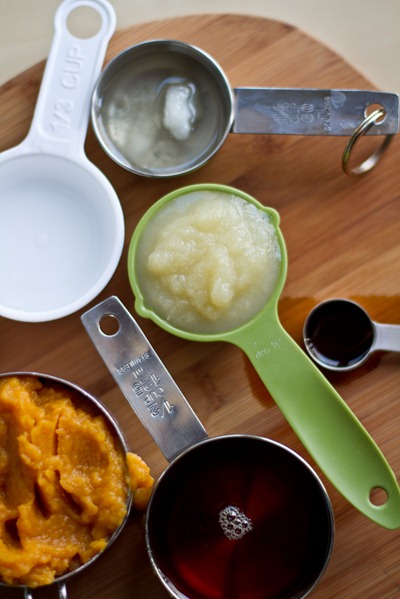 Mix.
Add wet to dry…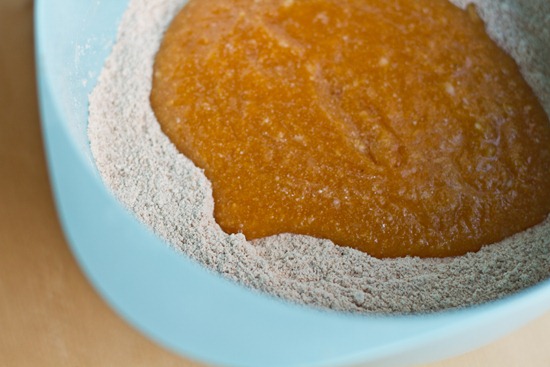 Stir until just incorporated.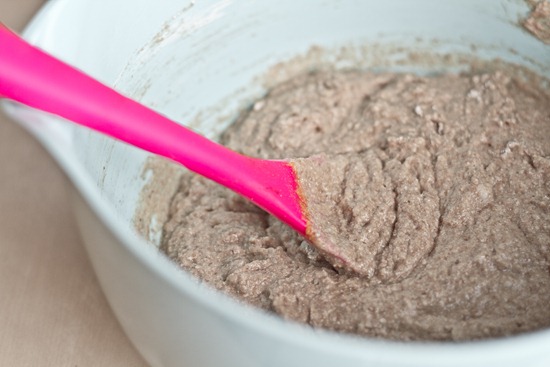 Now we layer.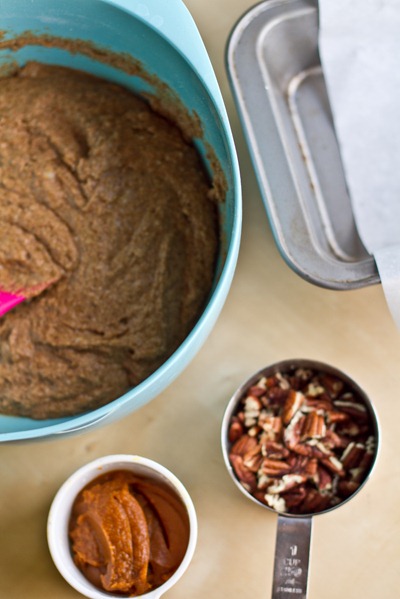 Add half the batter into the loaf pan and spread out with spatula.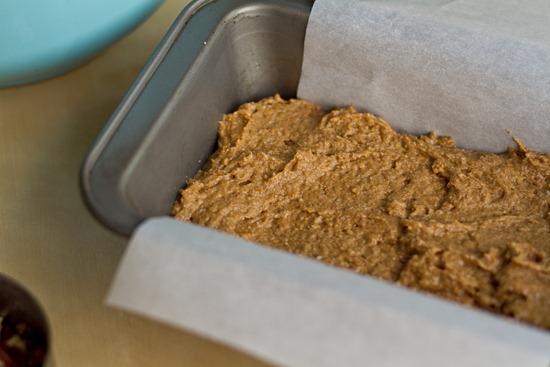 Add half the pumpkin butter down the middle…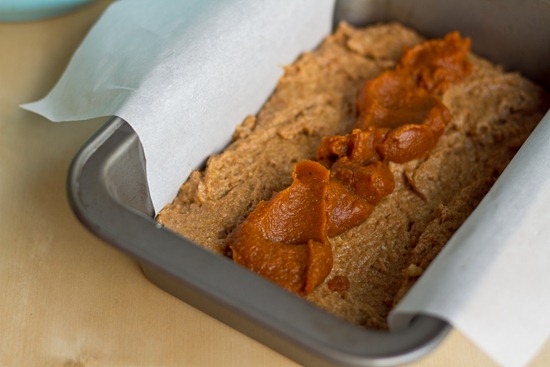 Get your swirl on with a spoon.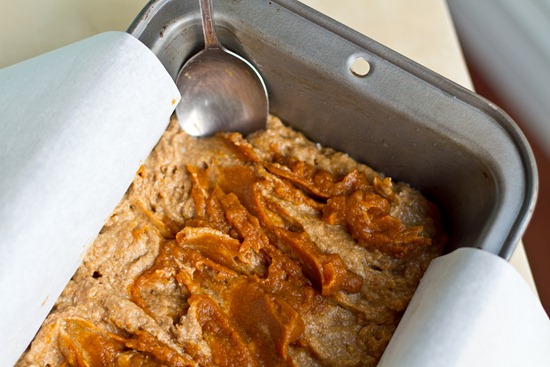 Now add the rest of the batter and smooth out.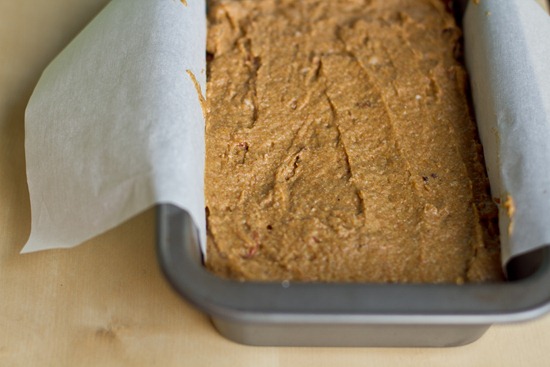 Add the rest of the pumpkin butter and get your swirl on once more!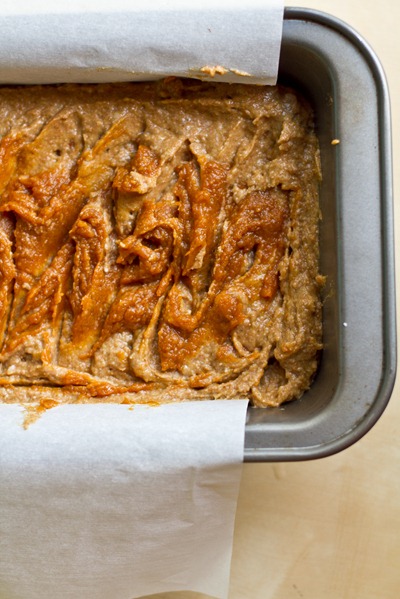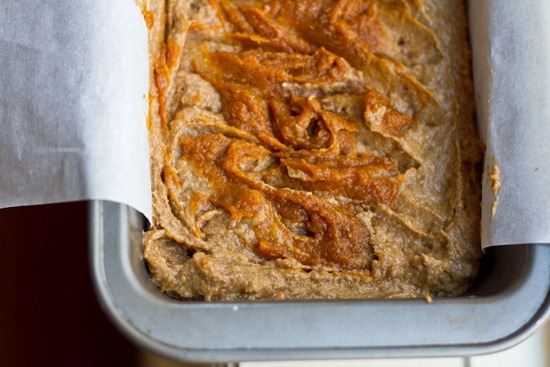 Now bake for about 50-55 minutes at 350F. Cool for at least 30 minutes before removing and slicing.
It will be very hard to wait. You might have to leave the house.
Slice.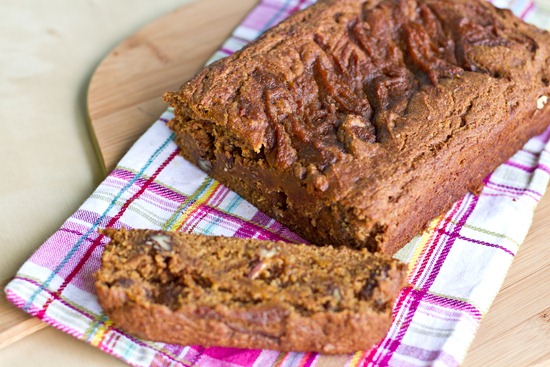 Check out those Pumpkin Butter swirlz!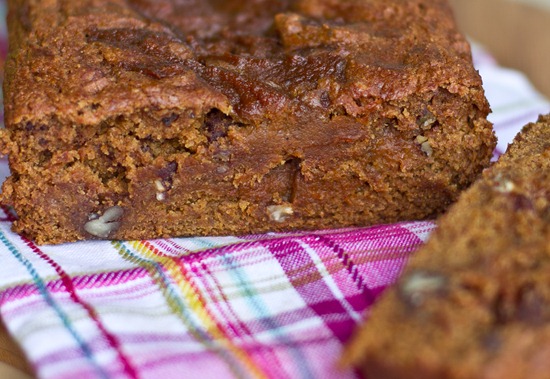 I LOVE this bread. I am a huge fan of super moist and dough-like interiors and this bread fits the bill. The pumpkin butter does a beautiful job in making this bread gooey and soft.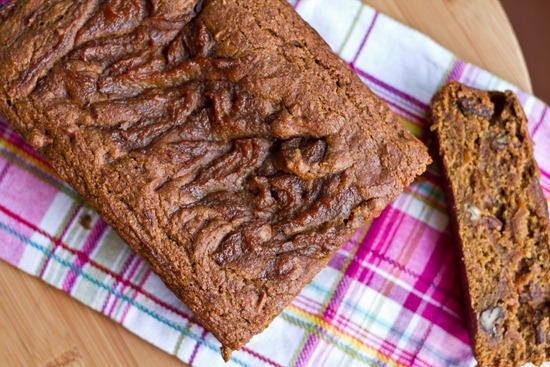 Gooey goodness.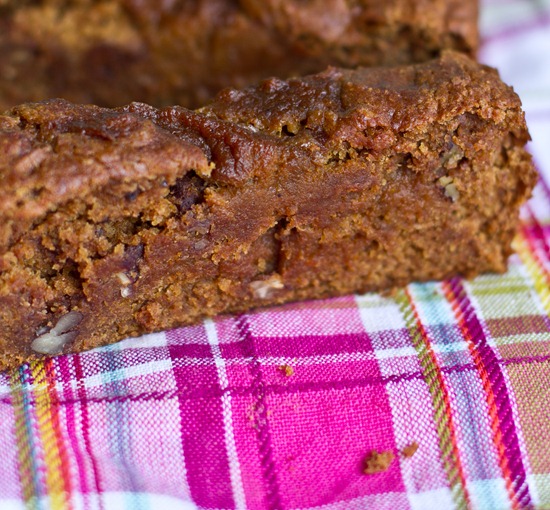 The pecans also added a lovely texture. Next time I might even add more.
How do you like your sweet breads? Are you a fan of moist and gooey interiors or do you prefer a drier texture and more fluff?
I enjoy both moist + doughy breads and also fluffier and drier breads. I am an all-inclusive and non-discriminatory bread lover. ;) Eric on the other hand, love dry breads and cookies- the drier the better, he says. You know what they say…opposites attract…