Good afternoon!
Well, it looks as if all signs point to waiting to upload my video until next Sunday. Thank you for all of your input in last night's post. As Eric said, sometimes it is best to keep things under wraps. ;) The great news is that my post is completely finished and all I have to do next Sunday is hit 'publish'. Thanks for your support and patience in waiting for the reveal of my video. I'm reeeeeeally excited for next Sunday and can't wait to show you.
As you may know, I am a bit obsessed with these oat squares. So far I have made Strawberry oat Squares: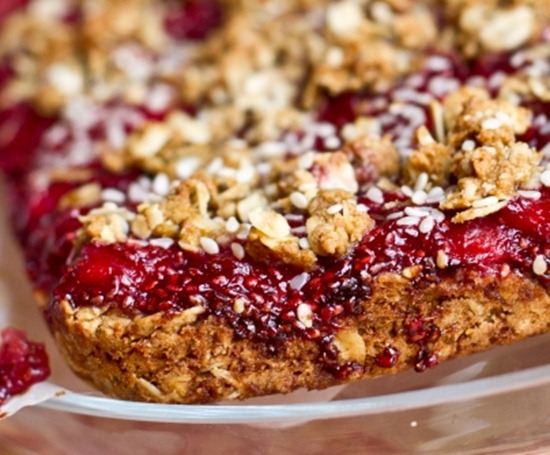 and Buttery Apple Streusel Oat Squares…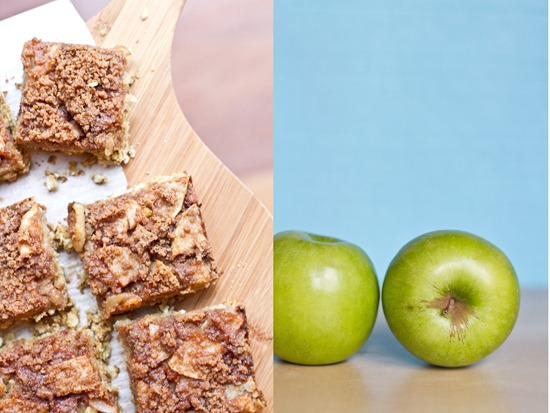 This weekend I made Pumpkin Butter Oat Squares with Candied Pecans.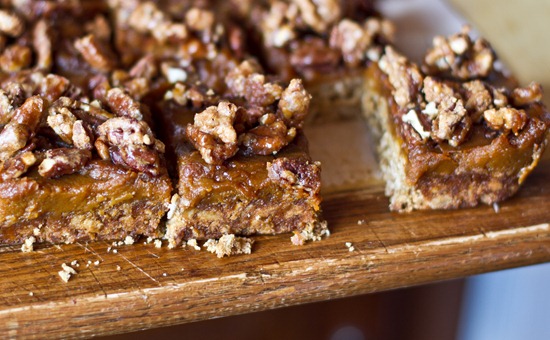 I have been wanting to make this variety for a while now and I finally made a new batch of pumpkin butter just for this occasion. This recipe involves a lot of steps so you can make the pumpkin butter and candied pecans ahead of time if you prefer.
Pumpkin Butter Oat Squares with Candied Pecans
Ingredients:
For Oat Base:
1.5 cups regular oats
1 cup whole-grain spelt flour (or kamut, whole wheat pastry flour, or white/whole wheat)
1/2 tsp baking soda
1/2 tsp sea salt
1/2 cup Sucanat sugar (or brown sugar)
1 chia egg (1 tbsp chia seeds+ 4 tbsp warm water, mixed well and set aside for 5 mins)
1/2 cup + 2 tbsp Earth Balance, melted
1/4 cup pure maple syrup
1 tsp pure vanilla extract
2 tbsp almond milk
Pumpkin Butter:
Candied Pecans:
1 cup candied and chopped pecans (See below for recipe)
Directions: Preheat oven to 275F. Line a square pan (I used a 9×9) with parchment paper and oil the sides of the pan and base. In a medium sized pot, prepare the pumpkin butter. Once cooked, remove from heat to cool.
Next prepare your candied pecans while the pumpkin butter is simmering. See below for recipe. When finished, set aside. Now preheat oven to 350F.
In a small bowl, mix the chia or flax egg and set aside. In a large bowl, mix the oat base dry ingredients: oats, flour, Sucanat/brown sugar, baking soda, salt. In a small bowl, mix the melted earth balance, maple syrup, almond milk, vanilla, and chia egg. Stir well.
Add the wet mixture to the dry and mix well, using hands to mix well. Set aside 1/2 cup of the oat base mixture if desired (I didn't in this recipe, but I probably would next time). Pour the oat mixture onto the square pan and press down with fingers. Use a pastry roller to smooth out if desired.
Pre-bake the oat base at 350F for approximately 15-18 minutes. Remove from oven and pour on 1.5 cups cooled pumpkin butter and smooth out with spatula. Now sprinkle on the reserved 1/2 cup oat mixture and 1 cup candied pecan topping over top of pumpkin butter.
Bake at 350F for another 8-10 minutes. Allow to fully cool on counter for about 20 minutes and then in the freezer for at least 30-50 minutes before gently removing from pan and slicing.
Baking notes: These bars taste better the next day after the flavours have developed and the moisture from the pumpkin butter has moistened the crust. Store in fridge for up to 1 week. I used spelt flour this time and I think it resulted in a more crumbly base, so I'm not sure I would use spelt flour again.
Candied Pecans:
Ingredients:
1/4 cup pure maple syrup
1/3 cup sugar
1/4 tsp sea salt
1/4 tsp cinnamon
1 cup pecans, chopped and toasted
Directions: Preheat oven to 275F. Add 1 cup of chopped pecans on a baking sheet and toast for 8 minutes being careful not to burn. Remove from oven and place in a large bowl. In a medium sized pot, add all ingredients (except pecans!) and heat over medium stirring well to blend. Bring to a boil and reduce heat to low-medium to simmer. Be careful not to burn. Keep stirring the mixture for about 10 minutes until it gets thick and caramelizes. Once it has thickened up remove immediately from stove top and pour into bowl with pecans. Stir quickly being sure to coat all the pecans. This is a very quick process and it is essential that you not leave the syrup mixture sitting for any amount of time or it will harden.
When I made the candied pecans I did not stop to take a photo of the syrup and it worked SO much better! :)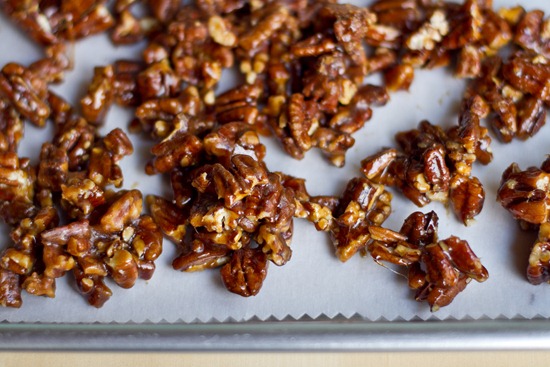 Much better than my walnut attempt.
Now make your oat base!
I pre-baked the oat base for about 15-18 minutes before layering on Pumpkin Butter and pecan topping. I did this because I wasn't sure if the crust would harden up if I baked it together with the pumpkin butter because the pumpkin butter has so much moisture in it. If anyone tries baking it all at once let me know how it works out!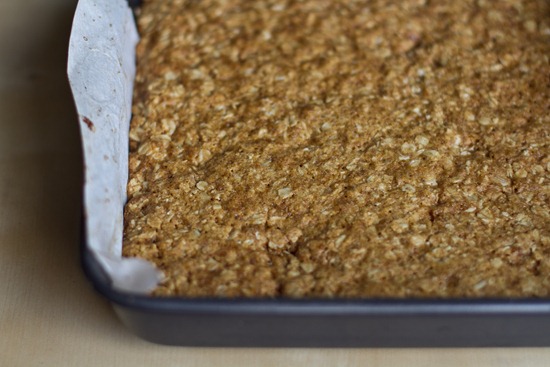 After pre-baking, spread on 1.5 cups cooled pumpkin butter. You could also use store bought pumpkin butter too.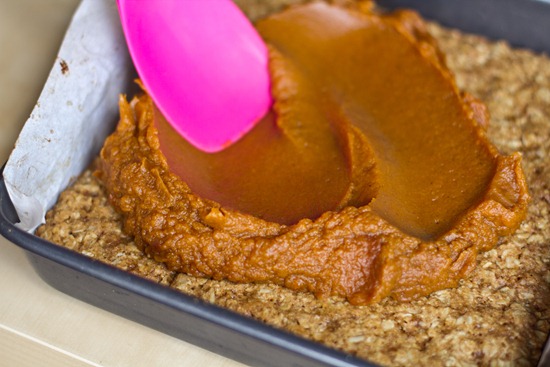 Mmmmmm.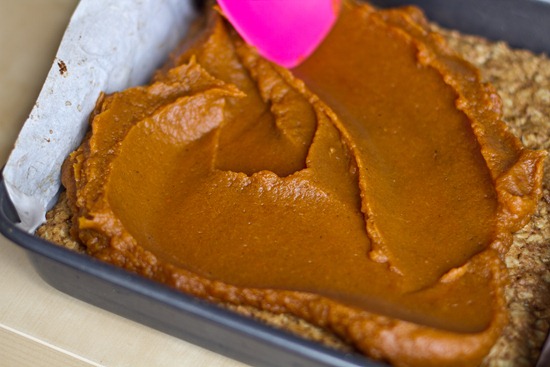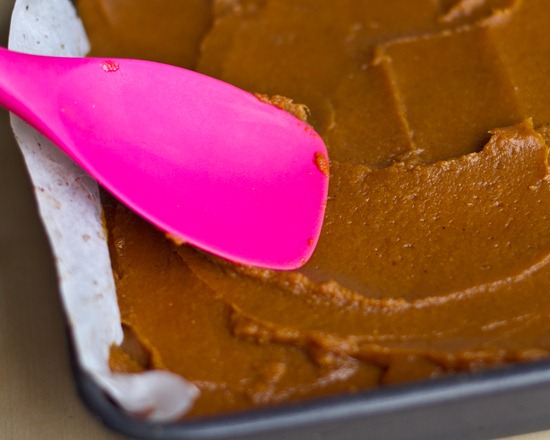 Pumpkin butter goodness!
Now sprinkle on candied pecans and reserved oat mixture (I forgot this step again, but would do it next time!)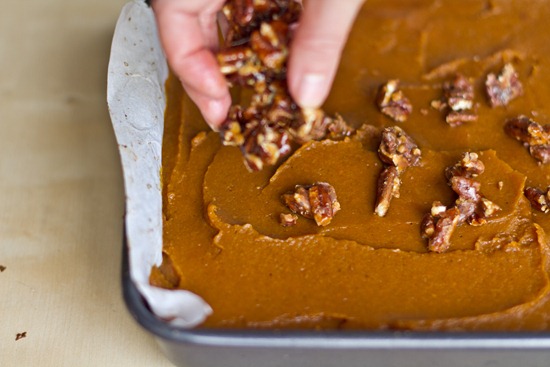 Looking good.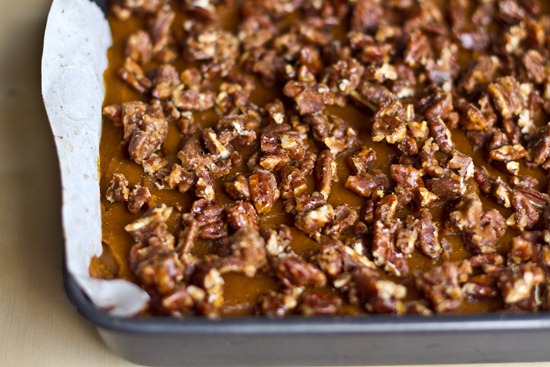 Bake for another 8-10 minutes and then cool for about 20 minutes on counter.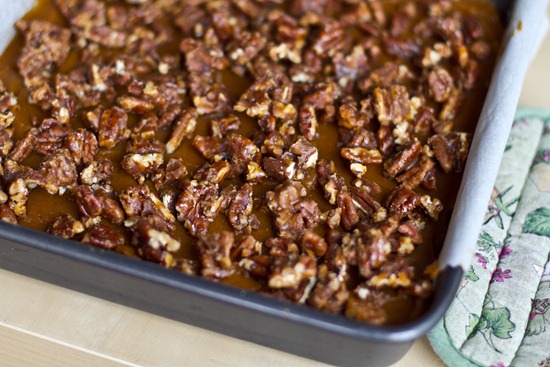 Place in freezer for at least 30 minutes before removing from pan and slicing.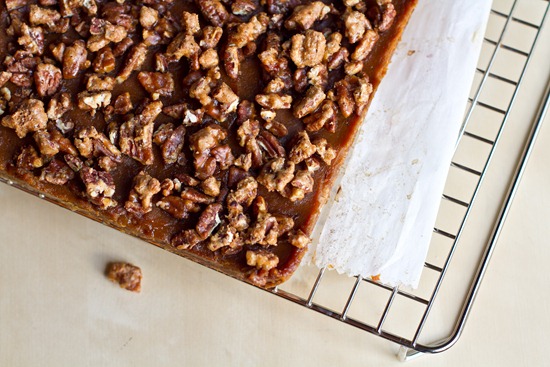 Makes 16 squares.
The squares are good after baking, but they are soooooo much better the next day once the flavours have had a chance to mingle and the moisture from the pumpkin butter has moistened the base.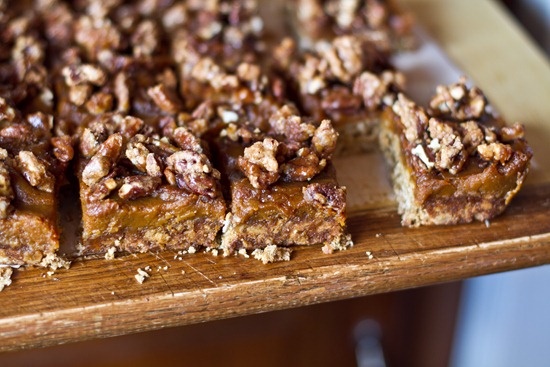 The pumpkin butter topping isn't overly sweet (you may want to add more sugar when making the pumpkin butter), but the candied pecans give it a bit of sweetness and also a nice crunch.
I made these as a thank you gift for a friend and it is taking all of my power not to eat them!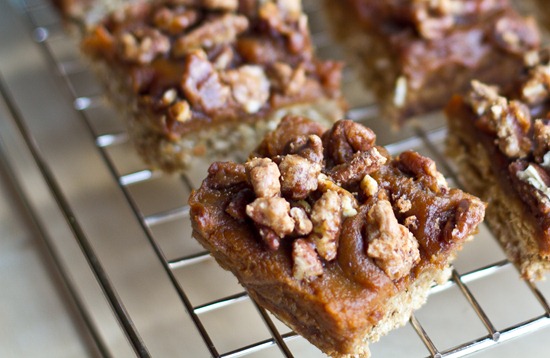 Anyone else forget about the time change today? I didn't realize the time changed until about 11am and I have yet to change my clocks!
I embraced the extra hour in the day by catching on the phone with OSGMOM. I also had a beautiful 4 mile run. The weather is gorgeous today and it was just the perfect day to get outside and clear my head.
What did you do with your extra hour today?
I will see you tomorrow morning for a quick and easy dinner recipe inspired by a fabulous restaurant dish I enjoyed on Friday night.