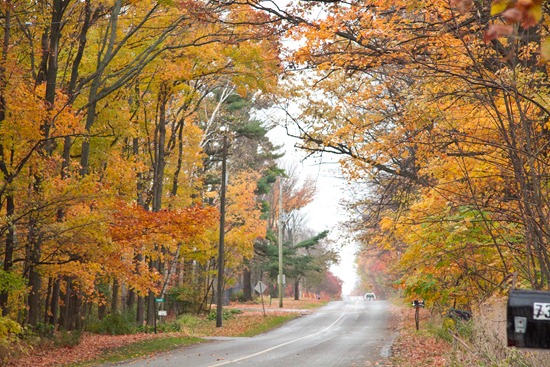 The changing of the seasons typically coincide with changes in my workout schedules.
As the temperature dropped over the past few weeks, I started to shift my outdoor runs to the lunch hour. By the time midday strikes, the temperature has usually warmed up by 7-10 degrees Celsius which is substantial when you are running outdoors!
For example, when I got up this morning it was –3C (26F) and by noon it had warmed up to 9C (48F). As much as I love getting my workout done with in the morning, during the Fall season, I prefer to run outside after it warms up. I do not like the cold, despite being a former Winter Endurance Athlete. ;)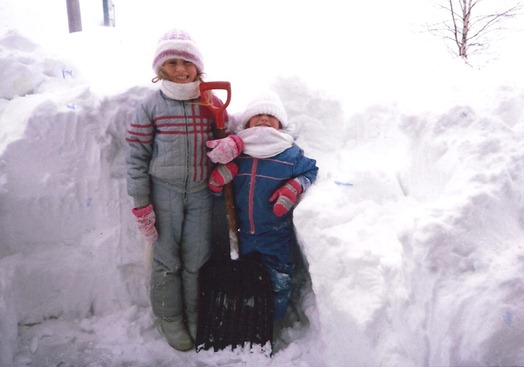 My lunchtime workouts have left me with the big 'before or after' question regarding the timing of my lunch: Do I eat lunch before my run or do I eat after my run?
I have been experimenting with eating lunch before or after my run and I have found that when I eat my lunch  30-45 minutes before my run, I have much more energy than if I wait to eat until after. Of course, that makes total sense, but I was almost certain I would get running cramps after eating, but that hasn't been the case. Sometimes I also 'split up' my lunch and have half before my workout and half after. This seems to work well too.
After yesterday's awesome Avocado-Lime Black Bean Salad, I was inspired yet again to mix it up for lunch. I wanted something fairly light, yet still energizing for my run and this Cinnamon Spice Sweet Potato Chickpea Salad was born…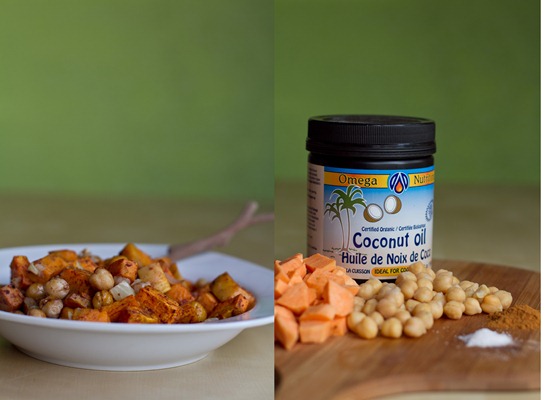 Cinnamon Spice Sweet Potato Chickpea Salad
A hybrid between raking the leaves in the Fall and sipping a margarita on a tropical beach. Somehow, the flavours of cinnamon and Coconut oil just pair together so wonderfully. Don't forget the sea salt too; it really makes the flavours pop in this recipe.
Ingredients:
1 large sweet potato, peeled and chopped into 1/2 inch pieces
1.5 cups cooked chickpeas
1 small onion, peeled and chopped
1/2 tsp cinnamon
1/2 tsp sea salt
1 tbsp coconut oil, divided
Directions: Preheat oven to 425F and line a baking sheet with parchment or a non-stick liner. Peel and chop sweet potato. In a large bowl, add the cooked chickpeas, uncooked sweet potato, chopped onion, cinnamon, salt, and 1/2 tbsp coconut oil. Mix well. Spread onto prepared baking sheet and place in the oven at 425F for 36-40 minutes. Remove from oven and place into a large bowl. Add the remaining 1/2 tbsp coconut oil and stir well to coat. Add additional sea salt if preferred. Serves 1-2.
I don't know about you, but 6 ingredient recipes make me happy. Very, very happy.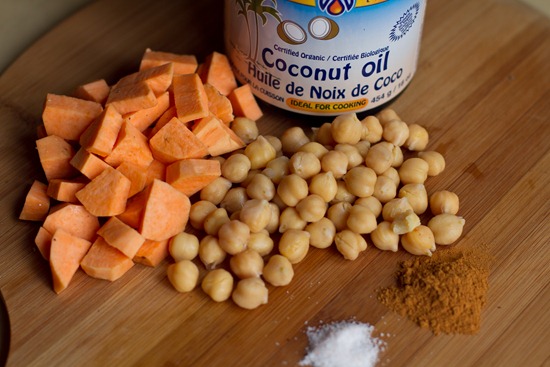 [Note the onion is missing and I couldn't fit all the chickpeas and sweet potato on the board so I just grabbed a handful 'for show'!]
Mix the above ingredients together in a bowl and spread out onto a baking sheet.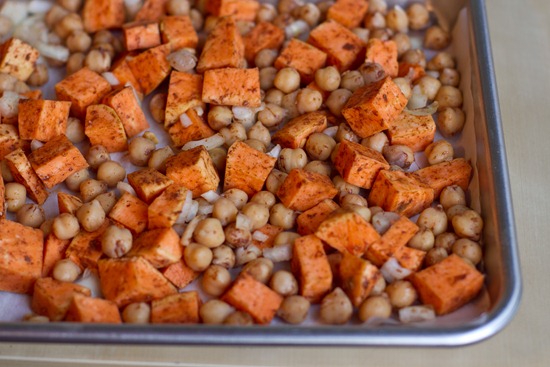 It smells like love, puppies, and rainbows mixed with a tropical beach.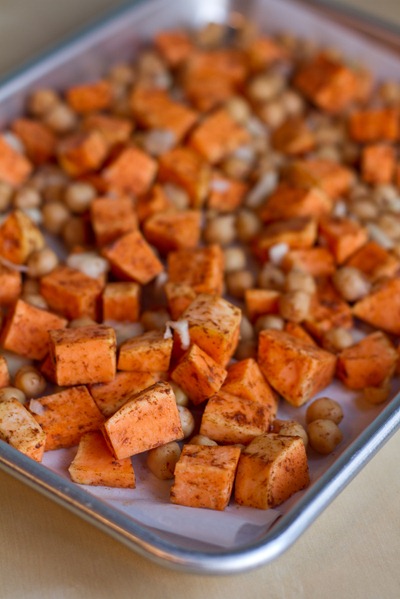 Bake for 36-40 minutes at 425F.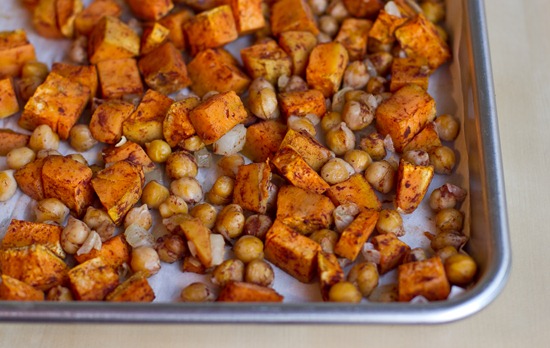 Deeply inhale and fill your lungs with the sweet cinnamon and coconut aroma.
Place salad back into a bowl and mix in more coconut oil as it is a bit dry when it comes out of the oven. Sprinkle with more sea salt and serve immediately!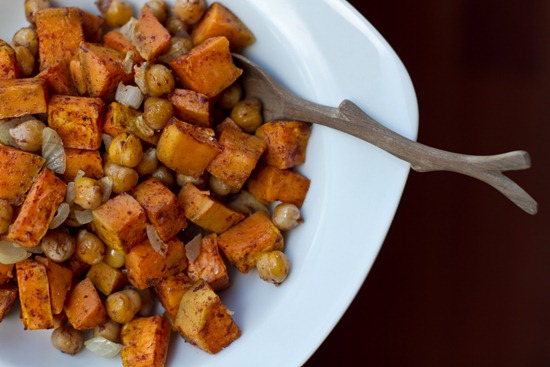 When I made this, I assumed it was a two-serving recipe, but I loved it so much I ate the whole damn thing!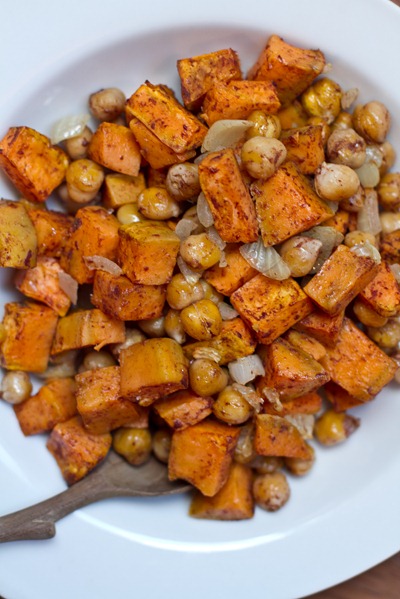 After all, I needed my pre-run fuel. ;)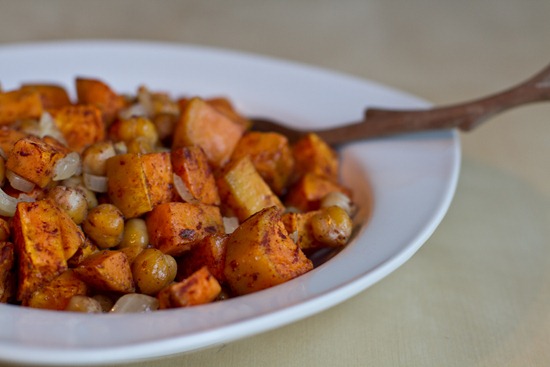 And boy did I ever have energy on today's run. Granted, I had to wear my running jacket + gloves to feel *sorta* warm, but it was refreshing once my body warmed up.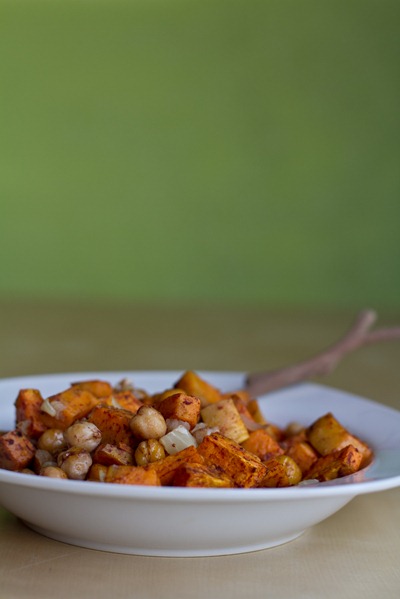 After about 30 minutes of digesting, I hit the road.
Side note: I haven't been blogging about all of my exercise lately, but I have been running on average 19-25 miles per week, with 1-2 complete rest days per week. Right now, I consider myself to be in 'maintenance mode'; I am not presently training for any races, but I am still running consistently to keep up my 'base'.
Side Note #2: Remember when I broke my second iPod Shuffle by putting it in the washing machine? Well, I am proud to say that I have been running for about 4-5 weeks now with absolutely NO music and I don't even miss it much anymore! I never thought I could get used to running without music, but here I am. I find that I get more thinking done too.
The run:
Distance: 4.16 miles
Time: 34:10 mins
A delicious snack followed…Healthy Cookie Bites! Aka: Oatmeal in cookie form. ;)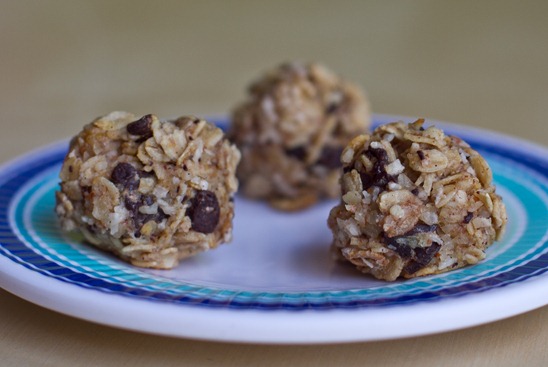 Now that Fall is here and Winter is quickly approaching, do you change up your workouts with the seasons or the time of day that you workout? Do you move inside, put on workout DVD's, hit the gym, or just bundle up?
[As I typed this post, a notification popped up on my computer telling me that daylight Saving Time ends this weekend….doh!!]