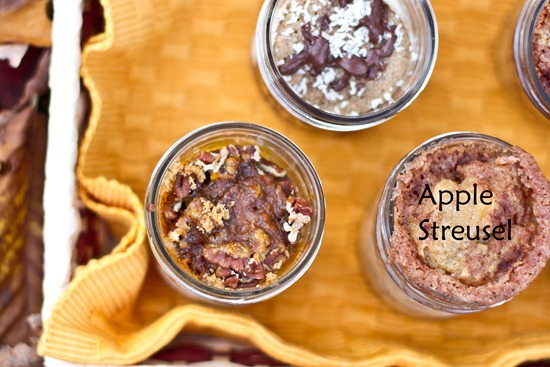 Good morning!
I hope you all had a nice Halloween yesterday! We received a whopping 5 trick-or-treaters last night. You know you live in the sticks when…!
This morning, I am going to show you the first Cake In A Jar recipe that some of you have been anxiously awaiting. As I mentioned in my Going the Distance post, these Cakes In A Jar are among the most delicious and moist cakes I have ever tried. I developed the recipes through trial and error and I am happy to share these with you to enjoy. They would be really fun recipes to make with kids too.
First up…. Apple Streusel! My favourite. :)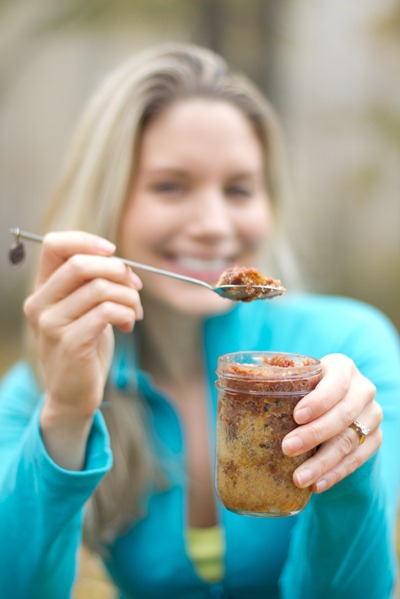 Apple Streusel Cake In A Jar
Makes three-four, 250 ml Mason Jar cakes.
Ingredients:
1/2 cup + 1/8th cup all purpose flour
1/3 cup sugar
1/4 tsp cinnamon
1/8th tsp ginger
1/8th tsp nutmeg
1/4 tsp sea salt
1/2 tsp baking powder
1/2 tbsp ground flax + 2 tbsp water (flax egg)
1/4 cup butternut squash, pureed
1 tsp vanilla extract
1/2 cup chopped and peeled apple (I used Granny Smith)
1/4 cup almond milk
1/8th cup coconut oil, melted (or other light tasting oil)
Streusel, for layering: 2 tbsp Turbinado sugar, 1 tbsp flour, 1 tbsp Earth Balance, 1/4 tsp cinnamon
1/2 cup chopped Pecans, for layering
Directions: Preheat oven to 350 and grab a baking sheet and set aside. Grab three 250 ml Mason jars and sterilize in boiling water. Set aside. In a small bowl mix your flax egg and set aside. In a large bowl, mix your dry ingredients (flour, sugar, cinnamon, ginger, baking powder, nutmeg, salt). In a medium sized bowl mix your wet ingredients (flax egg, butternut squash, vanilla, milk, oil). Add wet to dry and mix well. Fold in chopped apples. Now mix up your streusel ingredients in a small dish with a fork until fully combined. Add approx. 3 tbsp of the cake batter into the Mason jar. Now add on about 1/2 tbsp of streusel mixture and some chopped pecans. Follow this with another layer of cake batter (about 1-2 tbsp) and then more streusel and chopped pecans. Makes 3-4 mason jar cakes. Take the mason jars and place on baking sheet and then bake for approx 20-25 mins at 350F until cake slowly bounces back when touched. Remove from oven and allow to cool for at least 30 minutes. Serve immediately or store in fridge for up to 3 days.
Note: Some people ship the cakes in a jar, but from what I read it is not recommended due to bacteria risks. I would err on the safe side and safely store the cakes in the fridge for up to 3 days. Bring to room temperature before serving.
First up, gather your dry ingredients!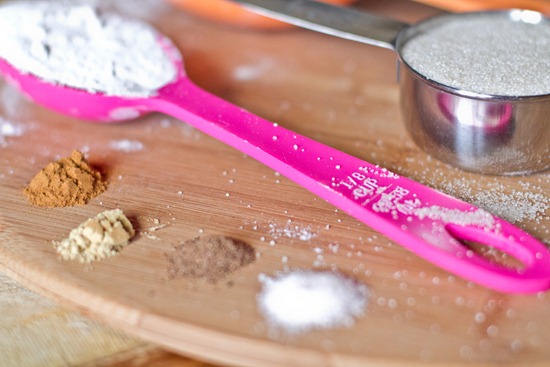 and your wet…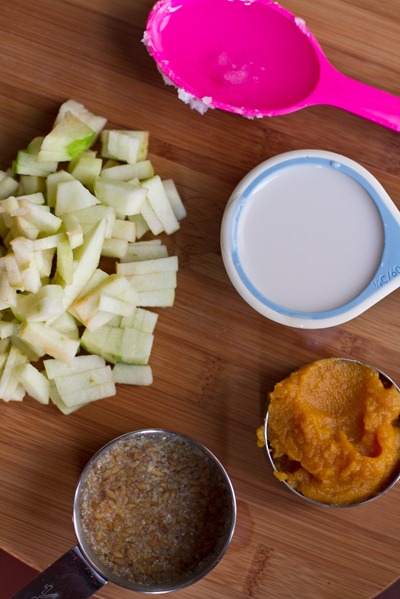 Combine and then fold in the chopped apples.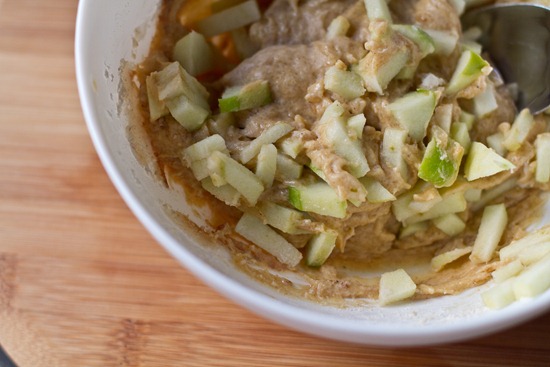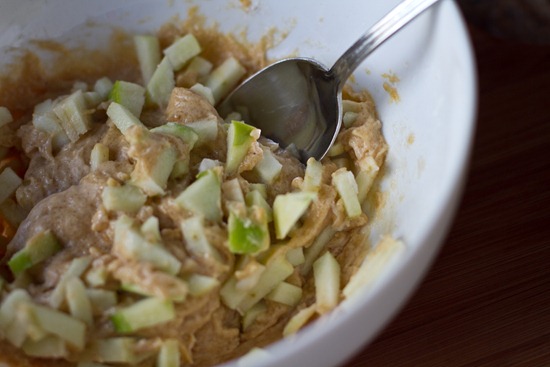 Gather your cinnamon streusel ingredients…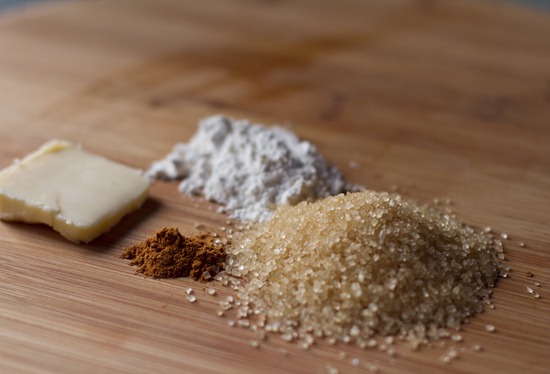 Mix together with a fork to combine.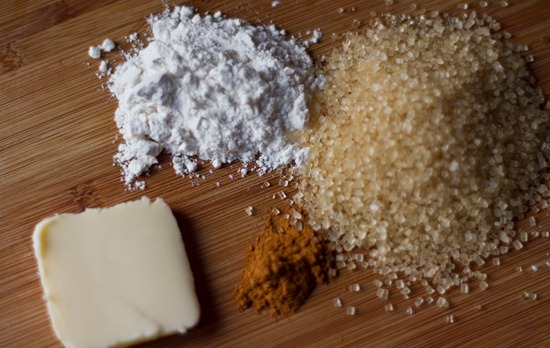 Begin layering the Cakes In A Jar!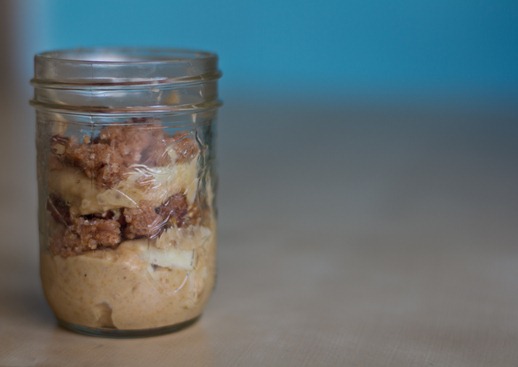 Layer 1 = 3 tbsp approx cake batter
Layer 2 = 1/2 tbsp- 1 tbsp streusel
Layer 3 = 1 tbsp chopped pecans
Layer 4 = 1-2 tbsp cake batter
Layer 5 + 6 = 1/2 tbsp streusel and pecans
Don't worry if you don't do the layers perfectly. It will all turn out in the end!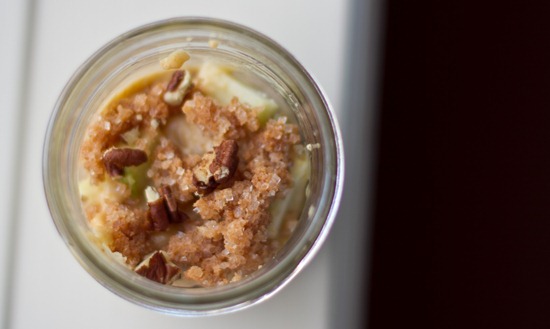 After 20-25 mins of baking in the oven at 350F…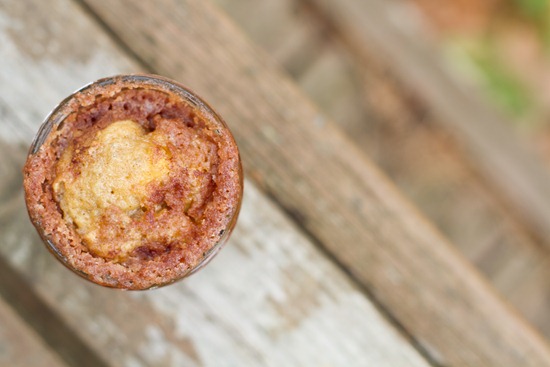 YUM!! One of the best tasting cakes I have ever tasted.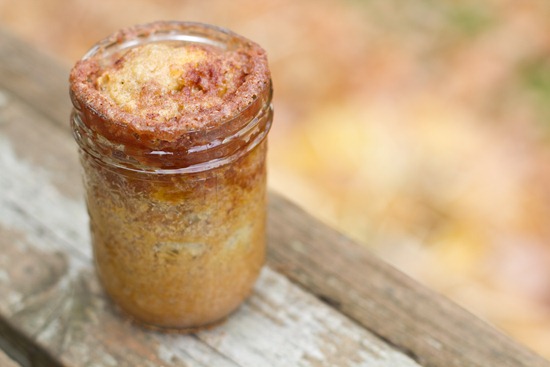 I get a little excited over them. ;)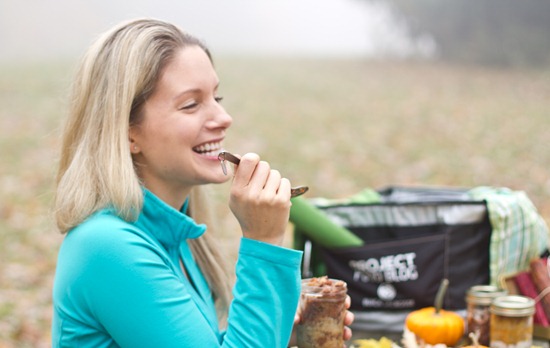 Have a great day!