Good morning!
First of all, I want to say a huge THANK YOU for your votes in Project Food Blog Challenge #6. I received 'Reader's Choice' for the last round and I couldn't be more thankful for your continued support!! :) Challenge #7, is a video of a recipe, and I am equally excited and nervous for this next challenge.
Secondly, did Halloween ever creep up on me this year!
Let me briefly flash back to Halloween 2009…
Alex, Krissy, and I were yoga instructors!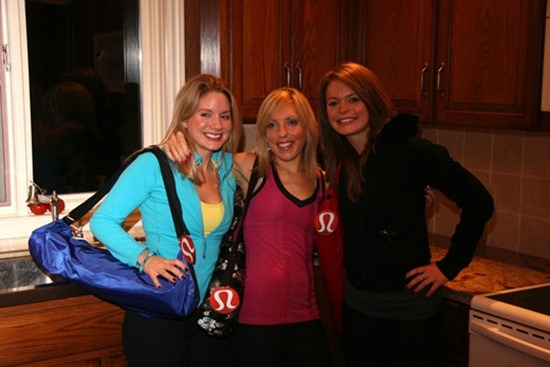 and Eric was a Yogi Master…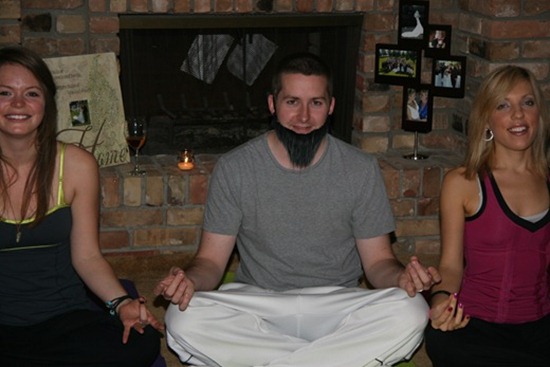 bahahhaa. Doesn't he look overjoyed?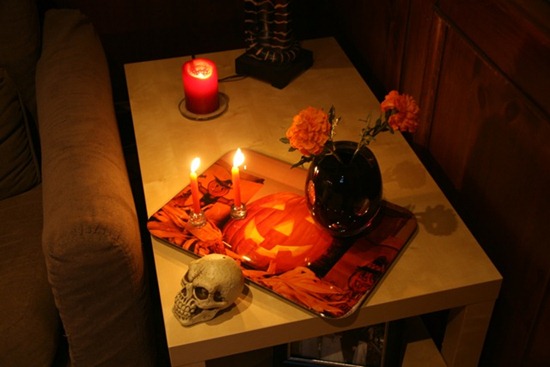 Now you know me, I am all about decorating for every holiday. Well, sadly, this year I haven't had time to decorate the house for Halloween!
I think I might have to move straight into Christmas decorations. :) It's not like Eric and I haven't been playing Christmas music lately…
I do have a delicious Halloween inspired recipe to share with you today to make up for my lack of Halloween participation this year…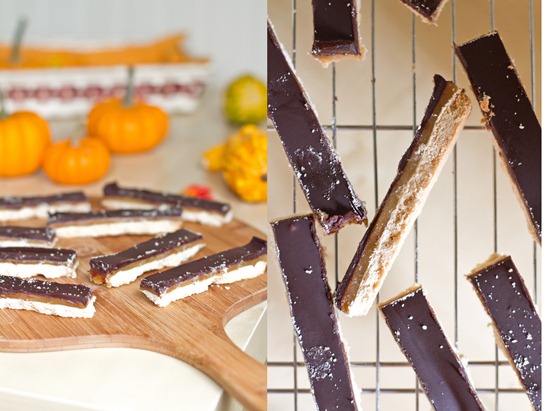 Twix or Treat Fingers (Millionaire bars)
Shortbread adapted from Mangio De Sola.
Shortbread Crust:
3/4 cup Earth Balance or unsalted butter, room temp
1/4 cup granulated sugar
1 tsp vanilla
1/8 tsp salt
1 1/2 cups unbleached all-purpose flour
Cascading Caramel
1/2 cup brown rice syrup
6 tbsp Soy Free Earth Balance
2 tsp fleur de sel
2 tbsp pure maple syrup
1 tbsp peanut butter
Chocolate Ganache:
3/4 cup good quality chocolate, chopped
2 tbsp full fat coconut milk (the cream on top of the can)
1/2 tbsp pure maple syrup
Directions: Preheat oven to 350F and line a  9 x 9 baking pan with two pieces of parchment paper (one covering each side). Lightly grease parchment paper. Cream the Earth Balance and sugar until fluffy. Add vanilla and salt. Stir in the flour just until the dough begins to come together in walnut-sized chunks. Press the dough into the prepared pan and bake 20-23 minutes or until golden brown around the edges. Do not over bake.
While the shortbread is baking, make your caramel. In a sauce pan, add the Earth Balance and sugar and bring to a boil. Stir well and reduce heat to medium. Stir for a few minutes. Add in the salt, maple syrup, and peanut butter and stir well for another couple minutes. Heat over low until the shortbread has cooled for about 10 minutes. Now pour the caramel over top of the shortbread and spread out quickly until smooth. Place in the freezer for about 30 minutes to set.
Now make the chocolate ganache by heating the chocolate and coconut milk on low. Stir frequently until smooth. Now add in the maple syrup and stir. Heat on lowest heat setting until the shortbread is out of the freezer.
Remove the shortbread from freezer when the caramel is firm and sit for 5 minutes. Pour on the Ganache and spread covering all sides and corners. Place back into the freezer for about 20-30 minutes or until firm. Remove from freezer and let it sit for about 10 minutes before gently cutting the sides and removing from pan. Slice into 'fingers'. Makes about 20-26 fingers. Keep in the fridge as the chocolate will get sticky when at room temperature.
I used cake flour for my shortbread because I was out of all-purpose and the result was a very crumbly shortbread. I would not suggest using cake flour!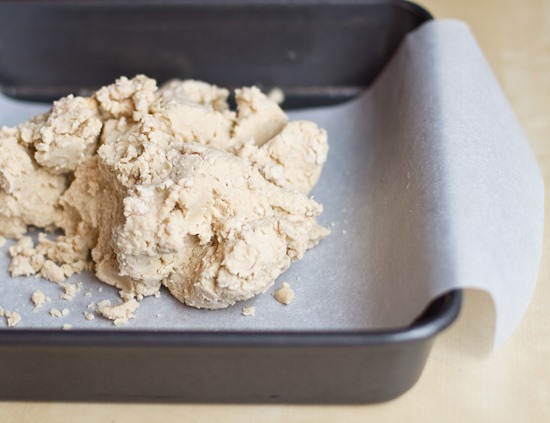 Smooth out your dough.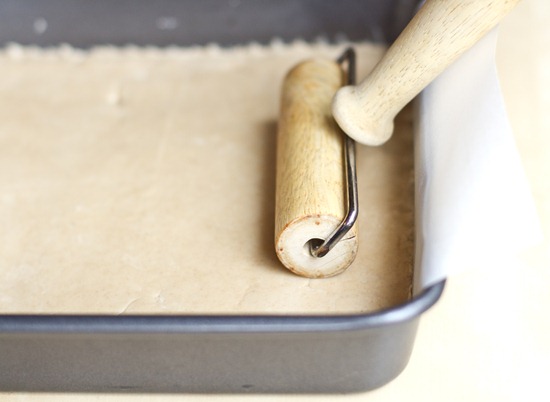 Breathing holes. ;)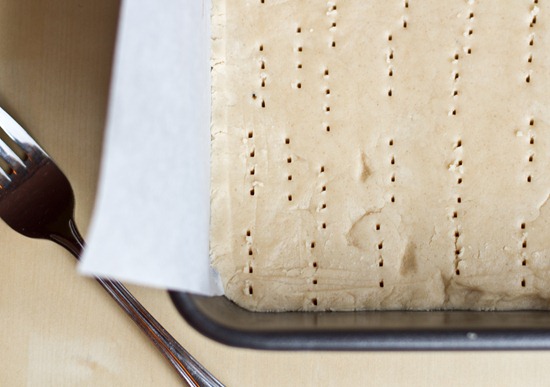 After baking for about 20-23 minutes and cooling for another 10, pour on the cascading caramel…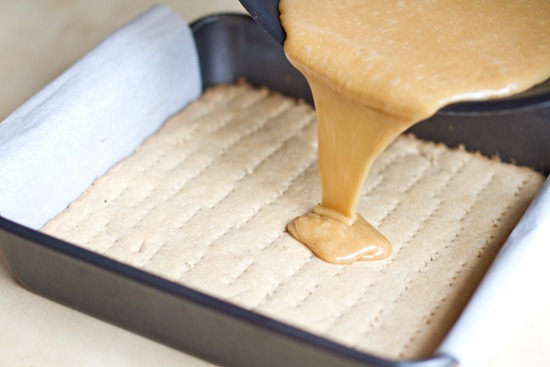 This is fun.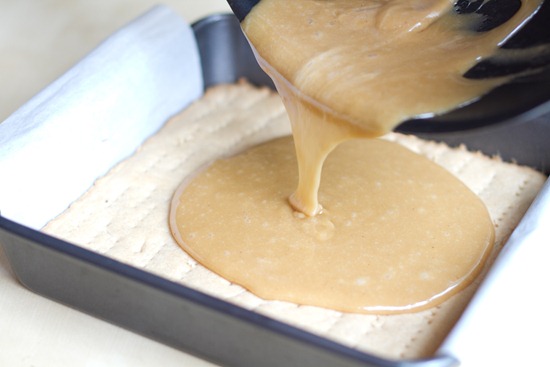 Smooth out!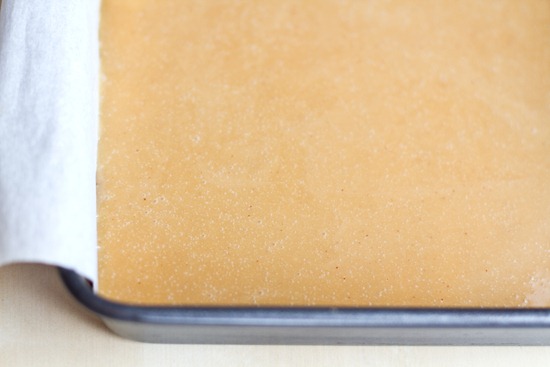 That'll do.
While it sets in the freezer for 30 minutes, make the Ganache.
Now pour onto the firmed up caramel…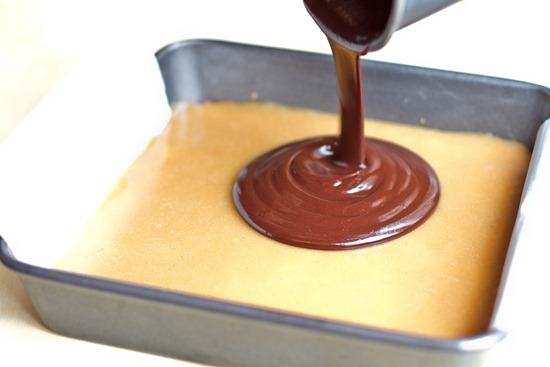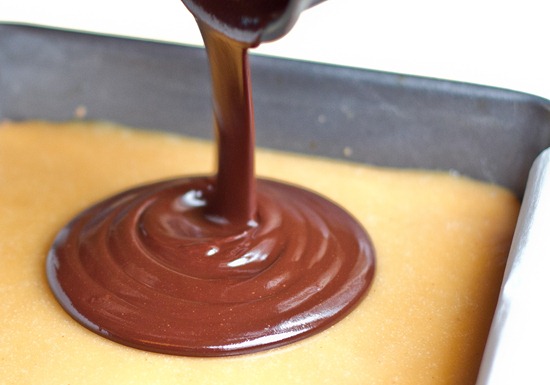 Smooth out.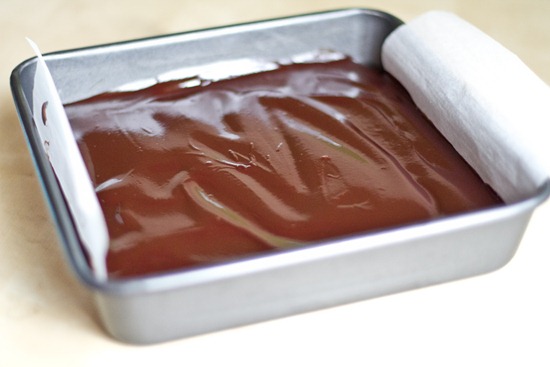 Firm in freezer…and then gently remove from pan.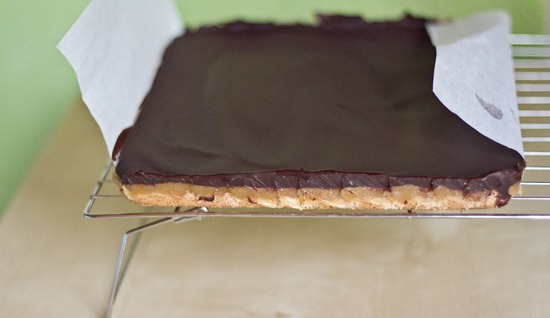 Cut into fingers!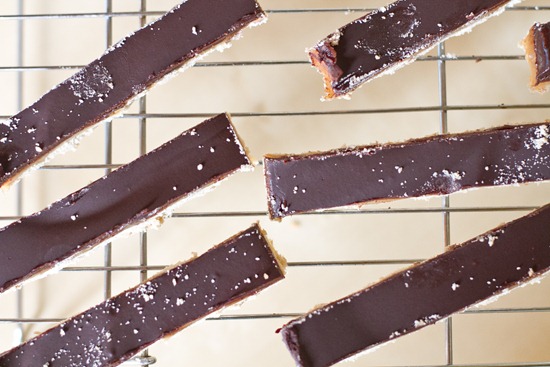 Do some 'quality control' and taste test.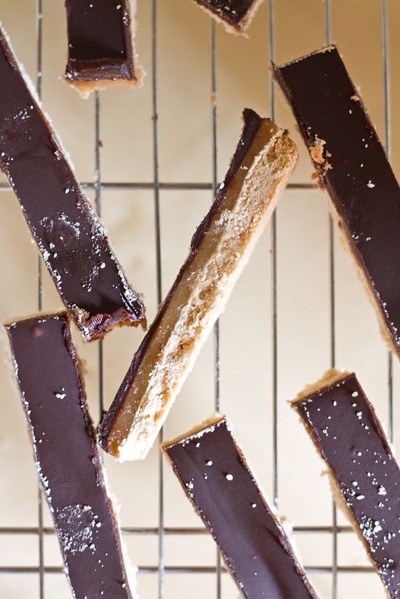 While these fingers don't taste exactly like a Twix bar, I really enjoyed them. Next time I would use all-purpose flour for the shortbread since I had such crumbly results with the cake flour.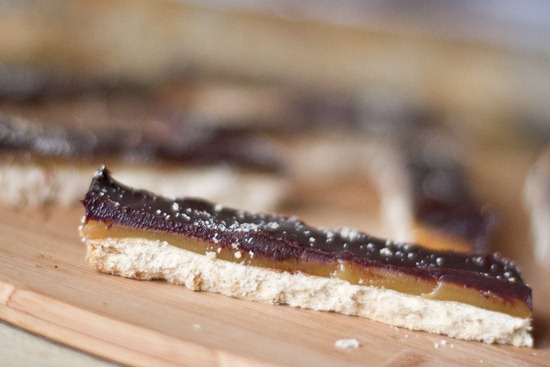 You might also want to try out these delicious Vegan Chocolate Peanut Butter Cups that I made a while back! They are AMAZING and I think they are my favourite.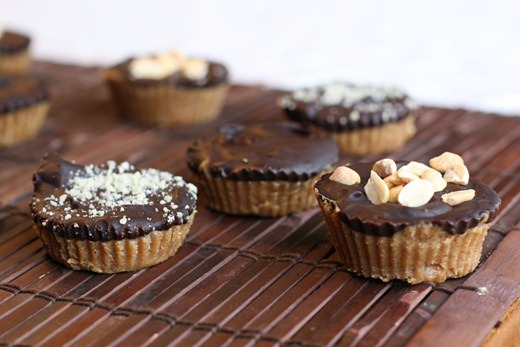 1) Are you dressing up this year, if so, what will you be? 2) Will you be making any Halloween inspired foods?
I'm off to run some errands and then I have a day of recipe testing for Challenge #7. See you tomorrow for OSG's 2nd birthday!