Top of the Fall morning to ya!
Anyone want to come rake our leaves for us? I will bake you tons of treats to fuel your workout. ;)
In other news, the Green Monster is back after a long hiatus!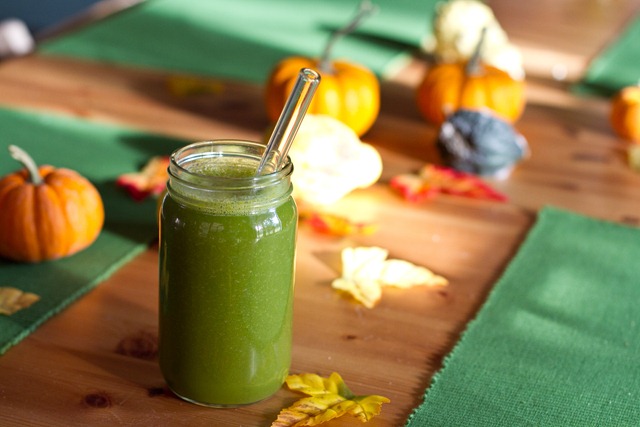 Does anyone else go through food phases? I do all the time. Even with Green Monsters!
I don't know if it was the arrival of Fall + cooler weather, but I hadn't craved a Green Monster (or pretty much any vegetables!!!) for 2-3 weeks. Then I noticed that we were stock piling CSA spinach and veggies and I decided to get back on the wagon. :) I craved my first huge salad the other day and it was so delicious I was kicking myself for falling off the veggie wagon for so long!
I forgot how good one Green Monster a day makes me feel. I loaded this one with cinnamon, spinach, pumpkin, banana, raw maca powder, molasses, wheatgrass powder, and almond milk. I have started drinking GM's after workouts because I find that in the morning I am always a bit chilly and don't want one when I get up.
Speaking of wheatgrass, Eric now wants to make chocolate dipped wheatgrass. I don't know how we got on the topic yesterday, but he said, 'I would eat wheatgrass…if it was dipped in chocolate first!' And then he let out an evil laugh.
I don't even know who he is anymore.
On that note, it is time for some of this week's health news links…enjoy!
Health News Round Up:
Do you go through food phases or tend to eat the same thing for a meal each day or are you good at mixing it up? Are you going through a food phase right now?