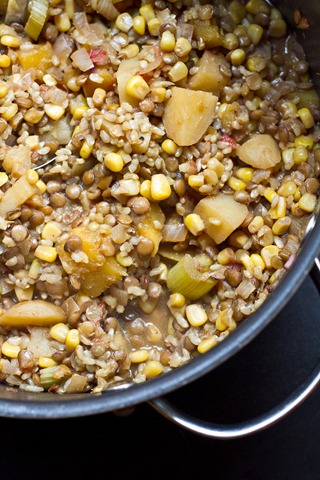 I love a good bowl of stew.
Not only is it one of my favourite cold weather foods (note: frost), but it is also one of the most comforting foods to eat.
Simmer some stew on the stovetop or in a slow cooker for a few hours and your house will be filled with the comforting aroma of herbs, spices, vegetables, and broth.
The experience of stew begins long before you even sit down to eat it.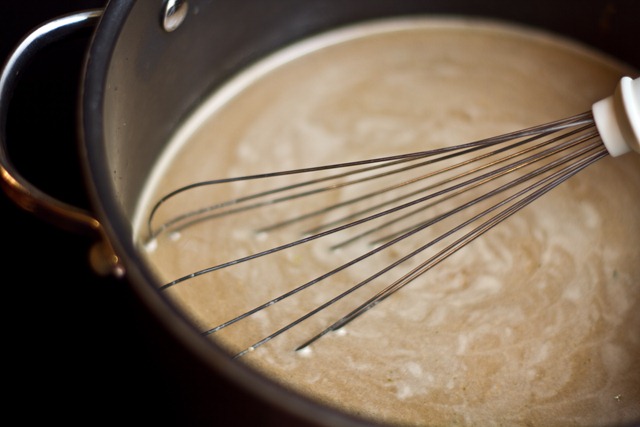 Blanket Stew in a Gravy Broth
This stew is the equivalent of wrapping yourself in a warm, fuzzy blanket in front of the fireplace (note: hot flash below). It can be customized to whatever you have lurking in your fridge or cupboards. I basically threw in whatever veggies I had to use up and it turned out wonderful!
Ingredients:
Gravy Broth
9 cups vegetable broth
¼ cup nutritional yeast
1 tsp yellow mustard
1 tbsp tamari
3 large garlic cloves, minced
1 tbsp cornstarch or arrowroot powder
2 tbsp tahini
1.5 tbsp balsamic vinegar
1.5 tbsp blackstrap molasses
½ tsp agave nectar (optional)
2 tbsp olive oil
Directions: In a food processor combine all broth ingredients except vegetable broth and puree until smooth. In a pot on medium to high heat, mix the vegetable broth with the processed mixture and stir well. Bring broth to a boil and then reduce to low heat. Add in chopped vegetables and grains (below). 
Vegetables + Grains
You can customize this any way you like it!
2 small potatoes, peeled and chopped
1/2 acorn squash, peeled and chopped (butternut would work well here too)
1 large can of corn, drained and rinsed
1 large tomato, chopped
1 large red onion, chopped
3 stalks of celery, chopped
3 carrots, peeled and chopped (I didn't have any)
1/2 cup uncooked brown rice, rinsed
1/2 cup uncooked lentils, rinsed
Optional spices to stir in: 1/2 tsp cumin, 1/2 tsp chili powder
Black pepper and sea salt, as necessary
Directions (continued): After broth has come to a boil and is now simmering on low heat, add in chopped vegetables and rinsed grains. Stir well. Bring to a boil again and then reduce to low heat. Add in optional spices if preferred. Simmer on low for 1.5-2 hours, making sure to add more vegetable broth if it gets too thick. Serve with a big hunk of bread!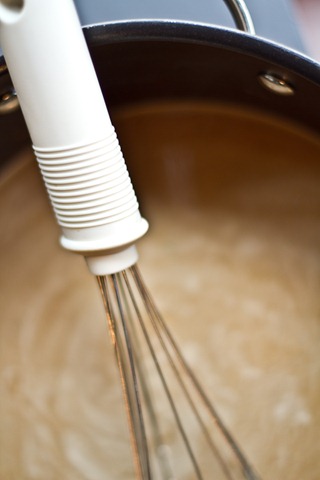 Make the gravy broth (loved it!) and chop the veggies…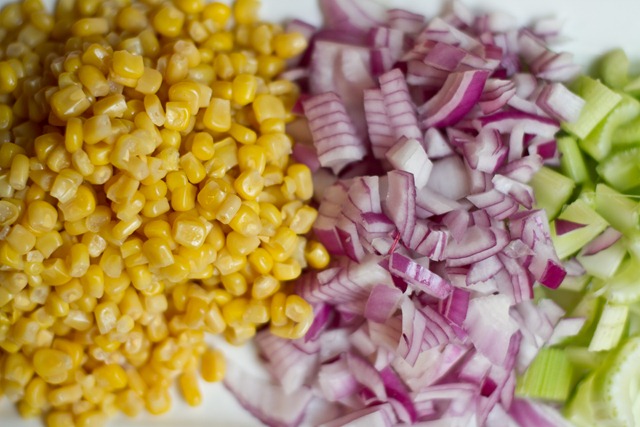 This stew is great for those times when you have veggies on their last legs that need to be used up!
Side note: I despise peeling and chopping acorn squash. I felt like chucking it out the window, but I resisted.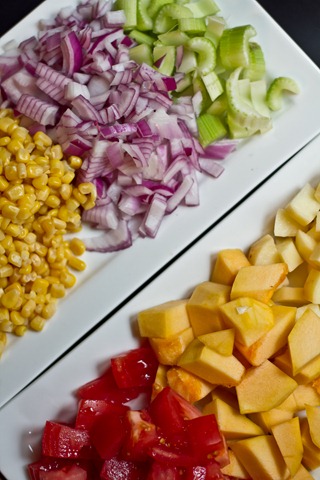 Rinse your lentils and brown rice…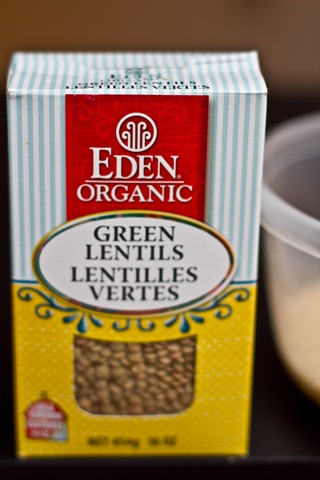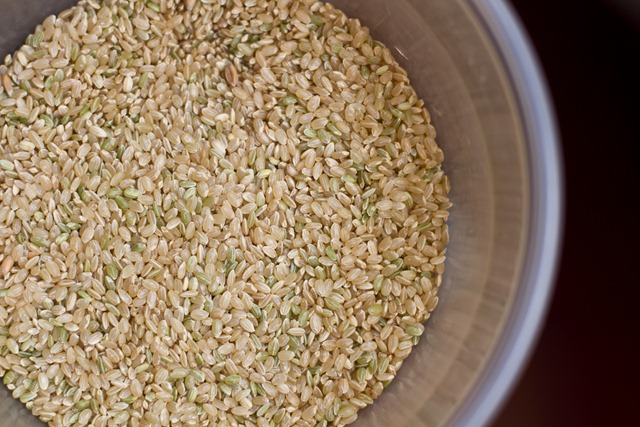 And dump everything into the big pot of goodness!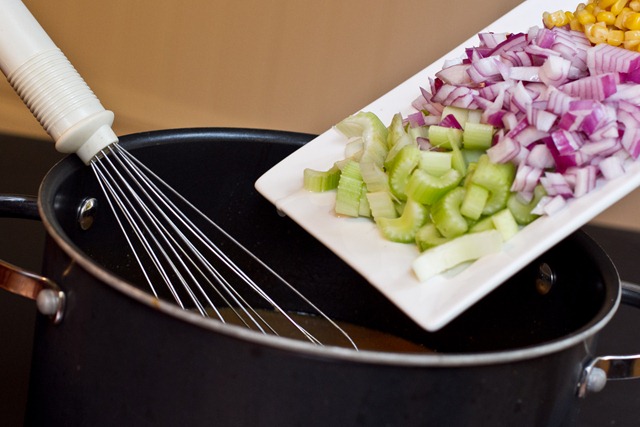 I love one pot meals I tell ya. Especially after a loooong day of baking.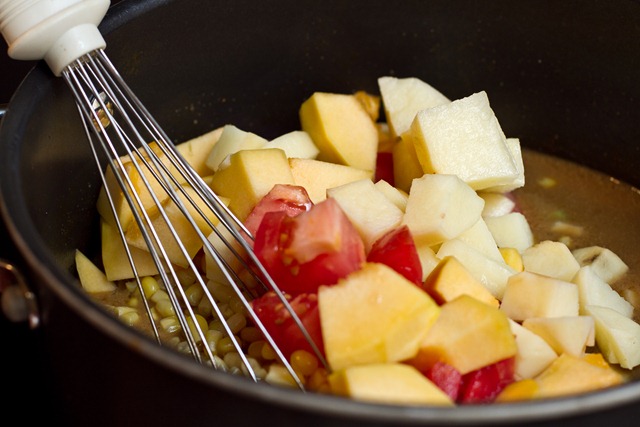 Stir it up!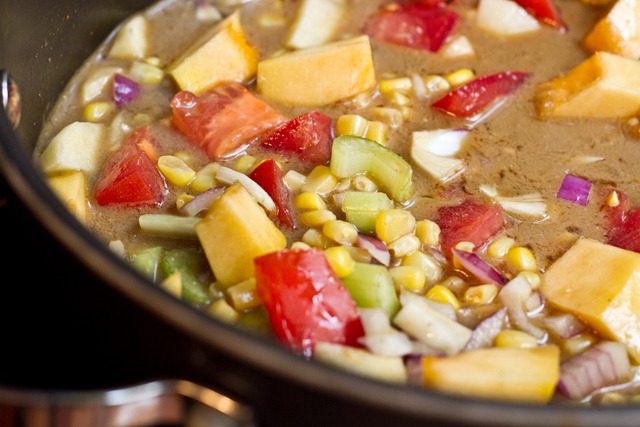 After about 1.5 hours of cooking on low it was thick, rich, and flavourful. Mmmm.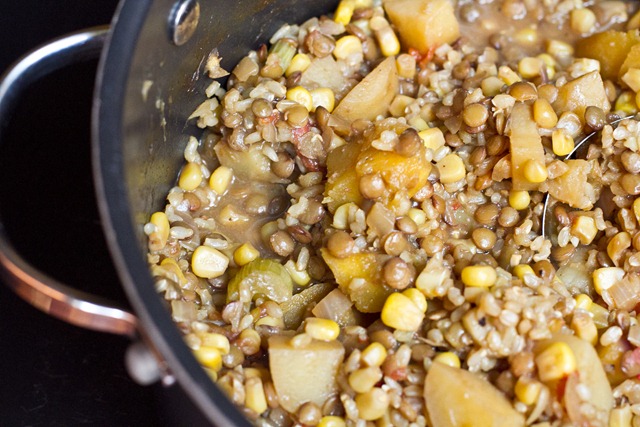 The house smelled good enough to eat!
I enjoyed a bowl with a sprinkle of ground black pepper and paprika. It would also be wonderful with a dollop of sour cream or hummus.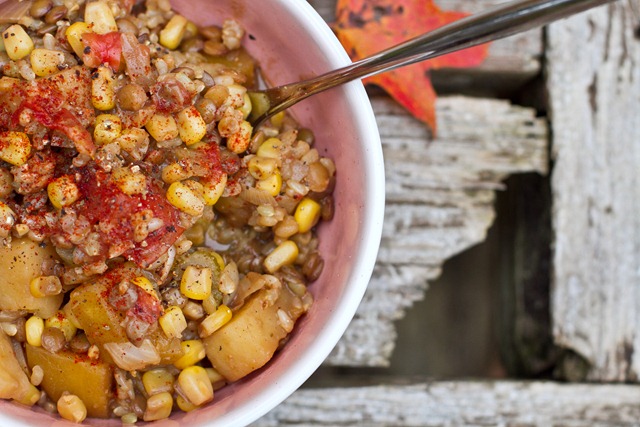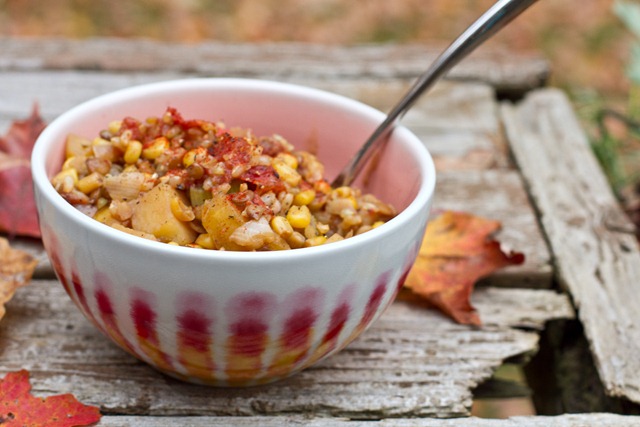 I was SO warm after this bowl, I almost had a hot flash. I had to remove a layer. ;)
It also kept me full for hours and hours. Actually, come to think of it, I am still quite full as I type this!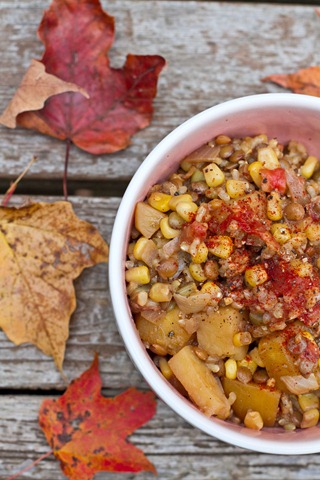 Good to the last bite.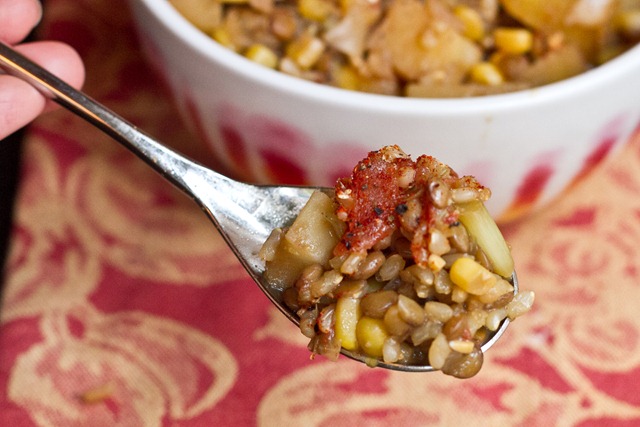 You might want to also check out my most popular soup recipe- Holiday Soup for the Soul.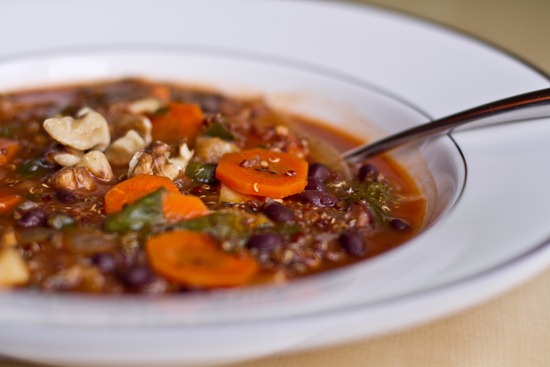 What are your favourite cold-weather comfort foods?