Good evening :)
Today was a whirlwind, but a productive whirlwind. I think this gorgeous weather is helping me get my groove back…!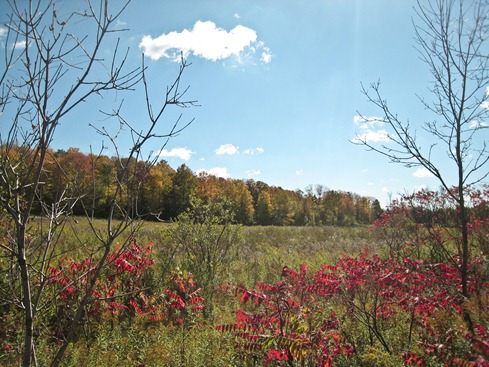 It felt like Summer out there today!
My running jacket and gloves were left behind for a tank top and shorts. Sa-weet.
The run:
Distance: 4 miles
Time: 33:29
Avg pace: 8:20 min/mile
Splits: 8:38, 8:25, 8:13, 7:52
I'm currently shopping for my first 5km race! Hopefully I can find one in October. :)
My reward was a dinner that only dreams are made of…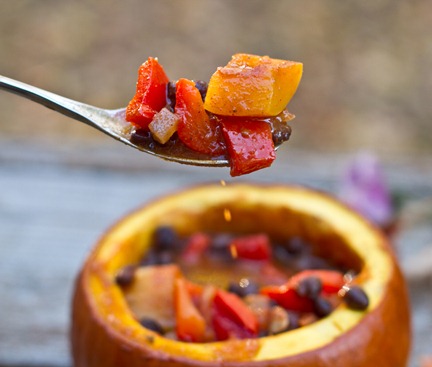 Folks, start your engines.
Emily's Butternut Squash and Black Bean Chili in Pumpkin Bowls
Adapted from Emily @ The Front Burner.
Ingredients:
3 mini pumpkins
1 medium sweet onions, diced
1 tbsp olive oil
1 red bell peppers, diced
2 cloves garlic, minced
1 small butternut squash, cubed
2 cups black beans (1 lg can), drained and rinsed
1 cup canned diced tomatoes
1 tbsp chili powder (or more to taste)
2 tsp cumin
2 tsp paprika
4 cups vegetable broth
Sea salt, Spicy Herbamare, and pepper to taste
Directions: Preheat oven to 350F. Take mini pumpkin and slice the top off about 3/4 of the way up. Scoop out insides of the pumpkin using a grapefruit spoon. This part takes a long time- about 10 minutes per pumpkin so budget your time wisely. Save and rinse the pumpkin seeds to roast them with some olive oil and salt if desired. When your pumpkin's are empty and cleaned out, brush the insides with olive oil and sprinkle on sea salt and ground pepper to your heart's content. You will be eating the pumpkin flesh so you want it to taste delicious! Now pop your pumpkins onto a baking pan and into the oven for 30 minutes. While they are roasting in the oven, make the chili. In a large pot, add the oil and turn heat to medium. Add chopped onion and minced garlic and sauté the onion for about 5 minutes or so. Reduce heat if necessary to avoid burning. Now add the chopped pepper and butternut squash. Cook for about 12-15 minutes. Now add in the drained and rinsed beans, diced tomatoes, chili powder, cumin, paprika, vegetable broth, and S & P and stir well. Simmer on low-medium for another 5 minutes. Now remove your pumpkins from the oven and fill the bowls 3/4 of the way full. Place pumpkins carefully back into the oven (again without top) and bake for another 30 minutes. Once they are cooked, turn oven off and leave pumpkins in the oven with lid on to stay warm. They will stay hot in the oven for another hour if necessary. Serves 3.
Only during the Fall could you take your centrepiece and turn it into DINNER!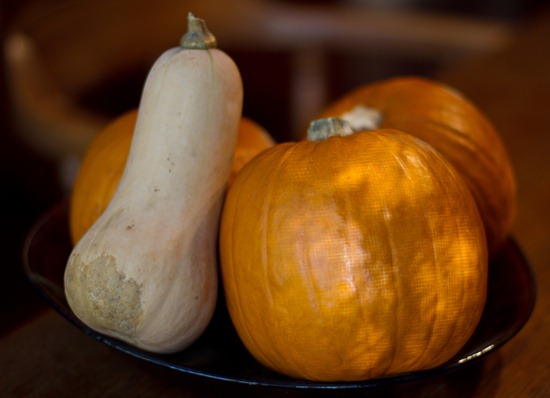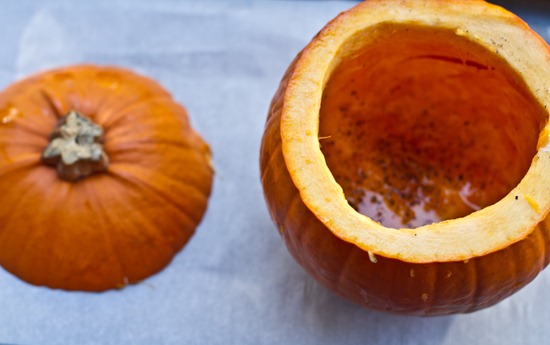 Did I tell you the other day I Googled: 'Is it possible to eat too much pumpkin?'
I'm not proud of this.
I did not have a grapefruit spoon so scooping out the inside of the pumpkin proved to be rather difficult.
And by rather difficult, I mean that I wanted to poke my eyes out because it took so long.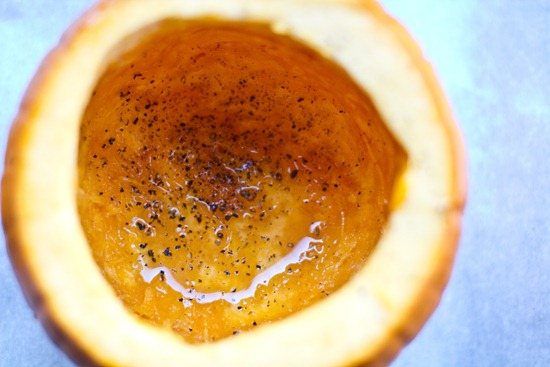 Those pumpkin guts are ruthless I tell you! So many strings so little time.
But luckily this recipe is well worth the effort.
You simply cannot go wrong with the ingredients in this recipe. It's like they were created to be together, working in harmony in this chili.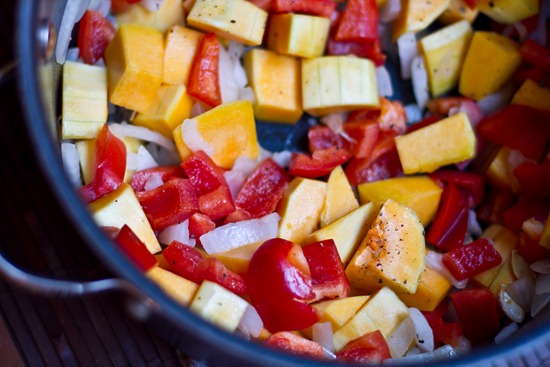 After adding the diced tomatoes, veggie broth, seasonings, etc…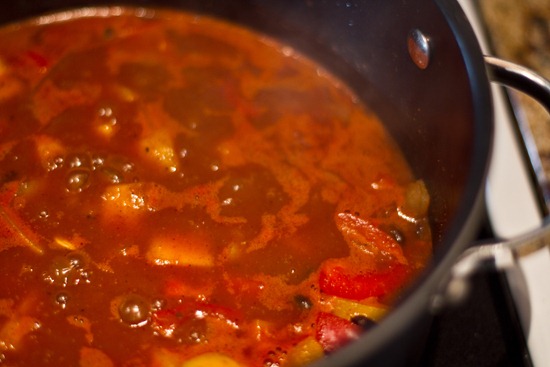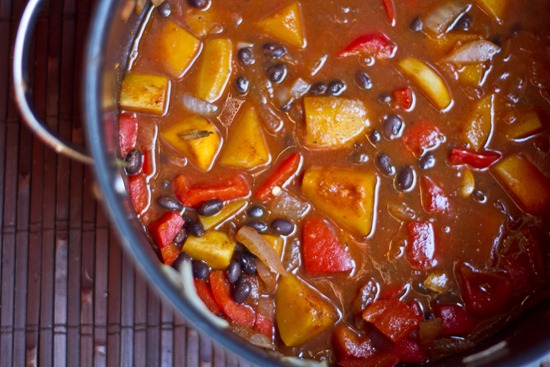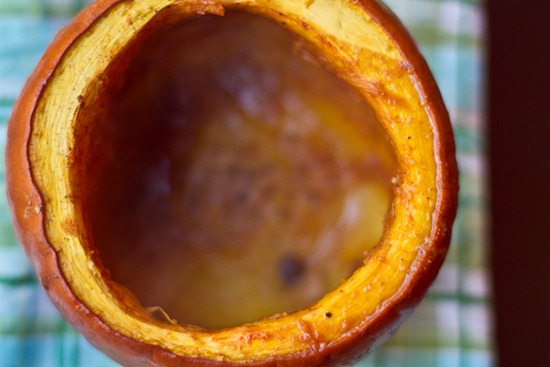 My house smelled so delicious, I thought I was in Martha's studio for a minute! Not that I know what Martha's studio would smell like, but trust me, I have dreamed about it.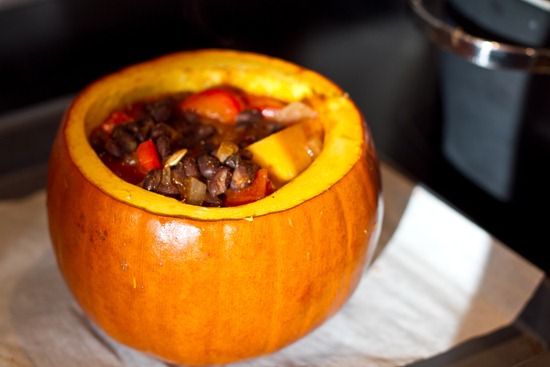 Ok, now I just sound creepy.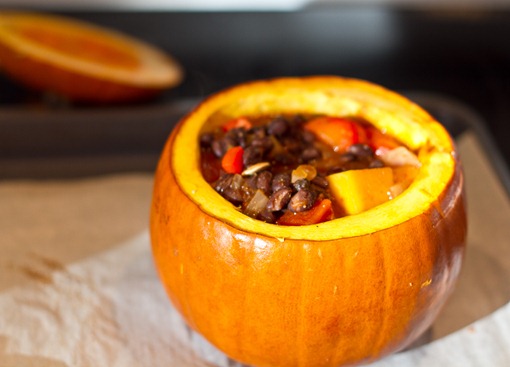 Fill it up about 3/4 of the way (not as much as I did!).
My overflowing pumpkin chili made for quite the juggling act when I carried it onto the deck for the photoshoot. I'm pretty sure I would have let my SLR drop before this bowl of chili too. ;)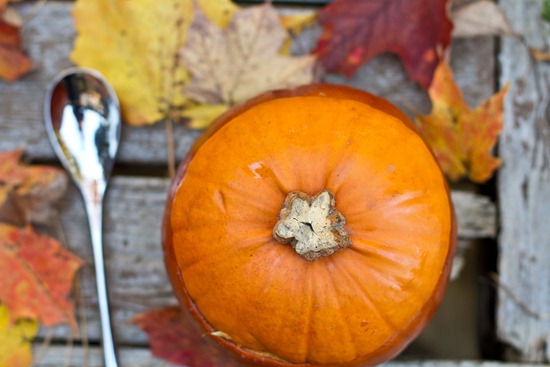 Every good bowl of pumpkin chili needs a hat.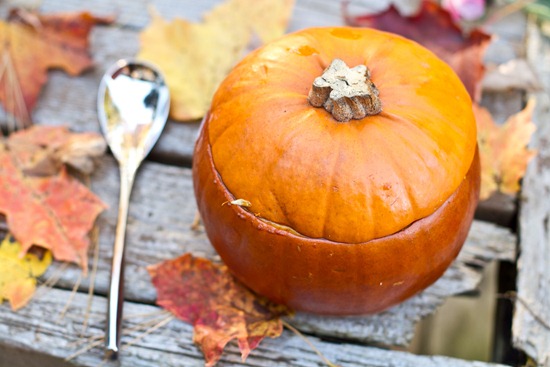 The awesome thing about these chili bowls is that they trap in a ton of heat!!!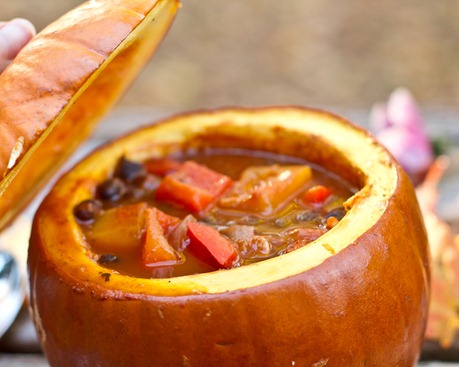 As a result, I think this was the first hot meal I have had in a while. ;)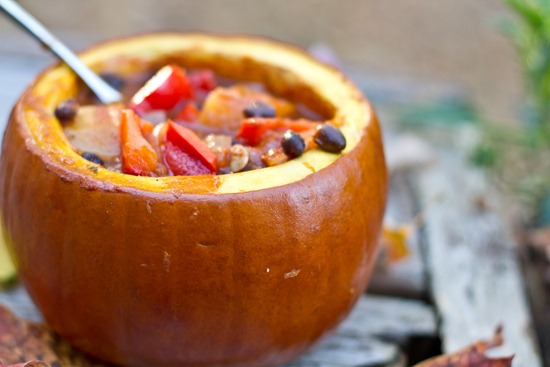 In case you are wondering, you most certainly eat the inside of the pumpkin! It was so delicious scooping a bit of the pumpkin flesh along with the chili into one delicious bite.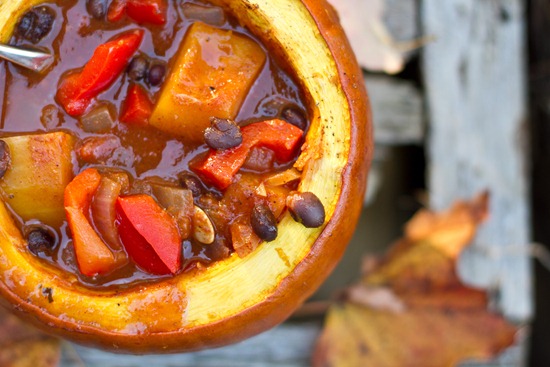 In conclusion:
1) One of my favourite Fall dinners yet.
2) Please make this weekend. You will oooooo, you will ahhh, you will shed a tear of delight. Or maybe that's just me.