Good morning!
It's still raining. And dark. Yuk!
Shortly after my Fluffy White Clouds post last week, I received a wonderful email from a friend who is currently in yoga teacher training. She told me that I might enjoy the 7 axioms/Universal Truths that they were taught in her yoga class.
I loved them so much, I thought I would pass them on to you! I have printed the list and will be placing it on my vision board because I find it so inspirational.
Zuda Yoga Teacher Training – 7 axioms/Universal Truths
1. You are exactly where you are supposed to be
2. Fear and pain are life's greatest teachers
3. Laughter and play are the keys to the fountain of youth
4. Exercise and rest are the keys to vibrant health
5. Touch and intimacy are basic human needs
6. Everything is impermanent
7. Everything is connected
I love the first one especially- 'You are exactly where you are supposed to be'.
I think that we can often get caught up in where we think we should be or where we want to be, but to realize that we are exactly where we should be at this very moment in time is very powerful.
To accept where we are at this moment helps remove the guilt that so many of us face every single day. To appreciate the times when we are struggling or having a bad day and to realize that even the moments that seem difficult, upsetting, flawed, or discouraging all have their particular place.
How many times have you been down on yourself because you felt like you should or shouldn't have done something?
Or that you let someone down?
Or that you ate too much?
Or that you should have found a job by now?
Or that you should have had a baby by the time you hit 30?
Or that you shouldn't have said something or you should have stood up to someone?
We all have regrets and we all have guilt, but often it helps to take a step back and to release some of the guilt that we all have over our heads.
We all make mistakes. We all have things we struggle with in life. But to realize that where we are right now is where we are supposed to be can be very freeing.
It does not mean that we have to stay in a negative situation; it simply means that everything has a learning purpose in our lives.
I always say that if I didn't struggle so much with making the wrong career choice,  I would never be where I am today. Sometimes we must go through hard times to really push ourselves and grow!
Lately I have been struggling with motivation. Instead of feeling worse about it, I think it might help to accept it for what it is and then think of ways that might help how I am feeling. I am considering joining a local community gym for a few months to add some new challenges to my routine. I used to LOVE doing body pump and spinning classes in university and I think I might love to add classes back into my life. I am definitely going to look into my options and what is out there for me during the colder months. I am also thinking about signing up for a Fall race since I currently don't have anything on the horizon.
These 7 Universal Truths help me understand that every day has a place and purpose….even the bad ones.
With this in mind, my pancake fail this morning wasn't so bad. ;)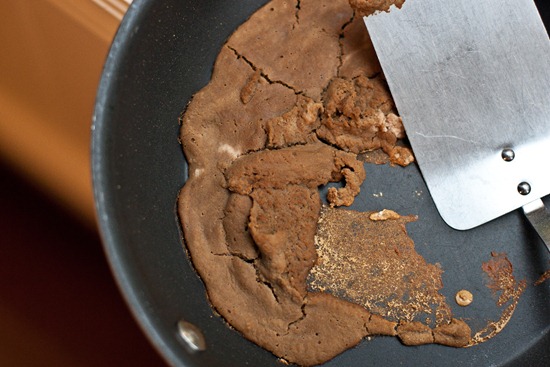 LOL…this my friends is what we call #pancakefail.
Why is writing #pancakefail so much fun?
I shall return with endorphins in my blood and a recipe success. :)