Good morning!
This weekend is our Canadian Thanksgiving, which seems strange to me after the weekend madness, but I am just happy that I am not the one preparing the entire meal this time. ;)
I have been thinking of something that I could bring for my in-laws that would make a fun Thanksgiving hostess gift. I didn't feel like bringing cookies, pie, or something of that nature, so I put my thinking cap on and surfed the web for ideas.
And then it hit me like a ton of bricks pumpkins.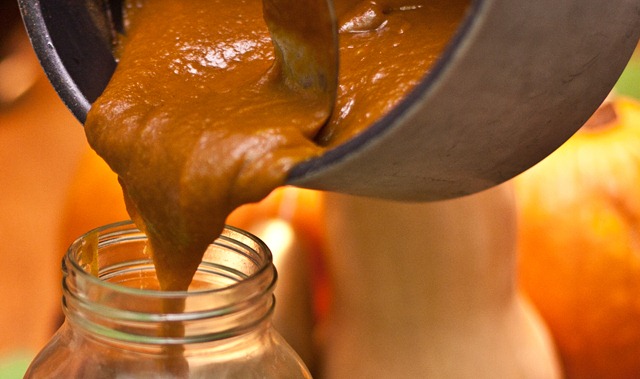 Happy Thanksgiving Homemade Pumpkin Butter
This was super easy to make and quite delicious. I doubled the batch below so I could have some to enjoy myself. This will be fantastic spread onto pancakes, toast, or even layered with Vegan Overnight Oats! The possibilities are endless, and I plan to find them all. ;) Note that I reduced the sugar by 1/3 of a cup as I didn't want it super sweet. You can adjust the sugar and seasonings to your own taste of course.
Adapted from Smitten Kitchen.
Ingredients:
1 (29 ounce) can pumpkin puree, approx. 3 1/2 cups or fresh
3/4 cup apple juice
1/2-1.5 teaspoons ground ginger (optional, sometimes I omit)
1/2 teaspoon ground cloves
1 cup Sucanat (or brown sugar)
1 tablespoon ground cinnamon
1/2 teaspoon ground nutmeg
1-2 tsp fresh lemon juice
Directions:
1. Combine pumpkin, apple juice, spices, and sugar in a large saucepan and stir well. Bring mixture to a boil, covered with lid ajar (I prop it with a wooden spoon). Reduce heat to low-medium and simmer, covered with lid ajar, for 35-45 minutes, stirring frequently. Be careful as the mixture bubbles and pops!
2. Remove from heat and let it sit for a few minutes before removing lid. Adjust spices to taste. Stir in lemon juice. Once cool, pumpkin butter can be kept in an airtight container in the fridge for up to 3 weeks. Makes enough to fill one large mason jar or about 3.5 cups.
Note: Canning is not recommended.
Get your super cute Mason jar and set aside…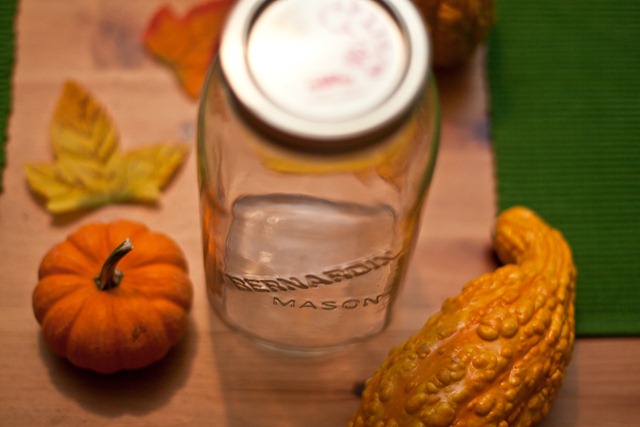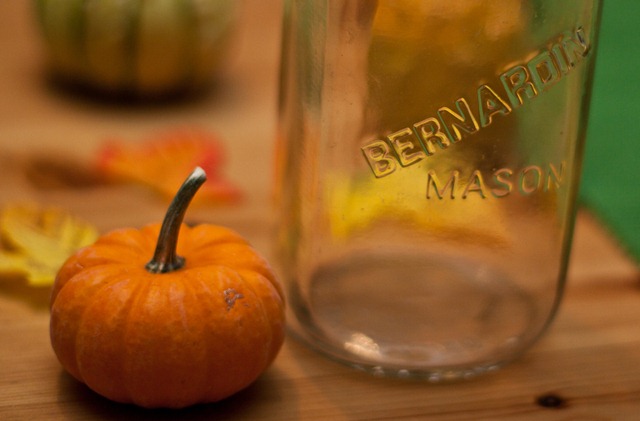 Dump everything into the pot except the fresh lemon juice. Once the mixture is cooked it will be thick and creamy!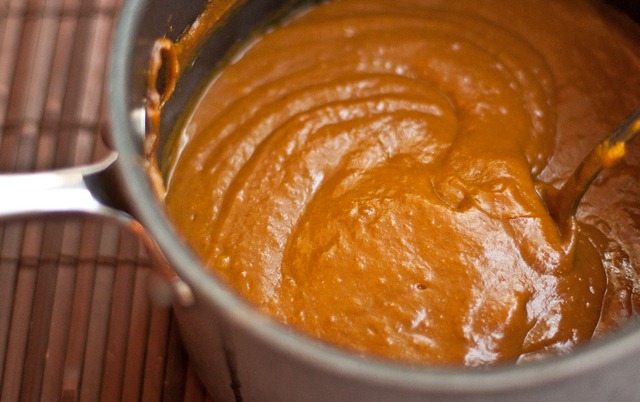 Allow your pumpkin butter to cool before putting it into your Mason jar.
Wheeeeeeeee.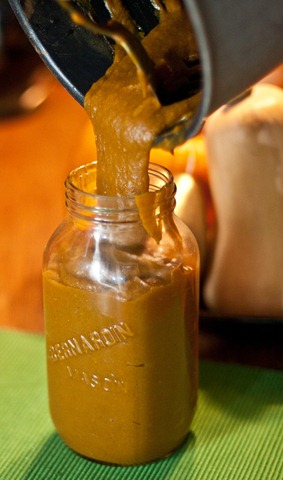 Now decorate your jar with curly ribbon and a tag…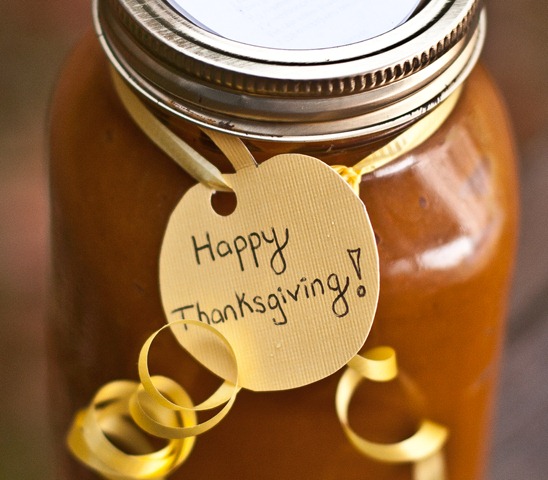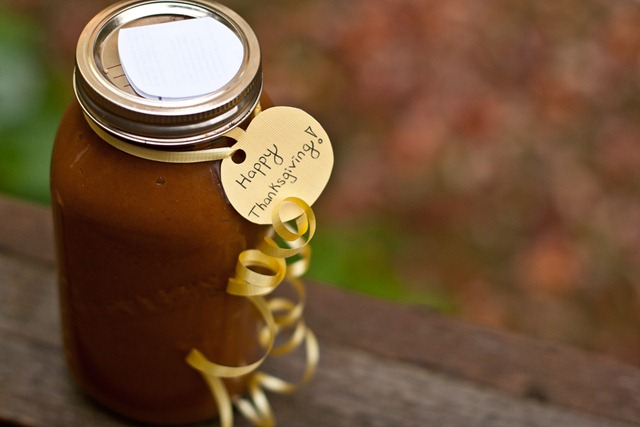 Disgustingly cute, I would say.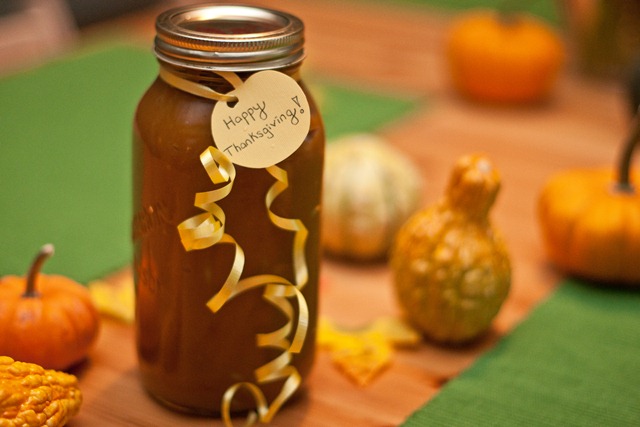 Hmm, what is that white circle on top of the jar?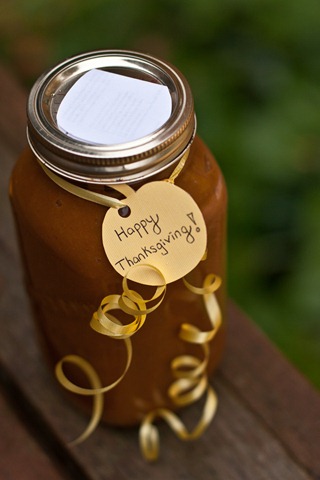 The recipe!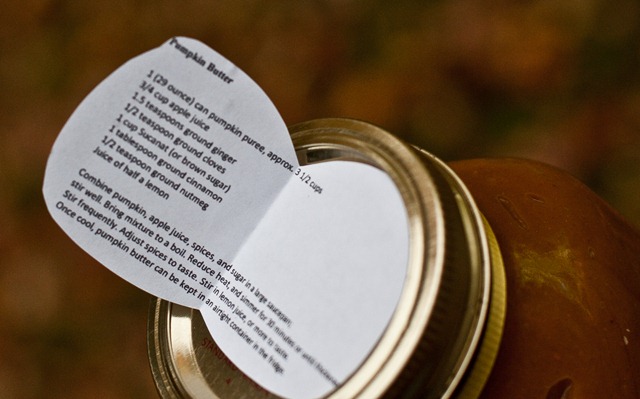 And there you have it.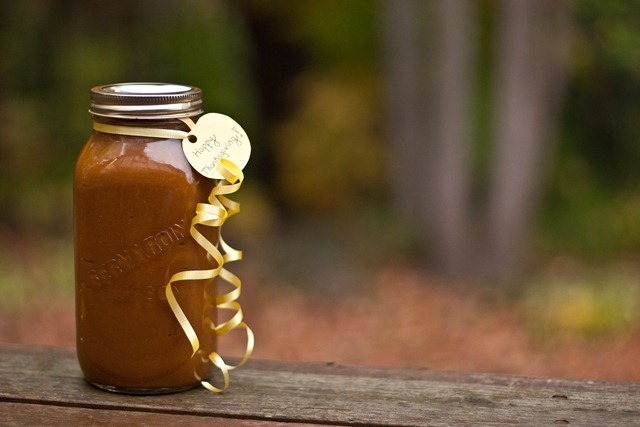 A simple and quick hostess gift that can be enjoyed all season long. Just don't forget to make a batch for yourself! ;)