Good evening!
After my Luxury Dinner Party post, I received a few questions about preparation that I thought would make for a fun follow-up post.
Tick Tock, Racing Against The Clock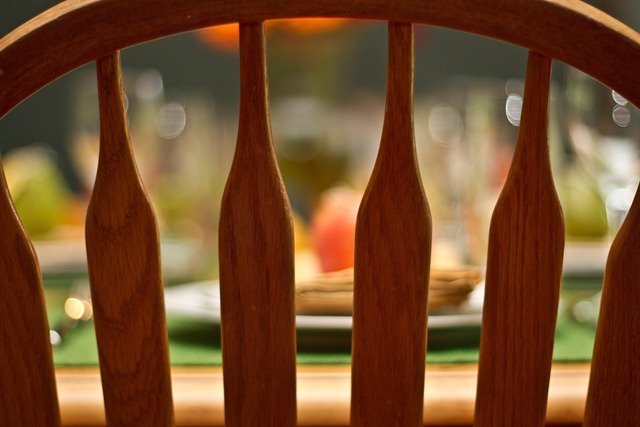 This was the first time I hosted a Thanksgiving meal and I admit I felt quite frazzled and overwhelmed at the thought of everything I had to prepare. I had flops, fails, kitchen disasters, gray hairs, long clean ups, mini breakdowns, you name it.
It wasn't pretty.
You can think of me as your guinea pig who tested everything out for you. I'll take one for the team if necessary!
Here is the breakdown (no pun intended) of last week and what I made on each day as I remember it, but I admit, things are a bit fuzzy. ;)
I am a strong believer in prepping ahead of time and I have nothing against making use of the freezer whenever possible.
Wednesday September 29th:  DAY 1
1) I made Wedded Bliss Soft Ginger Cookies and promptly froze them. To freeze them, I double wrapped them in saran wrap and placed them into sealed containers. They were fresh as ever when I took them out on Friday.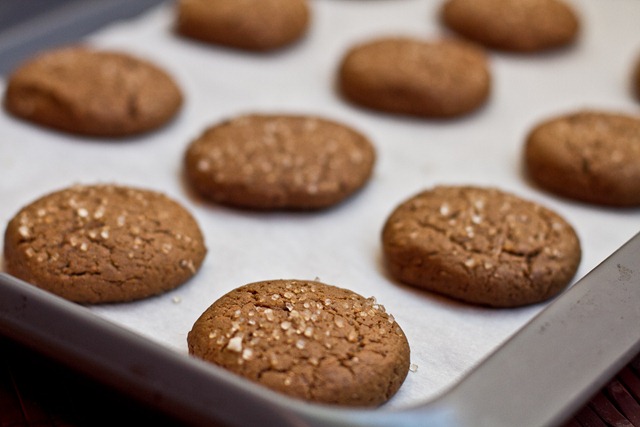 2) I also made Fluffy Pull-Apart White Dinner Rolls. I also promptly froze them. Contrary to common belief you CAN freeze bread if wrapped very carefully! I double wrapped the entire lot (minus two that I ate!) and stuck them in the freezer and hoped for the best. I was delighted to find that when I defrosted them on the counter on Saturday afternoon they were as fresh tasting as they were when I wrapped them up.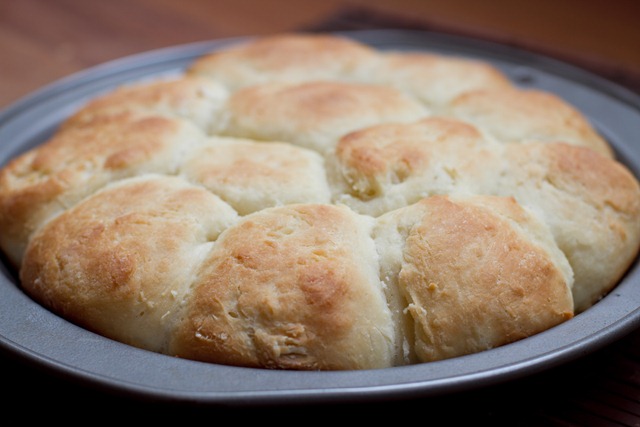 So on Day 1, I checked off cookies and rolls. Progress.
Thursday September 30th: DAY 2
3) First, I made the Vegan gravy on Thursday. I adapted the recipe from Eat Drink & Be Vegan Cookbook. It is packed with flavour, and it's by no means a traditional tasting gravy. After making it and allowing it to cool, I put it in a container and placed it in the fridge until Saturday. Just before serving the main course, I took the gravy out, stirred it, and heated it up for a minute or two in the microwave. Presto.
Note: I now recommend a new recipe – my all-purpose vegan gravy recipe below!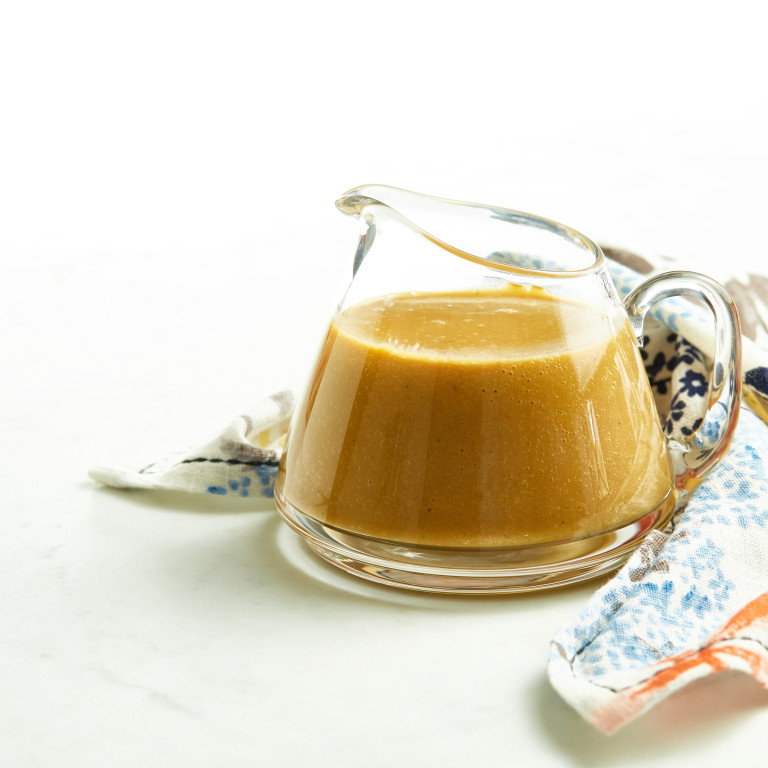 All-Purpose Vegan Gravy
Vegan, nut-free, refined sugar-free

Yield

2 cups (500 mL)
Prep time

Cook time

Total time

This easy vegan gravy has an incredible savoury flavour, and it's the perfect topping on my Cauliflower Mashed Potatoes, roasted sweet potatoes, and more!
Ingredients
2 tablespoons (30 mL) extra-virgin olive oil
1 1/2 cups finely chopped onion
4 large garlic cloves, minced
2 cups (500 mL) low-sodium vegetable broth
6 tablespoons all-purpose flour or gluten-free all-purpose flour
1/4 cup (60 mL) low-sodium tamari (provides tons of flavour!)

*

1 to 3 tablespoons nutritional yeast, to taste
Freshly ground black pepper, to taste
Fine sea salt, to taste
1/2 teaspoon (2.5 mL) white wine vinegar (optional - adds brightness)
Directions
In a medium pot, heat the oil over medium.
Stir in the onion and garlic. Sauté over medium heat until the onion softens, about 4 to 5 minutes.
In a medium bowl, whisk together the broth and all of the flour until smooth. Pour the broth/flour mixture into the pan with the onion. Stir to combine.
Stir in the tamari, nutritional yeast, and pepper. Bring the mixture to a simmer over medium heat, whisking frequently, until the gravy starts to thicken. Reduce heat if necessary if the gravy starts to stick to the pot.
Once the gravy has thickened, remove it from the heat. Pour the gravy into a blender. With the lid ajar (so steam can escape), blend on low to medium speed until the gravy is smooth.
Transfer the gravy back into the pot and increase the heat to medium. Add in the salt and vinegar (if using). Keep simmering over low to medium heat until the gravy thickens to your liking. If the gravy is still too thin, whisk together 1 tablespoon of flour with 1 tablespoon of broth in a small bowl and then whisk this into the broth. If it's too thick, thin the gravy with a touch of broth. The gravy thickens a bit as it cools.
Store cooled leftover gravy in an air-tight container in the fridge for up to 3 days.
Tip:
*

Make it soy-free: Feel free to replace the tamari with salt, and add to taste.
Nutrition Information
(click to expand)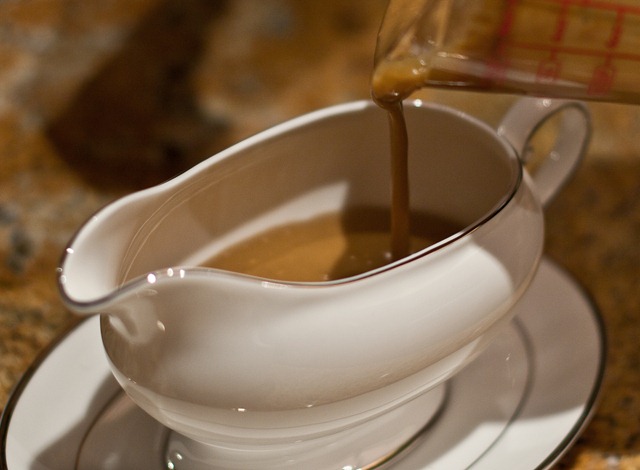 Vegan Gravy
Adapted from Eat, Drink, & Be Vegan.
Ingredients:
1 cup vegetable broth
¼ cup nutritional yeast
1 tsp yellow mustard
1 tbsp tamari
1 large garlic clove, minced
1 tbsp cornstarch or arrowroot powder
2 tbsp tahini
1.5 tbsp balsamic vinegar
1.5 tbsp blackstrap molasses
½ tsp agave nectar
2 tbsp olive oil
Directions: In a blender or food processor combine all ingredients and puree until smooth. In a pot on medium to high heat, add mixture and bring to a boil. Reduce to low and stir frequently to thicken. Remove from heat and serve. Add additional agave, water, or vinegar if needed to adjust taste.
4) Next I made the Cranberry Sauce which was super easy. Place in container once cool and into the fridge. Remove from fridge about 30 minutes or so before you need it. Can be served warm or cold.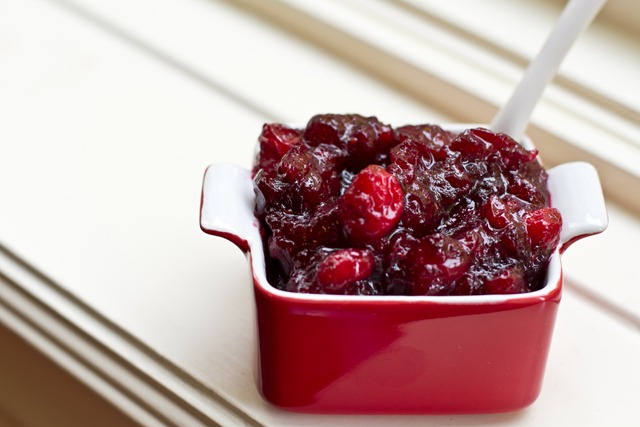 Cranberry Sauce
Adapted from Eat Drink & Be Vegan.
Ingredients:
1 ¾ cups fresh cranberries
½ cup pure maple syrup
¼ tsp sea salt
1 tsp balsamic vinegar (optional)
Directions: In a pot on medium-high heat, combine the ingredients and bring mixture to a boil stirring occasionally. Once boiling, reduce heat to low and cook for about 15 minutes stirring occasionally. Once sauce has thickened, taste test, and add vinegar is desired. Serve warm or chilled.
5) Then I made the Twice Baked Bar Nuts! Bar nuts are awesome because you don't have to worry about if they will stay fresh.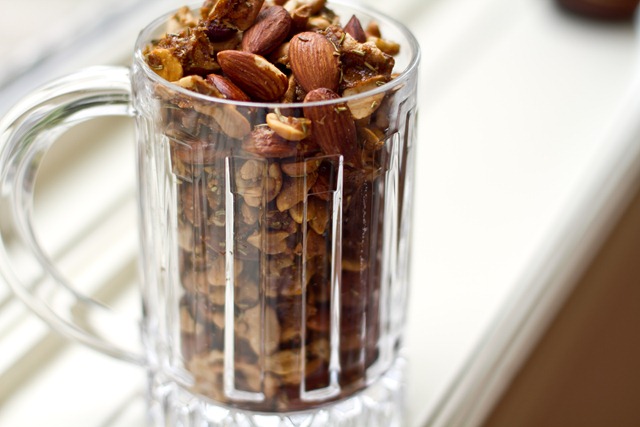 6) The last thing I made on Thursday was the Pumpkin Gingerbread with Spiced Buttercream. Note that I didn't frost the gingerbread with icing until Saturday. After the gingerbread cooled, I double wrapped it and yes, you guessed it, popped it into the freezer until I removed it on Saturday morning. I stored the frosting in the fridge and I took it out 1 hour before I wanted to frost the gingerbread so the frosting could come to room temperature and be easier to spread.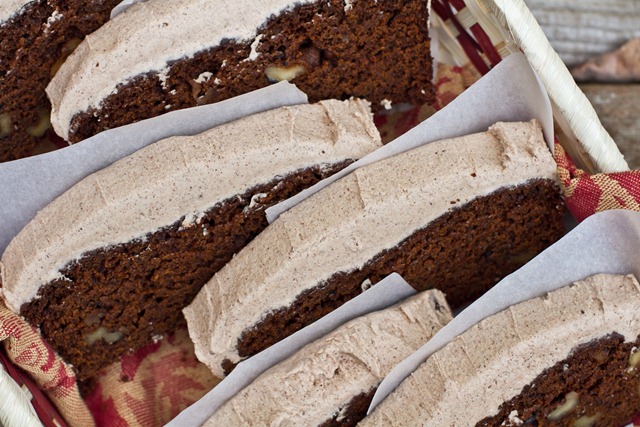 That concludes Thursday prep work! Luckily these recipes made up my blog material for the entire week or I wouldn't have been able to fit it all in.
Friday October 1st: DAY 3
7) I prepped the This Ain't Grandma's Sweet Potato Casserole, but I did not cook it until Saturday. I simply prepped everything, put it in the casserole dish, and then popped it into the fridge. On Saturday, remove it from the fridge and allow it to come to room temperature before cooking (you don't want to crack the casserole dish from extreme temperature changes…trust me I have done it before!).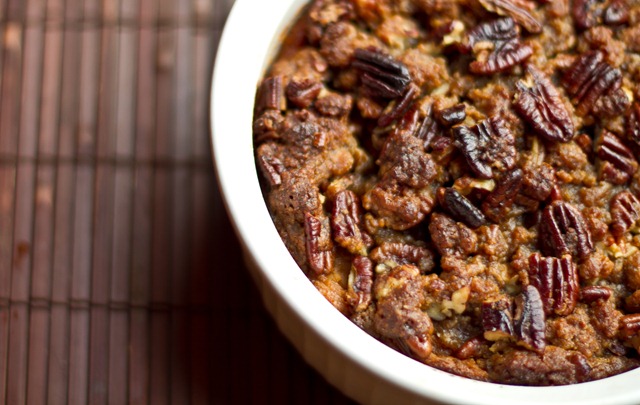 This dish was everyone's favourite by a landslide, including mine. The kids called it 'cake'. ;)
I also added vegan marshmallows during the last 5 mins of cooking.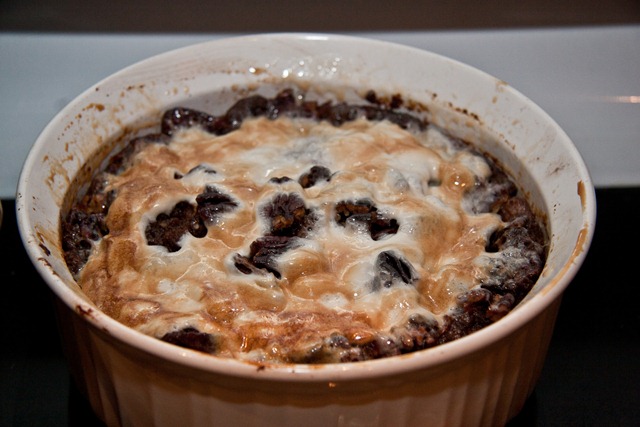 8.) I prepped and pre-baked the Walnut Loaf. I didn't cook it the entire amount of time because I knew I would be heating it up just before serving for dinner, so I cooked it about 80% and then cooked the rest of it, just before I served it on Saturday so it would be hot and crisp. This walnut loaf was good, but I would not serve it without the vegan gravy. The vegan gravy made the loaf. I also added a glaze on this loaf from the Clean Food Cookbook. This link also has a recipe for another type of Walnut Loaf that has received great reviews. I think I will try that one next time. For the recipe I made, see my document attached.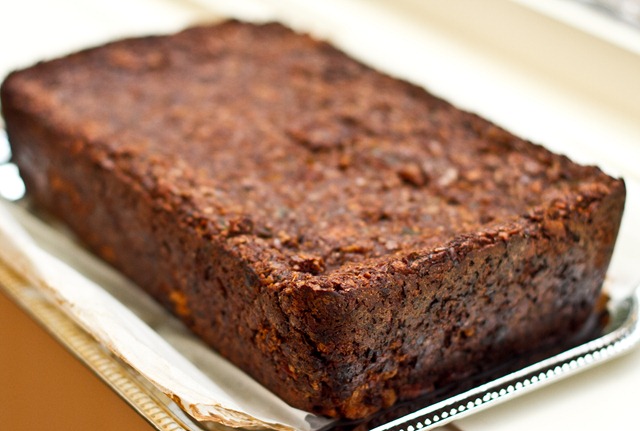 9) Next up were the Candied Pecans! Recipe here.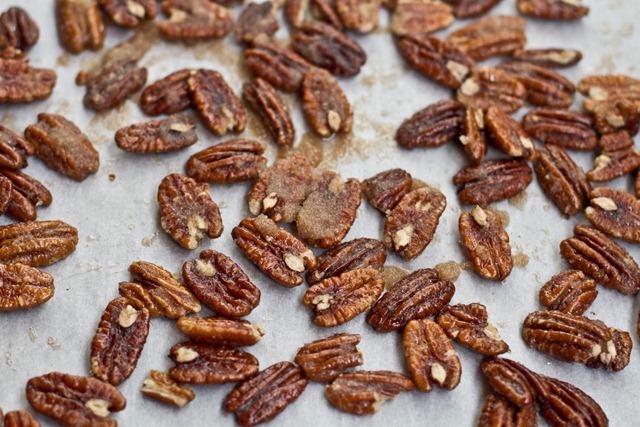 My first attempt was a bit of a fail. I also didn't follow the steps of the recipe correctly.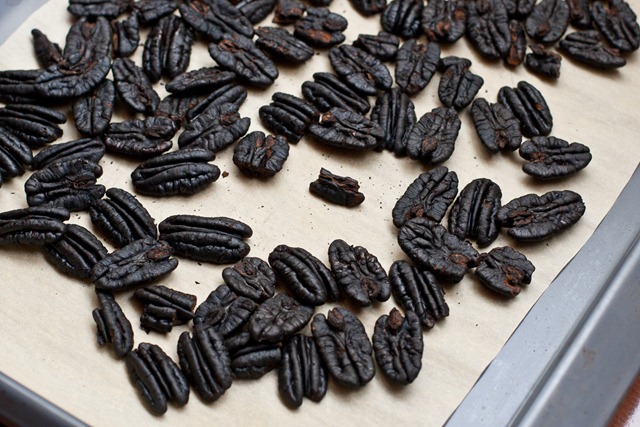 Note to self: Do not tell yourself you are simply leaving the kitchen for a 'minute' when you have precious and vulnerable nuts in the oven. They will incinerate and a tiny piece of you will die inside.
My entire house also reeked of smoke! ahhahah. FAIL.
10) I cooked the potatoes for the high protein garlic mashed potatoes. Once the potatoes cooled off, I placed them in the fridge and finished making them on Saturday.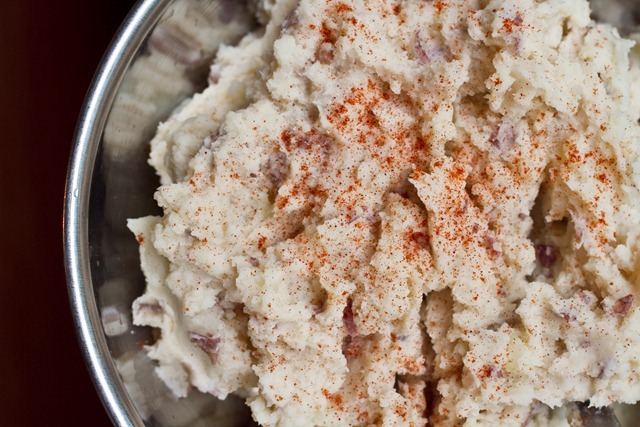 11) Pumpkin Pie brownie Cupcakes were made. Yummy.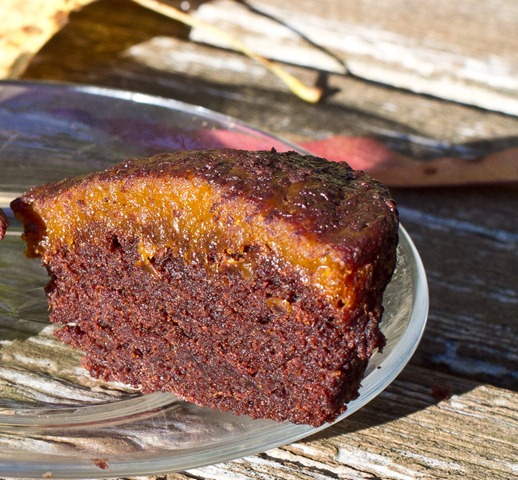 On Friday night, I also hit up the Dollarstore and grocery store and prepped the goodie baskets.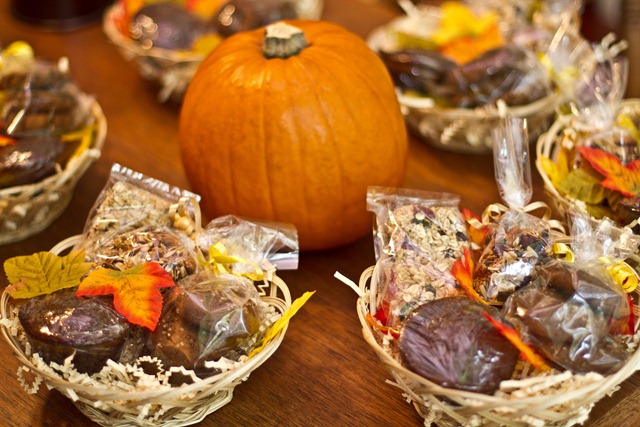 Inside each goodie basket I included: 3 Wedded Bliss Soft ginger cookies, a Glo Bar, a Pumpkin Pie Brownie Cupcake, and Power House Glonola.
Saturday October 2nd: THE DAY OF!
I admit, this day is a huge blur.
I got up around 6am and did not stop prepping food until my dinner guests arrived at 5:30pm. It was a long, crazy day. I strongly suggest seeking out help if you are going to tackle a Thanksgiving Dinner! After a week of squeezing in prep whenever I had free time, I was totally wiped out and had it not been for the challenge I would never have made it out alive.
As soon as I got up, I removed everything from the freezer so it could defrost…rolls, gingerbread, etc. I also removed things like the Sweet Potato Casserole and cooked potatoes from the fridge so they could come to room temperature.
Next, I baked the Pumpkin Pie Brownie in a Pecan Crust…Recipe here. I also baked the Sweet Potato Casserole, finished the mashed potatoes, prepped and roasted the veggies, and finished cooking the walnut loaf as it got close to dinner time. It was really crazy trying to time everything and what I realized is that you can never time everything perfectly. There is no such thing. At least not in my world! Just do your best and that will be good enough.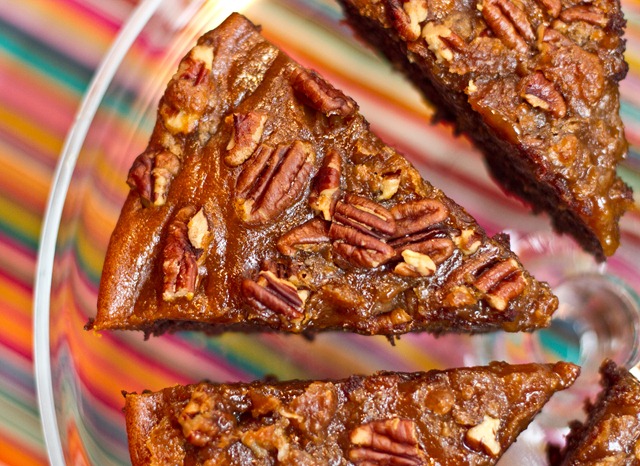 Don't forget all the recipes from the dinner party can be found here.
I also set the table while I waited for things to cook.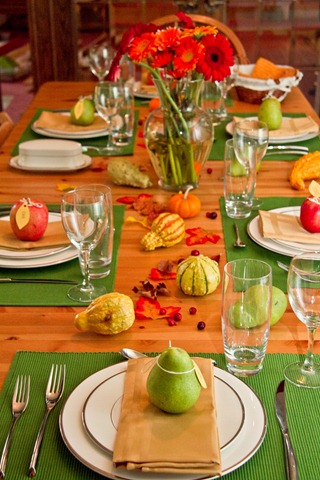 For the table setting I used:
7-8 gourds
3-4 mini pumpkins
Fall leaves (real and fake)
Fresh cranberries scattered about
Bright green Dollarstore placemats– Bright colours pop off the table
No tablecloth– I love the warm feeling of wood for Thanksgiving dinners
Dollarstore baskets and napkins– The napkins were 25 cents each!!
A clear vase + fresh flowers OR you can fill a vase with cranberries and other brightly coloured fruit like lemons or granny smith apples
A homemade menu on scrapbooking paper
For the name tags: Pears, apples, mini pumpkins, scrapbooking paper, and string
The place settings were my favourite part. Of course, Martha came up with the idea…not me.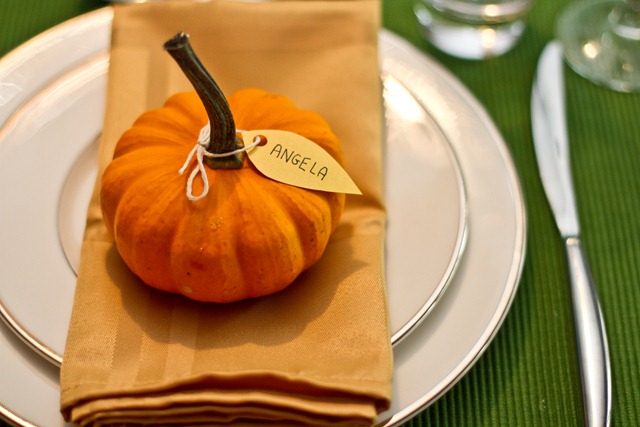 We also dug out our wedding china from boxes for the very first time. ;) Who knows how long it would have stayed in the box if it wasn't for this challenge.
So there you have it.
A crazy and wild week filled with a healthy dose of trial and error and a determined spirit to overcome any obstacle.
I recommend bribing family with treats to help you along the way. ;)
Also never forget, laughter is the best medicine…