This time of the year makes me all warm and tingly inside.
And no, it's not just because my hands and feet are starting to return to their habitual winter-like chill or because I am consuming so much cinnamon, nutmeg, and ginger my intestines just might bleed.
Well that too, but there is another reason why this time of the year makes me all warm and tingly inside…
It's almost hockey season!
This year, Eric and I are going to be hosting some Hockey Night in Canada gatherings with our Hockey Nut friends.
Of course, if you are like me, you see this as an opportunity not only to guzzle beer on a week night, but to come up with fabulous goodies that you can serve to your beer guzzling friends.
To kick off the season, I decided that I was going to bring back the Bar Nut.
Hockey Nuts, Beer, and Bar Nuts go hand and hand, don't you think?
I will never forget the first time that I tried the famous Union Square Cafe Bar Nuts. These nuts won the title of Best Bar Nuts in New York, however at the time, I had no clue they even existed!
I was at a family gathering on Thanksgiving and one of our relatives made these famous nuts as an appetizer.
Eric and I could not stop eating these nuts!
In all my excitement I exclaimed to the room, 'These are the best nuts I've ever tasted!!', shortly thereafter the room went silent followed by an eruption of laughter, which was followed by my face turning beet red and drowning my sorrow in my beer (& nuts).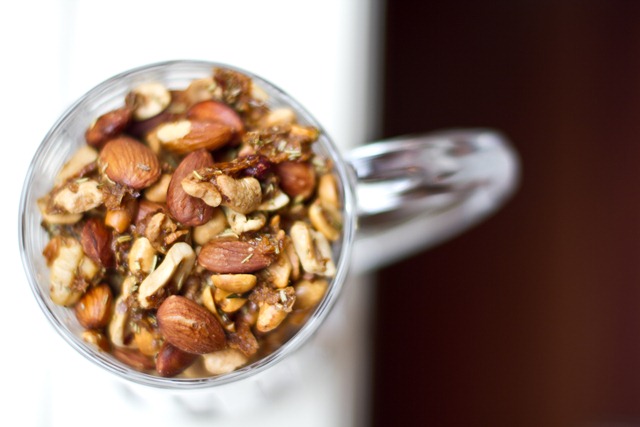 Twice Baked Bar Nuts
Adapted from Union Square Cafe Bar Nuts.
Ingredients:
2 1/4 cups mixed unsalted nuts (I used 1/2 cup peanuts, 1/2 cup cashews, 1/2 cup walnuts, and 3/4 cup almonds)
2 tbsp coarsely chopped fresh rosemary leaves
Small Pinch cayenne pepper
1-2 tbsp Sucanat (or brown sugar)
1 tbsp maple syrup, to taste (optional)
1.5 tsp sea salt
2 tbsp Earth Balance butter
Directions: Preheat the oven to 350F. Line a baking sheet with parchment paper. Spread nuts onto the baking sheet and toast for about 10-12 minutes. Remove nuts and let cool for about 5 mins. or so. While cooling, mix the sauce ingredients (rosemary, cayenne, Sucanat, maple syrup, sea salt, 1 tbsp of Earth Balance butter). Now, dump nuts into a large bowl and stir in 1 tbsp of melted Earth Balance butter. Add sauce and mix well. Pour nuts back onto baking sheet and bake for another 10-12 minutes until golden. Cool for about 20 minutes and serve warm. Makes 2 1/4- 2 1/2 cups.
Notes: For the first batch I made, I followed the original recipe to a tee and I found that it was super, super salty. In my second version, I reduced the salt by 1/2 tsp and I increased the sugar slightly. I also added maple syrup due to the fact that Sucanat is quite dry. I also added an extra tbsp of Earth Balance to give the sauce something to stick to. Finally, I double baked the nuts for a more crispy and caramelized outcome.
These bar nuts are great because you can adapt them to how you like them! Make sure you taste them before going into the oven for the second bake and adjust seasonings if necessary.
Ok line up the troops!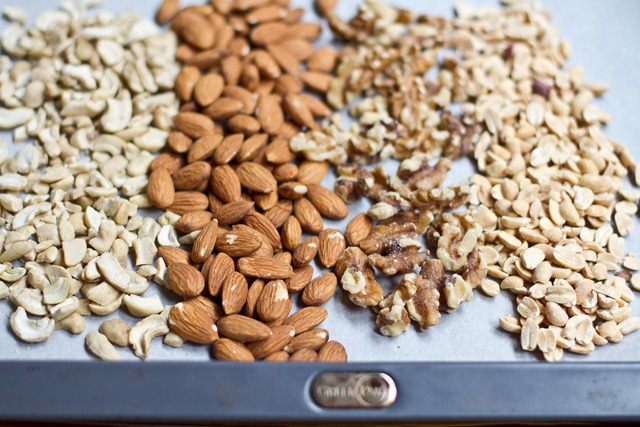 This is the first round of toasting…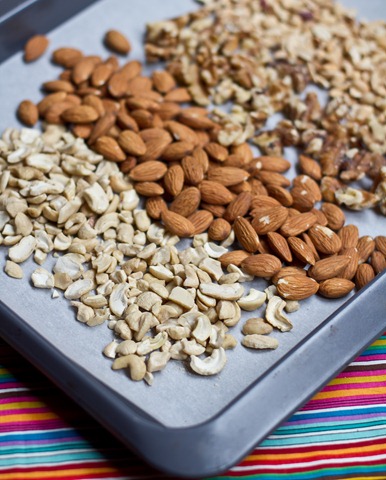 Prepare your sauce…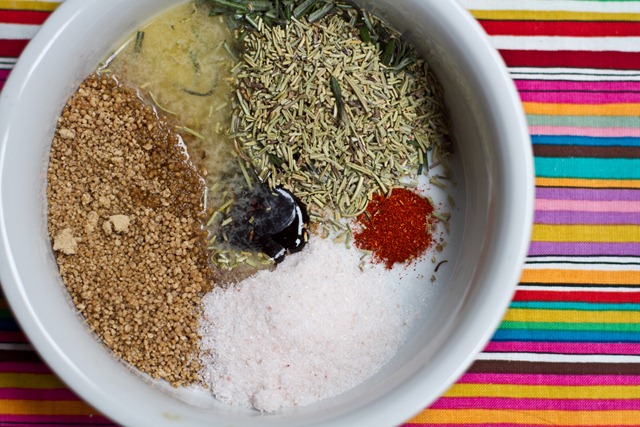 Note: That is blackstrap molasses in the centre of the above photo. I added about 1/4 tsp, but I wouldn't bother adding it next time as I don't think it did anything.
I didn't have much fresh rosemary left, so I had to use a mixture of fresh and dried rosemary. I'm sure you could use all dried rosemary if you had to, but fresh is always best.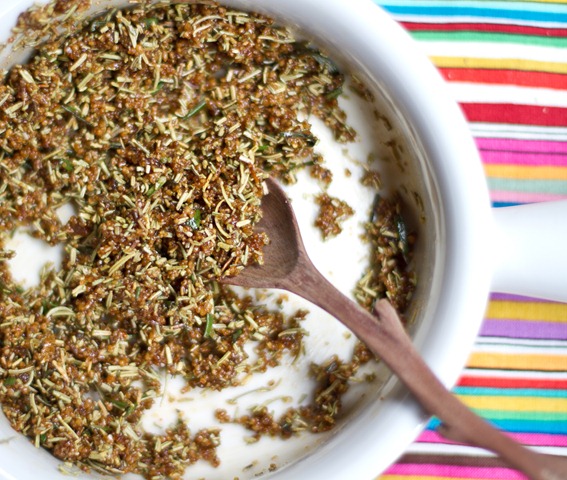 Remove toasted nuts from oven and place into a bowl.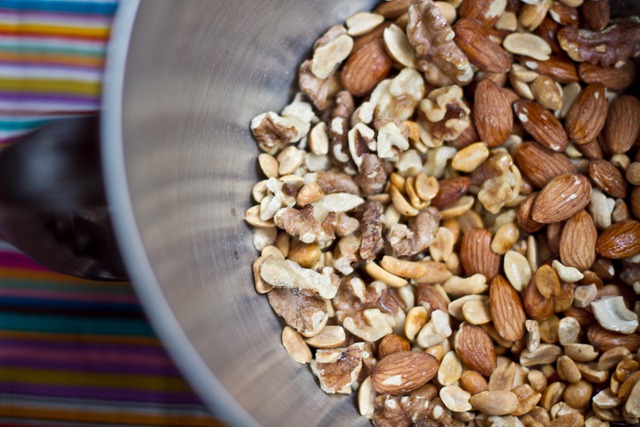 Coat with 1 tbsp of Earth Balance…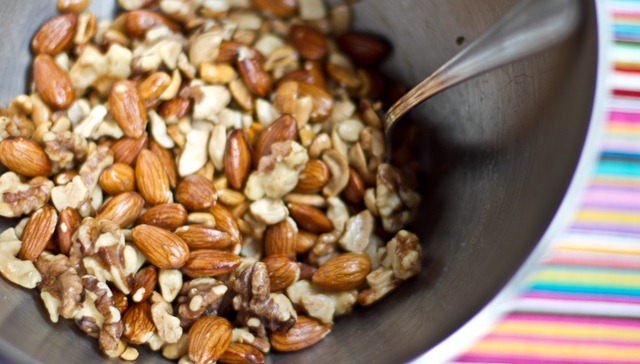 Now mix in sauce and pour onto baking sheet for the second round of baking! The original recipe didn't call for any more baking, but I thought it would do wonders…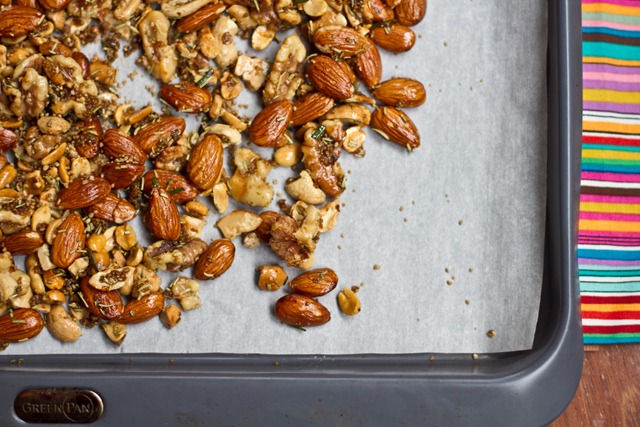 and it did!
The Sucanat sugar caramelized and got all crispy and chunky!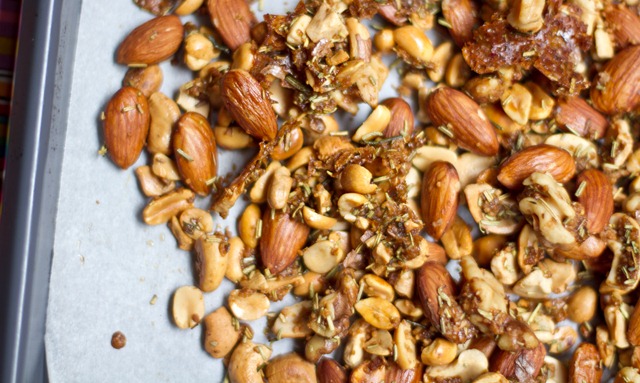 Mmmm….your house will smell like a dream.
Serve with cold beer and hockey. ;)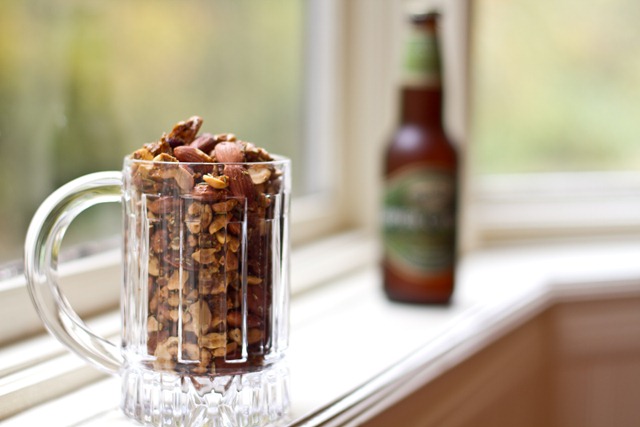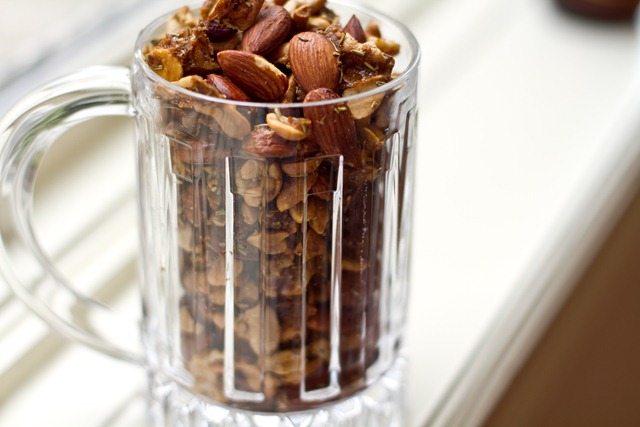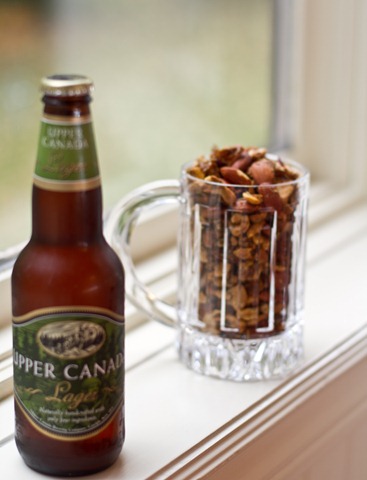 Now all I have to do is wait patiently for 7 days for the Leafs Vs Habs kick-off game.
But for now: beer, bar nuts, and Gossip Girl will have to do. ;)