Good morning :)
Thank you for your comments on my second entry for Project Food Blog!
I left you with a bit of a cliff-hanger as to what my surprise was when I got back from Paris…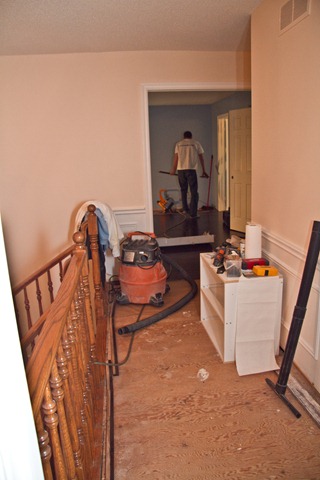 I came home to a bedroom without furniture, without flooring…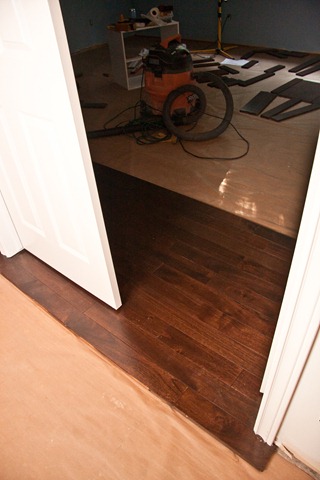 Well, some flooring. ;)
and a closet without shelves and clothing!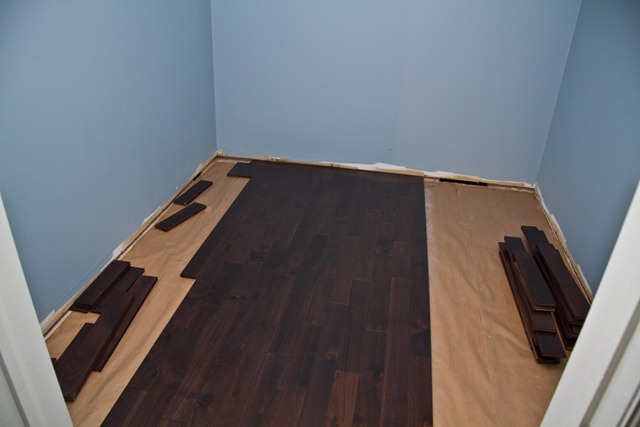 Where were my clothes!? Oh right…they were all jammed into my suitcase… ;)
I tried to remain calm. I was working with a 12 hour day of travel, no sleep, and a stomach that was growling for dinner.
'Surprise!!!!!'
Eric exclaimed, beaming with pride like only a man would who was installing his very first hardwood flooring.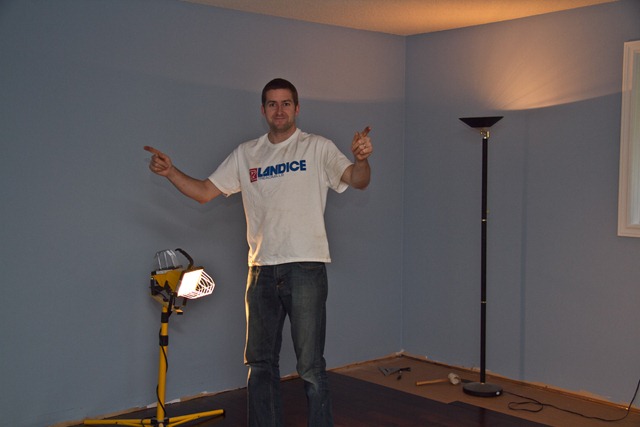 And then he quickly added, 'Sorry about the mess….I was planning on being finished by the time I picked you up from the airport….'
I looked around.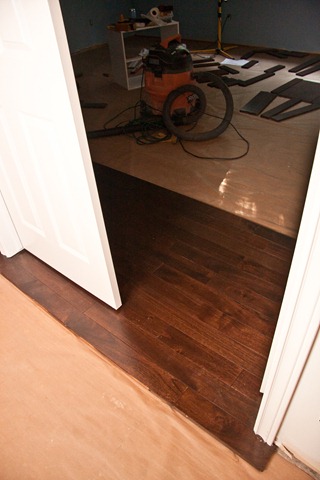 I think the saying, 'So close, yet so far away' applies here. ;) LOL!
But renos take time and of course I understood. I was just happy to have that ancient carpet gone!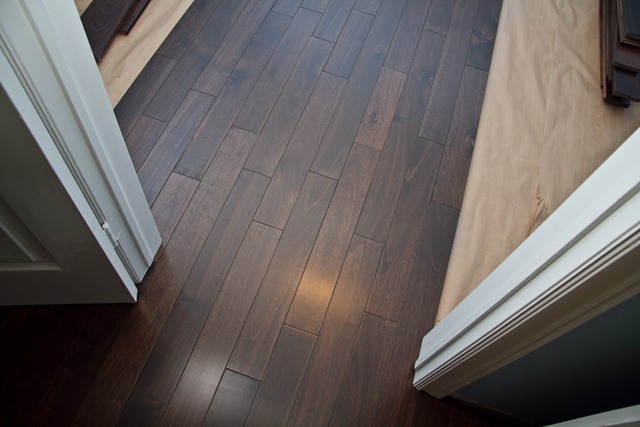 On Saturday, Eric taught me a few things and I helped him lay down the hardwood. It was actually quite fun, almost like putting a puzzle together!
The tricks to laying down hardwood: 1) Don't ever let the boards line up (within 6 inches), and 2) Try to mix and match the shades of the wood.
I left the nail gun to his guns, however.
We are almost done our bedroom and the upstairs hallway is about half done now. I really love how the blue paint looks so crisp against the hardwood. We are also going to put up a large white baseboard to polish it off.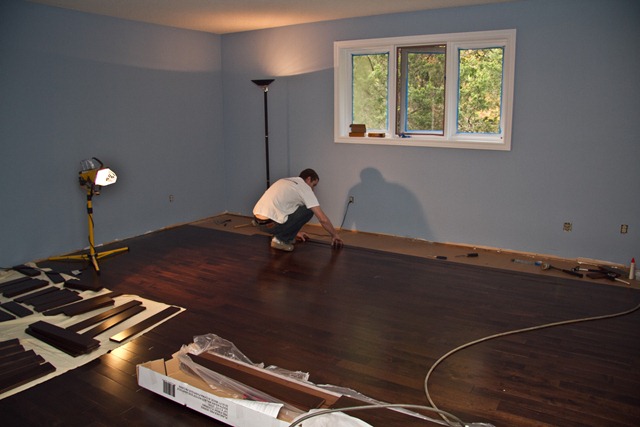 As for our closet, we are going to put in a closet organizer– probably one from Ikea. The one that was in there previously was made from particle board and it made our clothes stink.
That's our story and we're sticking to it!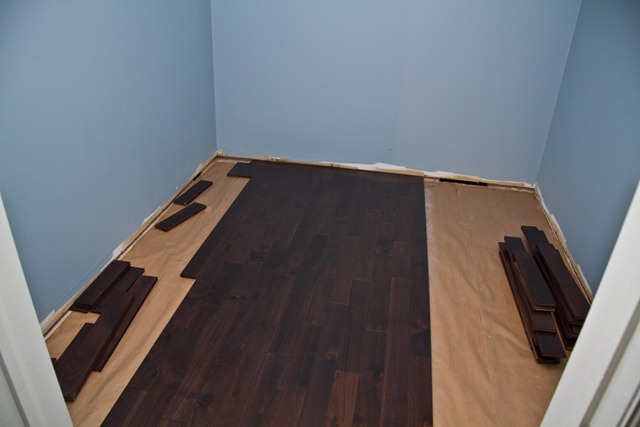 I don't believe I have done a breakfast post since I have been back. Well, do I have a fun one for you today…
Meet the Pumpkin Pie Monster: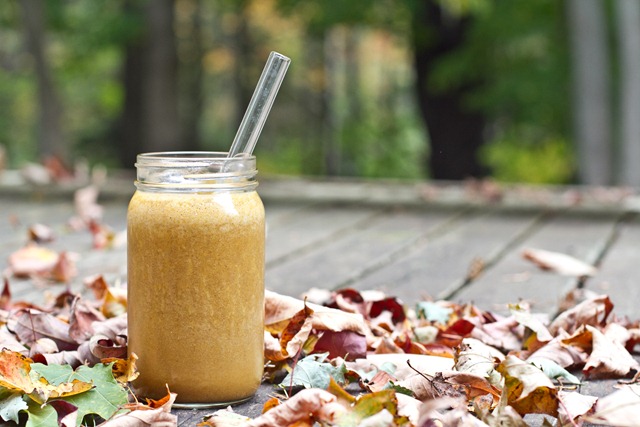 Don't worry she's nice. ;)
I was craving Pumpkin Pie the other morning and I dreamed up this delicious concoction: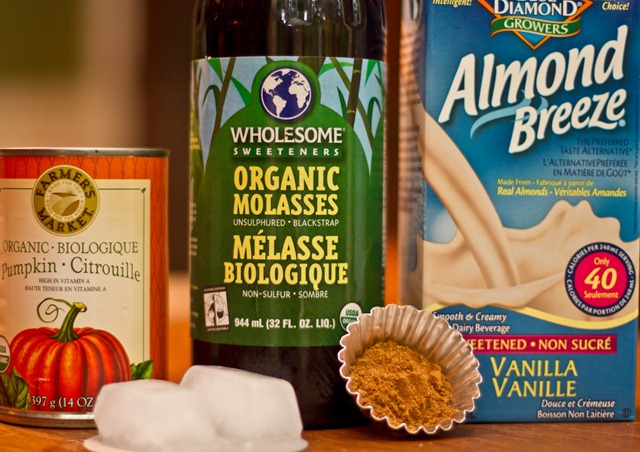 That would be pumpkin, blackstrap molasses, almond milk, pumpkin pie spice, and ice.
It tastes like you are drinking a pumpkin pie. I kid you not!!!!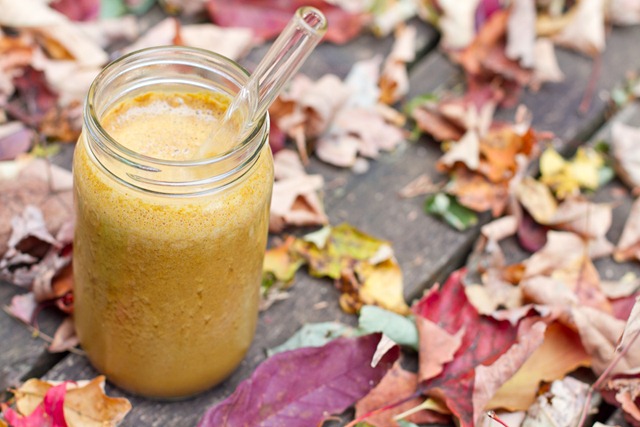 Pumpkin Pie Monster
Ingredients:
1 cup almond milk
1/2 cup canned pumpkin
1 heaping tsp pumpkin pie spice (or 1 tsp cinnamon, 1/4 tsp ginger, 1/4 tsp nutmeg)
1 tsp blackstrap molasses
1/2 frozen banana OR 1/2 serving Vanilla Protein powder
2 large ice cubes
Directions: Add all ingredients into a blender and process until smooth. Serves 1.
Nutritional Info: (Without protein powder): 121 kcals, 3 grams fat, 6 grams fibre, 2 grams protein.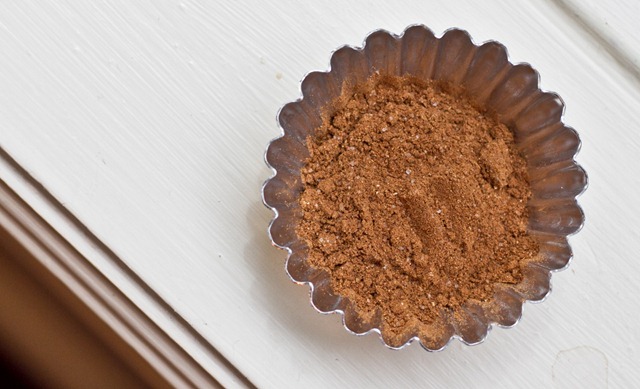 It tastes SO good!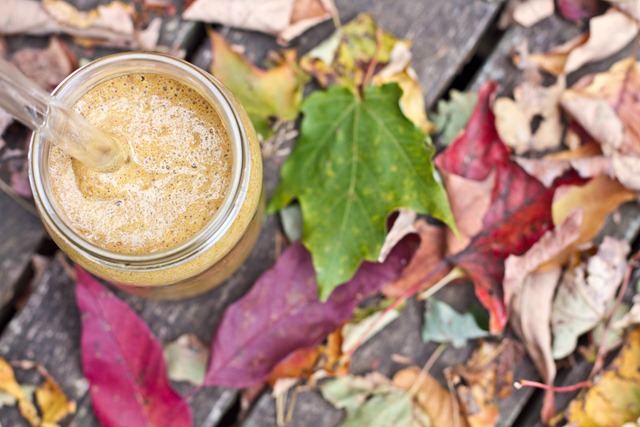 I couldn't think of a more perfect drink for Fall.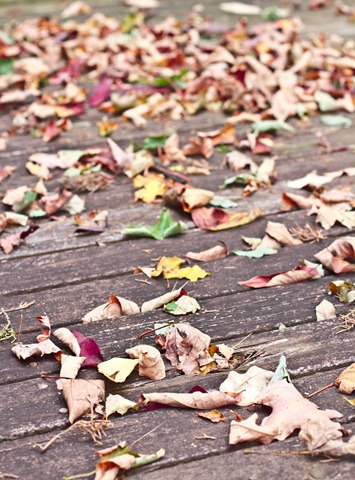 Even if there are still flowers around where you live… ;)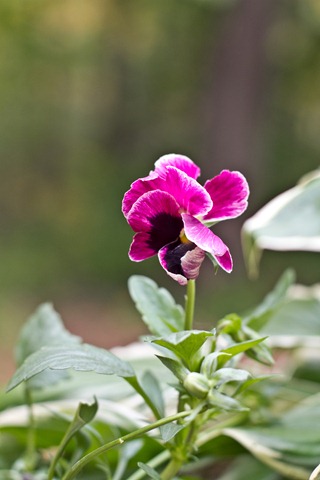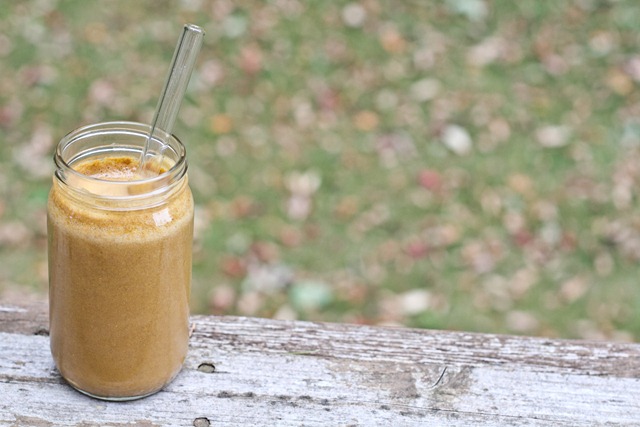 With my Pumpkin Pie Monster I had a craving for baked apples in a huge way. I decided to stuff my apples with Power House Glonola and some Earth Balance.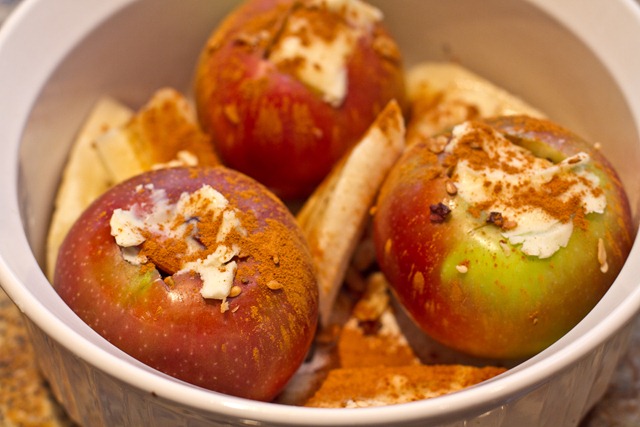 Easy Glonola Stuffed Baked Apples
Ingredients:
3 Macintosh apples, cored
1 banana, sliced into wedges
3/4 cup Power House Glonola
1/2 tsp ground cinnamon
1 tbsp of Earth Balance butter
Directions: Preheat oven to 350F and grab a small casserole dish. Core 3 apples and place into the dish. Now stuff them with the glonola until 1/2 cm from the top. Take 1/3 of the pat of butter and stuff it inside the top of the apple. Repeat for other two apples. Take your banana and slice it and place it into the dish. Sprinkle remaining glonola into the dish. Finish by sprinkling on cinnamon. Bake for 25-28 minutes at 350F. Serve hot or refrigerate and serve cold for a vegan overnight oats effect! Serves 2-3.
I accidently forgot about my apples in the oven and they turned into over-baked apples! Whoops.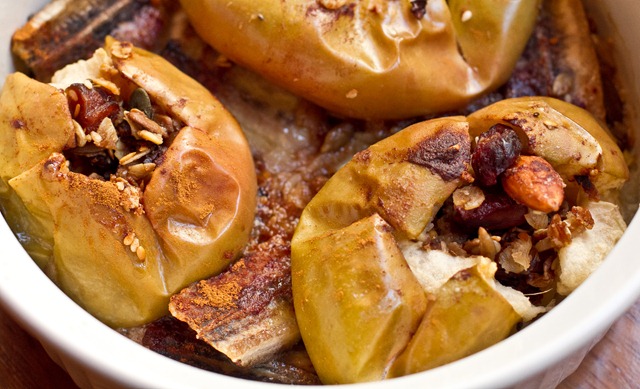 They were so delicious. I actually liked them best after chilling in the fridge. It tasted WONDERFUL with the Earth Balance melted throughout the apple. Don't skip this part! It tasted like a buttery applesauce + a vegan overnight oats dream. The baked banana was also delicious.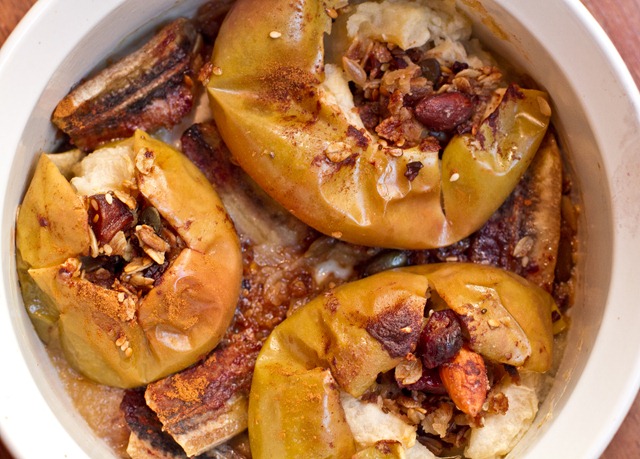 A huge congrats to my best friend Allison and husband Matt who had a beautiful baby girl on Saturday night! It is hard to believe that my best friend since grade 7 has a baby of her own now. Time sure goes by fast…