My travels recently brought me to one of the most beautiful and delicious places on earth.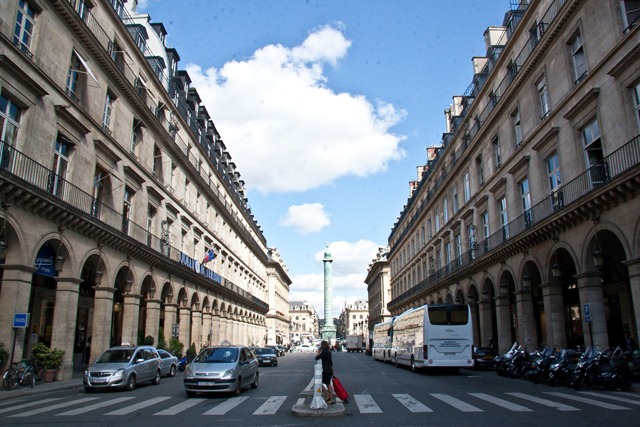 Paris, France.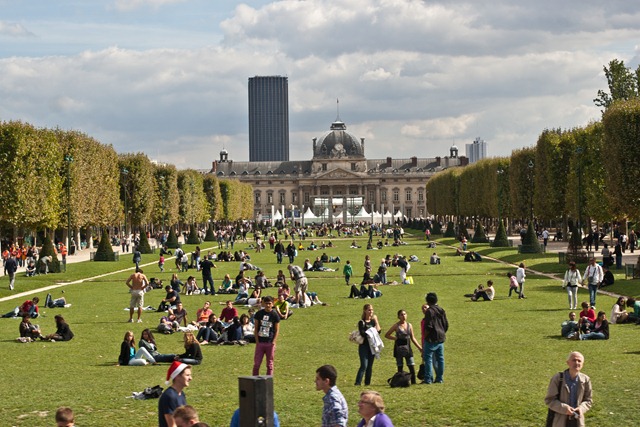 Stuffing my suitcase with stilettos and wheatgrass powder, I was eager to experience this historic city with my mom and my sister.
My only dilemma?
My Vegan diet was the antithesis of the French cuisine.
Still, I forged ahead all smiles and confidence; I was tackling a challenge that would make some vegans cringe at the mere thought.
My only goal in Paris was to have no regrets.
Of course, my lack of desire to eat meat or dairy led to some interesting discussions with the chef and serving staff…In one restaurant, I heard screams bellowing from the kitchen. That was a hot-tempered chef!
The servers cursed my very being.
However, many of my meals were downright easy to order and delicious, albeit coated in butter because even the most accommodating French chef believes that a meal is not complete without du beurre.
I made a list of foods- vegan or not- that I deemed were a once in a lifetime (but hopefully twice) opportunity to try.
For example, the croissant that melted on my tongue, the café that made 3 hours of sleep and jet lag almost bearable…
and the Tarte aux Fraises that left me longing to bake a Végétalienne (vegan) version in my own kitchen.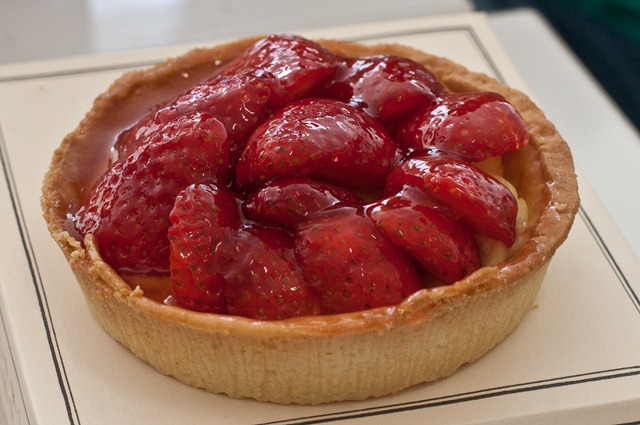 I decided to combine the traditional French methods of the Tarte aux Fraises recipe, but to also add a non-traditional Vegan flare.
And like a good little student, I did my research.
I went straight to Julia Child's Mastering the Art of French Cooking (Volume I) Cookbook for inspiration.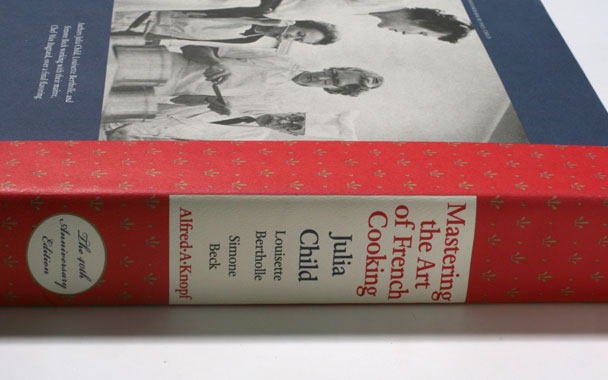 [source]
With my suitcase overflowing with postcards, dirty clothes, Michel Cluizel 85% dark chocolate, and barely worn stilettos (have you seen that cobblestone?!), I set off to my kitchen to create.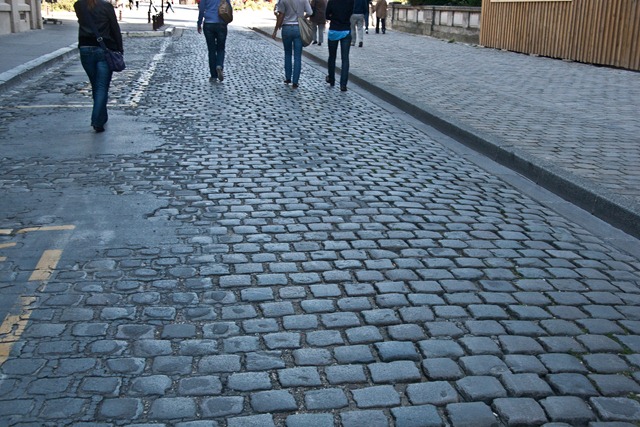 I have always been a girl with her priorities straight.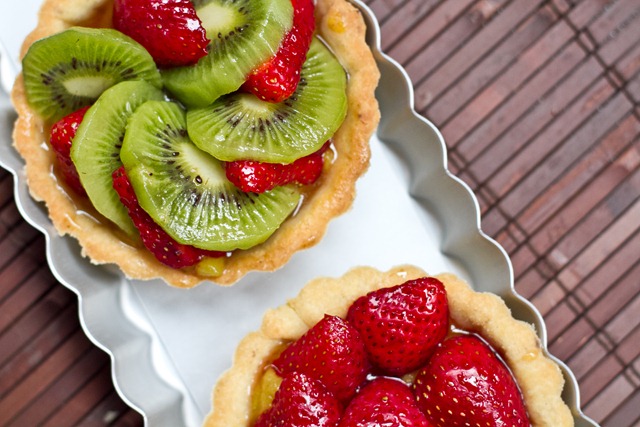 Tarte Aux Fraises
Végétalienne
Objective: Traditional French Cuisine with a vegan twist.
Pâte sablée (Sugar Crust):
1 cup white Kamut flour
1/4 cup Earth Balance butter sticks
2 tbsp organic cane sugar
3-4 tbsp almond milk
1/4 tsp vanilla bean, finely grated
1/8th tsp Himalayan sea salt
Vegan Custard:
3/4 cup almond milk
1 tbsp fresh lemon juice
3 tbsp raw agave nectar
1.5 tbsp cornstarch
1/2 tsp vanilla bean paste
1 tbsp icing sugar
1/2 tbsp nutritional yeast (for yellow colour- optional)
Fruit Topping:
1.25 cup strawberries, sliced w/ stems removed
1/4 cup raw agave nectar OR sugar + water glaze
1 Kiwi, peeled and sliced
1/2 large Peach, sliced
Directions:
1. Preheat oven to 400F. Gather 4 tart pans approx. 4 inches in diameter. In a stand mixer using the dough hook, mix the flour, sugar, vanilla bean, and salt. Add the Earth Balance and milk and mix until a ball forms. Wrap and chill dough in fridge while you prepare the custard and toppings for about 20-30 minutes.
2. Quickly rinse and dry stand mixer bowl and sift in cornstarch, nutritional yeast, and icing sugar. Quickly stir. Add in almond milk, lemon juice, agave, and vanilla paste. Mix well scraping sides as necessary until all clumps are gone. Pour mixture into a bowl and place in microwave for 30 secs. on high. Remove and stir out all clumps with whisk. Repeat process 2 more times, whisking well to remove all clumps. Mixture will thicken up nicely. Set aside.
3. Prepare fruit and then place in a bowl with agave nectar. Coat all fruit and set aside.
4. Remove chilled dough from fridge and flour your surface. Divide dough into 4 equal parts. Roll out, one at a time, into a circle 1 inch larger than the tart pan. Let dough fall into tart pan. Take a rolling pin and roll the top to cut away excess. Remove with fingers. Repeat for other 3.
5. Bake Pâte sablée for 18-19 minutes at 400F. Cool for about 10 minutes.
6. Now grab your cooled Pâte sablée and fill with 2 tablespoons of custard. Layer on fruit and add more glaze with a pastry brush.
Serve and enjoy!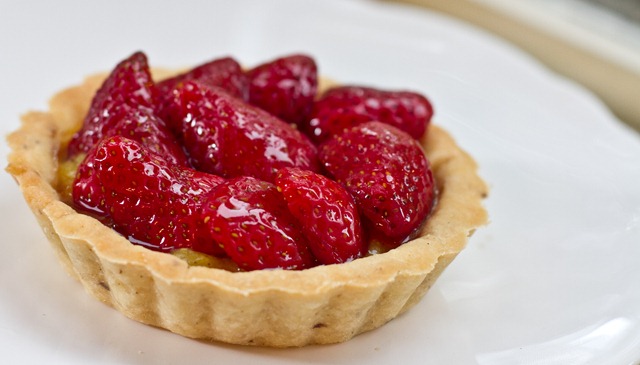 Crust ingredients: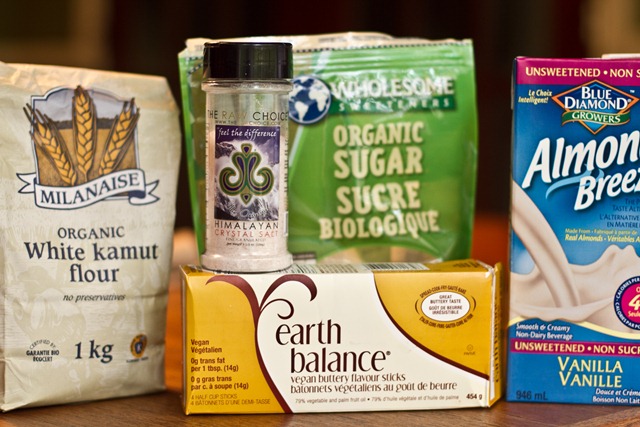 My secret ingredient- Some finely grated vanilla bean all the way from Tahiti!
It adds tiny flecks of je ne sais quoi. ;)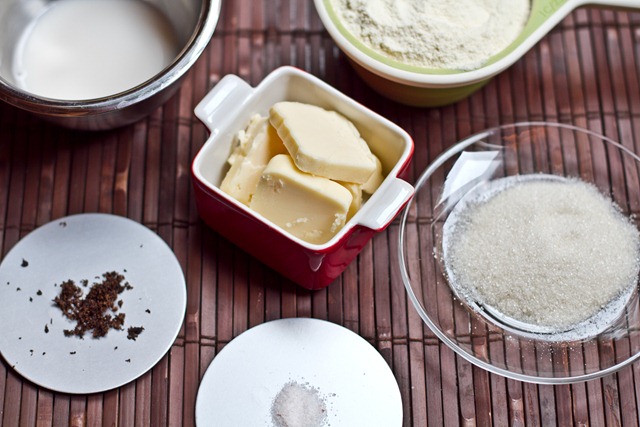 Get out your dough hook if you have one. You can also knead the dough by hand of course.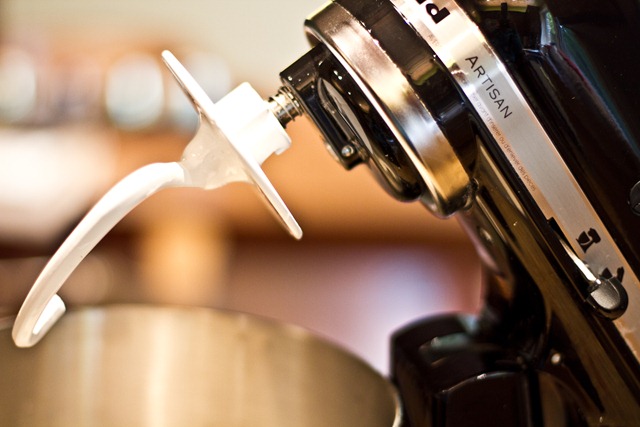 When it forms into a ball, all is well in the world.
Wrap it with plastic wrap and pop it in the fridge while you prep the vegan custard.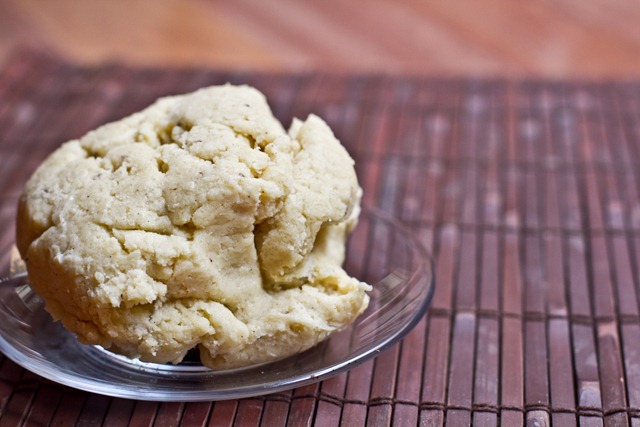 Custard ingredients: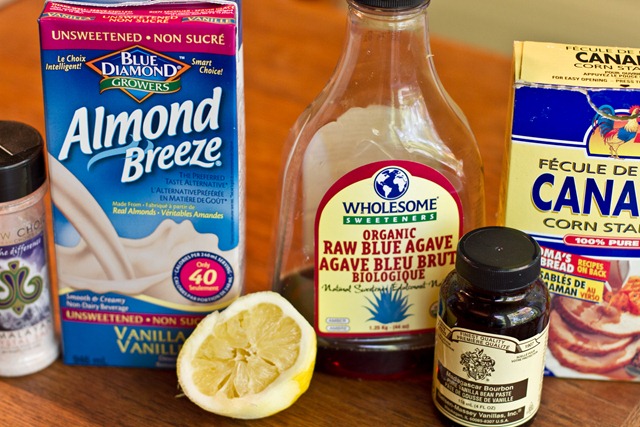 My first attempt seemed promising…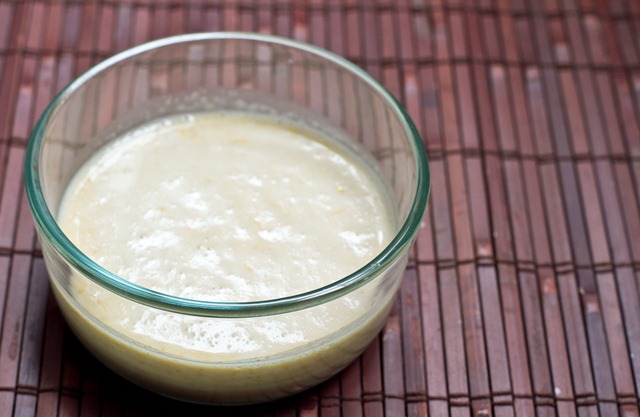 However, appearances can be deceiving…! Hrmph.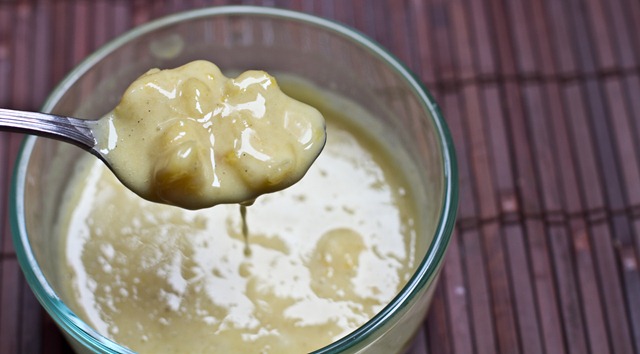 Oh boy, I think I will pass on the clumpy vegan custard!
Now, open the window because you suddenly feel like you are getting a hot flash.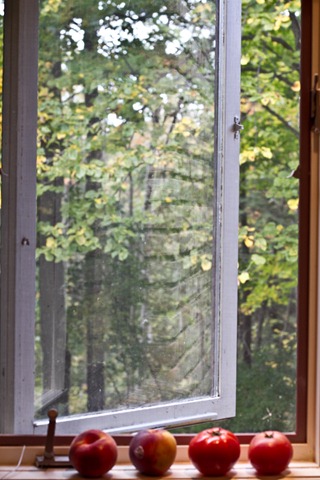 Remove your sweater and prepare yourself a refreshing strawberry spinach salad to cool off.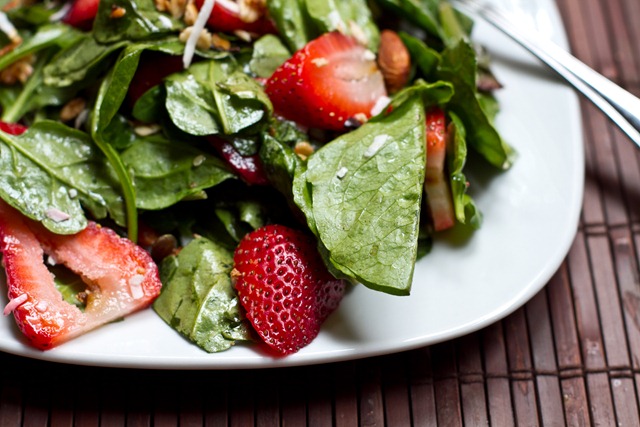 If you are like me, you might realize that you ate too many strawberries and have to rush back to the store to pick up another pint. These things happen to the best of us. ;)
Re-evaluate your chicken scratch recipe and keep the faith…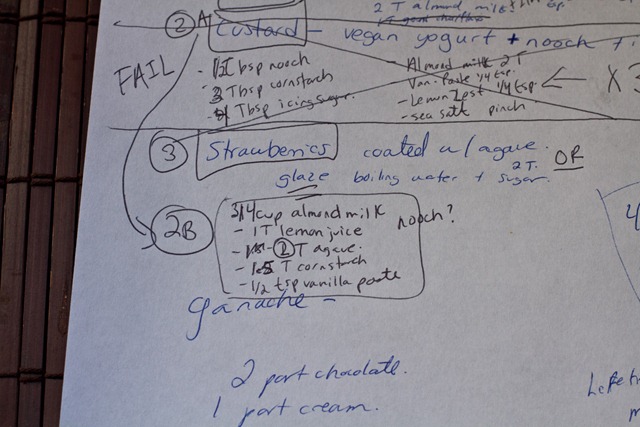 Say a prayer and dive in.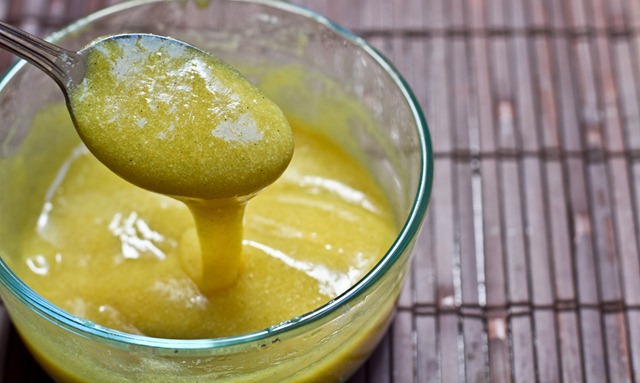 Vegan Custard Success!!
By this time, your dough has been chilling for so long you wonder if it may be frozen.
Luckily this is Canadian dough and it can survive even the coldest fridge. ;)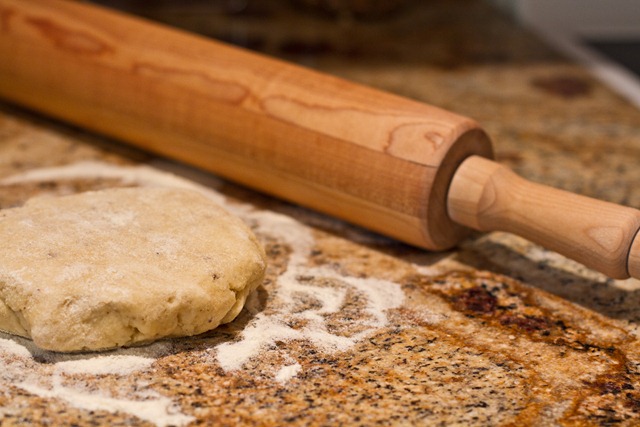 Split your dough into 4 parts. Flour your surface and roll out a circle that is 1 inch larger than your tart pan (image left).
Let dough fall into the tart pan and roll your pin over top to cut off excess. Remove with fingers.
Pierce tarts with a fork, so the air can escape while cooking.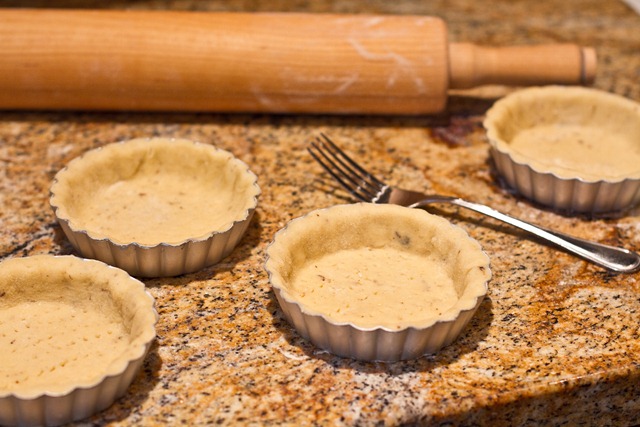 Place in oven on the middle rack and bake for 18-19 minutes at 400F.
Now let's make the fruit topping!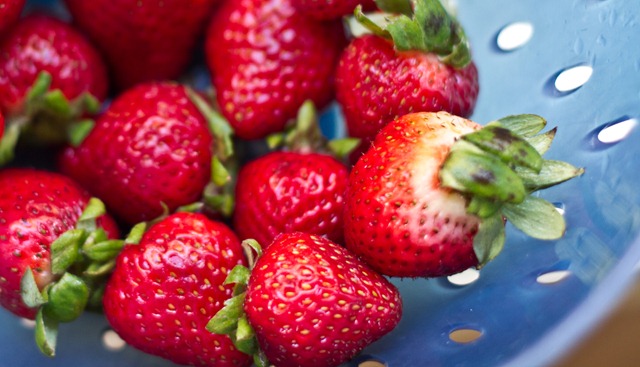 I used Raw Agave Nectar, but you can easily make a glaze using a small amount of boiling water and sugar or red currant jelly.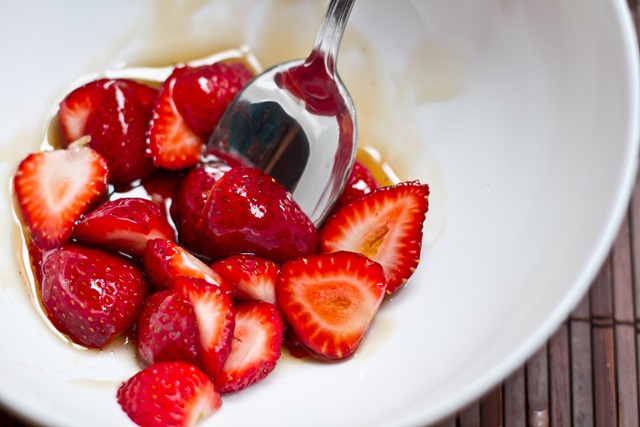 Kiwis just for fun.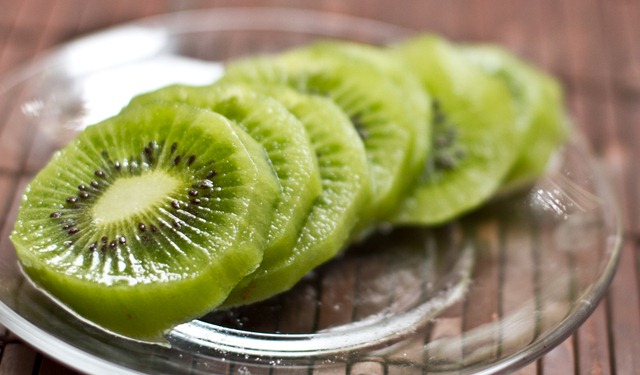 I made a mini tart because I had leftover dough.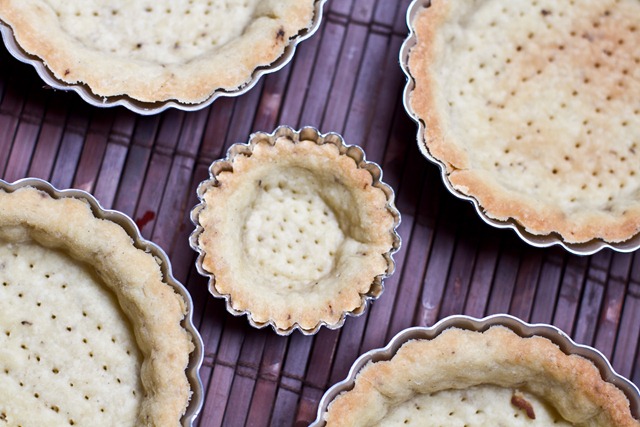 Once cool, place 2 tablespoons of the vegan custard into each shell.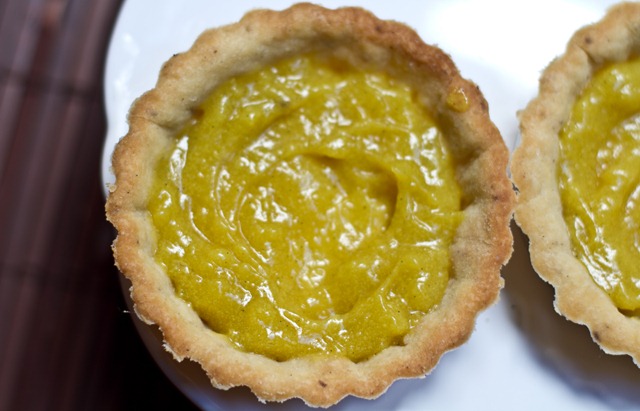 Layer on the strawberries coated in glaze.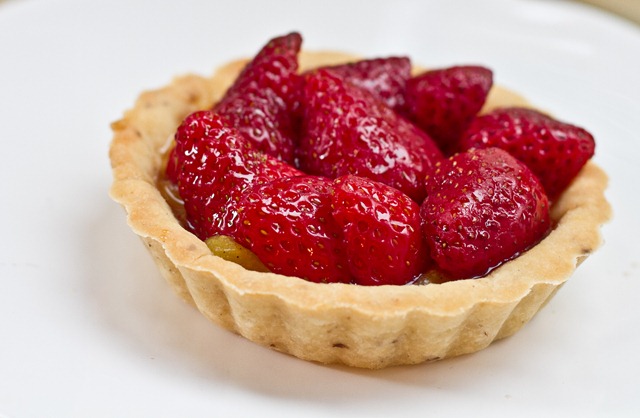 Spread on more glaze to finish them off…!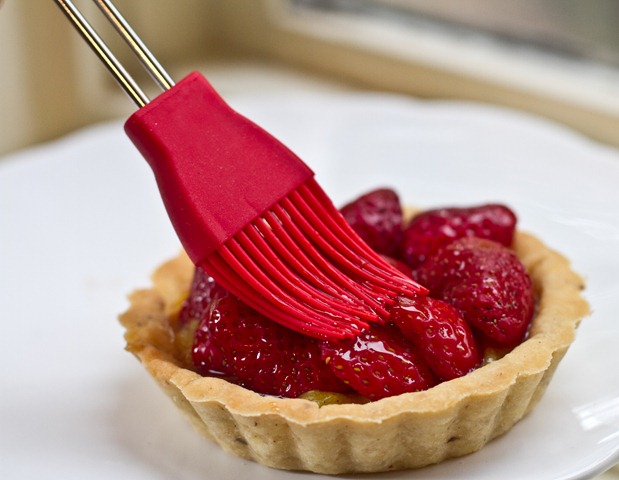 Admire your creation…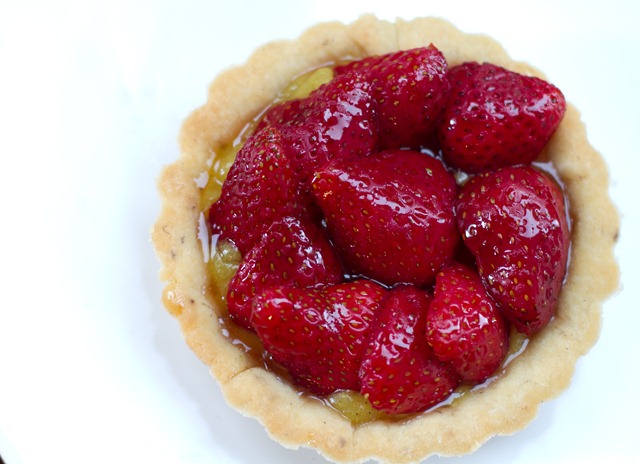 I prefer to take traditional classic recipes and think outside the box. Throw caution to the wind with toppings!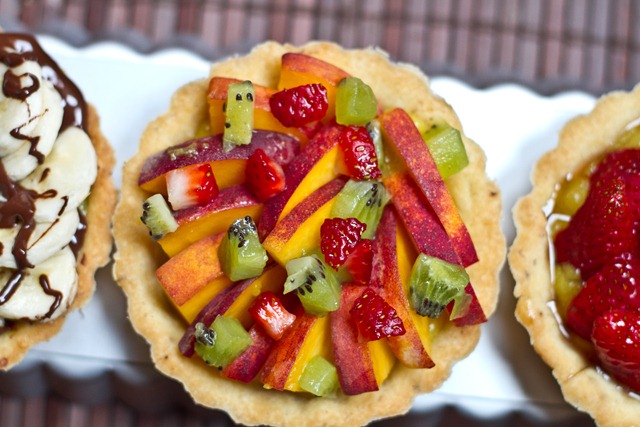 You can even make a Vegan Chocolate Ganache!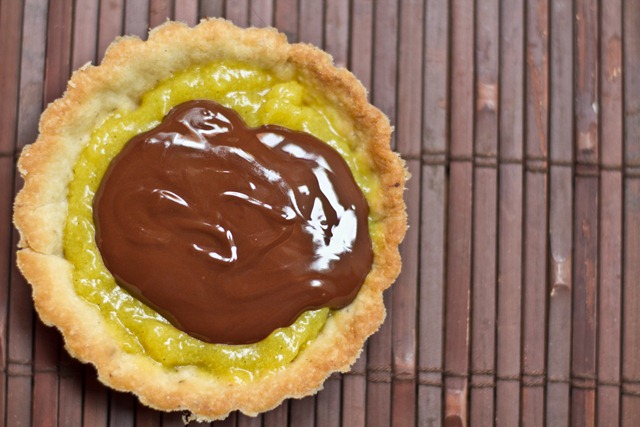 What have you got to lose? Your kitchen isn't getting any cleaner! ;)
I mixed 1/4 cup of Michel Cluizel 85% dark chocolate (straight from Paris!) with 1/2 tbsp coconut oil. Heat in microwave for about 1 minute and mix. Easy as pie tarts.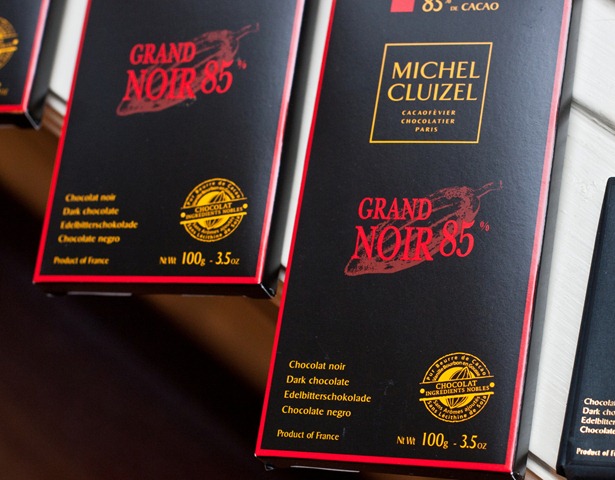 When life gives you ganache, make a banana ganache tart of course.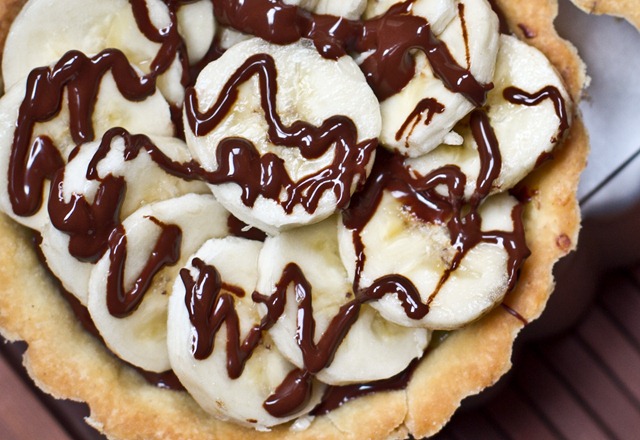 or Kiwi-strawberry.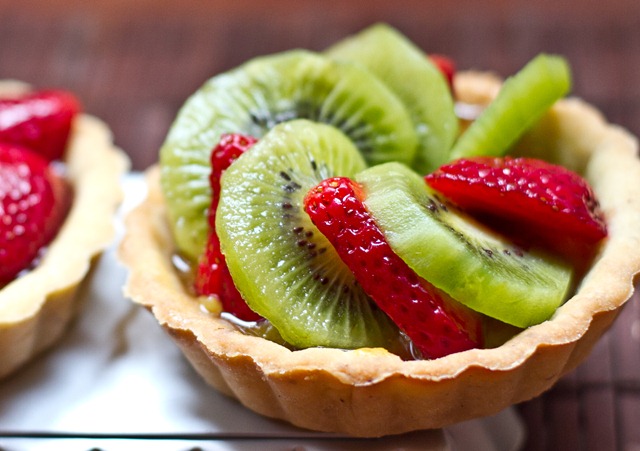 Even…Peach salsa…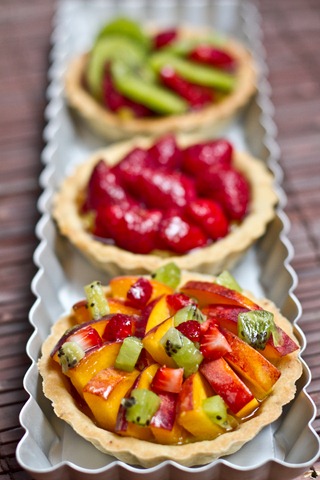 Any size you like.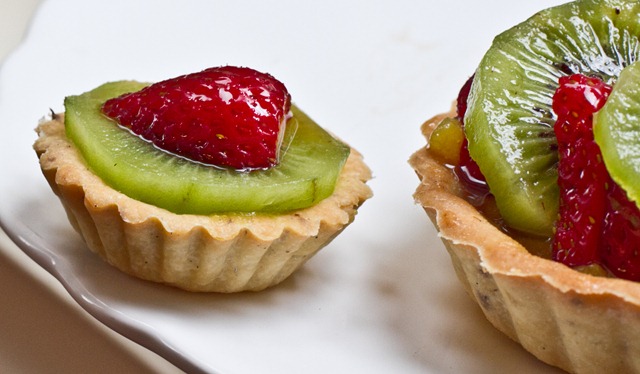 Your time has come.
Sit back,
relax…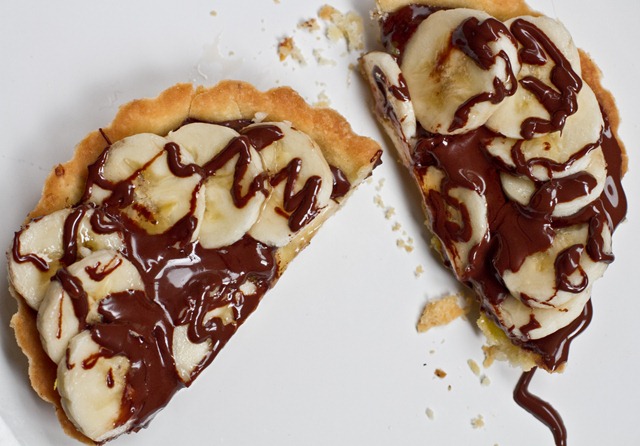 …and with the first bite be transported to beautiful, delicious Paris…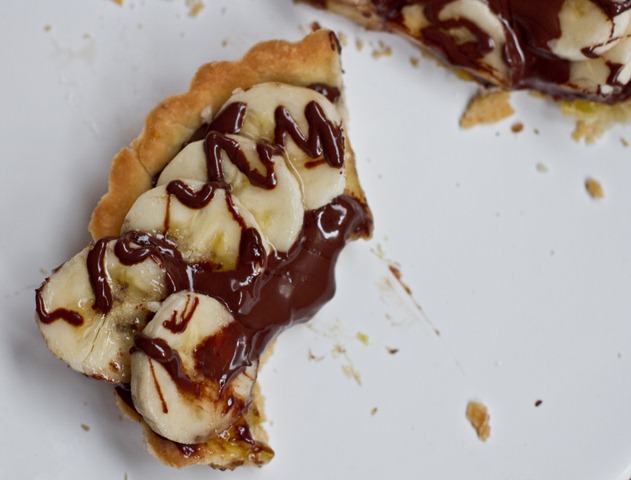 No plane ticket required.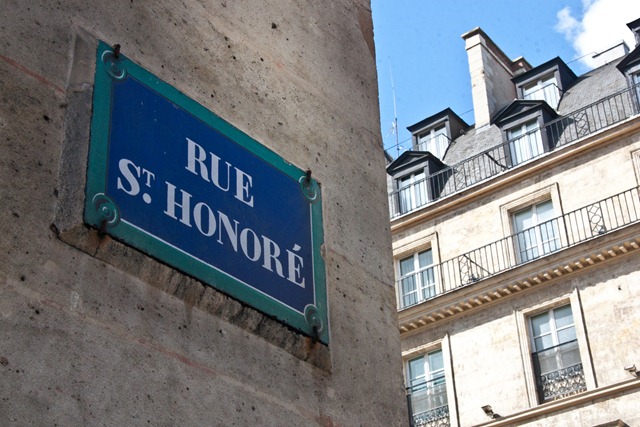 Just don't ruin the moment by looking over at your kitchen. ;)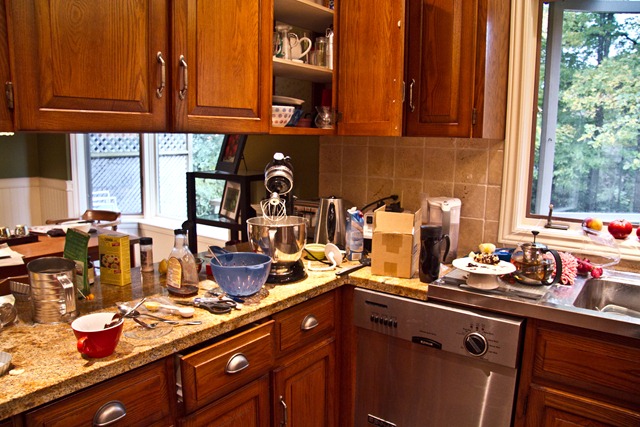 The mess was worth it, trust me on this one.