Good morning!
My special breakfast this morning was a Green Monster Parfait!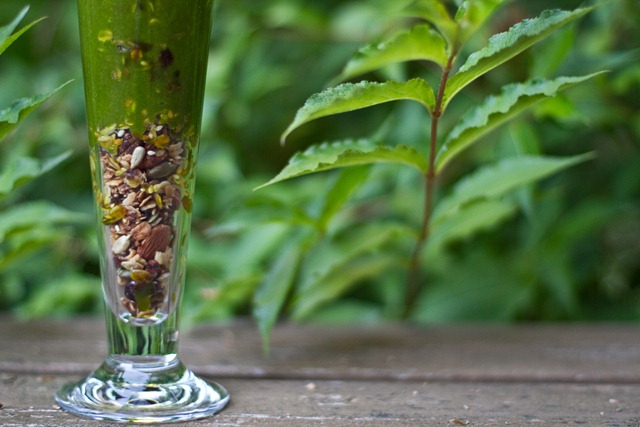 Green Monster Parfait
Ingredients:
2 cups spinach
1 large banana (reserve 1/4 of banana)
1/2 scoop Vega Choc-o-Lot powder
1 tbsp chia seeds
1 cup almond milk
1/3 cup Power House Glonola 
Directions: In a blender, blend the spinach, 3/4 of the banana, Vega powder, almond milk, and chia seeds. In a large glass add a few tbsp of the glonola. Now add a large layer of the Green Monster followed by another scoop of Glonola. Finish with remaining GM (you might have some leftover) and top with the 1/4 of banana (sliced) and Glonola.
The Green Monster Parfait was ok, but not wonderful. I think I had high expectations for it and I'm not sure I liked eating it with a spoon.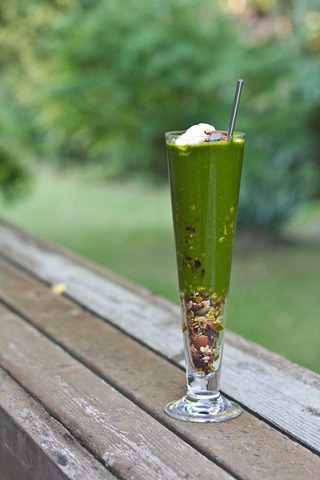 After tasting my granola again this morning, I concluded that I overcooked it! Whoops. 
I guess it is possible to screw it up after all. ;)
I would suggest cooking it for no longer than 10 minutes on each side and not letting it get as dark as I cooked mine.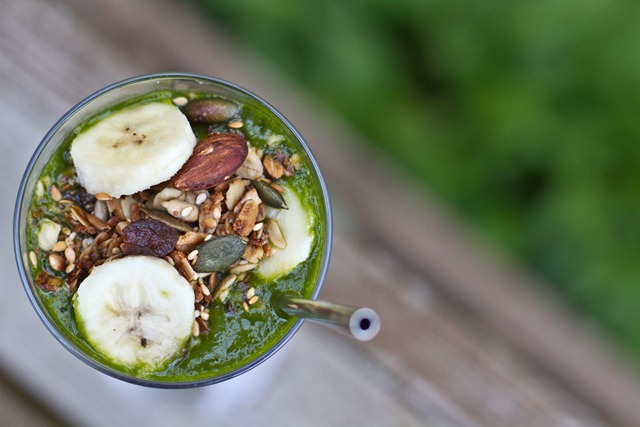 I also concluded that the clump factor is missing in this recipe.
Checkout my 'old' Glonola version…
Choco-Carob: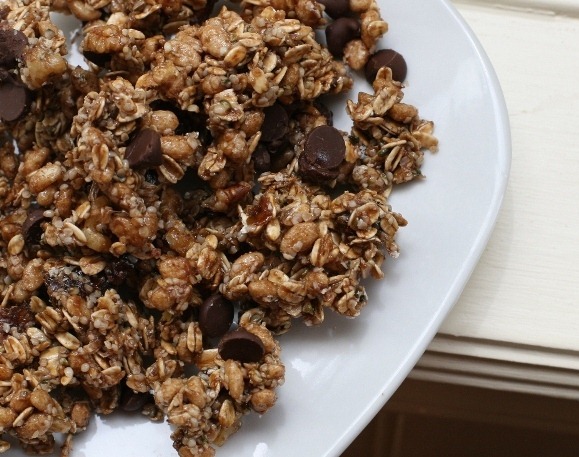 Total clump factor!
However, the original Glonola had too much clumping and stuck together too much. Maybe I can find a happy medium with both recipes?! :)
I think I am going to make another recipe integrating the original recipe with this one. I will have to tweak it a bit more….you know me, I am picky with my recipes!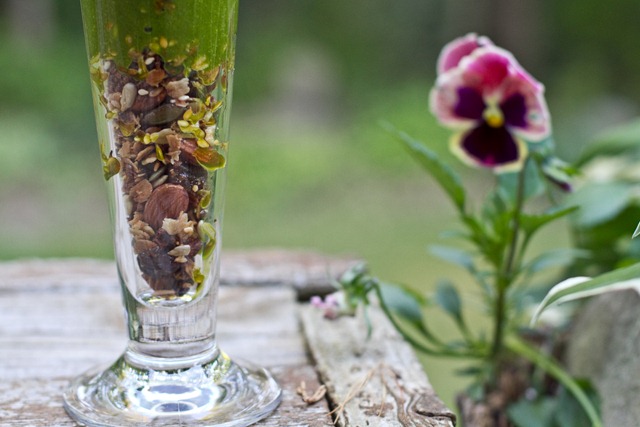 It's Slimming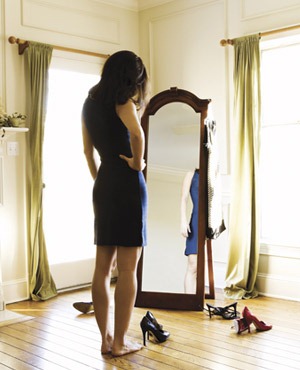 [source]
Are you ever out in public and you hear a conversation going on and you can't believe what you are hearing? That was me the other night. I was at a department store looking for a gift for a girlfriend and I passed a group of 3 girls who were looking for back to school clothes. They couldn't have been more than 9-10 years old.
Girl #1: 'I need to get some new jeans. All of my jeans at home are fugly.'

Girl #2 & #3: 'Yea same here.'

The girls were browsing through a couple racks of jeans and holding pairs up as they went along.

Girl #2: 'I like these ones. I might try them on.'

Girl #1: 'Those jeans are not slimming at all…they are too light and light colours make you look FAT.' She scrunched up her face in disgust.

The girl quickly threw down the pair of jeans, as if they had some sort of contagious illness.

Girl #3: 'I agree, you have to get the dark wash. You will look skinny in them. Dark colours are slimming'

'Here, try these on. I have this pair and they make your butt look awesome.'

She handed Girl #2 a pair of dark wash jeans to try on.
Then I decided to stop being a creeper and I left the scene.
But, I was sad in my heart for these girls.
They couldn't have been more than 10 years old and they were already concerned about having jeans that made them look skinny.
I remember being around 11 years old when my disordered eating started to develop. While I admit I didn't know about slimming jeans (or even had a general fashion sense aside from neon and snap-on bracelets), the feelings were still very real.
It is important that we do not dismiss young girls when they talk about weight or slimming jeans or wanting to look thinner because when you are going through it it, you are like a sponge that absorbs every comment, every magazine ad, or every commercial on TV. Your surroundings are telling you to be 'skinny' and to wear 'slimming' clothes and so that is what you do.
Our weight-conscious culture seems to infect whatever it touches with messages that you aren't good enough the way you are and that you need to change your body or wear slimming pants. These messages are hard enough to dismiss when you are an adult let alone an impressionable young girl who is fighting to fit in at school and to find out who she is.
I couldn't help but wonder as I walked around aimlessly in that department store: What can we do for these girls?
I think two big ways that we can have an impact are 1) Educating about a positive body-image at home and setting a proper example for our kids, perhaps with a great tool like Operation Beautiful. and 2) Introducing special Body-image classes (for girls and boys) into the school curriculum. I don't think this topic gets enough attention in the school curriculum even though the issue is pervasive and affects all aspects of a student's life.
Have you ever overheard a similar conversation or perhaps were in a conversation when this was going on? What can we do for young girls who are developing a poor body image?