Good evening!
I loved reading what foods you pack in your suitcase! I almost feel normal now. ;) Thank you dear and equally insane blog friends. I will forever be thankful. Because of you, I will hold my head up high in Paris drinking wheatgrass juice and stuffing packets of nut butter down my throat.
I have a delicious recipe to share with you tonight!
It was inspired by this morning's comments when making this recipe. A few of you mentioned that you like to bring trail mix and granola when traveling and I thought that was a great idea to make some. :)
I decided to whip up some granola with the ingredients I had on hand. I have a granola recipe somewhere on my computer, but I decided to just wing it tonight.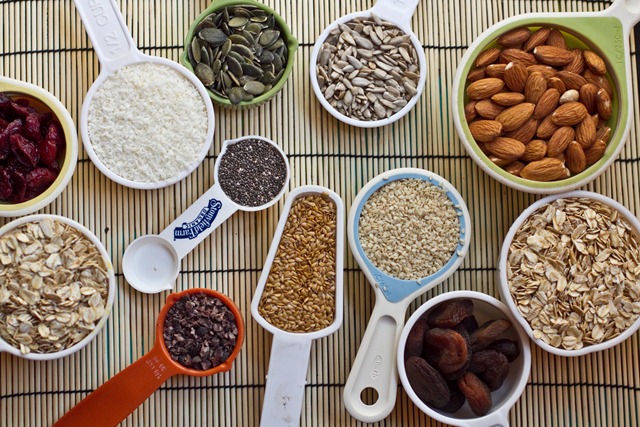 I grabbed pretty much everything I had in the pantry:
Oats
Almonds
Coconut
Pumpkin Seeds
Dried Cranberries
Dried Apricots
Sesame Seeds
A sprinkle of love
Chia seeds
Sunflower Seeds
Flax seeds
A dash of hope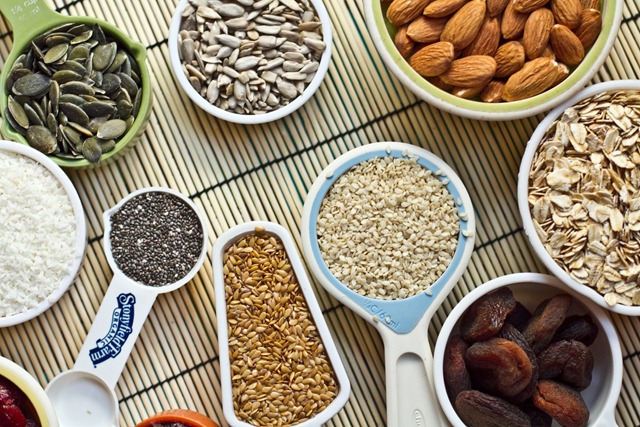 Awww yea! What a powerhouse of nutrients!
The best part about making granola is that you don't have to use a recipe! Seriously, don't be scared. Just follow your heart, use what you have on hand, and taste as you go. Your taste buds will not fail you.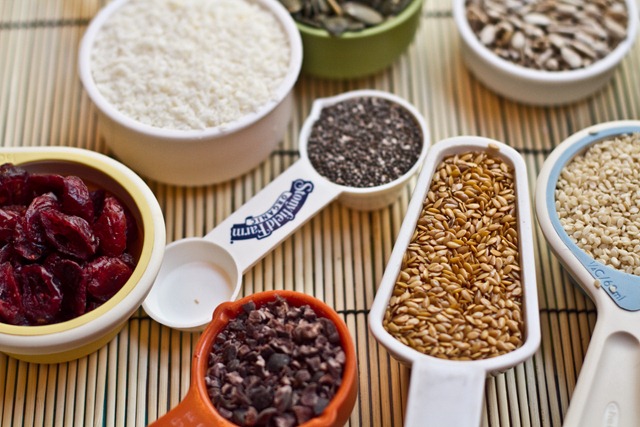 Oh yes I did put chia seeds and cacao nibs up in there!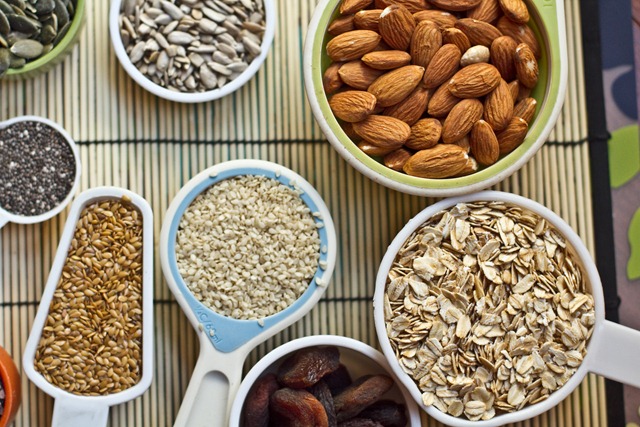 Eventually you will have the most delicious tasting snack in the world…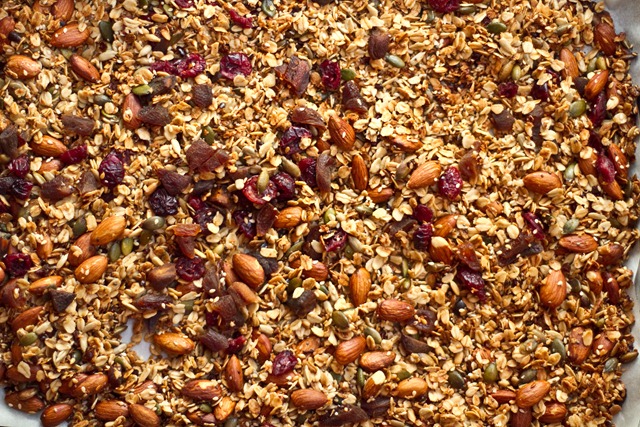 Power House Glonola
Ingredients:
1 cup raw almonds
1/2-3/4 tsp Himalayan sea salt
1/4 cup flax seed
1 tbsp chia seed
1/4 cup sesame seed
1/4 cup sunflower seed
1/2 cup shredded coconut
1/4 cup pumpkin seed
1/3 cup dried cranberries
1/2 tsp pumpkin pie spice
1/3 cup dried apricots
2 & 1/4 cups oats
2 tbsp cacao nibs
1/2 cup pure maple syrup
1/4 cup coconut oil, melted
Directions: Preheat oven to 400F. In a large bowl mix all ingredients except the dried cranberries, apricots, maple syrup, and coconut oil. In a medium sized bowl mix the maple syrup and coconut oil. Dump wet mixture onto dry and stir well. Scoop onto baking sheet and bake for 10 minutes. Remove from oven and stir oat mixture all around. Bake for another 10 minutes watching carefully during the last 5 minutes. When you remove from oven, carefully stir in the dried fruit. Makes 5 cups.
Yields twenty 1/4 cup servings.
Nutritional information (per 1/4 cup): 185 kcals, 13 grams fat (healthy fats!), 16 grams carbs, 4 grams fibre, 4 grams protein, 8 grams sugar.
Here's what I did…but again, this recipe is open to interpretation! Experiment away. Go crazy. Evil witch cackle.
Stir your cauldron mixing all dry ingredients except the dried fruit (you will be mixing this in at the end)…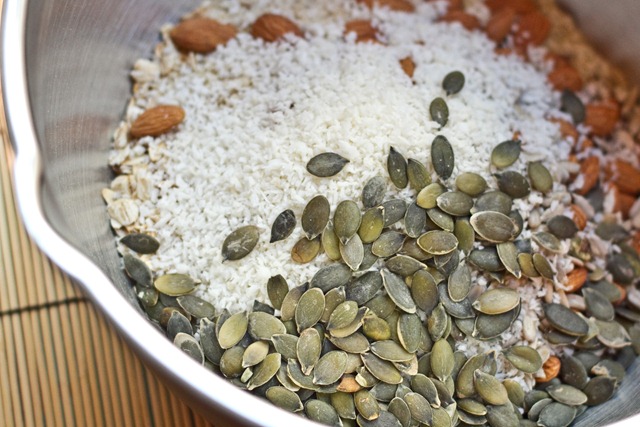 Now mix the maple syrup and coconut oil in a medium bowl: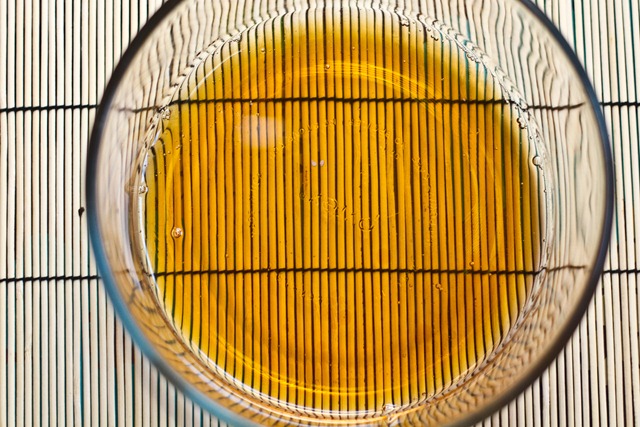 And mix baby mix…and say aww yea baby just like Austin Powers.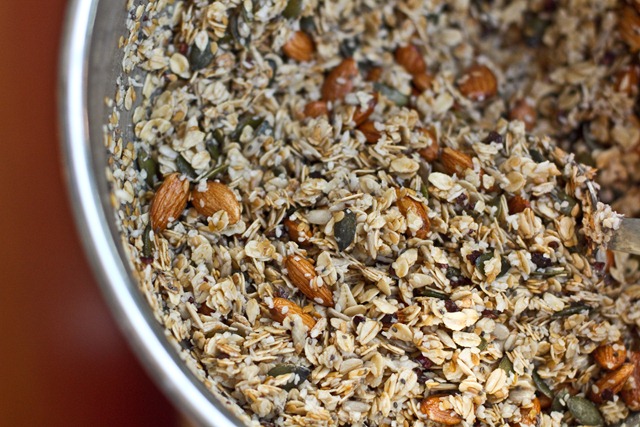 This is when your taste buds will go to work for you. They will NOT fail you. If it tastes bad at this point you can still save yourself from granola disgrace. You can tailor it to how you want it. I don't like my granola super sweet, so I find a wet ratio of 2:1 (maple syrup to oil) always works for me.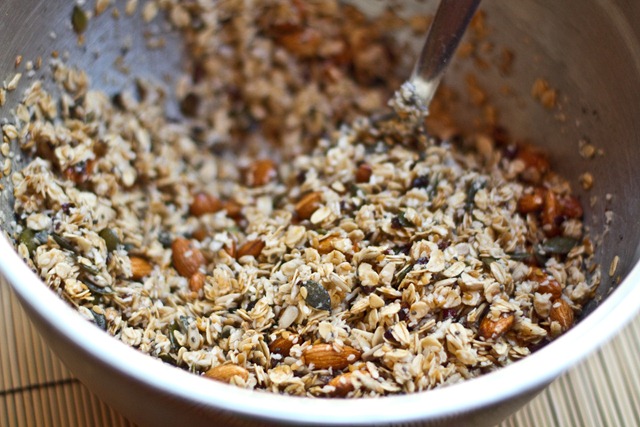 Spread out onto pan…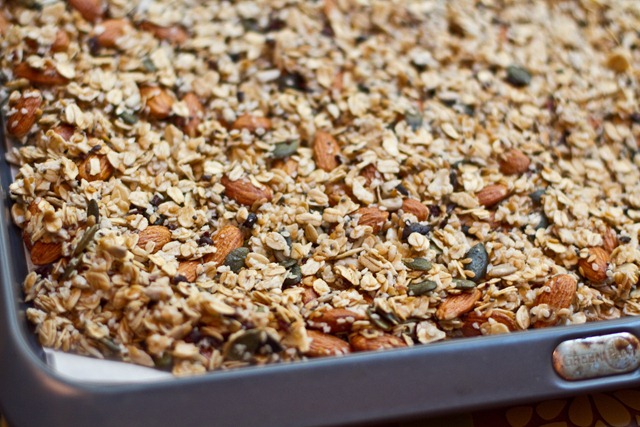 Bake for 10 minutes at 400F and then take out and mix all around and bake for another 10 minutes. Watch carefully. The maple syrup burns quickly.
Take deep, deep inhales. Fill your lungs with sweet power house granola. Awwwwwww.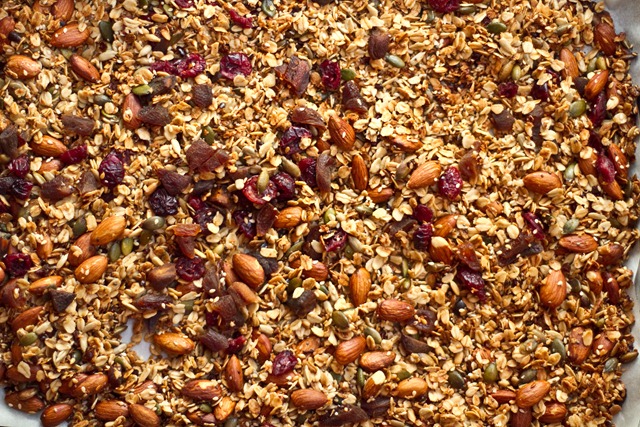 It will be very hard not to eat any when it comes out of the oven. You might burn your tongue in all the excitement. Have an ice cube handy at all times.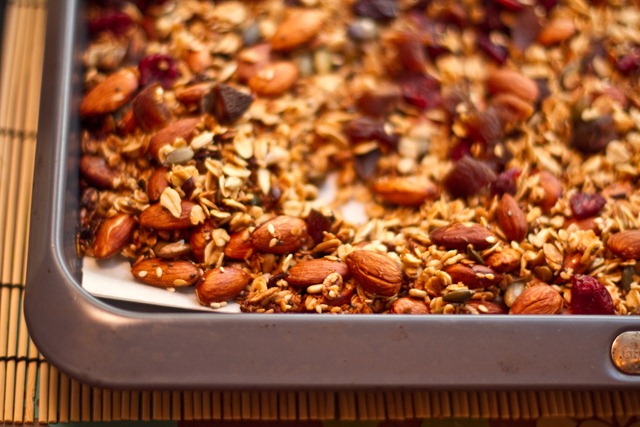 Can't wait for it to cool?
Pour almond milk over top. ;) Problem solved.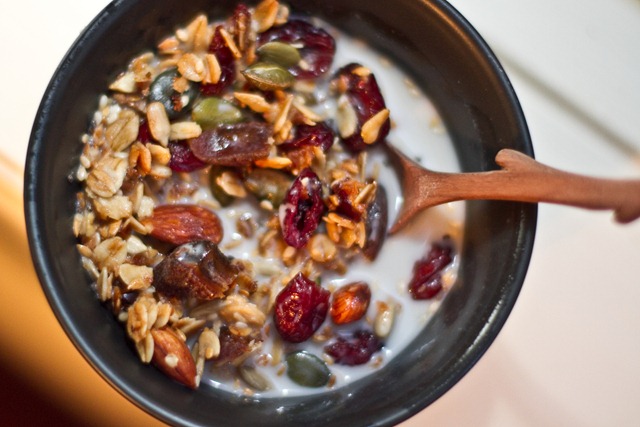 The granola was still warm and it got all soft, warm, and fuzzy and the milk got all sweet. Oh gosh, it was pure bliss.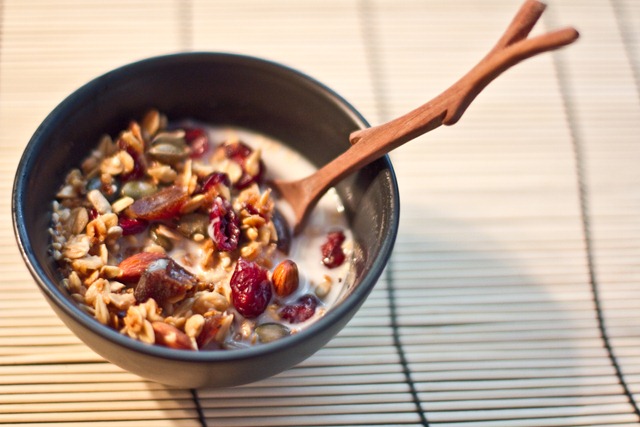 Stay tuned tomorrow for a special breakfast creation. :)
What, to you, is the perfect granola? Have you ever made it? What do you like to put in it or eat it with?
Next time I might try carob powder or even grated dark chocolate. Or chopping a couple apples and baking the apples right into the granola. That would probably be delicious and very Fall-like too.