Thank you for your good luck wishes this morning. :)
We arrived almost an hour early to the race this morning and we were treated with a gorgeous sunrise along Lakeshore.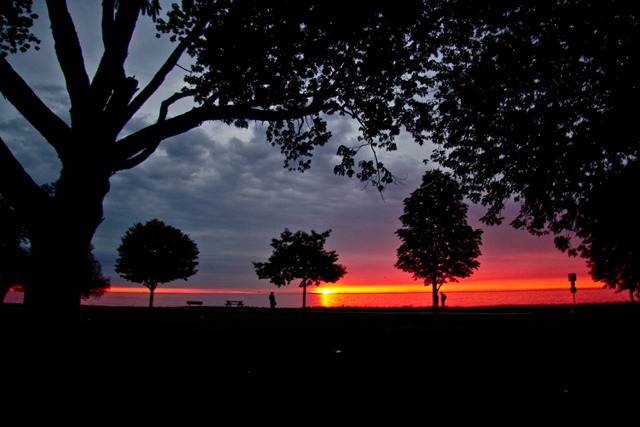 It was breathtaking.
Possibly the most gorgeous sunrise I have ever seen!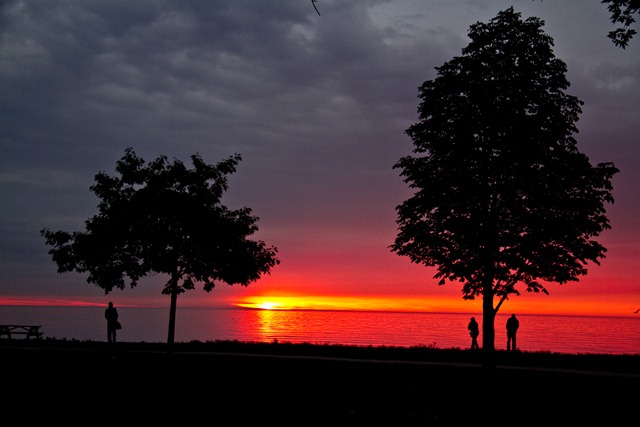 The lake displayed a rainbow of colours.
A great start to the race I would say! :)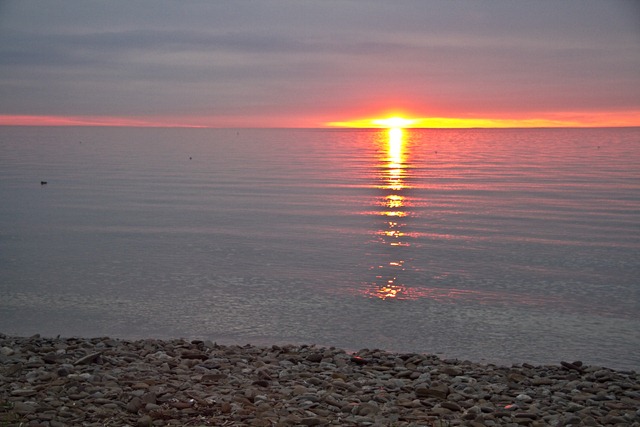 At 7:30am, the 10km got underway. I was feeling a bit nervous at the start line! ;)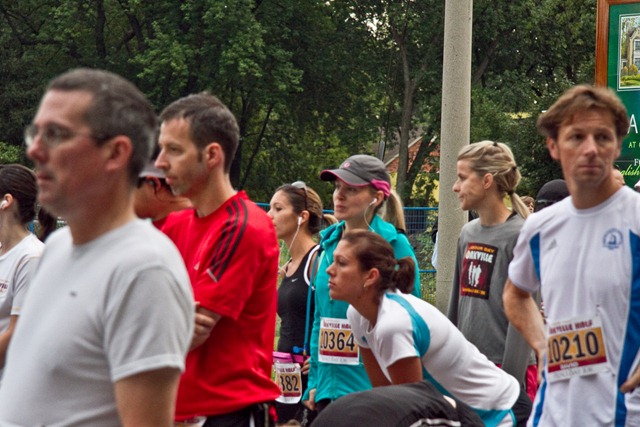 I was thinking, 'Hrmm. This one could hurt.'
I was also cold, hence the pants and jacket!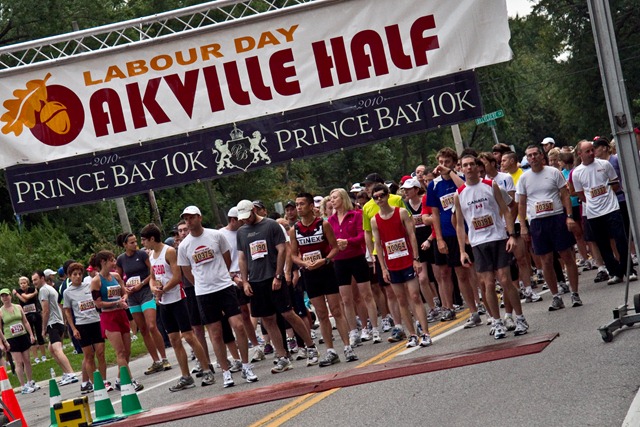 We were off like a herd of turtles!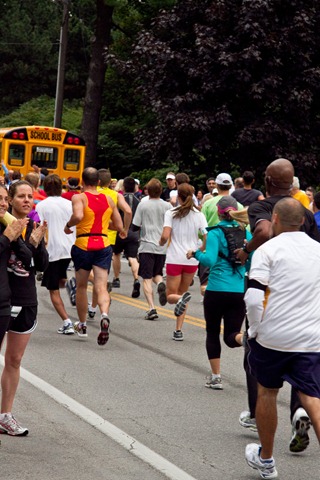 The first km is always so fun! Fast, fast, fast. Adrenaline x 100.
You say to yourself, 'I LOVE RUNNING!' Wheeeeee.
Then the honeymoon period ends and you start to get tired!
I started to get tired around the 3km mark. My pace was fast and I was breathless. I cranked the tunes and decided to run for the '5km' marker. Once I got to the 5km, I knew it was just another 5km and then I would be done.
This is the beauty of a 10km race! It is just two 5km runs.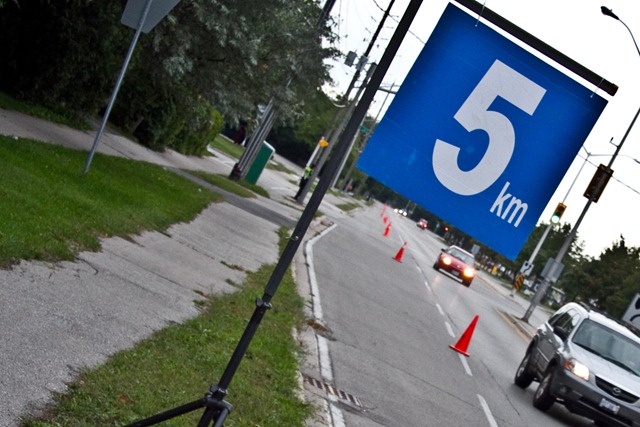 Whohoo I made it.
Eric raced to the 5km spot to meet me! He was so proud of himself for getting there in time to see me. It was cute.
But where was I?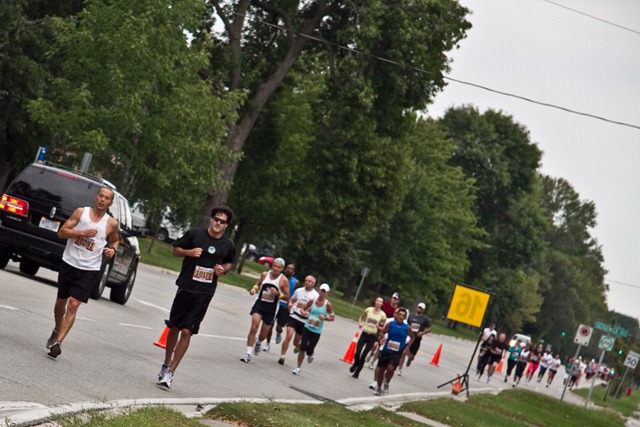 He spotted me! It was so fun to see him at the half-way mark.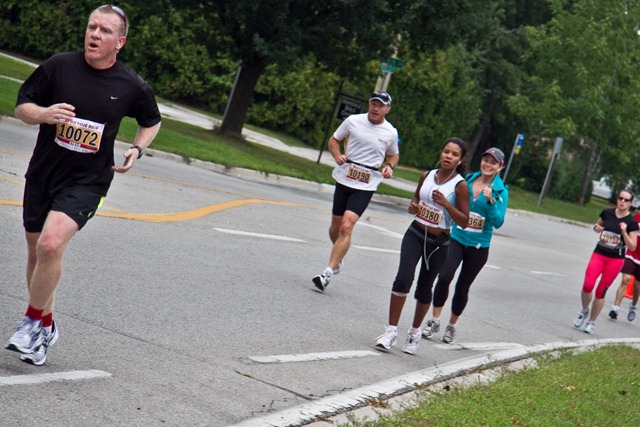 I was neck and neck with the woman in front of me and the woman behind me for the entire race (and a few men). We kept picking each other off…falling back, moving ahead, falling back, moving ahead for the entire 10km. It was some friendly competition! I love that about races.
In a race, I always try to find people just ahead of me and make it my goal to stay close to them for the entire race. I ended up passing the woman ahead of me around 9km and the woman behind me (pink) passed me in the last 200 metres! I was like 'oh no you didn't!' but I just didn't have the strength to pass her again. She came up to me after the race and was so sweet and said 'thank you for motivating me!' I said the same to her! :)
My 5km time was around 25:15 mins., which is where I wanted it to be to achieve a negative split in the second half.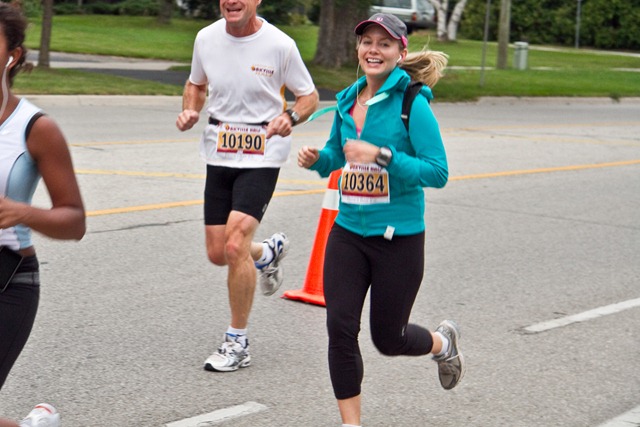 I was trying really hard to pace myself and not burn out too soon, although I admit, I was already feeling quite tired by the 5km. Perhaps I was going out too hard, I wondered.
Eric ran with me for about 0.5km along the sidewalk. I was sure he was going to take a horrible spill and smash the SLR. Luckily that did not happen! ;)
Then it was time to part ways so Eric could make it back to the finish line.
Off I went with just 5km to go!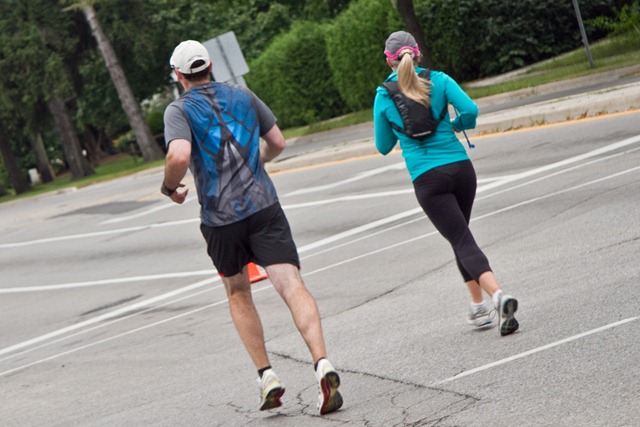 At the 7km marker, I knew I was almost in the home stretch!
'Just a 3km run left' I told myself. I was pushing hard and my last 3 kms were fast with a pace of around 4:55-5 min/km (which is around a 7:50-7:55 min/mile).
At the 9km marker I started to lose steam and it was a huge struggle to keep increasing my speed. I told myself 'you are so much stronger than you think' to defeat the negative thoughts in my mind.
Finally, the finish line was in sight and I was relieved! I saw the time on the clock and realized that I could make it in under 50 minutes if I booted it hard, so I sprinted hard with all of my might.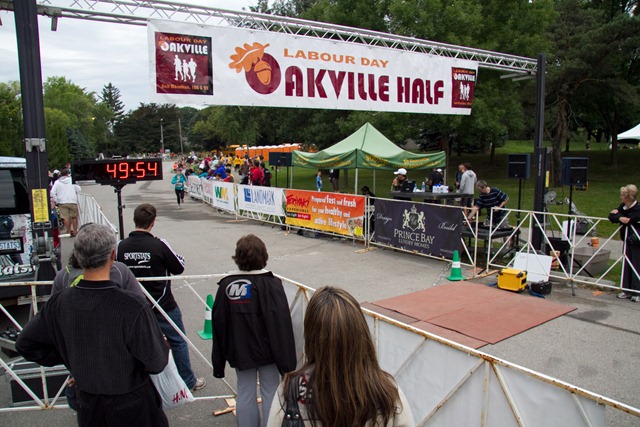 Once I saw the time on the clock it was GAME ON.
I was all business.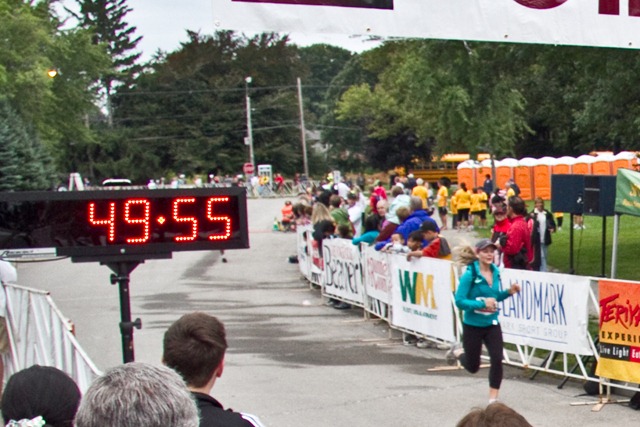 All my tiredness went out the window and it was just me against the clock. I sprinted harder than I think I ever have in a race before with my pace getting up to a 5:16 min/mile.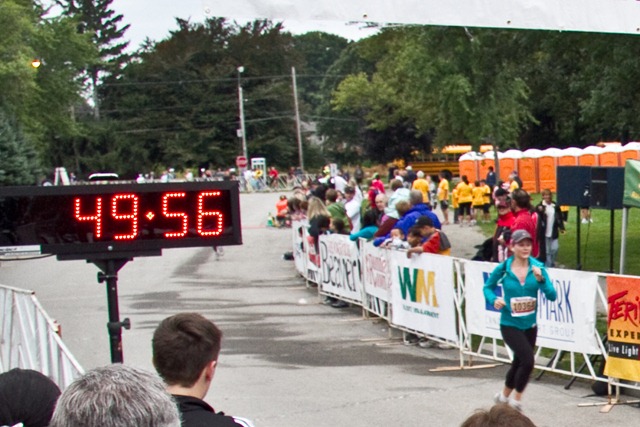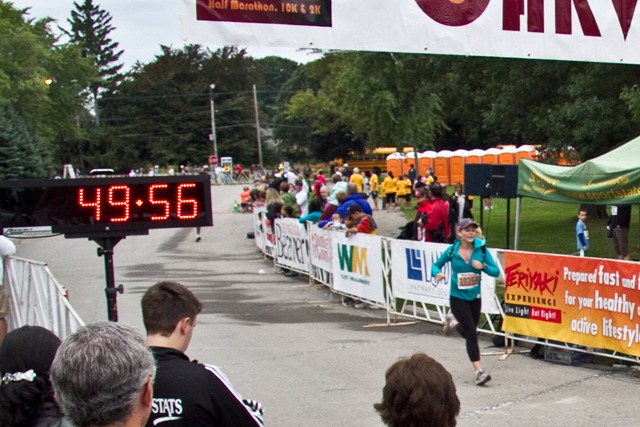 Almost there!!
I was SO out of breath. My lungs were in my throat. I could not breathe.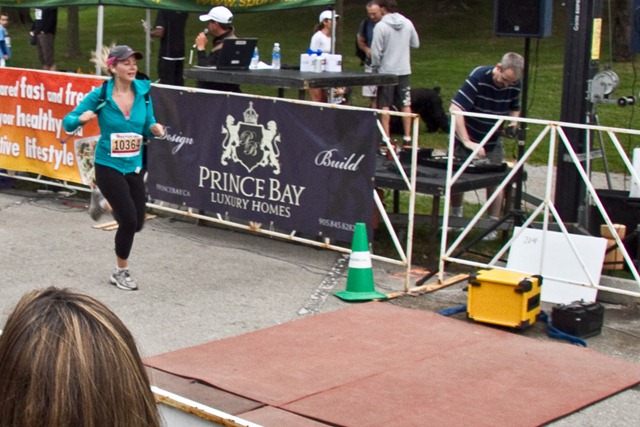 Wheeeeeee!!!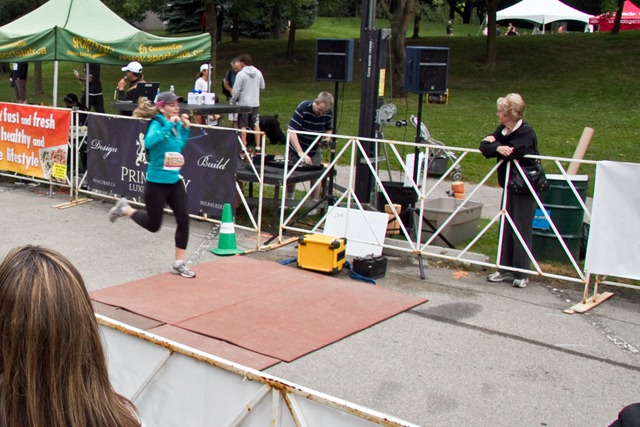 I was so exhausted and out of breath I couldn't bring myself to smile as I crossed the finish line, but I can assure you I was VERY happy!
I was kind of in a daze for a minute after crossing.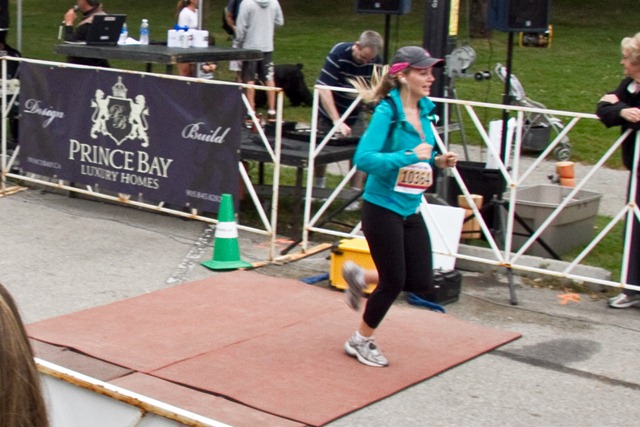 What a rush!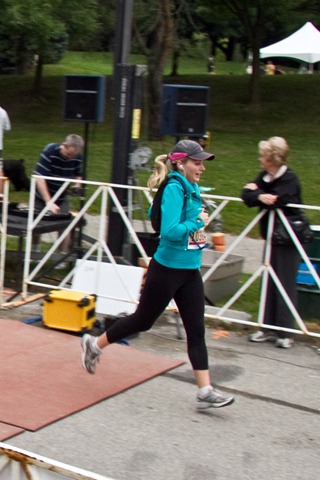 Here are my Garmin stats: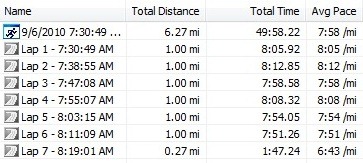 The official stats:
Distance: 10km
Chip time: 49:50 mins
Avg. Pace: 5 min/km or 7:58 min/mile
3rd place in my division out of 17 women ages (25-29) 
19th place out of 201 women overall
81th place out of 364 runners
I smashed my 10k PR (56:57) by 7 minutes
This race proves to me what a year of training & proper rest and nutrition can do. One thing is for sure, I never would be able to achieve these athletic accomplishments if I was still struggling with my eating disorder, starving myself, and over-training. My body used to be weak & hungry all the time and now it is strong and healthy and happy. :)
No PR could ever top that feeling.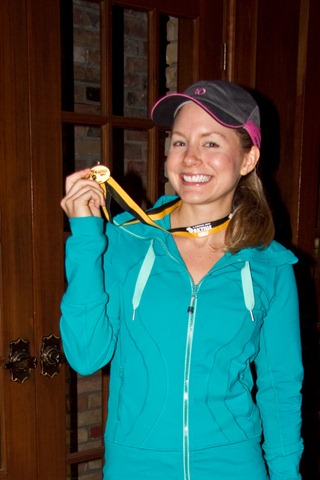 I know a lot of you reading this are currently struggling with disordered eating and I want to tell you that the fight for recovery is worth every second.
You never know what you are capable of until you treat your body right.
We got home at 9:30am and I promptly mowed down on a burger. ;)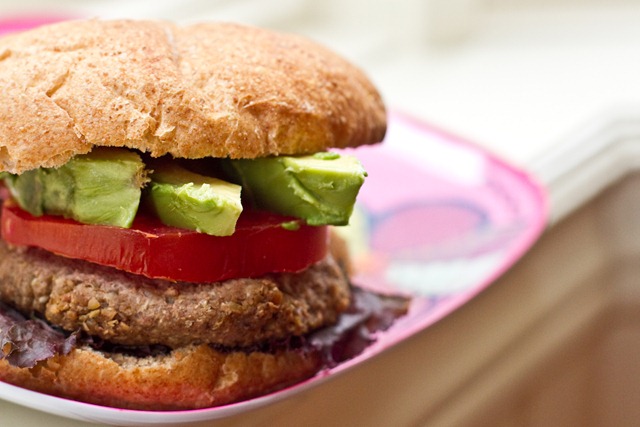 A delicious Lentil-Walnut Burger! I am hooked and already planning my next batch! The garlic and toasted walnuts give this burger a WOW factor.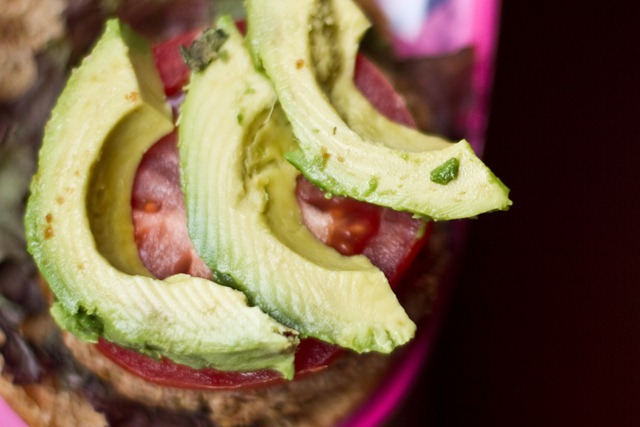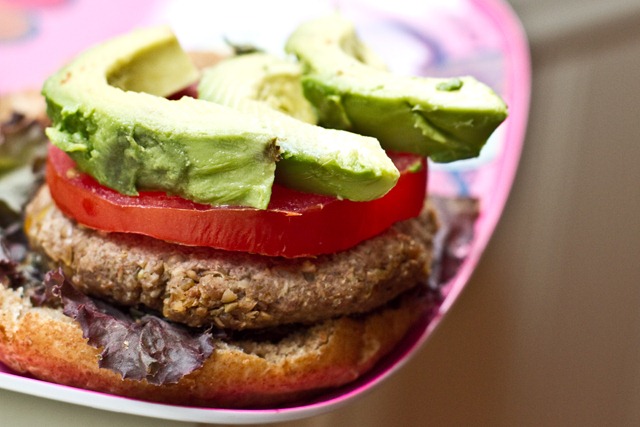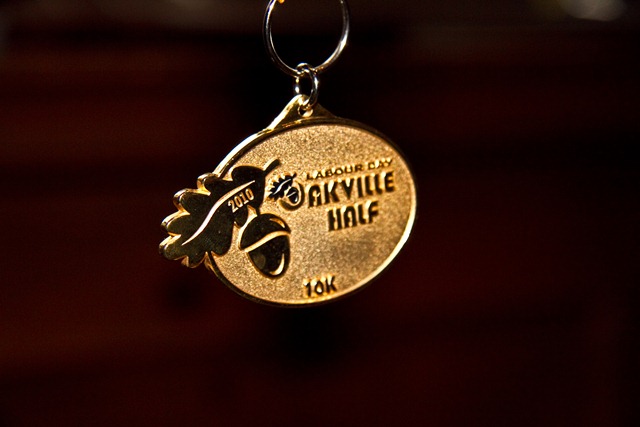 This gal is off to get some R & R. After 4 hours of sleep, I am pooped! I am more sore from this 10km race than I was for my 3 half marathons…funny how speed work does that!
Enjoy your day.