Good morning!
I had a lovely 9 hour sleep last night and didn't get myself out of bed until 8:45am. It was pure bliss. Need to rest up for my 10k race tomorrow!
I raced downstairs for this lovely breakfast that was waiting for me. How nice of that lovely girl to make me breakfast last night! ;)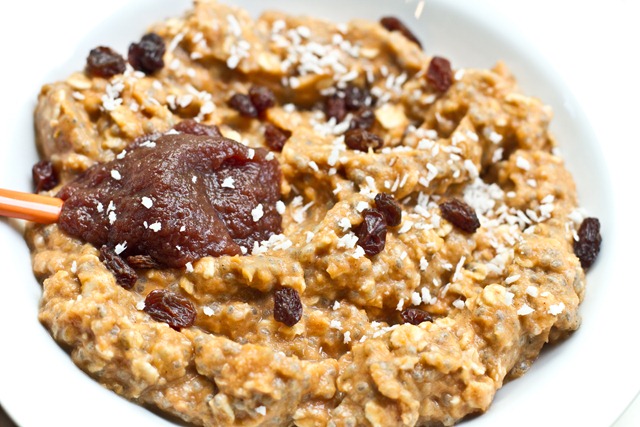 Raisin Pumpkin Spice Vegan Overnight Oats
Ingredients:
1/3 cup oats
1 cup almond milk
1.5 tbsp chia seeds
1/2 cup pumpkin
2 tbsp chopped walnuts
1/3 tsp pumpkin pie spice
1 tbsp pure maple syrup
1 tbsp Eden's Apple Butter
Raisins, to garnish
Coconut, to garnish
Directions: In a medium sized bowl mix the oats, chia seeds, pumpkin pie spice. Now add the milk, maple syrup, and pumpkin and whisk. Place in fridge for at least 30 minutes. When ready, sprinkle with raisins and coconut. I also used some apple butter for a fun change.
I love getting in another veggie in the morning!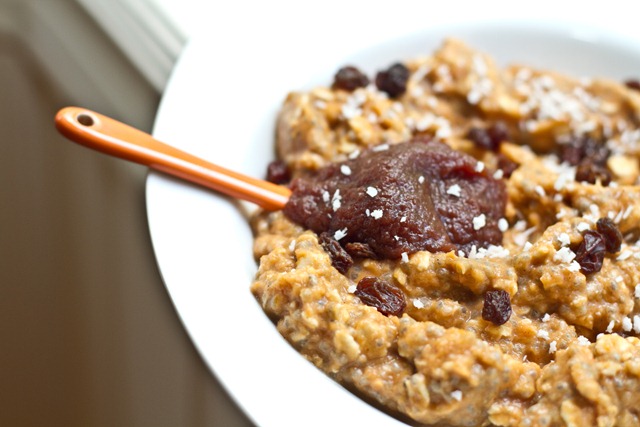 So we went a bit crazy on Saturday…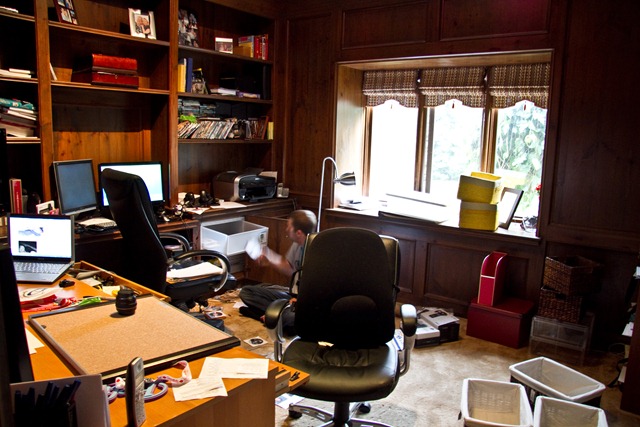 I don't know about you, but whenever September 1st strikes Eric and I go into an organizational tailspin for about 36 hours. After a summer of fun, most of our rooms look like they have been hit by a tornado.
And then we crash and burn. Hard. Never wanting to organize so much as a desk drawer for the rest of our lives.
Over the next 363.5 days, we slowly but surely return the clutter to where it came from.
It's the circle of life, folks.
I thought I would entertain you this morning with a few before and afters…
As you can see, the shelves were a bit cluttered and messy…(and dusty!):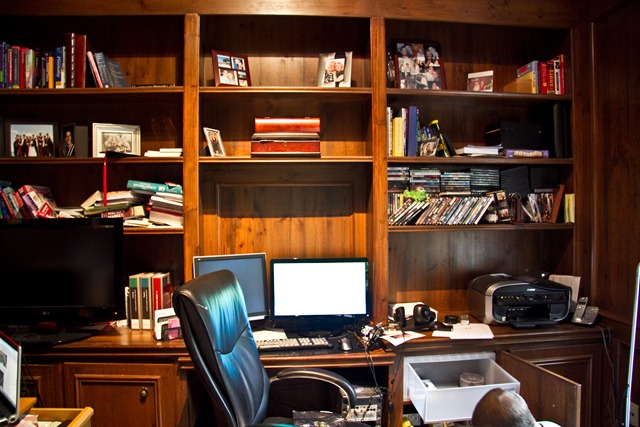 (That is Eric's desk- we share the office)
This is 'my' side of the shelf below: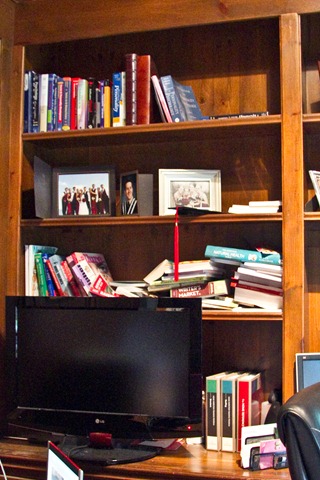 Old university textbooks on top (not sure what I am keeping these for? Kindling?)
And a TV that is not in use because we don't have cable.
Minor detail.
We like to pretend we have cable. Sometimes I turn it on and just stare at the blue screen.
My side AFTER: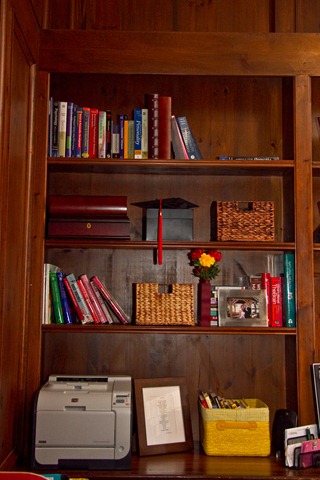 Boom, right?
Side by side:
Much better.
Then I decided to turn my boring old bulletin board into a Vision Board.
I bought some scrapbooking things at Michaels (OSGMOM will be so proud!).
Scrapbooking paper..note, girly prints.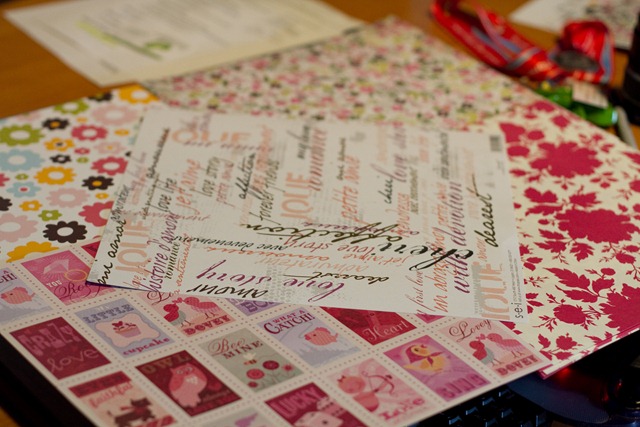 I bought several of each print because I couldn't choose.
And now for the finished product….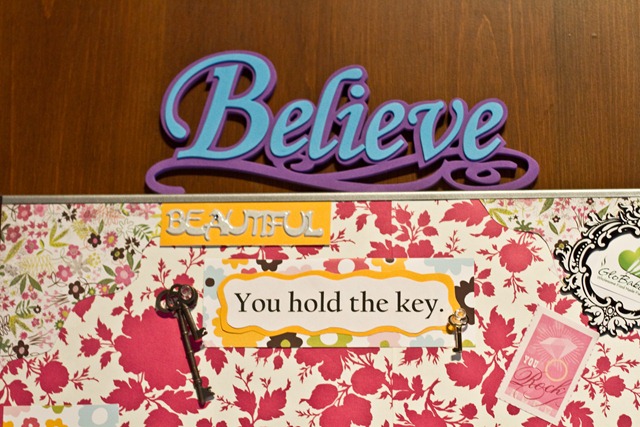 Unfortunately as I was making it, I didn't step back and look at the entire board and it ended up VERY busy looking. I'm actually not that happy with it overall…
It shall now be known as the Dizzy & Bizzy Board!
I would not suggest using such a busy print like I did. ;)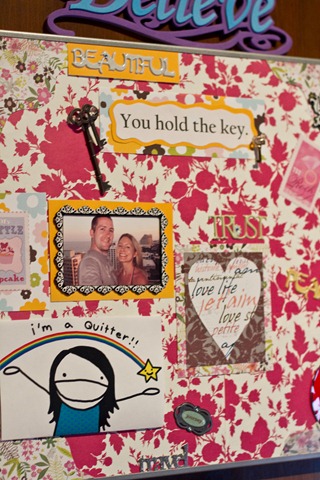 The 'I'm A Quitter' by Natalie Dee print is one of my favourite things in the world. It is an inside joke in my family that goes way back and when I came across it I knew it was special. I want to buy the t-shirt too. [I also LOVE this one too.]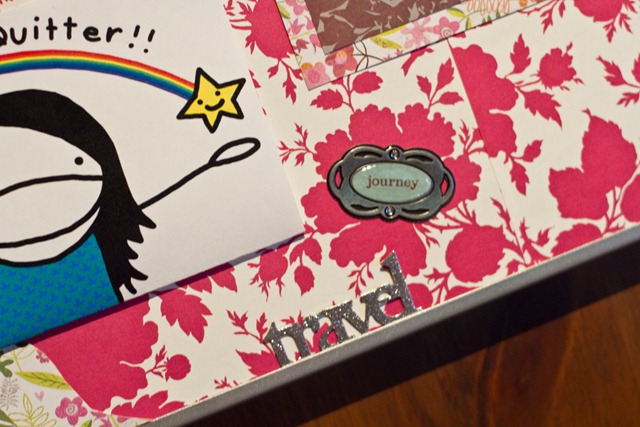 When I showed the board to Eric he said, 'Umm it's a bit busy….' trailing off and eyes glazing over as he looked at it.
Then he added with a wink, 'But I think it fits your personality. I wouldn't expect it any other way or less complex looking.'
Hrmm. I have to agree. If you opened my mind and put it on paper it is probably quite dizzying! ;)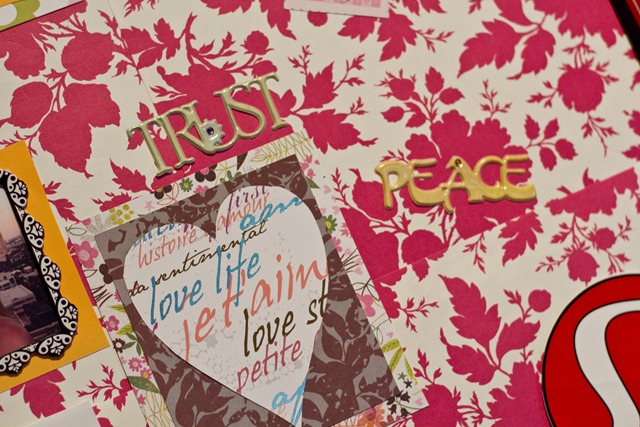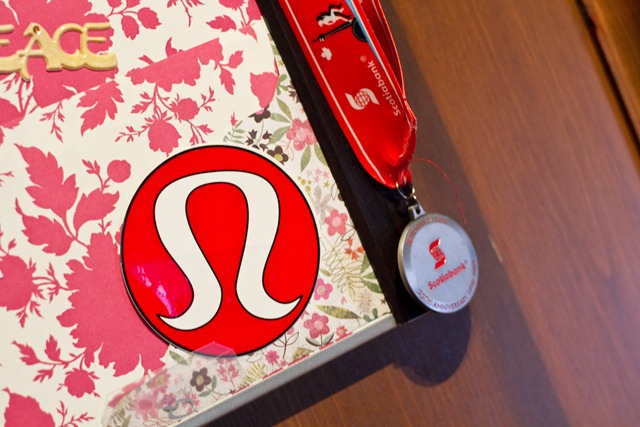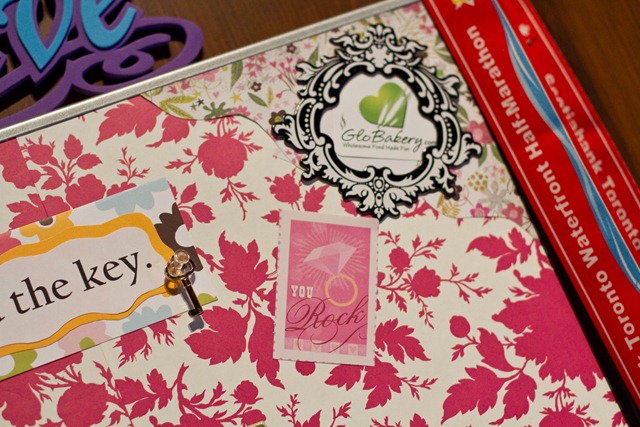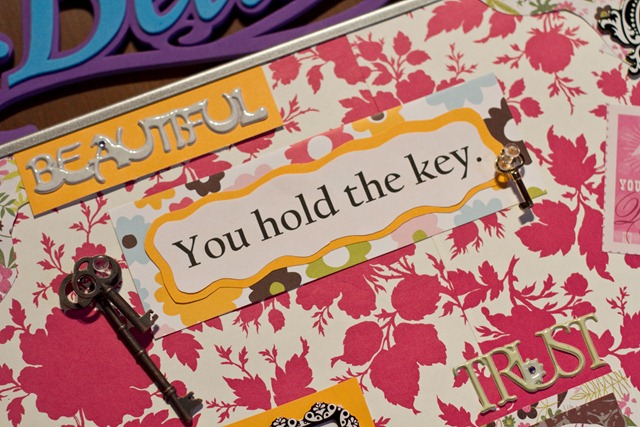 I love the 'You Hold The Key'– this phrase is so meaningful to me. It reminds me of the quote I love from The Eagles song called 'Already Gone'
"Well I know it wasn't you who held me down
Heaven knows it wasn't you who set me free
So often times it happens that we live our lives in chains
And we never even know we have the key…"
I have the key to live the life I want to live and you hold the key to living the life you want to live. We have the power within us. Not our partner, family, friends, mentor…once we take responsibility of our own lives things start to fall into place. I firmly believe in this way of life. Realizing that I held the key to my happiness has allowed me to be where I am today.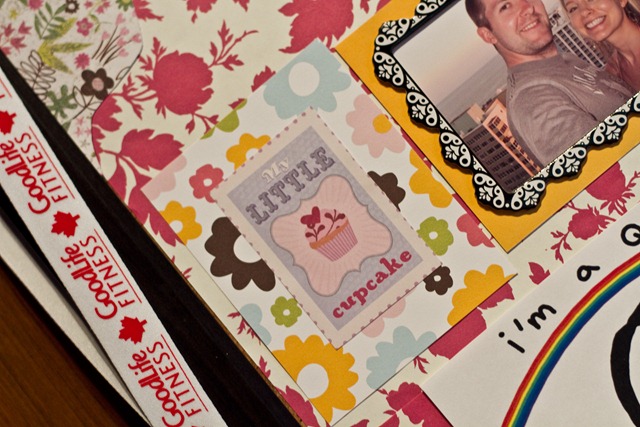 The dizzy board all together…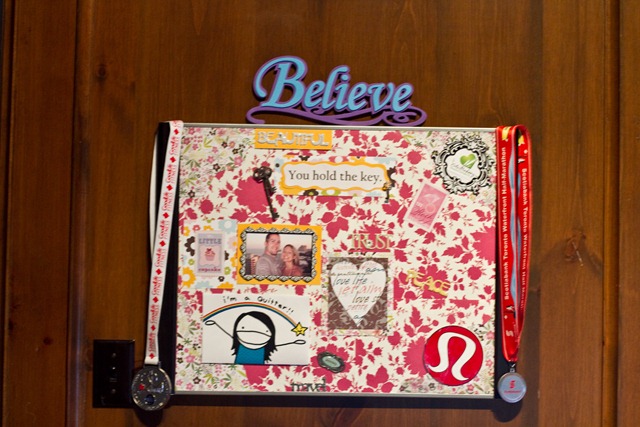 The Vision Board made Sketchie dizzy too…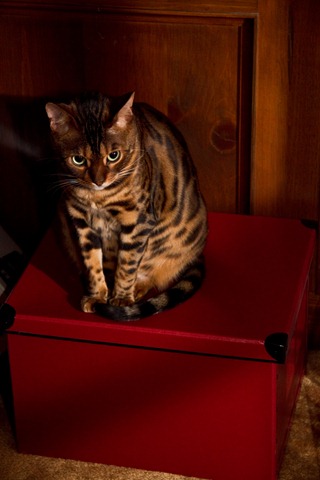 A comparison: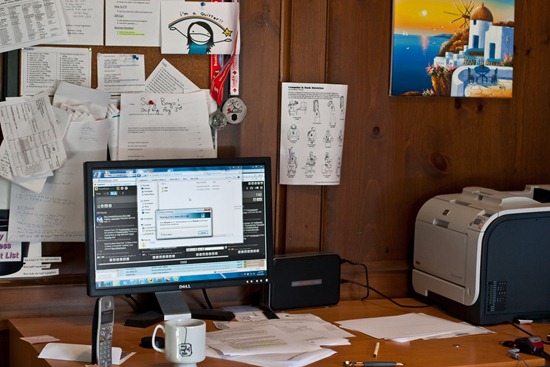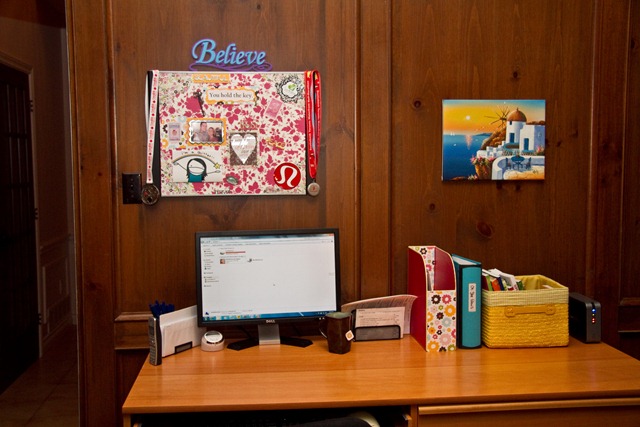 I must say things are looking up.
I decorated the red magazine holder (far left) with floral scrapbooking paper. It added a fun & girly touch!
The yellow basket on my desk holds my favourite cookbooks and yellow basket on the shelf holds my health books!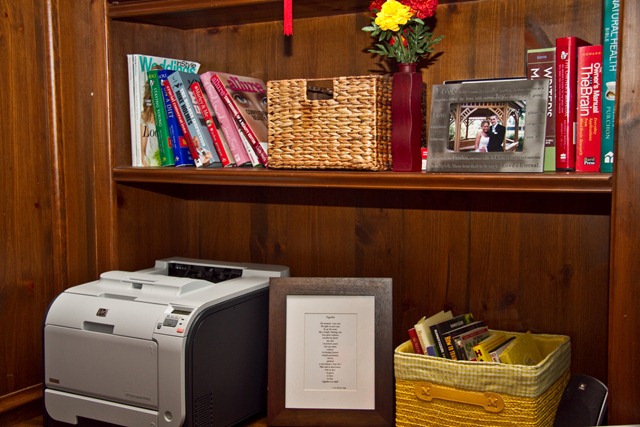 Eric's side is looking great too! He packed up a ton of DVD's and is donating them.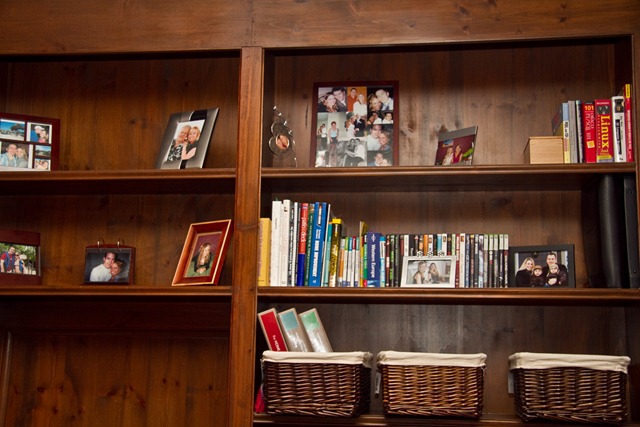 We bought all the baskets you see above from an awesome organizational store called Solutions. How I didn't know this store existed until last month is beyond me. It is my DREAM store.
Today's goal: Organize this shelf and expand my business file box from one box to two. gulp.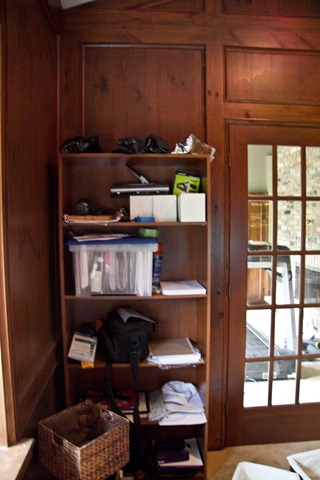 Does September 1st inspire you to start organizing your space? Will you be going back to school or starting something new this September?
Even though I am no longer a 'professional student' (as my family used to joke when I was in university for 7 long years!), I still get that back-to-school feeling every September, along with the urge for a fresh start. This is one of my favourite times of the year.
See you tonight for lentil walnut burgers!