Oh dear me.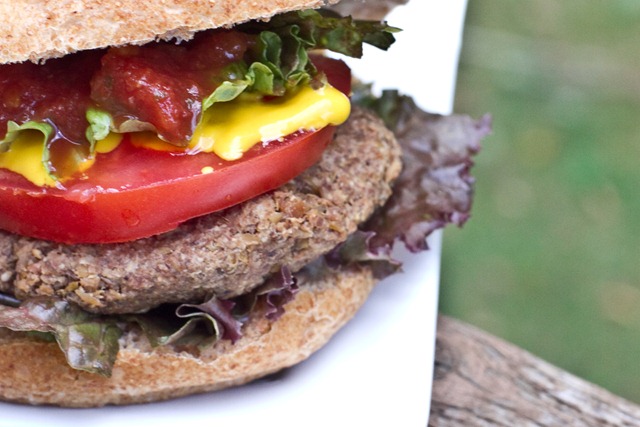 Do I have a recipe I am super excited to tell you about!
These delicious Lentil-Walnut Burgers are perhaps the best tasting burgers to ever cross my lips. They give the In a Jiffy Curry Chickpea Burgers some stiff competition! I think they are both tied for 1st place. :)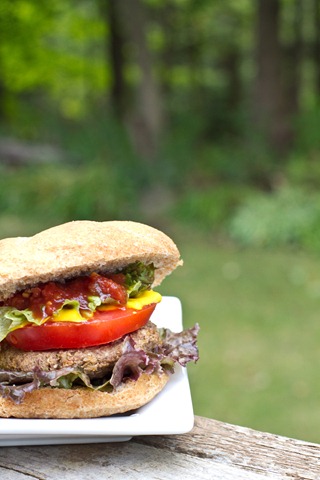 Vegan Lentil-Walnut Burgers
Adapted from Martha's Great Food Fast Cookbook.
Ingredients:
3/4 cup lentils, picked over and rinsed
3/4 cup walnuts, toasted
1 piece bread, toasted OR 1/3 cup breadcrumbs
1 tsp ground cumin
2 tsp ground coriander
1/4 tsp red pepper flakes
3 cloves garlic
1/4 tsp sea salt
Freshly ground pepper
1 tbsp extra virgin olive oil
1 chia/flax egg (1 tbsp ground chia or flax + 1/4 cup water)
Directions: Preheat oven to 350F. In a small bowl make the chia or flax egg and set aside. Place lentils in a small pot and add a couple cups of water. Bring to a boil and simmer for about 25 minutes. Remove and rinse in colander. While the lentils are cooking, toast the walnuts by placing the walnuts on a baking sheet and cooking at 350F for about 12 minutes until golden brown and delicious. Let cool. In a food processor, process the garlic, walnuts, toasted bread OR breadcrumbs, garlic, spices & seasonings until combined. Now add oil and lentils and pulse until coarsely chopped (some lentils should be visible and left chunky). Add the flax or chia egg and pulse a bit more until combined. Now shape 4 patties with hands and place on a baking sheet lined with parchment or a non-stick mat. Bake at 350F for 20-22 minutes on each side for a total of 40-45 mins. bake time. Makes 4 patties.
The burger 'batter' is insanely good. As a result, the burgers below are a bit smaller than they should be… ;)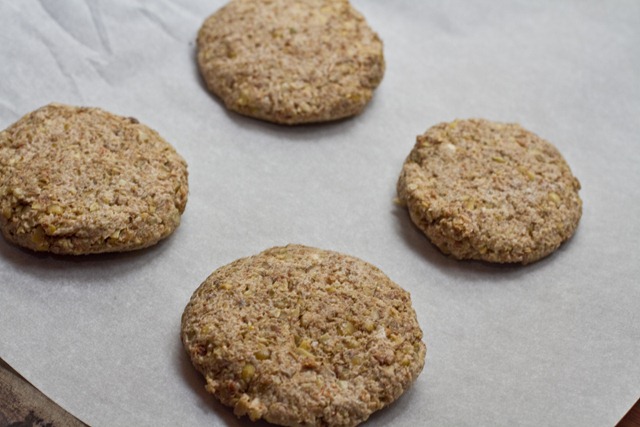 After baking they are golden, slightly crispy and the house smells incredible. You will be salivating.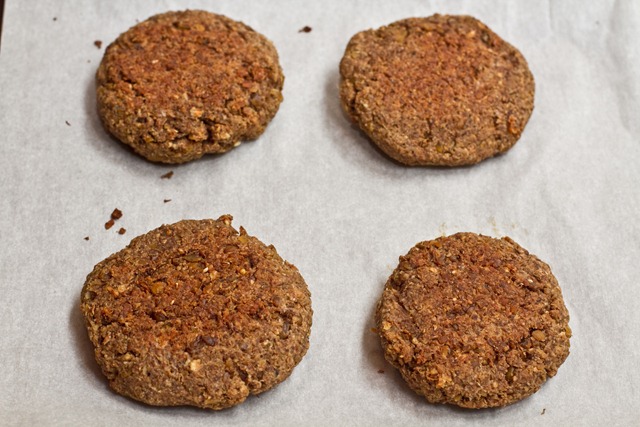 I had it served up in a bun with lettuce, tomato, ketchup, mustard, S & P. I also had a patty just plain on the side because they are to die for.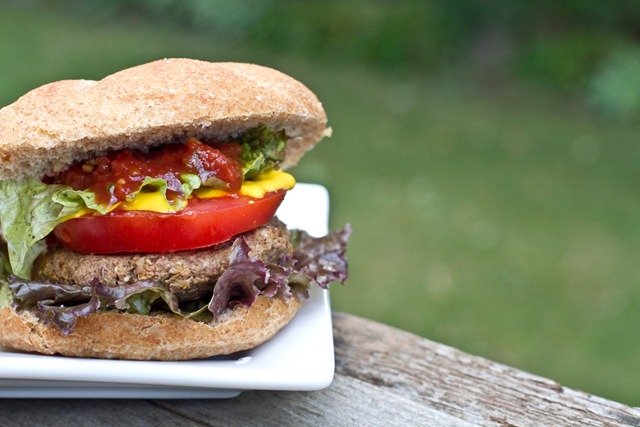 These were so easy to make…I will be adding these to the veggie burger rotation for sure. I'm sure they could be BBQ'd too if you are gentle with them. :)
I am off to gather my running things for the 10k race tomorrow. The race is almost an hour away and begins at 7:30am, so I have to leave the house by 5:50am sharp. Ick. I've got the pre-race butterflies!
Have a great night!