Happy Birthday Dan The Man!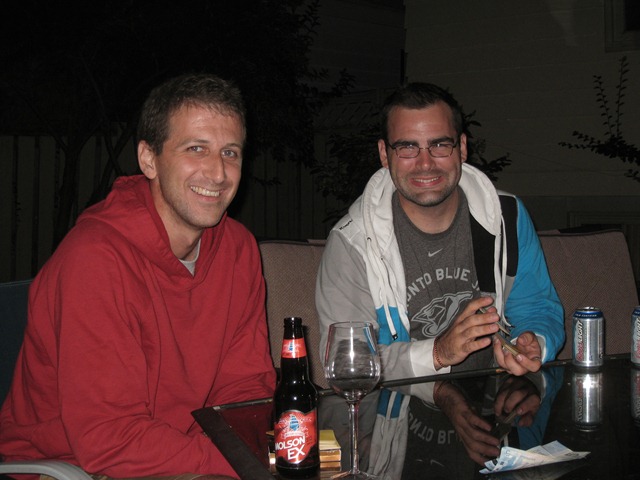 Dan got lots of foodie birthday loot!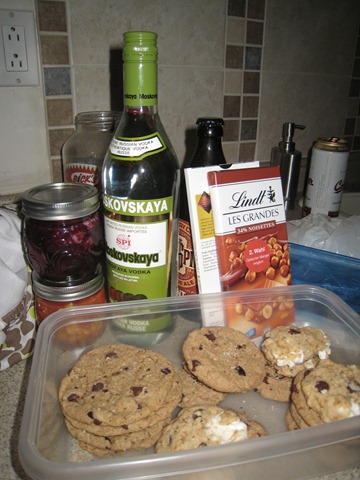 We had a fun night…just out too late as always. We didn't get home until 2am. I only had 2 Organic Mill Street brews and I felt like I was hit by a truck this morning when I got up.
Read: Getting old. ;)
I don't know what it is but whenever I have alcohol in me I toss and turn all night. It can be 1 beer or 5 and I still find my sleep is always disrupted!
Eric was the DD last night so he slept like a baby. ;)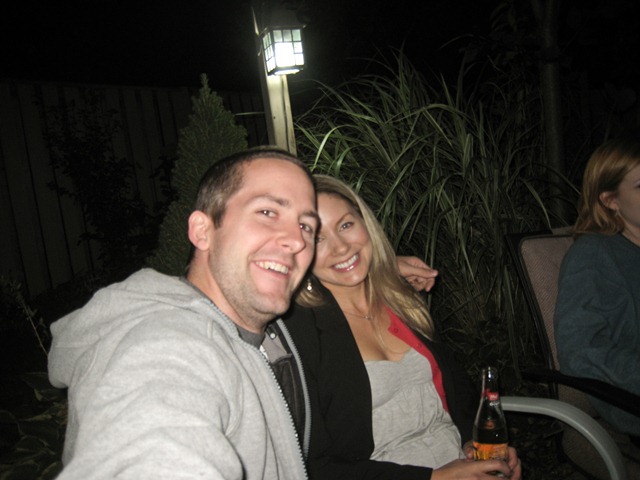 Steve and Jesse…they are single and looking for love, ladies. ;)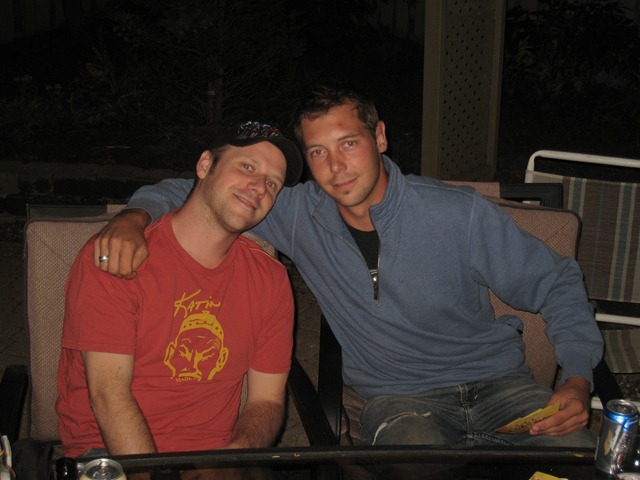 Euchre was played!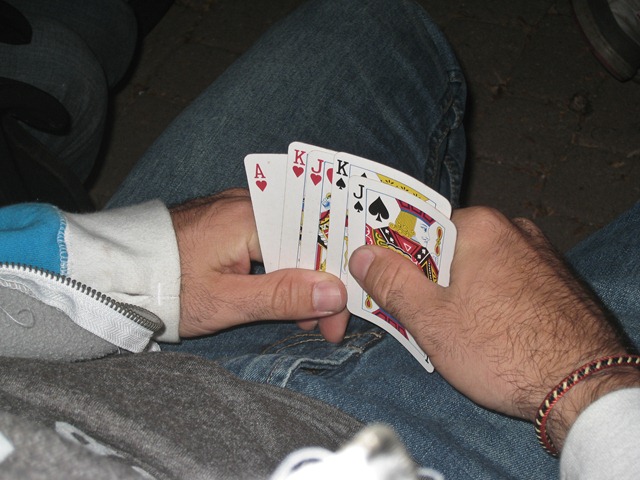 Note: Not my hands.
Eric and I had fun playing with Phoenix, the 85 pound & only 6 month old English Mastiff!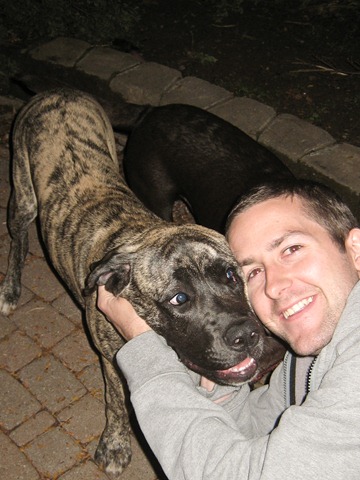 Soooo…back to feeling hit by a truck this morning…
It was nothing a huge Green Monster and some baking couldn't fix. ;)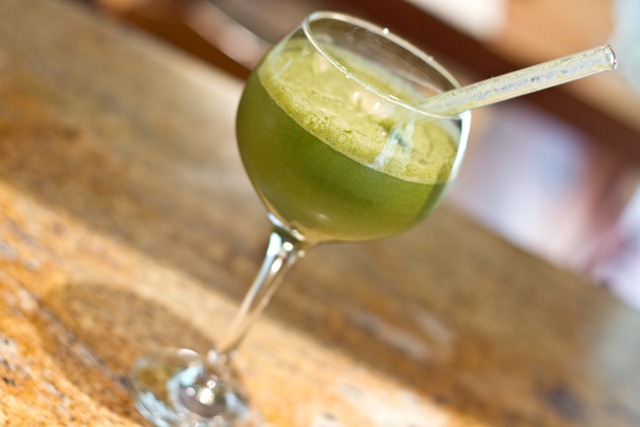 I cannot even tell you how much better I felt after this Green Monster. A new lease on life, I had.
It contained = 2 cups kale, 1 cup almond milk, 1 frozen banana, 1 tbsp almond butter, 1 tbsp Vega chocolate powder, 1 tsp raw maca, 1 scoop Amazing Grass Wheatgrass powder, ice.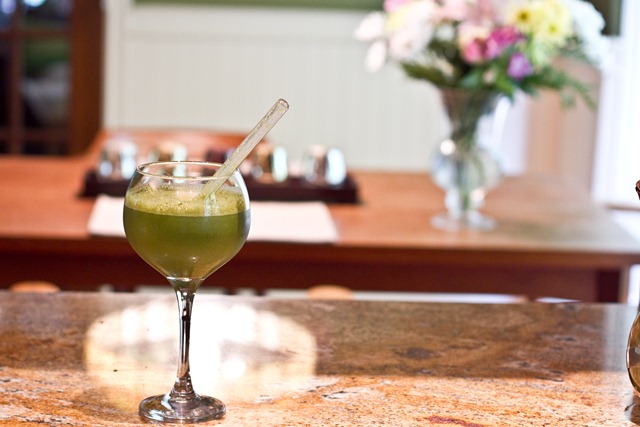 Anniversary flowers from the in-laws. :)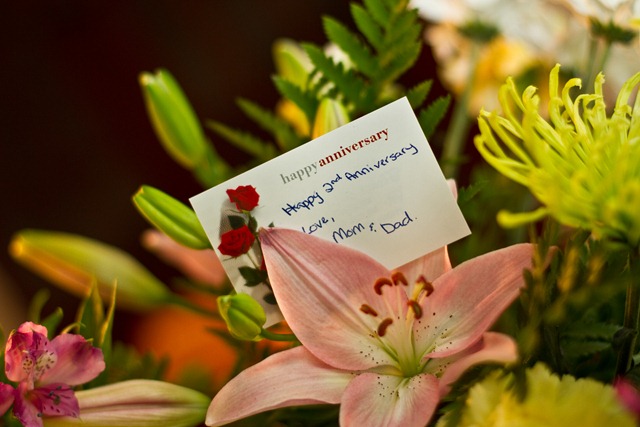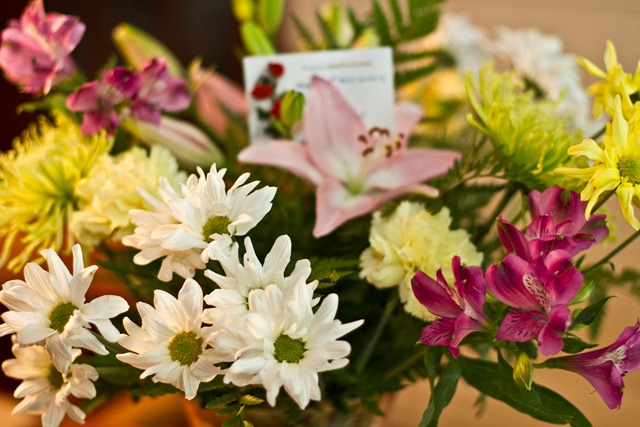 Then it was time to get down to business.
Today's weather called for some Fall-inspired baking…it was a chilly 14C/57F this morning. The wind was blowing, it was raining, and there were new leaves on the ground. Yup, that would be Fall-like.
Pumpkin Scones it was. *evil cackle*
[print_this]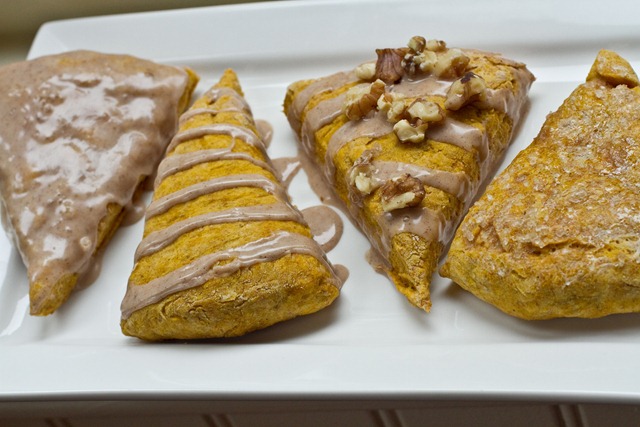 Ingredients
1 cup all-purpose flour
1 cup whole grain spelt flour
1 tbsp. baking powder
1/2 tsp. sea salt
1/2 tsp. ground cinnamon
1/2 tsp. ground nutmeg
1/4 tsp. ground cloves
1/4 tsp. ground ginger
Optional sugar- I would add 2-3 tbsp. next time!
8 tbsp. Earth Balance butter
1/2 cup canned pumpkin
3 tbsp. almond milk
1 tsp pure vanilla extract
1 chia/flax egg (1 tbsp. ground chia/flax + 4 tbsp water)
Turbinado sugar, to garnish
Vegan Egg Wash:
1 tbsp. cornstarch
1/2 tbsp. water
Spiced Glaze:
1 cup powdered sugar
1.5-2 tbsp. almond milk
1/2 tsp. pumpkin pie spice (or 1/4 tsp. cinnamon and a pinch of ginger and nutmeg)
Instructions
Preheat the oven to 425F and line a baking sheet with parchment of a non-stick mat.
In a small bowl mix the chia/flax egg. Set aside.
In a large bowl mix the dry ingredients (flours, baking powder, salt, cinnamon, nutmeg, cloves, ginger).
Take the cold Earth Balance butter cut butter into dry ingredients until crumbly.
In a medium sized bowl, mix the pumpkin, chia/flax egg, and almond milk.
Add wet to dry and mix until a ball forms. I got down and dirty and mixed with my hands!
On a flour surface place the ball of dough and kneed a few times with your hands.
Shape the dough into a circle and then cut into 8 triangles.
Now mix your vegan egg wash by mixing cornstarch and water and heating in microwave for 30 seconds. Stir well.
With a pastry brush, brush on the glaze onto each scone.
Sprinkle with turbinado sugar generously and bake for 14 minutes.
Cool for 10-15 minutes.
While cooling, make your spiced glaze by beating 1 cup powdered sugar with milk and spice until smooth.
When scones are cool ice the scones and serve with a cup of tea or coffee!
Baking Notes: I forgot to add sugar to the recipe, so my scones turned into savoury scones! However, with the spiced icing glaze I found they were just perfect. Eric did too. If you prefer a sweeter scone I suggest you add some sugar (see original recipe). You may also have to add more almond milk. if I was not going to have icing on them I would definitely add some sugar to it.
[/print_this]
These were really easy to make despite the long directions…it only took me about 25 minutes to prep I believe. That includes photography too!
[/print_this]

Mix dry ingredients!

Cut in 1/2 cup Earth Balance Butter..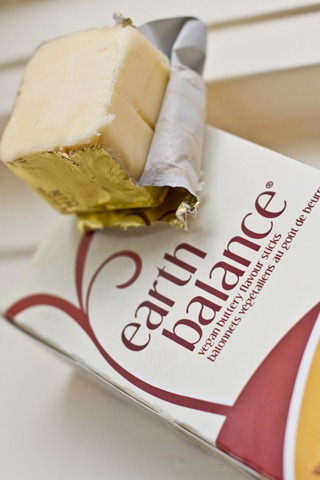 Note: That is only 1/4 cup pictured above.



until crumbly…

Mix wet ingredients (including chia/flax egg)…


Add wet to dry and form into a ball. Do not overmix the dough!

Flour surface…

Knead dough a few times and then shape into a circle…

I added a tiny splash of almond milk to the dough as it was a bit dry.
With a pizza slicer or a knife cut into 8 triangles..

Lay on baking sheet…


Spread with the Vegan egg wash!
This part is fun…no egg required and it turns out just as nice looking!!!

Vegan eggwash (1 tbsp cornstarch and 1/2 cup water mixed and heated for 30 secs.)- that's it!
A gel forms…then spread each scone lightly with it. It looks gross, but hey, so do raw eggs. ;)

Bake 14 minutes at 425F. Note the bottom scones were glazed and the top ones were not.
Glaze = a much prettier scone! I would not skip this step. It also gave the Turbinado sugar something to adhere to.

Now spread that pumpkin spiced glaze on and decorate however you wish! I added some walnuts.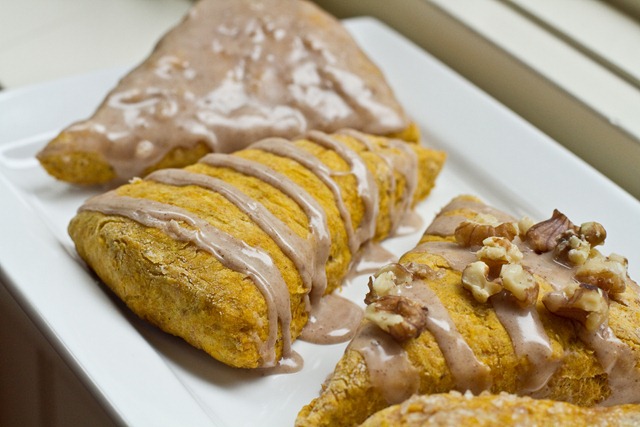 Mmmmmm…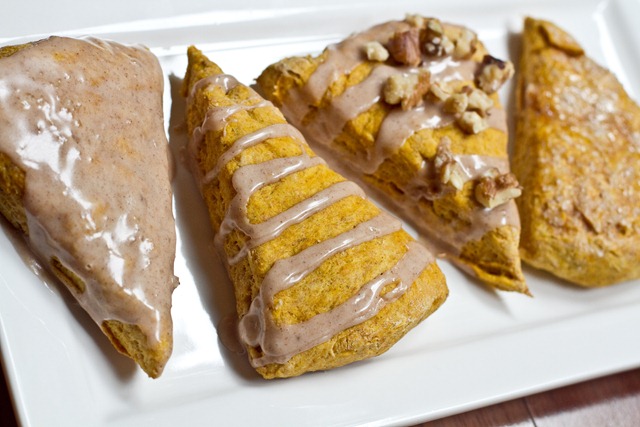 Awesome. I was so happy with how they turned out.
Next time I would probably experiment with adding some chopped pecans and raisins to the scones. That would be wonderful!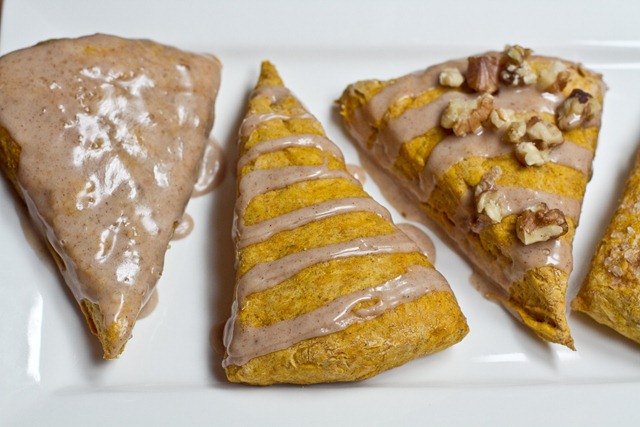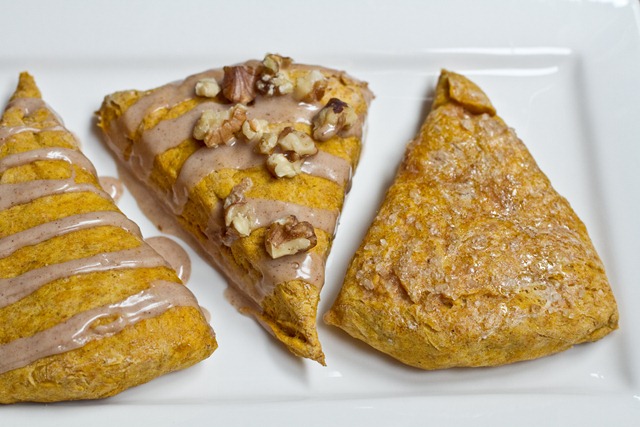 Enjoy with your favourite tea…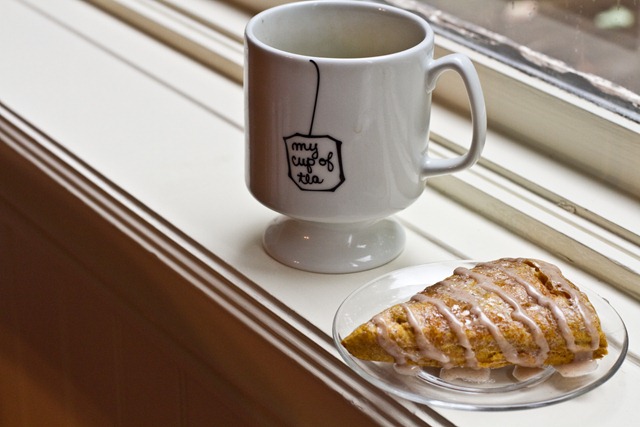 Mmmmm.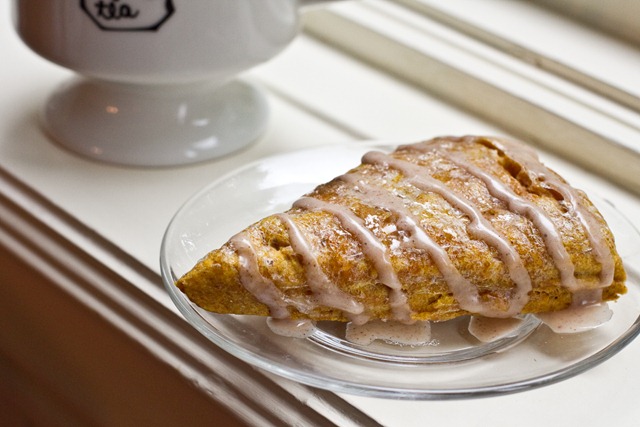 Fall you ain't so bad after all.