Good evening!
Our friend Dan's birthday get together is tomorrow night and I got this great idea to make Dan healthier vegan chocolate chip cookies. You see, Dan is a great guy and he deserves only the best on his birthday. He also loves my vegan baked goods.
Little did I know that my quest to bake a delicious vegan chocolate chip cookie would take 5 trials! Oye. However, I do not go down without a fight. If it takes 5 trials of taste testing cookies, I will roll up my sleeves and dig in. Someone's gotta do it.
I started with a classic chocolate chip cookie recipe that one of my family members gave me years ago. I decided it was time to veganize this baby! Out went 1 egg, 1/2 cup butter, and a cup of sugar.
See ya, won't miss ya, I said.
For some reason, I decided I would also turn this recipe into a s'more cookie. I was feeling a bit crazy and delirious, clearly…
Trial 1:
The S'more sandwich.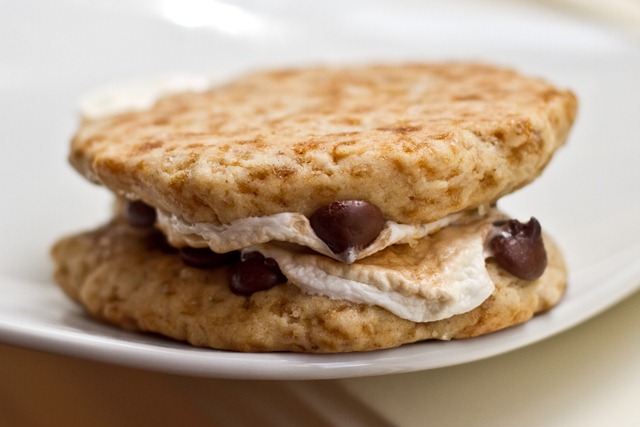 Hrmm.
It tasted good, but it was nothing to write home about.
Back to the drawing board!
Trial 2:
The S'more Cookie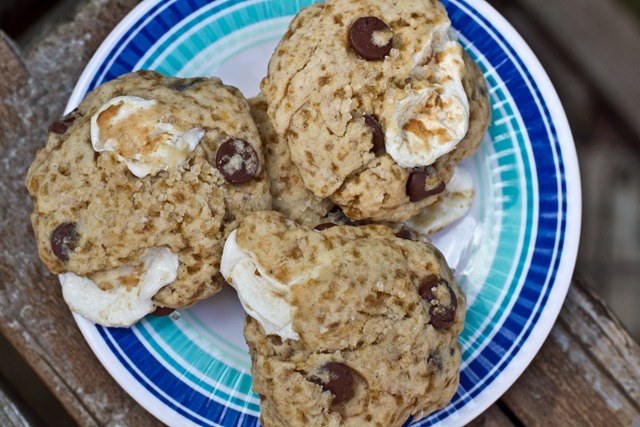 Oozing with vegan marshmallows, it was good, but not great. Nor amazing.
Next!
Trial 3:
Vegan Chunky Peanut Butter Chocolate Chip Cookies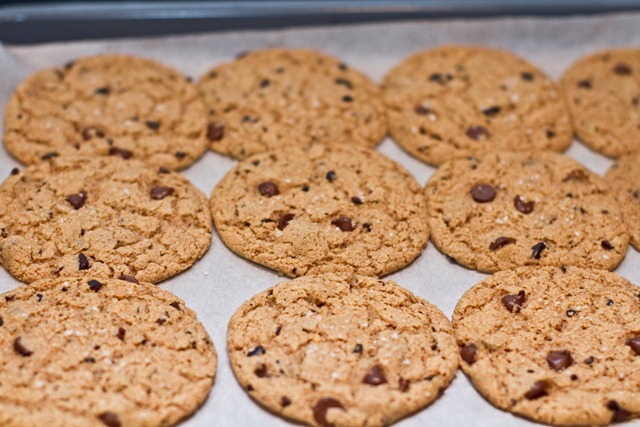 Whoops. It got a little crowded in there! ;)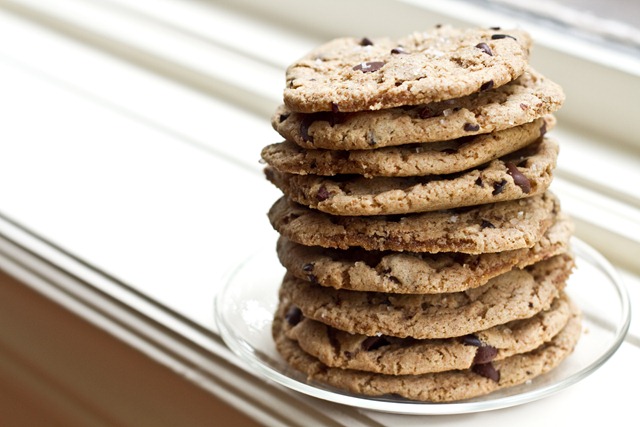 I was sick of the s'more cookies and decided to go back to the classic chocolate chip cookie with a nut butter twist. This version tasted phenomenal, but the cookie was a bit thin for my liking.
I was now on a quest to plump it up!
Trial 4:
The thicker chocolate chip cookie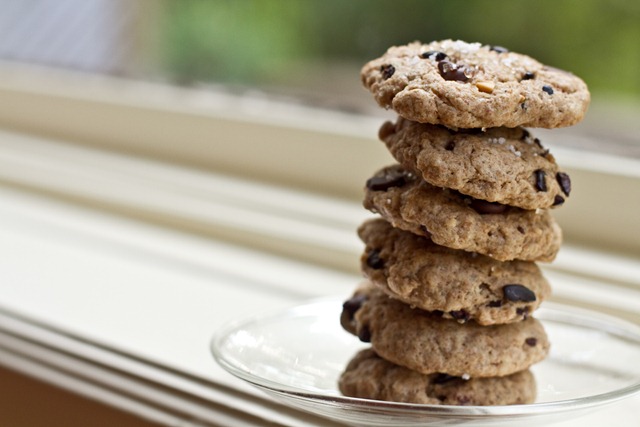 Too thick and cake like. :(
I am now weak. It feels like I have been in the kitchen for days on end. My throat is dry.
This is what happened when I added a chia egg (1 T ground chia + 3 T water) and a bit more flour. Interesting, but much too muffin like in texture and not crispy at all.
I need the crisp factor!
Scratch.
Trial 5:
The Vegan Chocolate Chip Cookie…with a twist!
I said a little prayer for this batch. My golden hairs were turning grey. Something had to give….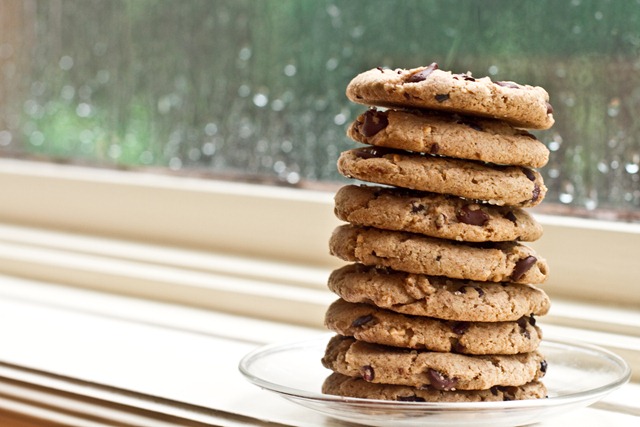 [This recipe is BACK after popular request!! Sorry for the inconvenience guys!]
Salt-Kissed Chunky Peanut Butter Vegan Chocolate Chip Cookies
Ingredients:
1 + 1/4 cup whole grain spelt flour* (see note below)
1/4 cup organic sugar
1/4 tsp fleur de sel (or reg. salt)
1/4 tsp baking soda
1 tsp baking powder
1.5 tbsp cacao nibs (optional, but they add crunch!)
3-4 tsp non-dairy dark chocolate chips
1.5 tbsp chunky peanut butter
2 tsp pure vanilla extract
1/4 cup pure maple syrup
3.5 tbsp canola oil
Fleur de sel, for garnish
Turbinado sugar, for garnish (optional)
Directions:
Preheat oven to 350F. Line a baking sheet with parchment paper or spray  with oil. In a large bowl, mix all dry ingredients (spelt flour, baking  soda, baking powder, fleur de sel, sugar).
Whisk together. In a medium  sized bowl mix all wet ingredients (peanut butter, maple syrup, oil.  vanilla). Mix well making sure the PB is thoroughly mixed in.
Now add  wet to dry and stir. Mix with hands if necessary until fully  incorporated. Stir in cacao nibs and chocolate chips. Wet hands and  shape small cookies about 1.5 inches in diameter and place on baking  sheet.
Bake for just 10 minutes. Remove from oven and place on cooling  rack after a couple minutes. Cool for 10 minutes. Makes 14 medium sized  cookies.
See this post for my favourite chocolate chip cookie recipe!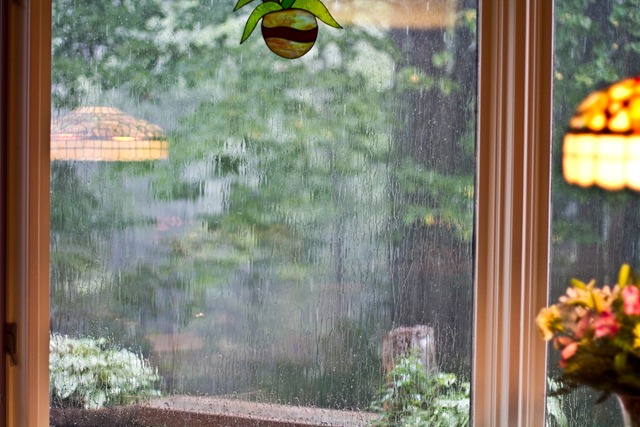 Happy Birthday Dan. If we eat all of them before tomorrow night, this post is proof that the thought was there anyways. ;)