Greetings! :)
I must show you something I found on my run today…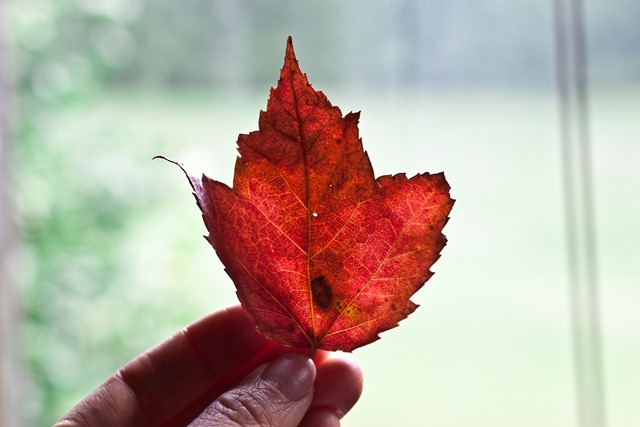 *gulp.
It was on the ground.
Below a tree.
It wasn't alone.
They used to be green.
Now they are red and orange.
I stopped in my tracks and mumbled a word I will not repeat on the blog. I did a quick mental date check (Aug. 26th, 27th thereabouts??) and decided that this tree was clearly confused!!!!
Friends, this is a classic case of early-onset molting. If trees molted that is…
Despite this shocking scene, I managed to have a great run! I have only run once in the past week so my legs were definitely rusty, but it didn't take that long to get into the groove.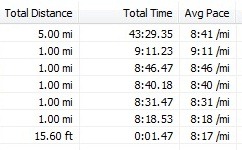 I am currently looking at a half marathon, 10k, and 5k race in the next couple of weeks, but I can't decide what distance I want to do! Votes? :)
Oh do I have a treat for you on this lovely Friday evening….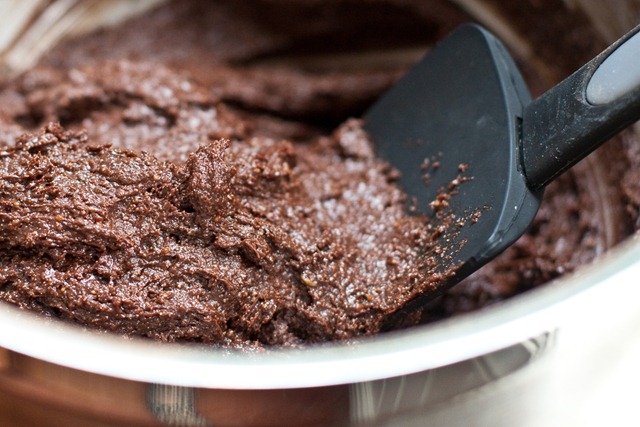 Tonight I was looking through my Sweet Freedom cookbook and I came across a recipe for Ultra Fudgy Brownies.
Ultra.
Fudgy.
Brownies.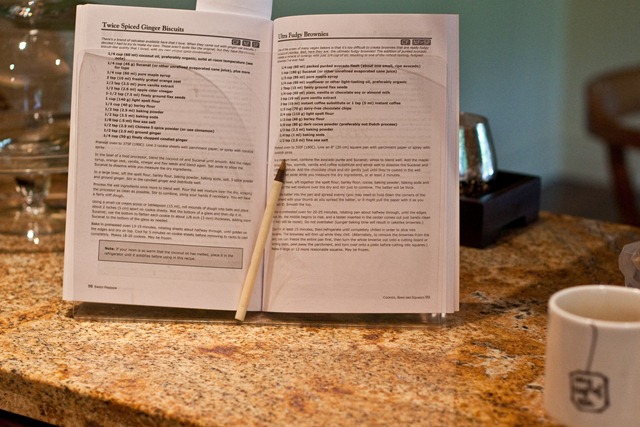 We are visiting family this weekend and I promised to bring dessert!
The truth is, I haven't been able to stop thinking about brownies since I had that amazing flat brownie at Karyn's Cooked in Chicago….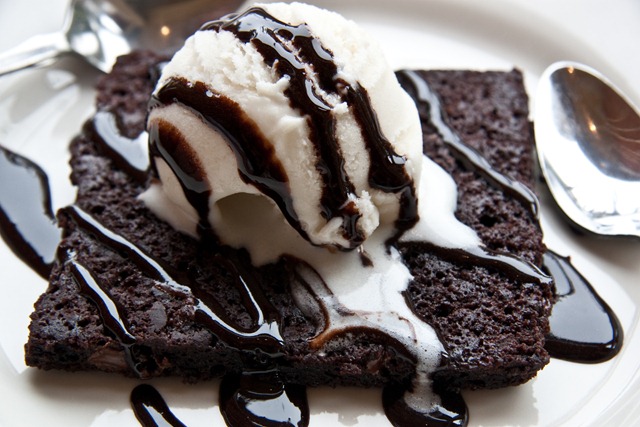 I rest my case.
Brownies it was.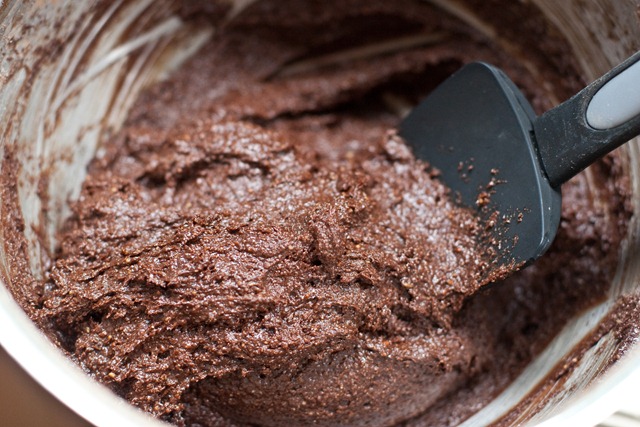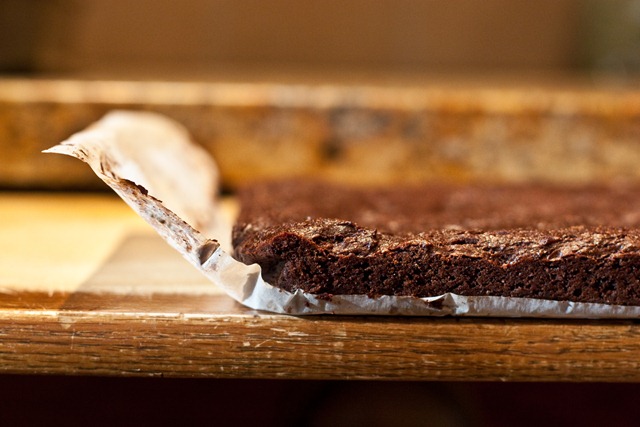 Ultra Fudgy Brownies
Adapted from Sweet Freedom.
Ingredients:
1 small avocado (1/4 cup packed)
1 cup Sucanat (brown sugar might work?)
1/3 cup pure maple syrup
2 tbsp sunflower oil (reduced from 1/4 cup)
1 tbsp ground chia seeds (or ground flax)
2 tsp pure vanilla extract
2 tsp organic dark roasted coffee or instant
1/3 cup dark chocolate chips
1 1/4 cup whole grain spelt flour
3/4 cup cocoa powder
1/2 tsp baking powder
1/4 tsp baking soda
1/2 tsp Himalayan sea salt
Directions: Preheat the oven to 350F. Line an 8" pan with parchment paper and set aside. In a large bowl, gently smash the avocado with a fork to break apart. Using a hand mixer, process the avocado until smooth. Add the Sucanat, maple syrup, oil, chia, vanilla extract, and coffee and mix until smooth. In a medium sized bowl, sift together the spelt flour, cocoa, baking powder, baking soda, and salt. Slowly add the dry ingredients to the wet and mix on low or stir by hand until just mixed. Stir in chocolate chips. Dump the mixture onto the baking pan. Dip your spatula in cold water and smooth out. The batter will be VERY THICK (see pictures below), so not to worry. It was difficult for me to spread out so I finally just threw my hands in cold water and smoothed it out with my hands. It worked much better this way. Once smooth, place in oven and cook for 20-25 minutes and no more. You will look at the batter and think that there is no way it will cook in that amount of time, but trust me it does. Remove from oven and cool for 20 minutes. Pop in the freezer for about 30 minutes to set and firm. Remove from pan and cut with a pizza slicer. Serves 9-12.
This batter was thick and luxurious!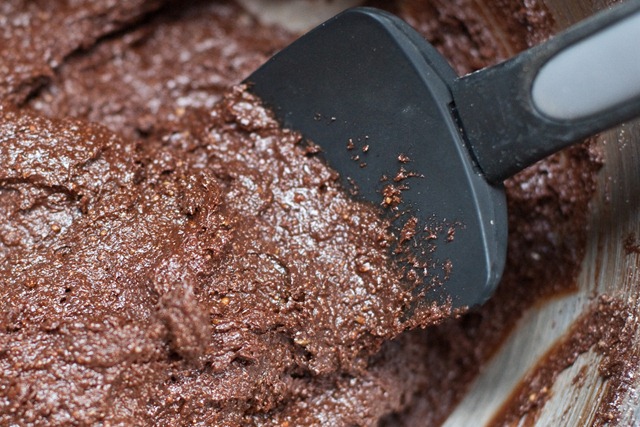 And very hard to spread…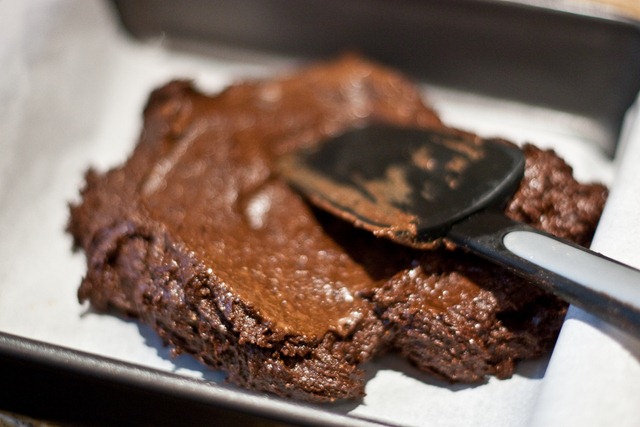 But trust me on this one…it was worth the effort.
Check out how thick that batter is!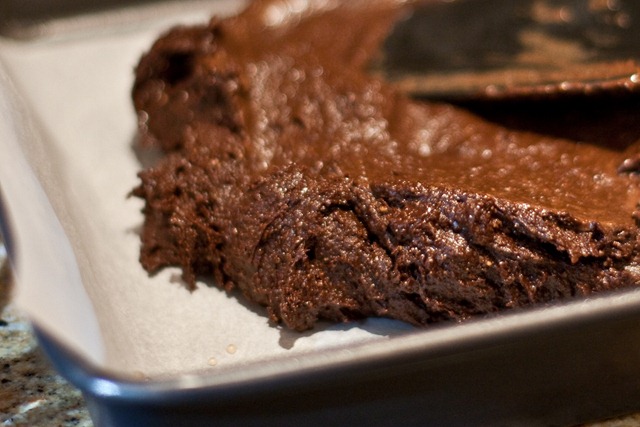 I reduced the oil from 1/4 cup to 2 tbsp so that probably thickened it up a bit. I didn't miss the oil though…they were just perfect to me.
I ended up wetting my hands and diving in. Sometimes you gotta get dirrrty in the kitchen!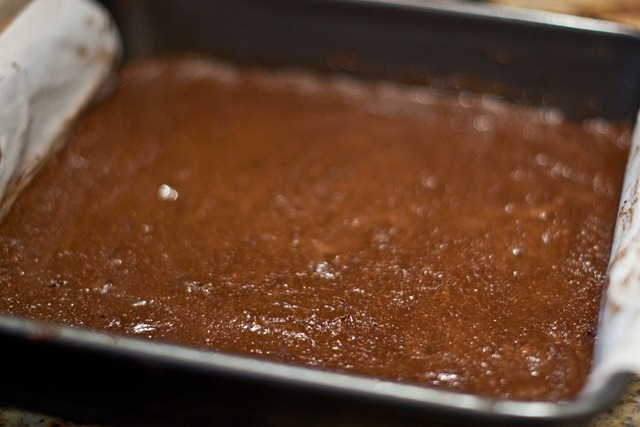 Ah, much better.
After baking 25 minutes, cooling, and setting in freezer: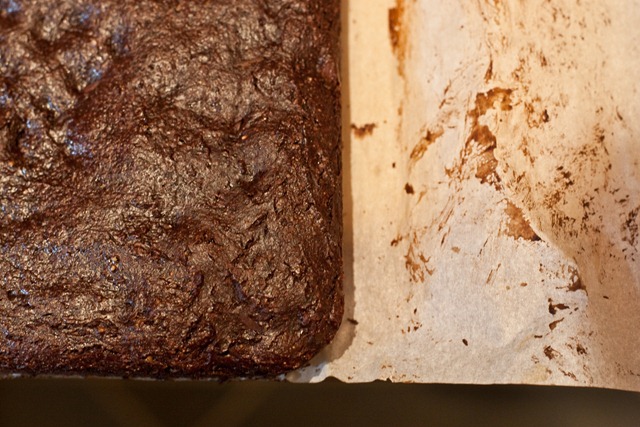 Get rollin'.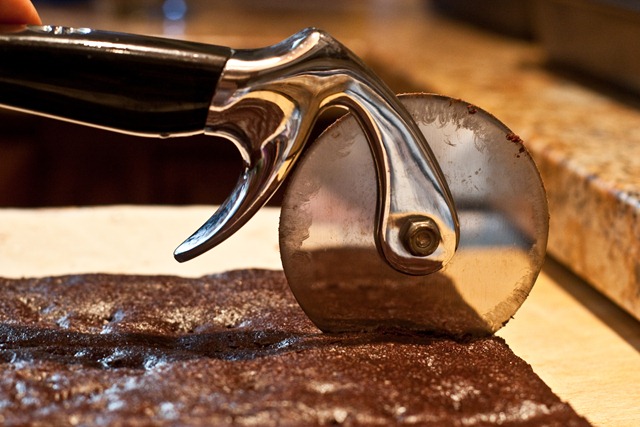 I used a 9 inch pan because I was going for that flat brownie look. They turned out great!
9 large squares…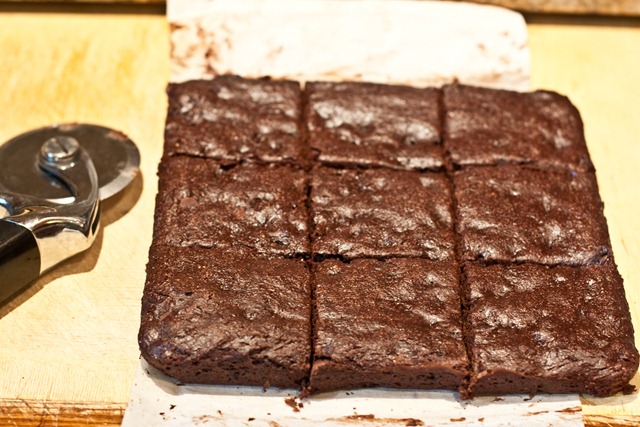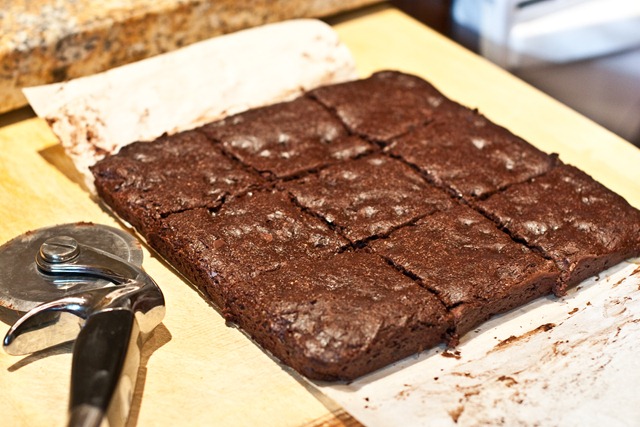 Mmmm.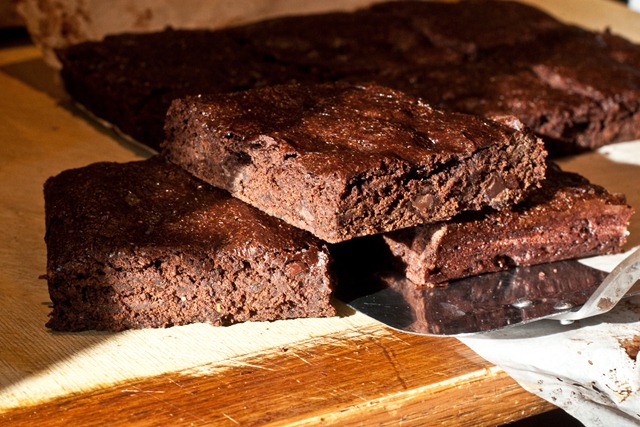 I had to try one of course. ;)
I could only have 1/2 of one because I need 8 for our get together and I saved the other half for Eric! :)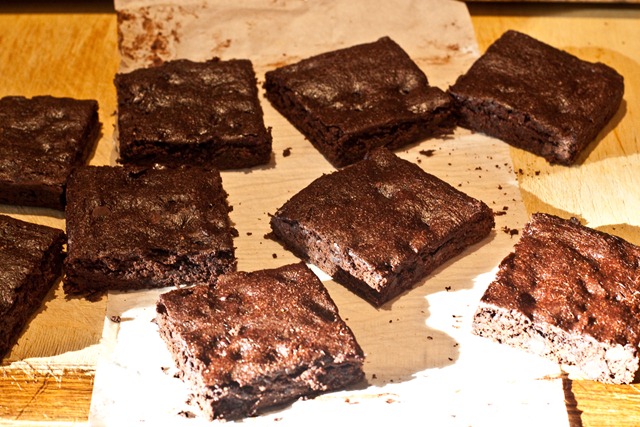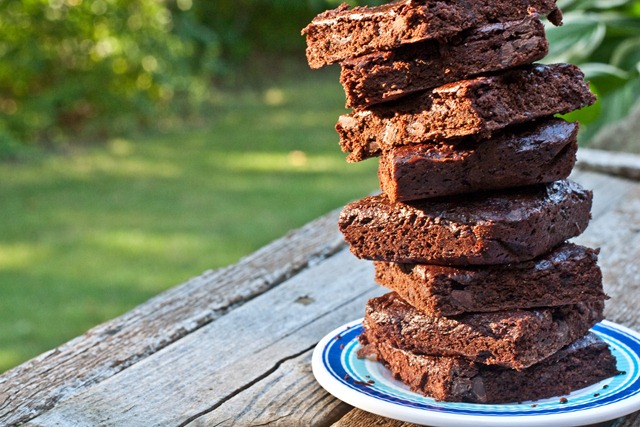 Verdict = IN THE VAULT.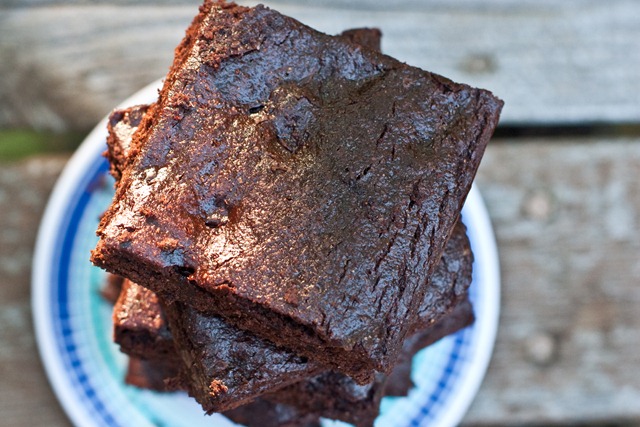 Seriously amazing brownies. Good work Ricki!
I'm dreaming of having these with some banana soft serve or vegan coconut ice cream.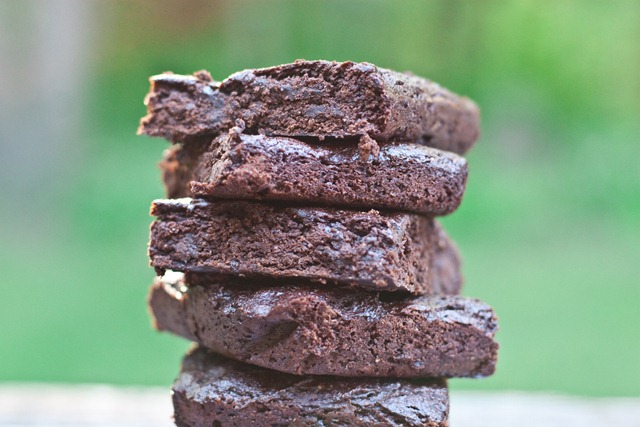 How do you like your brownies? Thick, gooey, soft, dense, crisp, chunky, smooth, doughy, cake-like, rich, all of the above?
To me the perfect brownie is gooey, but not too gooey. It also has to be dense, but not sickly sweet and over powering. These brownies fit the bill.
Well, we are off for the night. I will see you in the morning. :) Enjoy your evening.