Good morning!
Thank you for all your amazing comments on yesterday's Notes To My Younger Self post. :)
Last night I came up with a little dessert that was quite fun to make! I call them Apple Pie Burritos. They are a healthy take on the apple pie and come in perfect mini servings.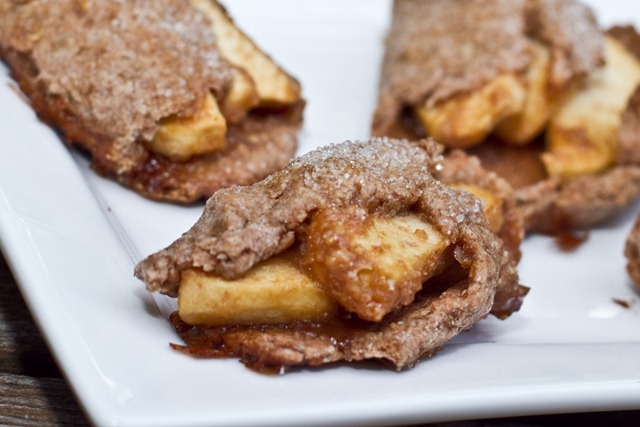 Easy Apple Pie Burritos
Inspired by Pioneer Women's Apple Pie and my Vegan Pumpkin Pie.
Ingredients:
Pie filling:
2 granny smith apples (or other variety will do!), peeled and sliced into wedges
1 tbsp whole grain spelt flour
1 tbsp fresh lemon juice
1-2 tsp almond milk
1/2 cup Sucanat (brown sugar might work)
Pinch sea salt
Spelt Crust:
1 cup spelt flour
1/4 cup Earth Balance butter
2 tbsp Sucanat (or brown sugar)
1/4 cup milled flax or ground chia seed
2 tbsp Almond Milk
1/2 teaspoon cinnamon
Pinch sea salt
Directions: Preheat oven to 375F. Grab a baking pan and line it with a parchment paper or non-stick silicone mat. In a medium sized bowl place your filling ingredients and mix until apple slices are thoroughly coated. In a large bowl mix your spelt crust (detailed photos here). Mix the dry ingredients (spelt flour, sucanat, milled flax/chia, cinnamon, and salt) and mix well. Now add slightly melted butter and milk and mix with a mixer or with your hands just until the dough comes together. Form a ball and cover it with flour. Grab pieces of the dough and flatten with your hands to make the shape of a large circle. Place 2-3 apple slices in the middle and wrap like a burrito. Alternatively you can also roll out your dough with a rolling pin, however I will warn you spelt dough is a bit temperamental to work with and it cracks easily. Once you have about 10 small burritos, sprinkle them with sugar and pop them in the oven for about 30-35 minutes, until slightly crisp and golden. Serve with Banana Soft Serve and enjoy!
Nutrition info: (Per pie, makes 10): 136 kcals, 4 grams fat, 2 grams fibre, 1 gram protein.
Mixing up the pie filling was super fast…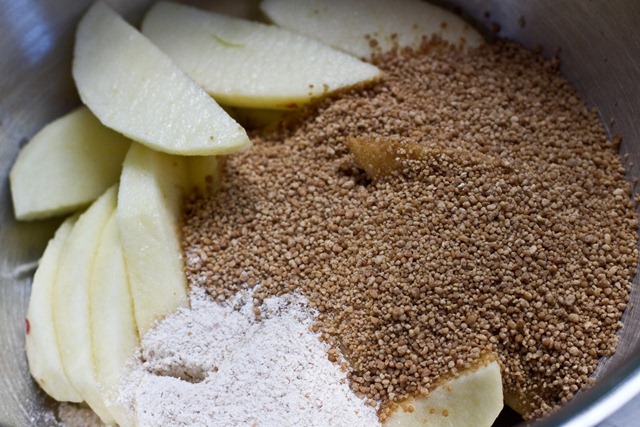 Boom.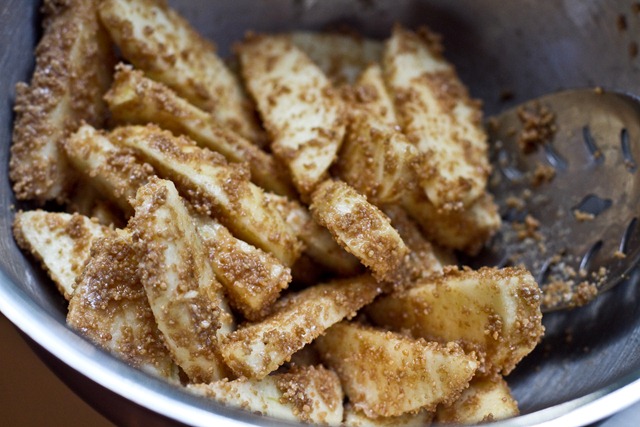 Those Sucanat covered apples will tastes incredible, but they will taste even better when they caramelize in the oven!
Spelt dough is very temperamental to work with, but I'm up for the challenge if it means a super healthy whole grain flour!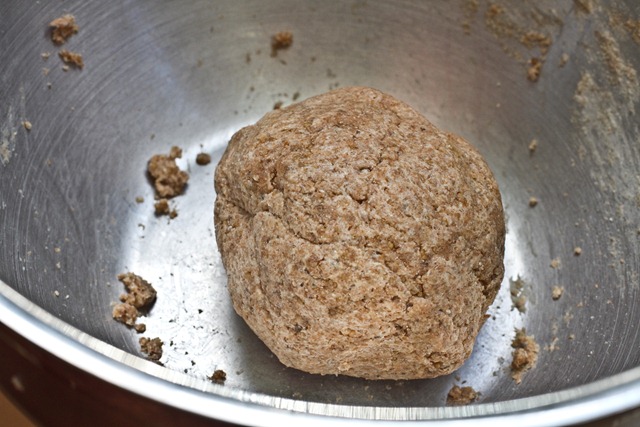 I get asked this all the time, so here are a few of the benefits of spelt flour:
Very high in protein (up to 15%)
Ancient grain, a cousin to wheat but easier to digest
Hardy grain, therefore requires no pesticides
High in fibre
High in B vitamins
High in magnesium and iron
Nutty, complex flavour
For more info, see here.
Once you start using spelt flour you will never go back to the bleached, processed stuff! It tastes so much better than white flour.
10 burritos all wrapped up and ready to be baked!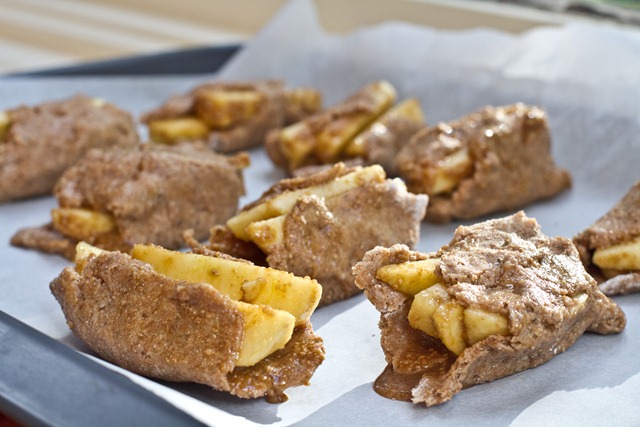 The beauty about the burritos is that you can shape them any way you like and they don't need to look perfect! Just have fun with them.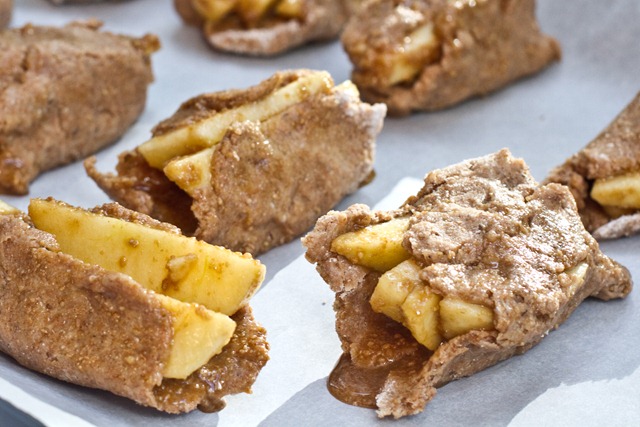 After about 30-35 minutes in the oven!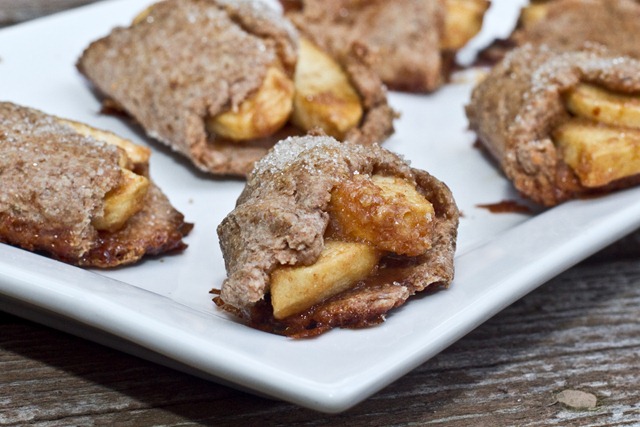 The Sucanat mixture caramelized in the oven and there was this toffee like shell around the burritos. It tasted amazing!!! It is super hot though so be careful (I burned my finger!). The inside of the apple pie burritos tasted so amazing.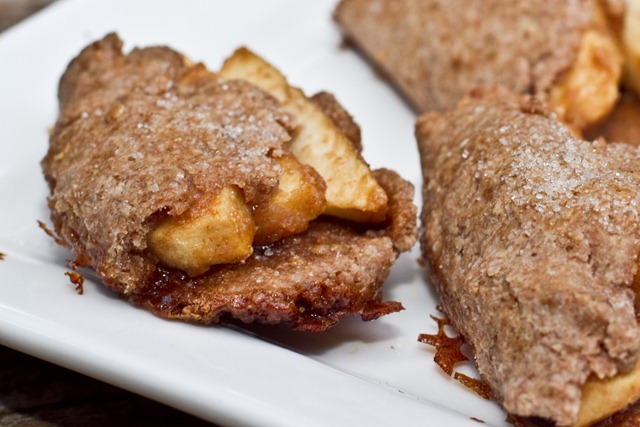 I suggest serving these with Banana Soft Serve! I am out of bananas though, so I will have to wait on that idea.
I'm not sure how it is Friday already, but I am determined to get caught up! And get in a run. I've had one workout all week because I have been so busy. Going to start the weekend off right. :)
Happy Friday!