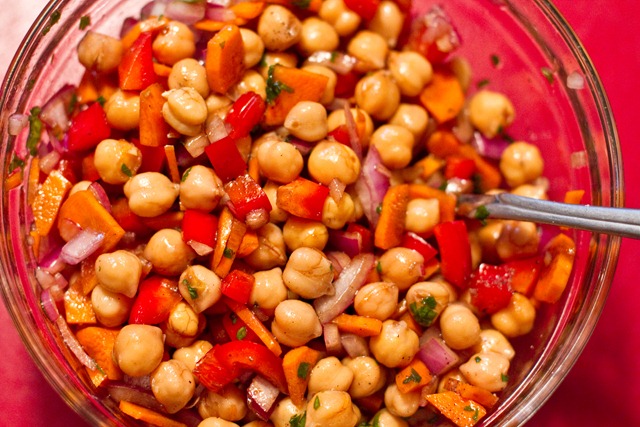 Greetings!
Today turned out to be one of those days, but chickpea salad makes it all better. And dried mangos. Lots and lots of dried mangos.
But first, confession time.
My TJ's dried mangos are gone.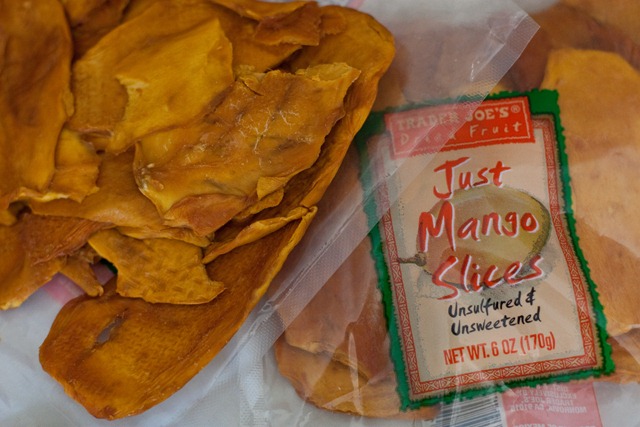 I hid them from myself last Wednesday night when I got home from Chicago and then I couldn't find them for a full day. I am an old crazy lady who hides her food and forgets where it is, apparently. When I found the beloved hidden mangos on Friday I was so excited I ate the rest of the bag. 
And now they are gone…along with a piece of my soul. I tried to blame running 10.5 miles, but let's be real here, that bag would still be gone run or not. ;)
It's probably for the better.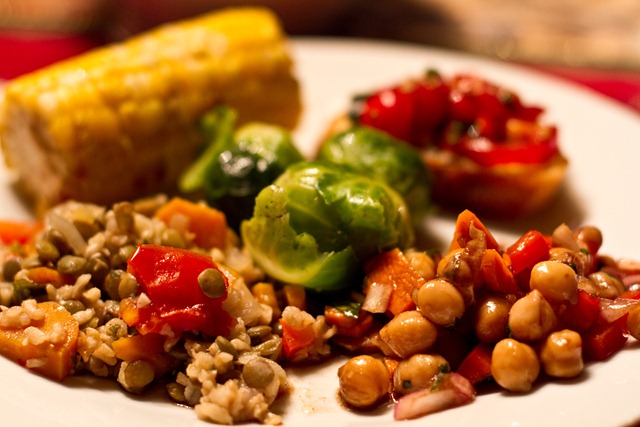 Summer De-'lite' Chickpea Salad
You may recognize this dish from Saturday night's dinner for six! This chickpea recipe was inspired by the delicious chickpea salad that I consumed mass quantities of at Argo Tea. :) I love when my inspiration comes from my travels.
Ingredients:
1.5 cups cooked chickpeas
1/2 red onion, chopped
1 medium carrot, chopped
1/2-1 red pepper, chopped
1 handful basil, chopped finely
1-2 cloves minced garlic
Homemade Balsamic vinaigrette (1/2 tbsp maple syrup, 3 tbsp balsamic vinaigrette, 2 tbsp olive oil, sea salt and pepper to taste)
Directions: In a medium sized bowl combine chickpeas and veggies. In a small bowl combine the balsamic vinaigrette ingredients and mix well. Add the vinaigrette to the veggie/chickpea mixture and stir. Serves up to 6 as a side dish.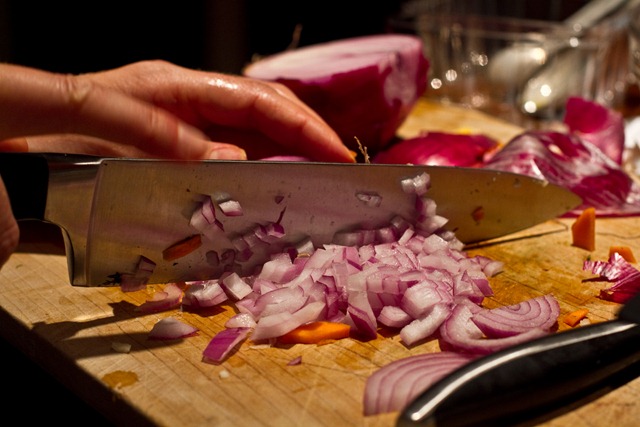 This chickpea salad is amazing. I had to fight my friend Mary for the leftovers at breakfast on Sunday. ;) It is light, delicious, and ready in a snap. Even the meat & potato eaters loved it.
Now if you'll excuse me I have to put on my lab coat and goggles and go grab some test tubes in my Food Lab. I have a deadline for a recipe challenge to tend to. I will be telling you all about it shortly! :) I will need your support for this one.
I hope our insurance covers small kitchen explosions because this could get ugly.