Hello!
Shortly after my last post, we were off to Karyn's Cooked for a late lunch! It is located in a different part of Chicago that we had not been to yet so it was a great chance to explore.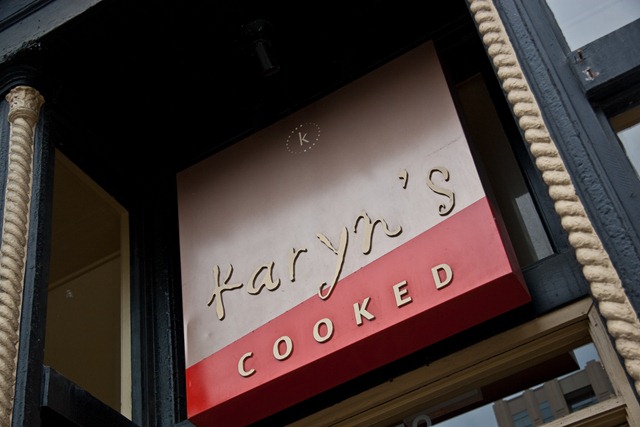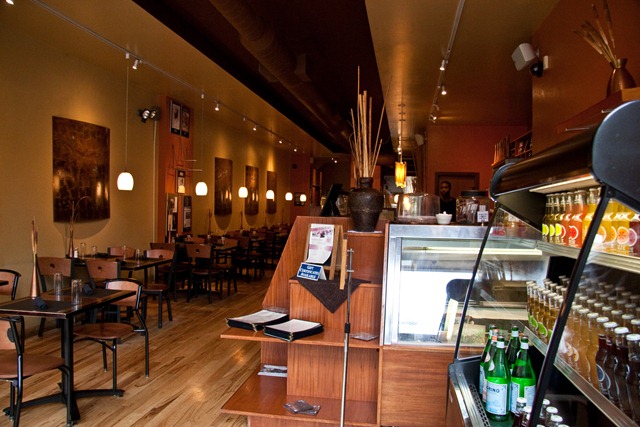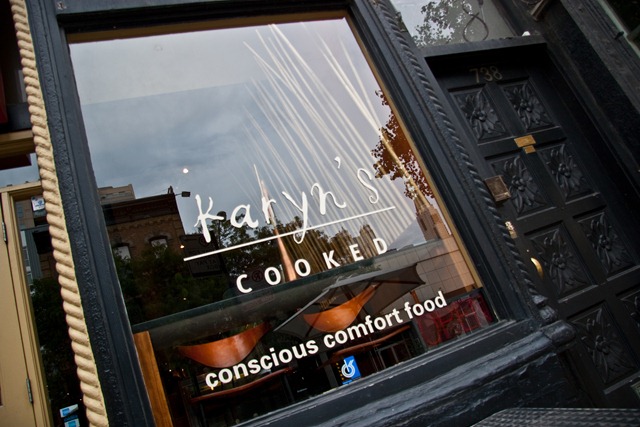 If Karyn's On Green makes vegan food 'sexy', Karyn's Cooked makes vegan food COMFORT food.
We started off with water to wet out whistle…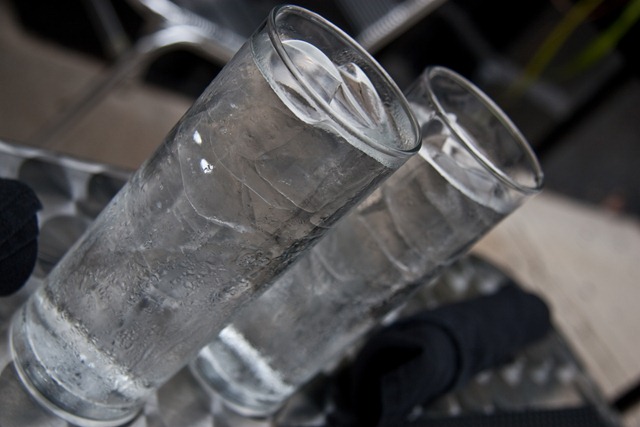 We split the bruschetta and hummus and pita appetizers to start: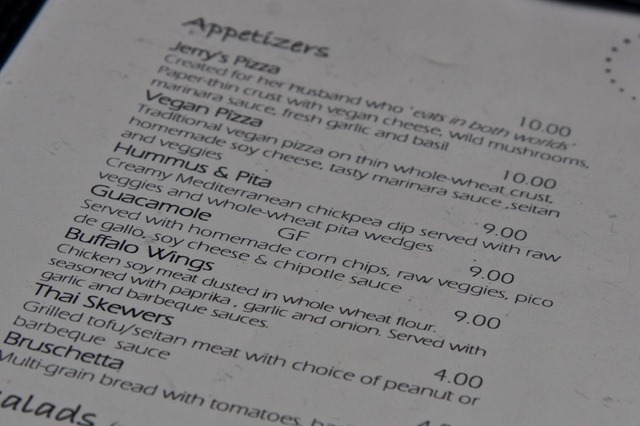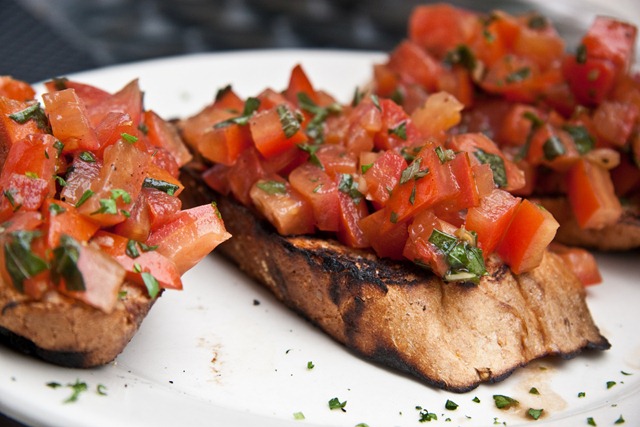 The bruschetta was just 'ok'. Something tasted a bit off about it…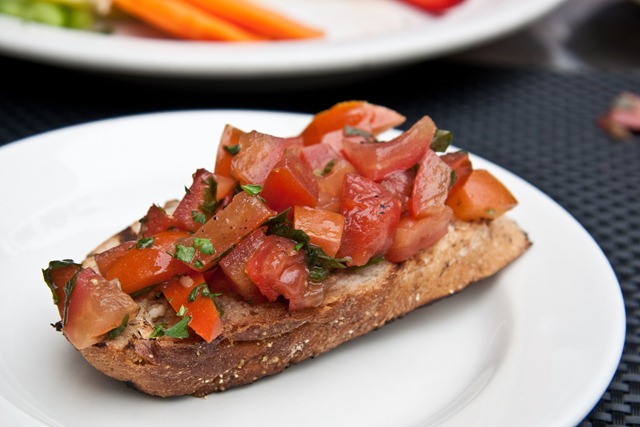 The hummus and pita, however, was incredible and we devoured every last bite.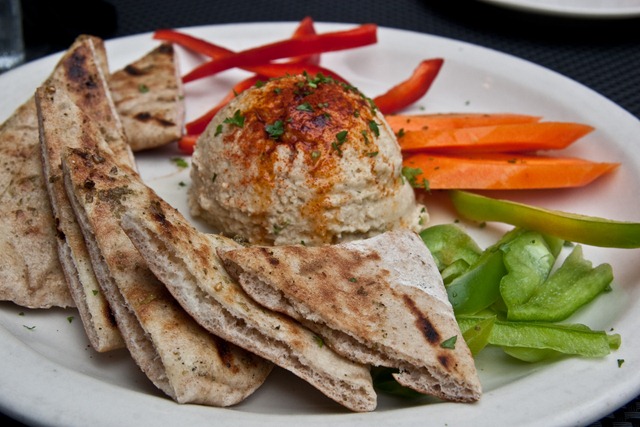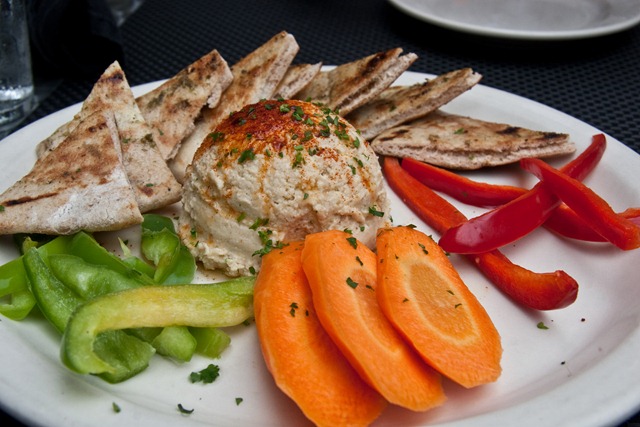 The hummus was all kinds of amazing. Garlicky, but not over-powering. Smooth and silky. Just perfect.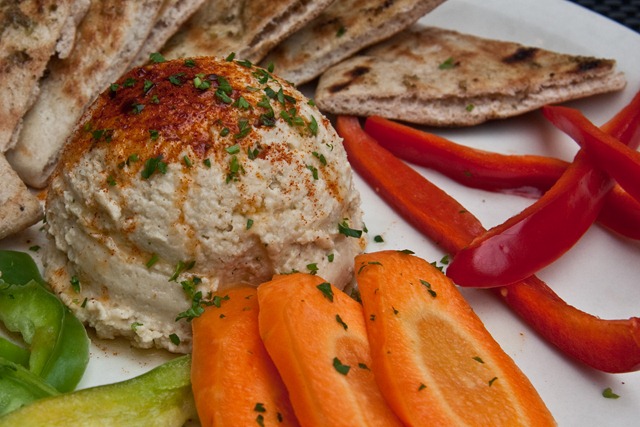 Eric ordered the 'Classic Lasagna' and I ordered the Grilled Veggie Wrap.
The Grilled veggie wrap came with coleslaw and potato wedges: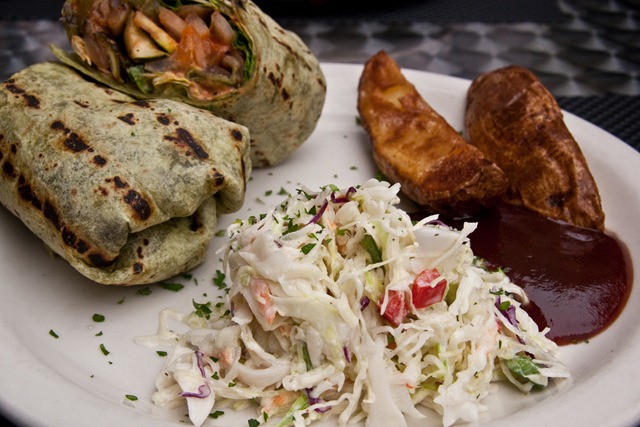 YUM!
The potato wedges and BBQ sauce were amazing. Same with the slaw!!!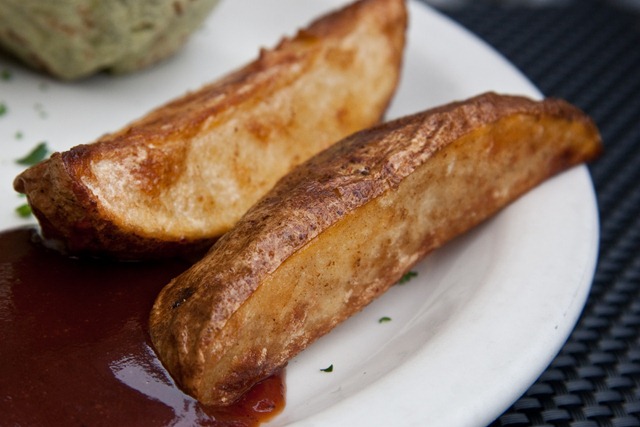 The veggie wrap was my favourite part of the meal. It had this lovely basil marinara sauce that was oozing out of the entire wrap.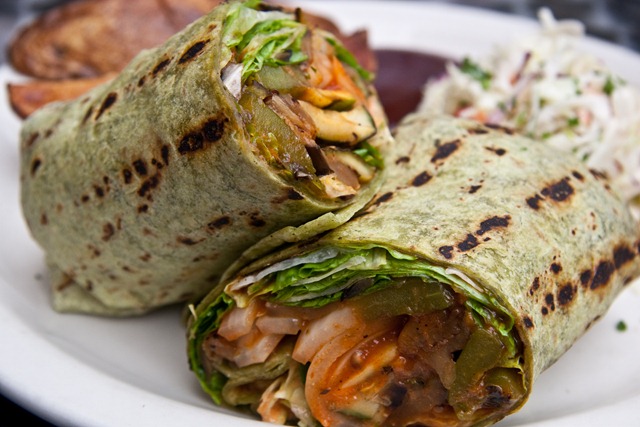 Eric thought the lasagna was really good. He also said he could have done with less tofu in it as he isn't a huge tofu fan.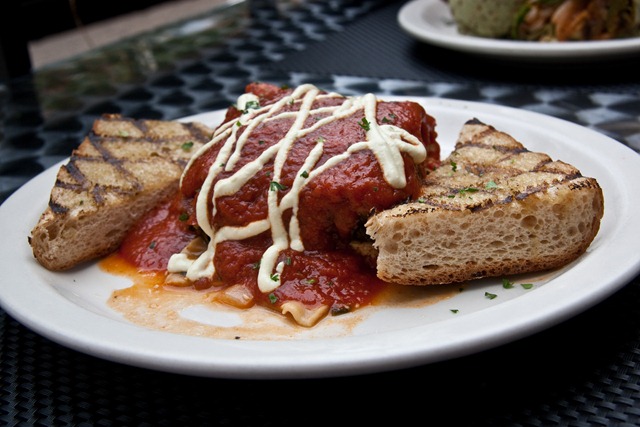 Somehow it disappeared from the plate! ;)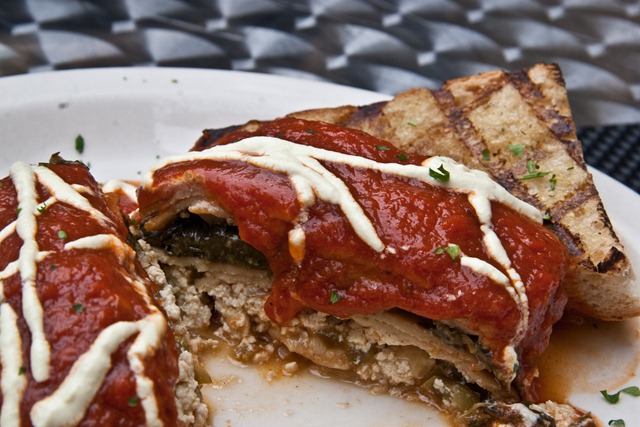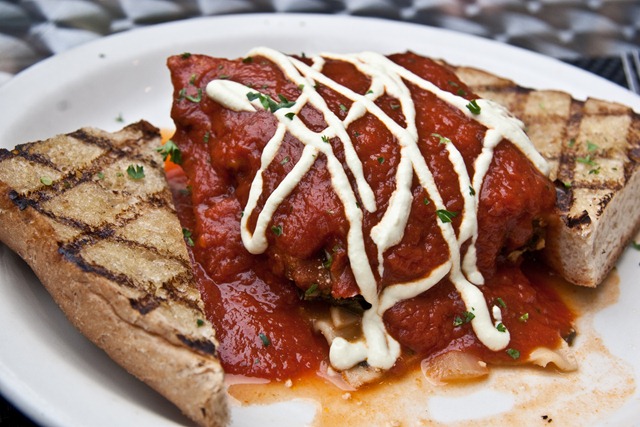 After we ate it started to rain on us so we moved inside for….
Dessert.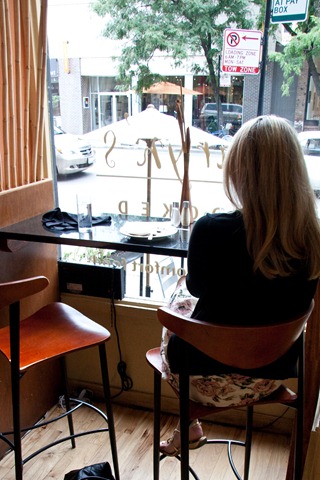 We realized that we have yet to have dessert while in Chicago! The horrors. We knew we had to fix this immediately!
Dear me.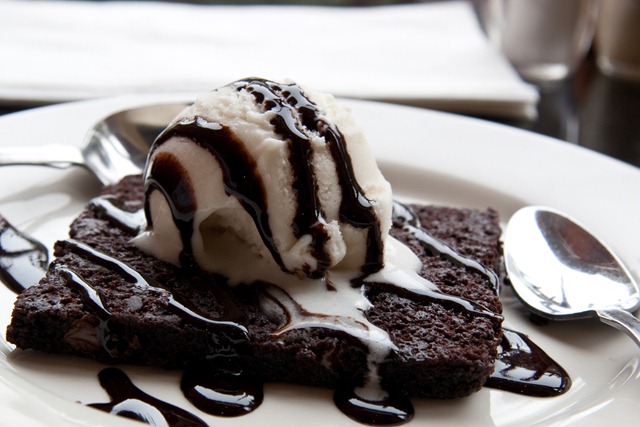 Can we have a moment of silence please?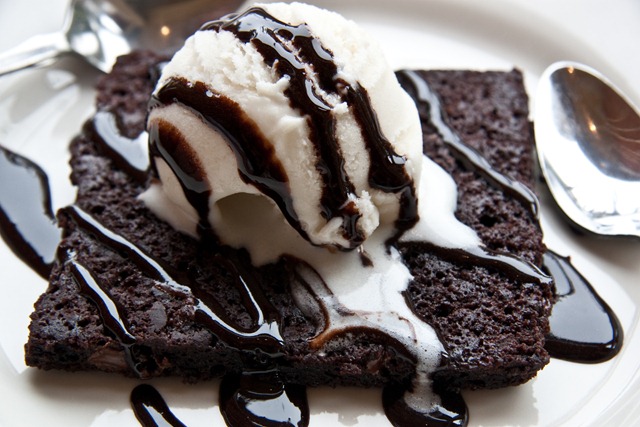 We ordered the chocolate brownie a la mode (with vegan icecream). This was pure insanity. I've never had a brownie made flat like this, but it was genius. Very soft and chewy. I believe the chocolate glaze had carob in it too so it had a lovely sweetness to it. We fought over enjoyed every last bite!!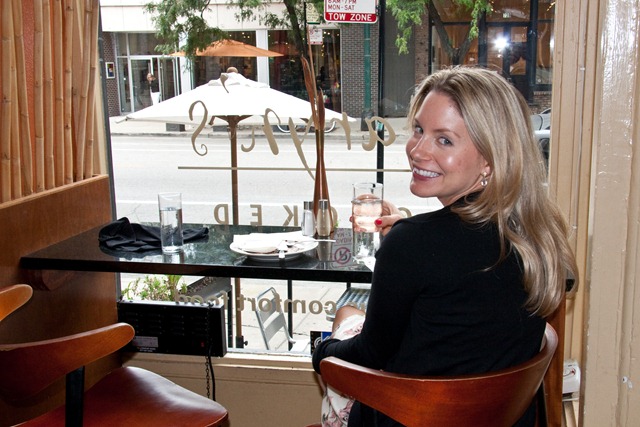 I was so happy and satisfied after this meal. We just sat there for a while in silence. I patted my stomach and thanked my dress for not having a waistband.
After lunch we headed over to the Signature Lounge (96th floor of the Hancock building). I made a beeline for the woman's washroom to see the best views of the city!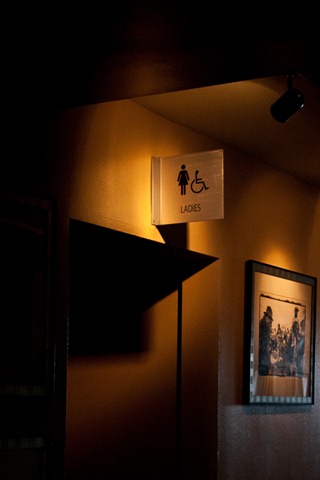 Yup, it's true.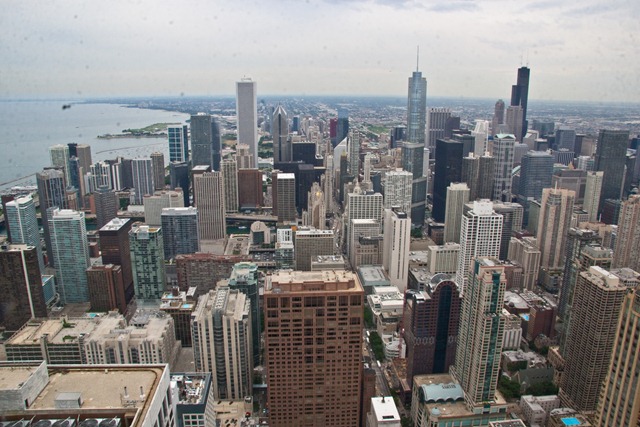 The bathroom has floor to ceiling windows and looks out onto this: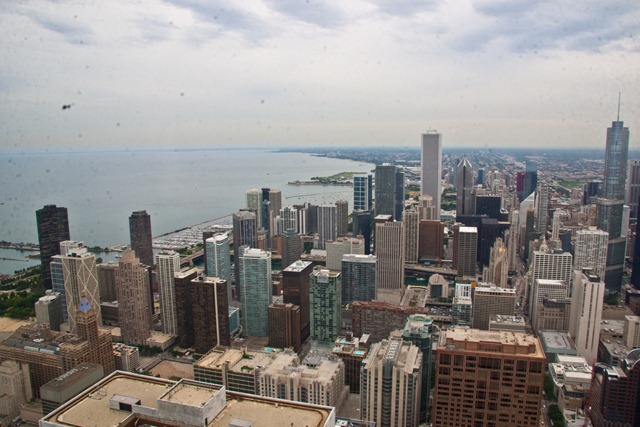 Eric went in the men's washroom and it didn't have one window! bahaha.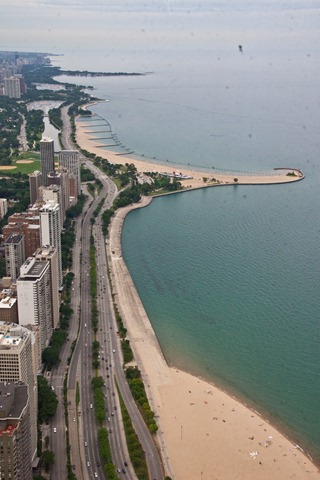 Around 5pm we headed back to the hotel room.
Some nibbling on the Coconut Macaroons from Raw ensued.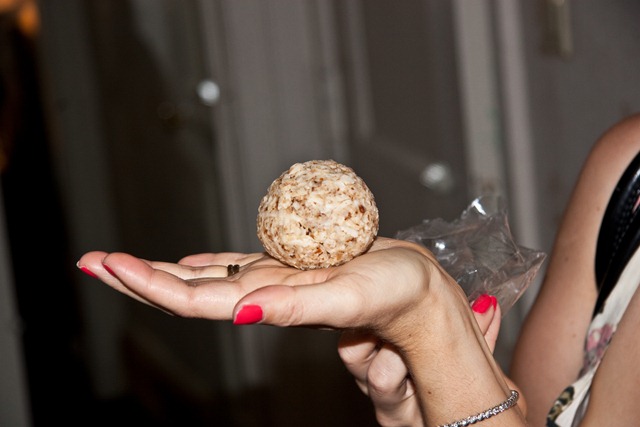 If you are ever in Chicago you must try these coconut macaroons from Raw. I'm so excited to add coconut butter to my macaroon recipe.
We are leaving tomorrow so we are going to pack up our suitcases a bit and head out to a late dinner tonight. See you tomorrow sometime! :)