Good morning!
I enjoyed a delicious bowl of vegan overnight oats this morning. I made this batch heavier on the chia seeds and lighter on the oats just for a fun change.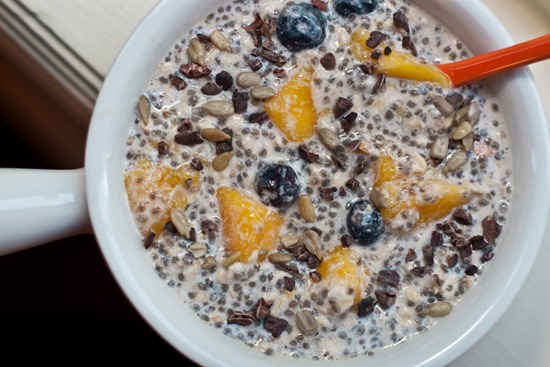 Mango Blueberry Vegan Overnight Oats
Ingredients:
1/3 cup oats
2 tbsp chia seeds
1 cup almond milk
1/2-1 tbsp pure maple syrup
1/4 cup mango
1/4 cup blueberries
Seeds/nuts for sprinkling (I used roasted sunflower seeds)
Directions: In a small bowl mix together the oats, chia seeds, almond milk, chopped mango, blueberries and maple syrup. Place in fridge overnight or for at least 1 hour to allow for the seeds and oats to soak up the milk. When you are ready to eat, top with any other desired toppings and serve.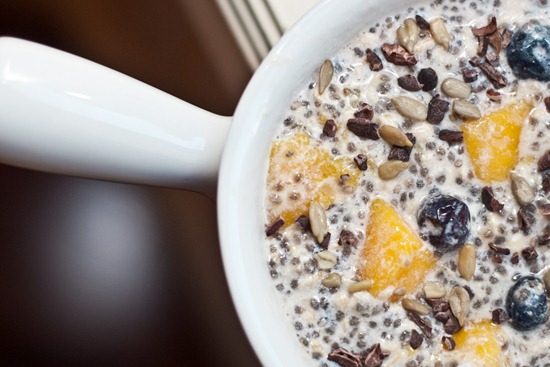 Mango in the oats = awesome.
A Vegan In Paris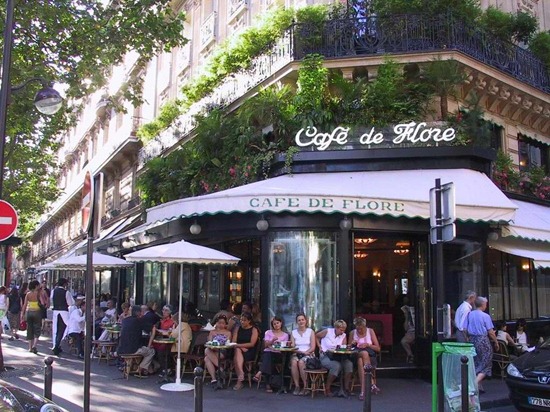 [Source]
Last week, I told you about my upcoming trip to Paris during the 3rd week of September with OSGMOM and my sister Kristi. I said I would talk about how I will eat while in Paris, especially considering that French cuisine is far from vegan.
I actually laughed as I typed this last sentence because French cuisine is pretty much the antithesis of vegan eating. It is quite funny to think about.
You know what though, I'm cool with that. Just because I eat a vegan diet doesn't mean that I think everyone should eat like I do. I understand that all cuisines are different and have certain characteristics that define them, and it just so happens that French cuisine has a lot of cheese, cream, butter, pastries, and meat!
My plan is to have fun like I always do with food and to not worry about it. I want to soak up the culture while in Paris and if that means I have to occasionally soak up some melted chocolate on my croissant then so be it. ;)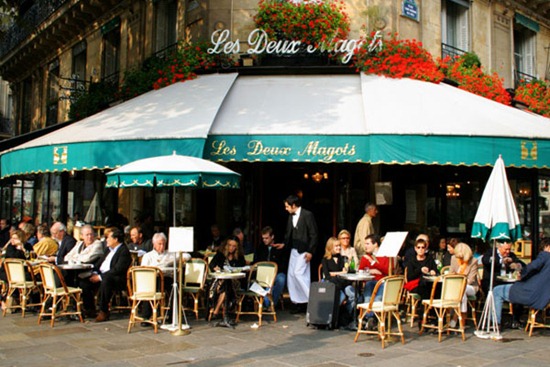 [Source]
Technically speaking, I will have no 'plan' going to Paris. I think it's more fun that way.
Long gone are the days when I used to worry, stress, or obsess about what I eat. Food is fun in my life and I plan on keeping it that way while in Paris. I will roll with the punches and have a good time with it.
Obviously there will be occasions when it is not possible to eat vegan, and I am not going to worry about it. I ate non-vegan for 25 years of my life after all. As far as eating meat-free goes, I don't think that will be a problem. It's pretty easy to find or ask for meat-free dishes at restaurants. I just need to learn how to say that in French. ;)
My plan is to have fun…AND bring you along for the journey!
Like I said, I could come home a coffee-drinking, croissant lovin, bon-bon eating non-vegan.
I can't be sure.
Or I may not come home at all.
Do you have any special diet preferences or needs (vegetarian, vegan, gluten-free, sugar-free, wheat-free, nut-free, etc) and have you had to accommodate them while on vacation or away from home? Have you ever had to 'go hungry' because of an allergy like gluten or nuts, when there were no options available for you? 
Luckily I do not have any food allergies (I have been tested for everything), just sensitivities. My doctor thinks I have IBS. Foods like dairy, nuts, and high-fat foods can be problematic for my stomach in large quantities, so I try to be mindful of this when eating.