Hello there!
Well, my first sleep-in on a Saturday since June was just as good as I hoped it would be! I got home last night around 11pm and my head promptly hit the pillow until 8:30am this morning. I was actually wide awake around 8ish, but I just stayed under the comfy sheets for a while and read some Eat Pray Love– something I haven't had time for all week. It was wonderful. I am almost finished the book. Has anyone read the second book Committed and is it any good?
What else does a gal do on a lovely Saturday morning? She eats a cookie of course! ;)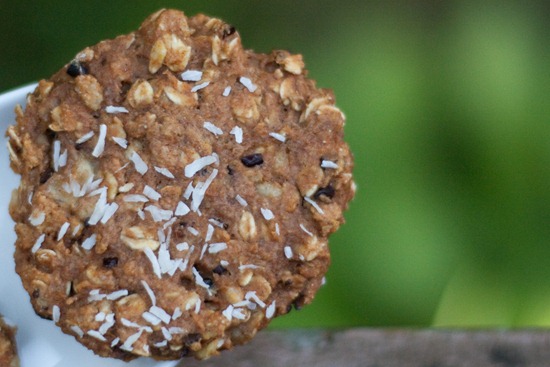 I enjoyed a Pumpkin Pie Banana Chunk Oatmeal Cookie for a little pre-run fuel. Love, love, love these. They are very muffin like and so tasty.
I also downed a couple cuppas of Japanese Sencha Green Tea!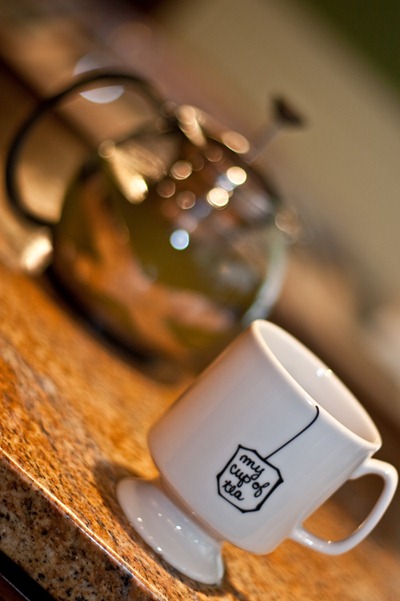 While I love this mug from Urban Outfitters, I really think it should say 'My CUPPA tea' ;) Or maybe that is just the Irish influence I have from Eric's family!
Then I hit the road for my long run of the week. I decided to get my long run out of the way so I had the whole weekend free and open. The weather was also PERFECT for running- just 15C and sunny! I had shivers until mile 1.5, but I loved it. Even by the end of the run, I was barely sweating. A nice change from the humidity!
Long Run:
Distance: 9.01 miles
Time: 1 hour 20 minutes 10 secs.
Avg pace: 8:53 min/mile
Avg heart rate: 151 bpm
Max heart rate: 171 bpm (sprinting at end)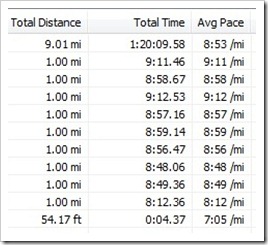 At mile 6 and mile 7 I had a medjool date for fuel. I think medjool dates are my favourite thing to bring with me on long runs as they pack SO many carbs into a tiny portion. I noticed my energy pick up almost immediately and they taste so good. I still plan on trying coconut water soon too and I will do a comparison and tell you what I think.
I also ran the last 4 miles without music and it was really nice for a change! I just listened to my breathing and the sounds of nature around me. It was almost like meditation in a strange way.
Racing Updates:
I am eying the Oakville Half Marathon on Labour Day, which is exactly 1 month away and allows me to get up to a practice long run of 12 miles and then taper the last week. I really want to set a new half PR as I think my speed has improved since May. I also want to run my first 5k!
As for doing another try-a-tri with Eric, we have decided to post-pone another one this summer because we have had no time to train properly for it. The rest of our weekends are booked up for the rest of the summer, so we decided it won't be in the cards for us. We will continue to train 'for fun' here and there though. Eric is really enjoying the biking, swimming, and occasional running and he said he wants to keep at it. :) I will do whatever makes him happy!
I came home a hungry monster and devoured this amazing new twist on Vegan Overnight Oats that I whipped up before I left for my run. You gotta try this one, I am in love with it!
Pumpkin Pie Vegan Overnight Oats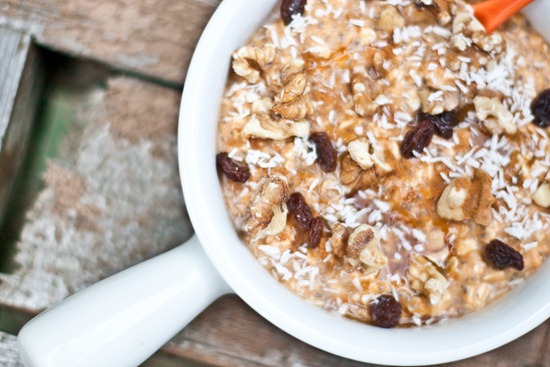 Ingredients:
1/3-1/2 cup oats
1.5 tbsp chia seeds
1/2 tsp pumpkin pie spice (or 1/4 tsp cinnamon, 1/8th tsp nutmeg, 1/8th tsp ginger)
3/4 cup Almond Milk
1/2 tbsp pure maple syrup
1/3 cup canned pumpkin
Walnuts (topping)
1/2 tbsp pure maple syrup (topping)
Raisins (topping)
Directions: Mix the oats, chia seeds, and spices in a small bowl. Now add the Almond milk and maple syrup and whisk until mixed. Add in the pumpkin and whisk again until fully incorporated. Place in the fridge for at least 1 hour or overnight. Top with raisins, walnuts, and maple syrup and enjoy your creamy pumpkin pie oats!
Look how creamy they are!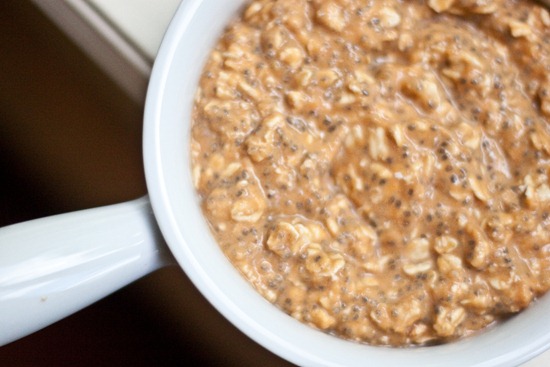 I topped the Pumpkin Pie with walnuts, raisins, coconut, and pure maple syrup!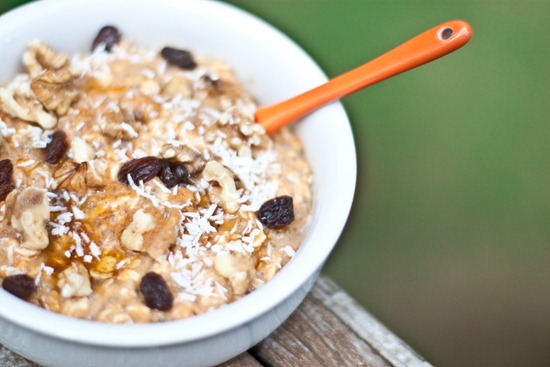 I LOVED these! Tasted like a creamy pumpkin pie!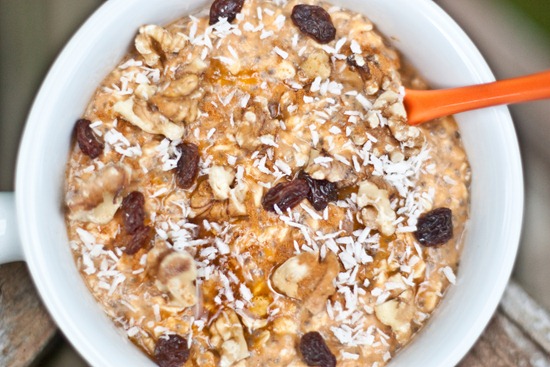 I can definitely see myself making these frequently during the fall season. :)
I also had a huge Yellow Delicious apple on the side as the hunger monsta was still growling from the run.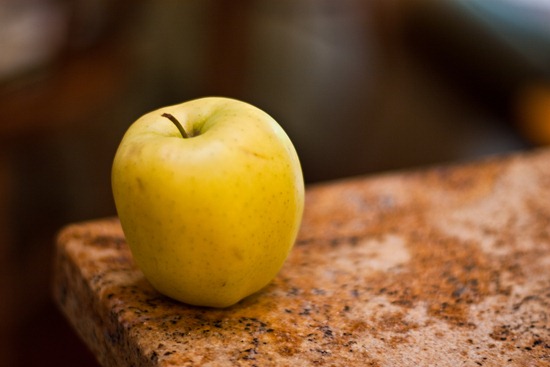 And now for the winner of the Operation Beautiful book…
Congrats to Whitney!
"My happy weight is no weight at all. It is me feeling confident, fit and alive. It is me taking control of my confidence, not needing to get it from anywhere else. I think this is very true: No one thinks about you or worries as much as YOU DO. I am happy to be going strongly towards my happy weight and happy place in general.

Thank you for your post. I would love the book.
Thank you to everyone who entered the contest and left such beautiful comments. Whitney please email me (angela [at] ohsheglows.com] with your mailing address.
We have no idea what we are up to today…and I LOVE that! Enjoy your day and I will see you tonight. :)