Happy weekend!
Loved reading your comments in this morning's Happy Weight post. Thanks for sharing your thoughts and experiences! You have until tomorrow morning at 8am to enter the book giveaway.
After I posted this morning, I snuck out for a quick run to start my day off on the right track. Actually I wasn't sure if my legs would be up for it because I ran 4 miles last night with Eric, so I just told myself I would run to the end of the driveway and back. A simple goal (and a bit funny), but it seemed to work because I didn't feel ANY pressure to run if my body didn't feel up for it.
I find with running, I often don't know how I feel until I actually get out on the pavement. So I got dressed and told myself 'to the end of the driveway and back' and wouldn't you know it once I got out there I felt great– my legs weren't tired like I thought they were. This was proof that my doubts this morning were actually mental doubts and my body told me it was just fine.
I kept it short and sweet since I had a crazy busy work day ahead of me: 3 miles in 26:33 minutes (avg pace = 8:50).
Mile splits:
Mile 1: 9:10
Mile 2: 8:47
Mile 3: 8:34
It was quite possibly the most beautiful, sunny, and crisp morning of the season. I felt like I was floating on air today! Well, except for the crazy hills…but you can't win 'em all. ;)
I have a deliciously healthy cookie recipe for you to kick off the weekend! Yeehaw!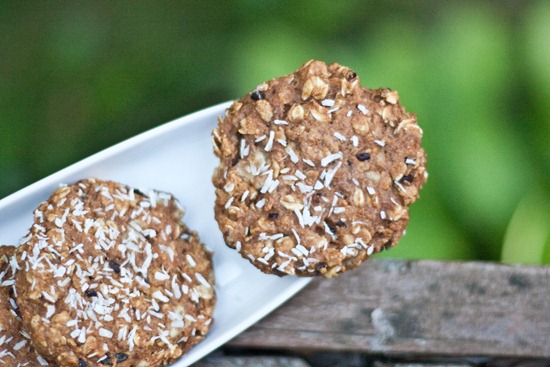 Pumpkin Pie Banana Chunk Oatmeal Cookies
Adapted from Banana Apricot Spelt Oatmeal Cookies (amazing!)
Ingredients:
1 Flax 'egg' (1 teaspoon ground chia seeds or 2 tsp. ground flaxseed + 2 tablespoons water)
1 cup regular oats
1 cup whole grain spelt flour (or other flours will work too)
1/2 teaspoon baking soda
1/2 teaspoon baking powder
2 tbsp chopped walnuts
1/2 teaspoon sea salt
1 teaspoon cinnamon
2 tbsp cacao nibs
1/2 teaspoon vanilla bean paste or 1 tsp pure vanilla extract
1/2 cup pure maple syrup
1 small banana, chopped
3/4 cup canned pumpkin
Directions: Preheat the oven to 375F. Mix flax or chia egg in a small bowl and set aside. Mix dry ingredients in a medium sized bowl and set aside. Mix wet ingredients in a small to medium sized bowl and then add flax or chia egg. Stir. Pour wet mixture into dry ingredients. Stir well and shape cookies onto a pan. Makes 12 large cookies. Cook for 13 minutes at 375F.
Step 1: Mix dry ingredients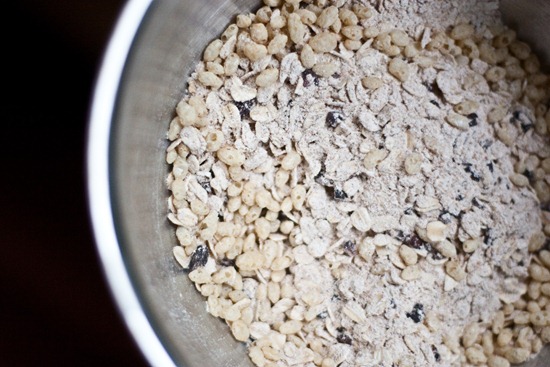 Note: I threw in some rice crisp cereal, but I would not use it again as it didn't add any crunch by the time it was baked.
Step 2: Mix wet ingredients: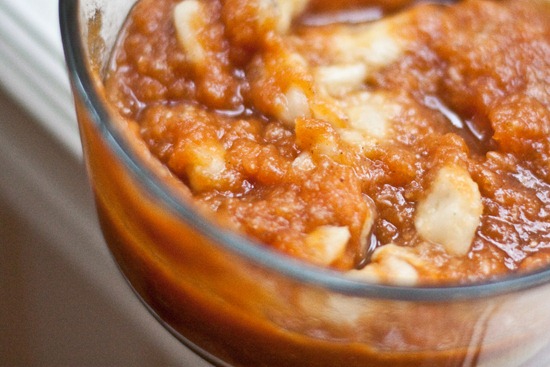 Leave bananas chopped and chunky- this is key!
Step 3– add wet to dry and stir well: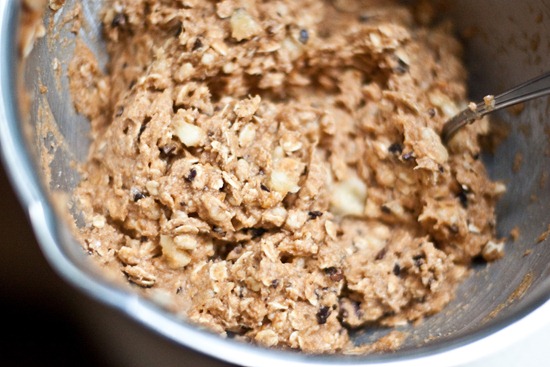 Now place on lined baking sheet and shape into cookies. Makes about 12 large cookies. Bake for 13 minutes.
Friends, it does not get any easier than this!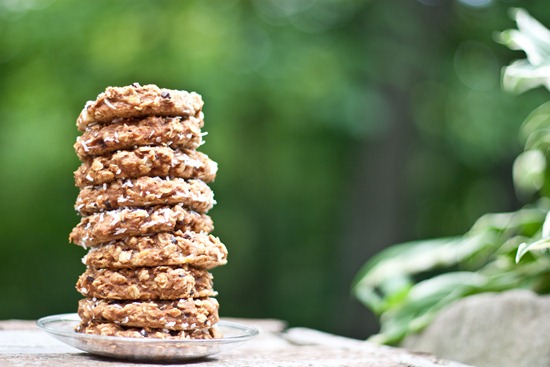 They are not too sweet and are healthy and light tasting.  Pumpkin is also packed with Beta-carotene, Vitamin C, Potassium, and Copper.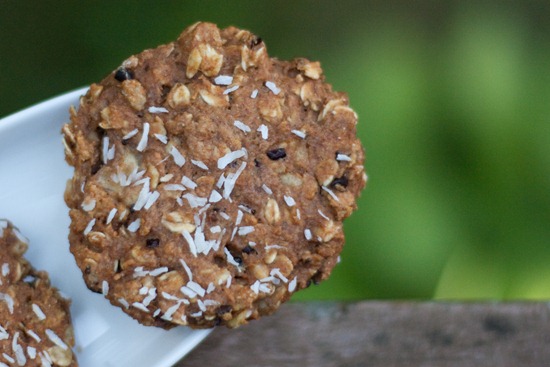 The banana chunks are key- they are so nice to bite into. The cookies are very moist, but without the feeling like they aren't cooked in the middle.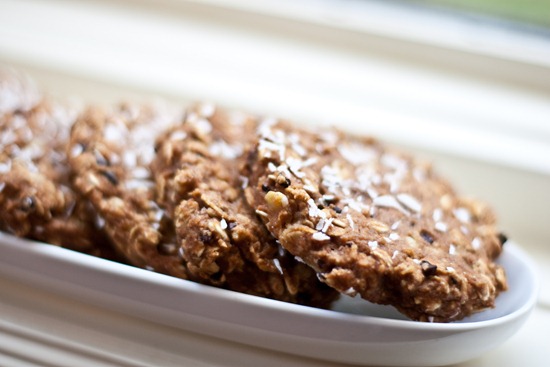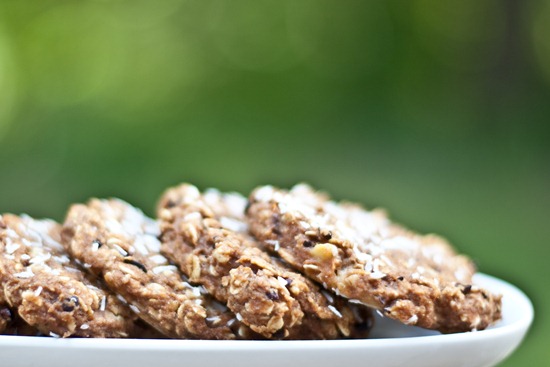 I seem to enjoy stacking things this week… ;)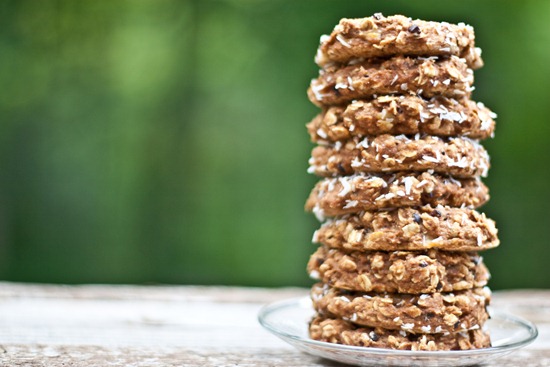 Eric said, 'Are these cookies or burgers?'
Then he proceeded to gobble them up like the Cookie Monsta he is. His verdict: 'Delicious and moist'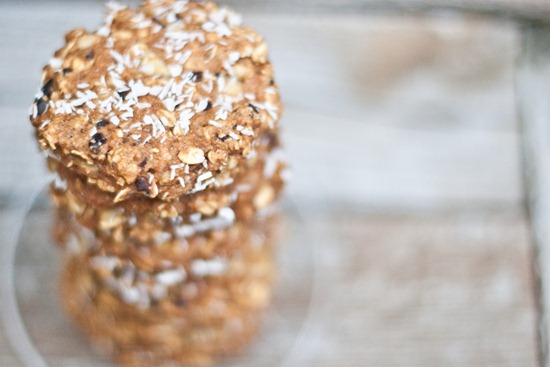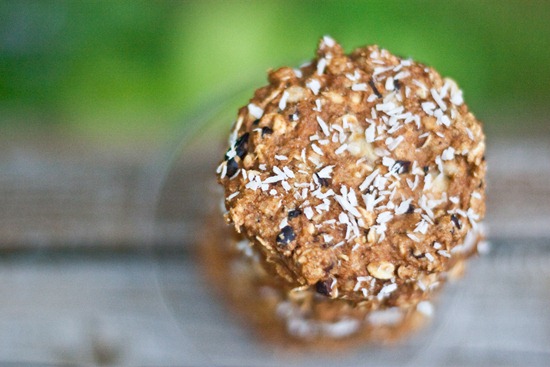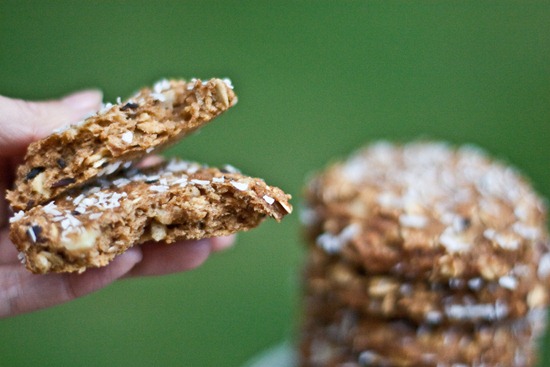 I'm off to bring my girlfriend Jen a basket of cookies! Hope she likes them as much as I do.
Have a great start to your weekend! If you don't hear from me until Monday it means that I am having the first epic weekend of freedom since June. ;)