Good morning!
The Civic Day long weekend is now over! I have a very busy yet exciting work week coming up. This morning I have been working on Kristin's custom wedding favour Glo Bars. I will also be working on the Healthy Living Summit Glo Bars and getting caught up on my orders, stock ordering, and a few other fun projects. Like last year, I am donating Glo Bars for all of the swag bags in the Healthy Living Summit. It is going to be a wild week!
For those of you who missed out on Friday, I have added a few more batches of Gluten-free + Raw Liberate Glo bars to the shopping cart!
Great discussion going on in last night's post. I love reading everyone's thoughts on the topic!
A couple more questions I received are: 1) When/how much meat is Eric eating? and 2) Is Eric eating dairy?
1) He said he eats meat about 3 times a month. We keep frozen organic meat in the freezer when he buys it and when he gets a craving I will cook him some or he will BBQ a burger for himself. He enjoys a juicy beef burger now and then. He does only buy organic meat after watching Food Inc., but the meat he eats when out is not organic. He goes out for lunch at work 5 days a week and he will have meat maybe once a week with veggie options the other 4 days. He now orders all veggie subs without cheese and mayo. I don't think he has had a meat sub since he watched Food Inc. Food Inc really changed the way he viewed what he was eating. He also still has not had Coke/pop since March 2010.
2) He slowly cut cheese out of his diet after the doctor told him his LDL cholesterol was high a few years ago. The doc said lay off the cheese, please! Now he eats cheese once in a blue moon (maybe once every 1-2 months). His blood cholesterol levels are awesome now. He also switched from 2% milk to skim milk. Occasionally, he will have ice cream, but he doesn't buy it to keep in the house anymore like he used to. When it is not in the house, you can't eat it!
Basically, he told me last night 'meat and dairy are no longer staples in my diet, but they are occasional indulgences.'
I thought that was a great way of summarizing it! Eric is hoping to write a blog post on the topic at some point in the future. It has been delayed because he is extremely busy with work lately and he has been working overtime 6-7 days a week. When things slow down I am sure he will be happy to talk about it more. =)
One thing is for sure, I have never seen him happier or healthier in the 10-11 years I have been with him. I think he is really amazed at how much an impact a few diet changes have made.
****
Last night Eric and I went back outside after dinner and did another hour of pruning!! We can't be stopped. I don't know what it is, but I get such a satisfaction from pruning! I have found my calling. I'm sorry I won't be making Glo Bars any more, the shrubs need me. ;)
After pruning, I was hit with recipe inspiration and I went into the kitchen to make trial one of Homemade Protein Chocolate. I was craving chocolate and I was thinking 'wouldn't it be cool to make a protein chocolate?' and 5 mins. later after scribbling down some ingredient ideas, I was in the kitchen!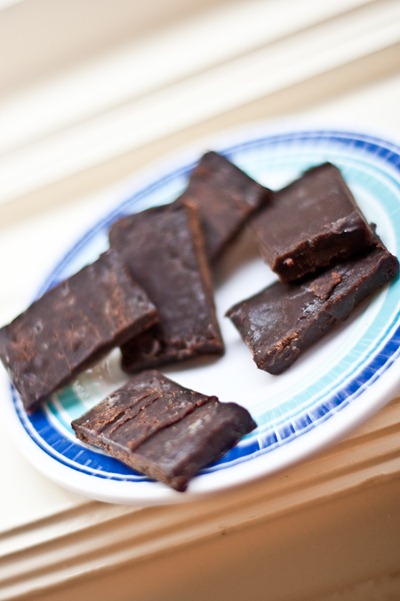 Trial one was delicious, but not perfect. I promise to tell you the recipe when it is final!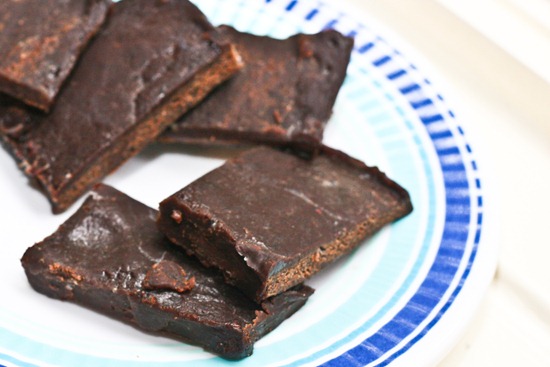 I got up early to go for a run this morning, but when I got up I found that I was SORE from all the renos and yard work yesterday! I decided to listen to my body and give it more rest. If I feel better tonight I might get out for a run, but if not, I will just wait it out another day.
For some weird reason I was craving cereal for breakfast! I usually have cereal for afternoon snacks, but rarely for breakfast as it never fills me up.
Berries, Bananas, Seeds & Spelt Cereal:
1.25 cups Nature's Path Spelt Cereal
1 cup almond milk
1/4 cup fresh raspberries
1 tbsp sunflower seeds
1 tbsp chia seeds
1 tbsp dried cranberries
1 banana, chopped
Sprinkle unsweet. coconut
Mmm it was so good! Not sure it will hold me over until lunch, but we shall see.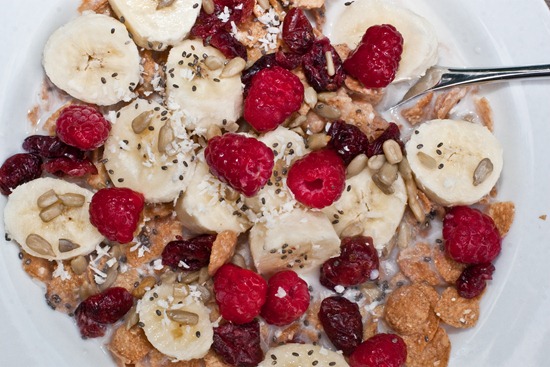 Japanese Sencha Green Tea was enjoyed and is being enjoyed as I type this.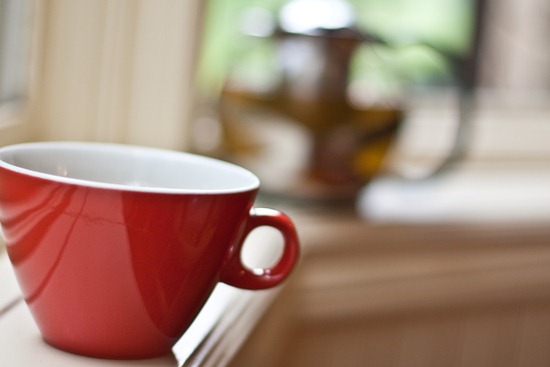 With a Bodum loose leaf tea pot that I adore with all my heart.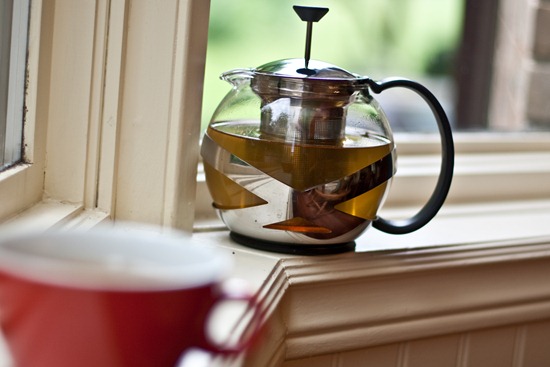 I will see you tonight with a baking clue of where I will be going overseas in September. I hope it works.
Have a great Tuesday!