Hi there =)
We had a really tiring and physical day, but we also had a fun time today. We spent a couple hours in the basement sanding (no pics yet, too much dust) and then almost 4 hours doing yard work. Weeding, mowing the lawn, pruning, removing dead shrubs/vines, etc! Eric said I did a great job today. I beamed with pride (usually I have no confidence with renos and yard work type endeavors!)
A weed-free garden is a peaceful garden!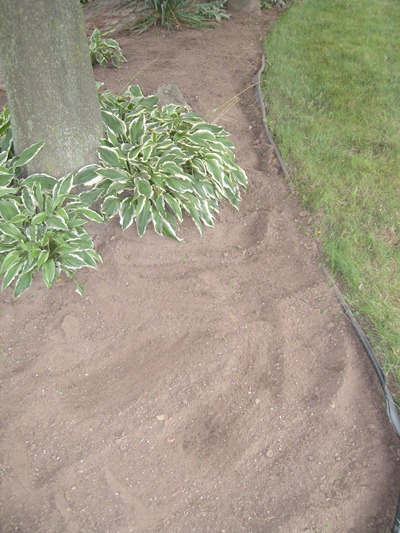 The weeds were out of control as we haven't had any time to weed in over a month!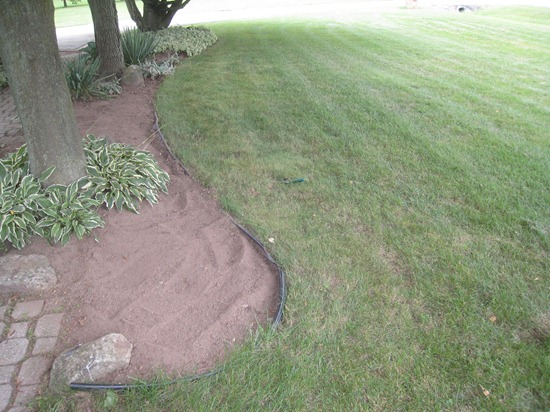 I think these beds need some flowers! All the perennials have come and gone this season. It is sad when their bloom is complete!
Blue Jay feather…we have lots of Blue jays around here.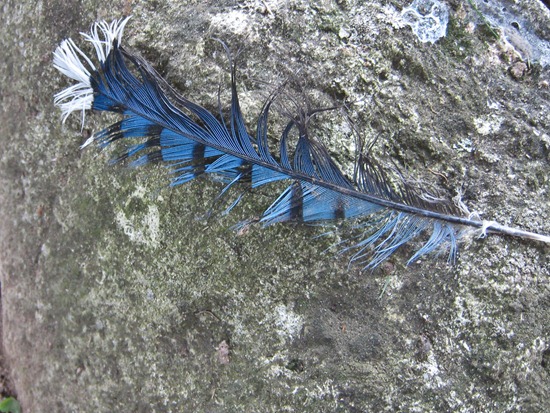 I also discovered a love for pruning…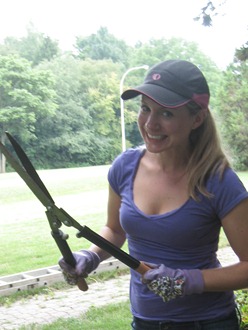 I went a bit crazy, as you would expect.
I sculpted, I designed, I made art. I love pruning because it appeals to my artistic side. I also love symmetrical objects. Very feng shui. Eric kept walking by and chuckling to himself because he said he's never seen someone have so much fun while pruning before. What can I say, I whistle while I work!
While I was busy weeding and pruning, he was pulling out half dead shrubs and vines covering the house.
Even though the work was hot and sweaty and not ideal for a day off, we made it fun by enjoying each other's company. We actually had a great time out there. Many hands make the work light, or however that saying goes! ;)
After admiring our work, we came in and were starving, so I got started on dinner right away.
I made a vegan version of my favourite 7 layer tortilla pie (aka Mexican Lasagna!). It is delish both ways and I highly recommend it!
Mexican Tortilla Pie
Adapted from 7 layer tortilla pie.
Ingredients:
2 (15 ounce) cans pinto beans, drained and rinsed
1 cup salsa, divided
2 cloves garlic, minced
2 tablespoons chopped fresh cilantro
1 (15 ounce) can refried beans
1/2 cup chopped tomatoes
7 (8 inch) flour tortillas
1/2-3/4 cup Mae's humnut cheese sauce
Dried parsley, to garnish
Enchilada sauce (I used for top layer)
Mae's Humnut Cheese* (adapted)
2-3 tbsp hummus
1 tbsp nutritional yeast
A pinch of turmeric if you like your cheese yellow
water to thin
[*Note: I tripled her humnut cheese recipe.]
Directions: Preheat oven to 400F. In a large bowl, mash pinto beans. Stir in 3/4 cup salsa and garlic. In a separate bowl, mix together 1/4 cup salsa, cilantro, refried beans and tomatoes. Place 1 tortilla in a greased pie plate or tart dish. Spread 3/4 cup pinto bean mixture over tortilla to within 1/2 inch of edge. Top with 1/4 cup humnut cheese, and cover with another tortilla. Spread with 2/3 cup refried beans, and top with 1/4 cup humnut cheese. Repeat layering twice. Cover with remaining tortilla, and spread with remaining pinto bean mixture, humnut cheese, and enchilada sauce. Cook for about 35 minutes. Serves 6.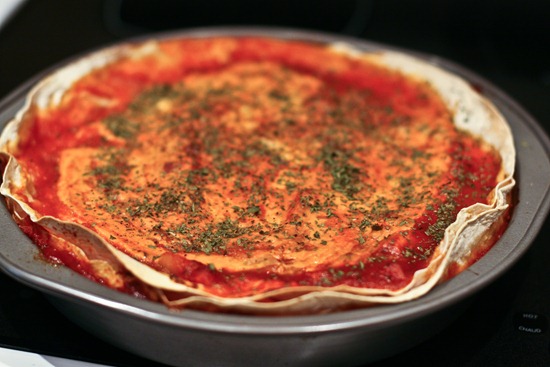 I didn't have 7 tortillas or refried beans, so I made an adapted version, but it still worked out!
I had two slices and Eric had THREE! We were hungry monstaaaaas. In our case, it did not serve 6 as the recipe suggests! lol. It depends on how hungry you are I guess.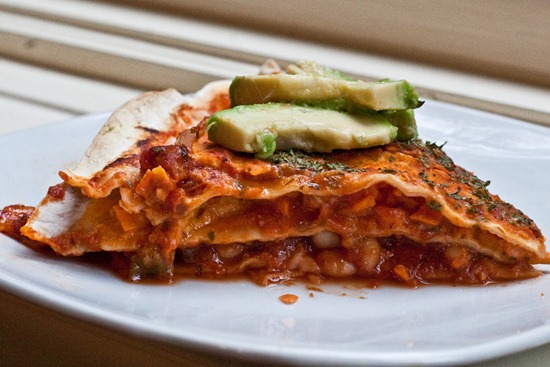 Eric said 'If you keep cooking like this I won't ever need to eat meat again!' , as he shoveled in the pie.
I'm not so sure that will ever happen, but he has cut down meat about 75-80% and he says he doesn't really miss it. I get a TON of questions about Eric's diet- in fact, it is probably one of the most frequently asked questions as of late. I think he needs to start a blog! ;)
Eric does love a good beef burger, so I don't think he would ever give up meat entirely (or maybe I am wrong here)… and that is fine by me. I will support him, just like he supports my choices. I don't think that everyone needs to be 100% meat-free to make a difference. The fact that he is now making healthier choices than he once did, is a positive step and makes a huge impact on the system and his health. Small changes add up to something big! I truly believe this. I don't think that everyone's 'end goal' should be a vegan diet, but I do support awareness and consciousness about our food choices and the opportunity to feel our best with what we put into our bodies. I guess you could say I am pro-educated choice!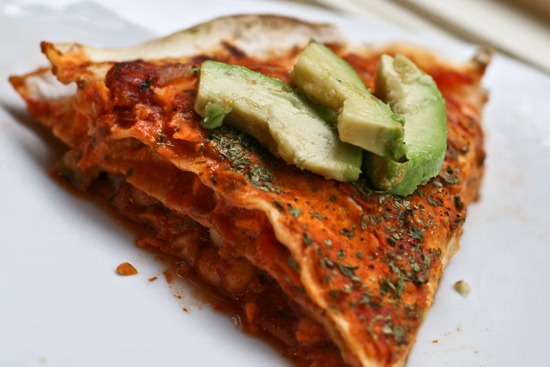 Do you live with someone and if so, do you share the same 'diet' or do you have different eating habits, opinions on what you eat, and different taste preferences? Is it difficult, easy, fun, creative, annoying?