I think I figured out why I like antique markets so much- for the memories! We saw so many cool things today that made us reminisce about our past.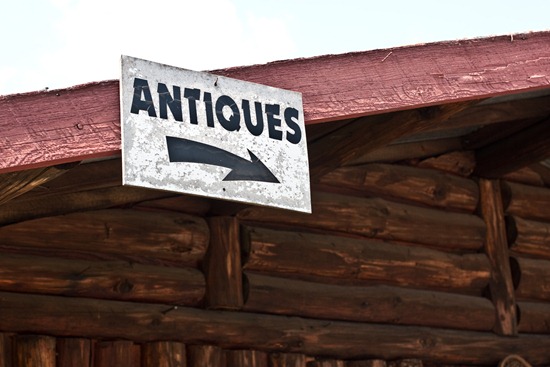 We went to the Aberfoyle antique market today. Eric and I hadn't been since we were in 1st year university. It is located near our old undergraduate university- University of Guelph.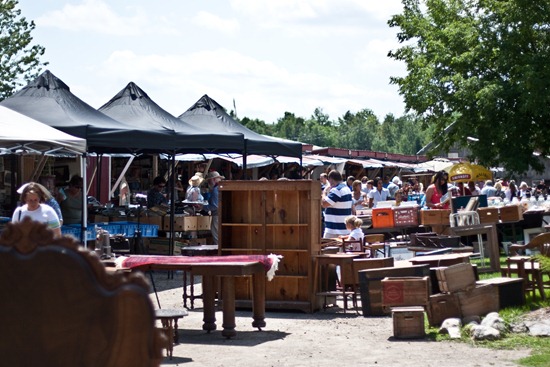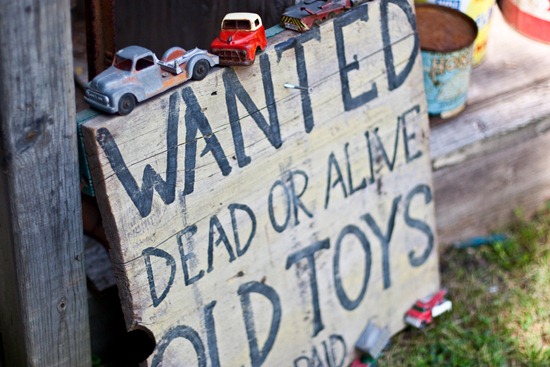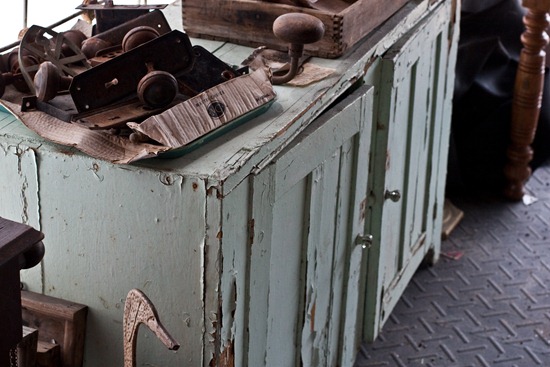 I don't know why but I am DRAWN to old, worn furniture! I love the boat house style. With a little love they could be brought back to life!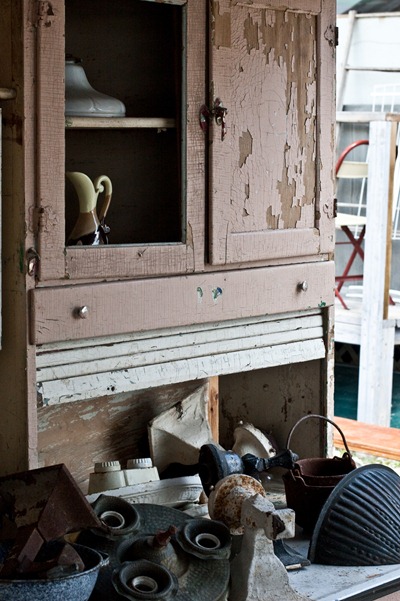 FYI- your baby should have fashion! lol.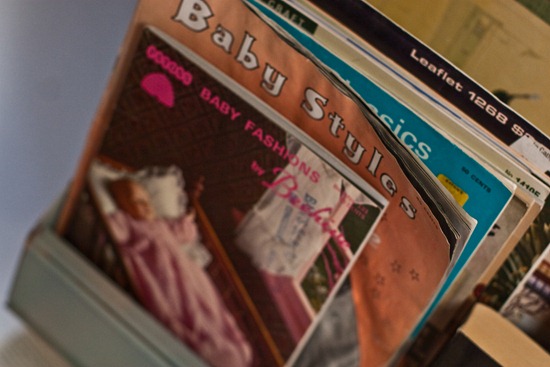 I resisted every urge to have tea with the Queen.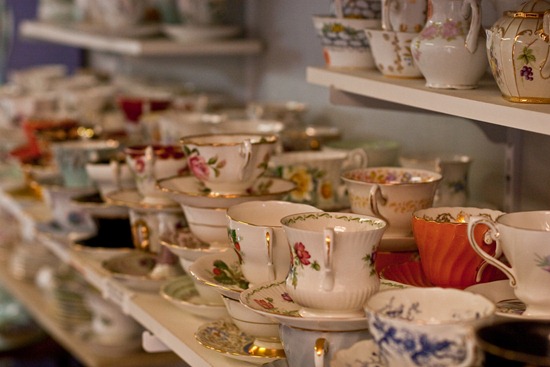 Easy-BAKE!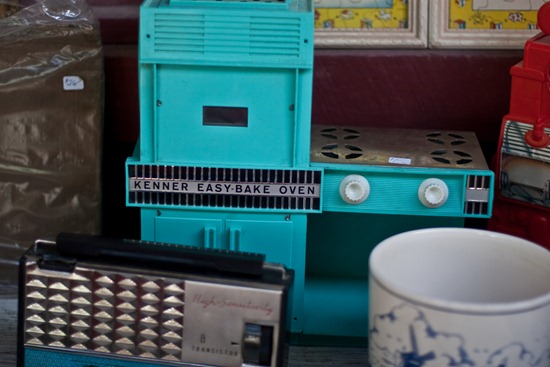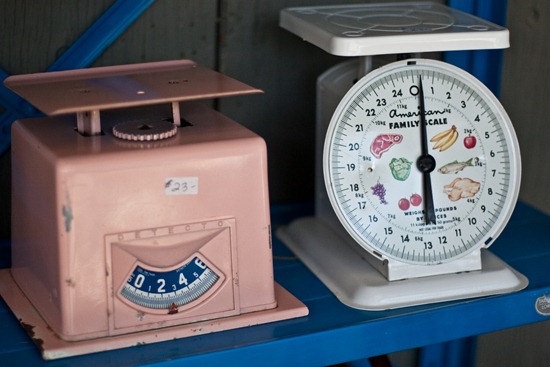 The Crazy Dish Lady was here!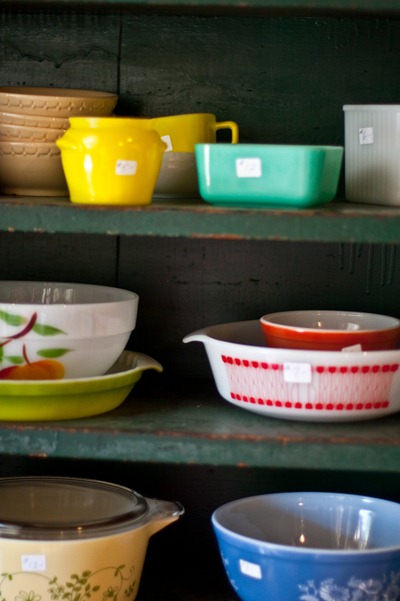 Eric said he was 'so proud' of me for not buying anything today. ;)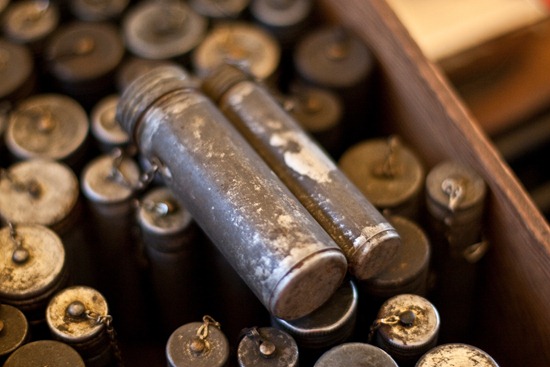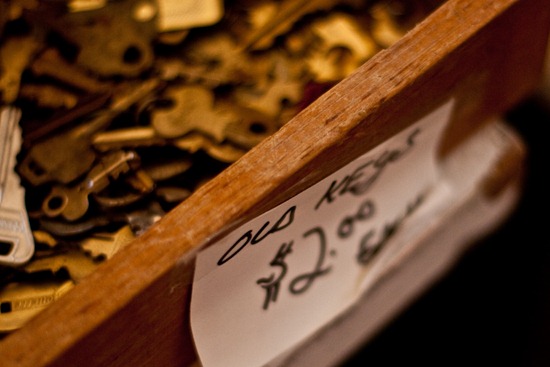 I love old keys. I wonder what they open?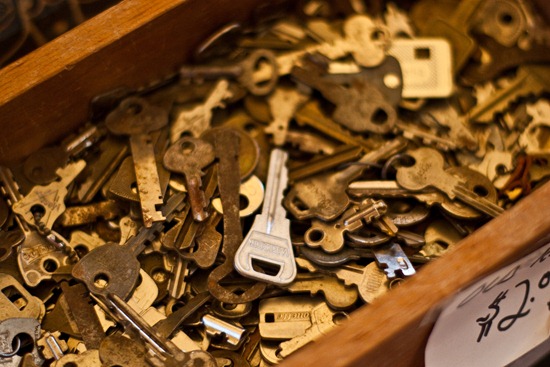 Oh dear.
Those Barbie's need a stylist!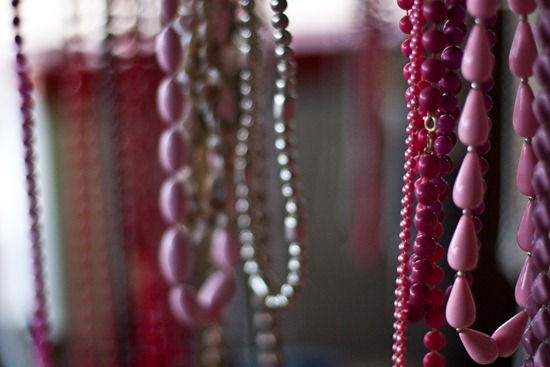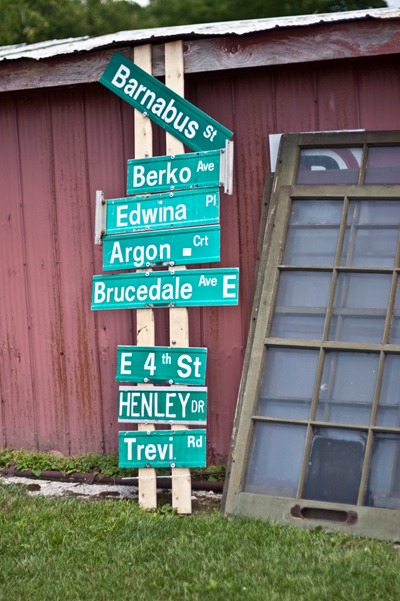 Classic B & V!!!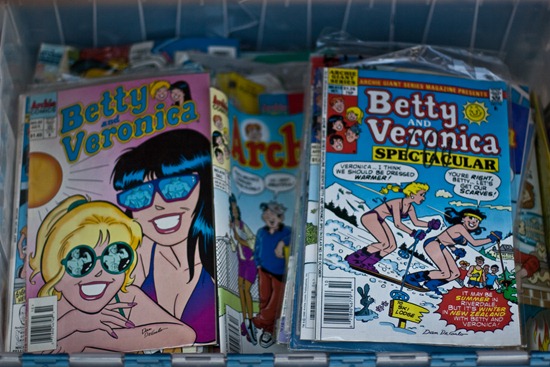 I LOVE old, old worn books. You are transported into another era when you open one.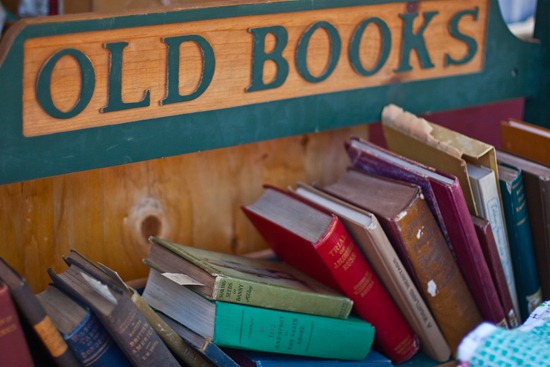 I bought a mannequin leg to hide under the bed for a 'burglar bat'…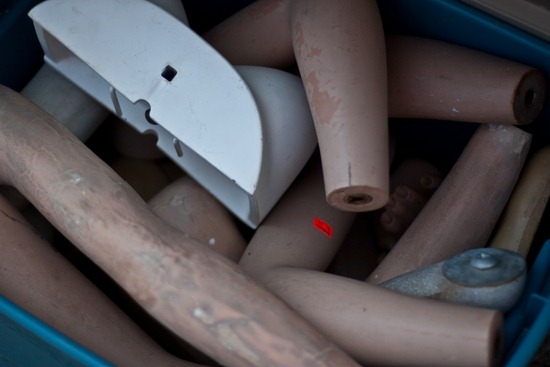 Just kidding. ;) but that would be all kinds of epic.
I've always wanted one of these…
I imagine myself sewing all my clothing and being a total fashionista.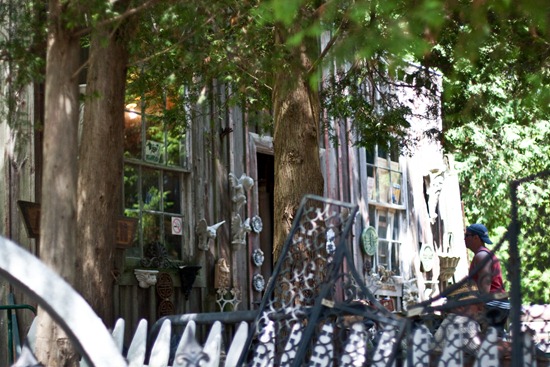 An old rowing machine?! That was our guess…
LOVE old doors.
Little known fact about me: When I was a child I used to have an obsession with COWS. Yes, cows. I had a huge collection of cow paraphernalia. I'm sure it was no surprise to OSGMOM when I became a vegan…! I have always been a huge lover of all kinds of animals.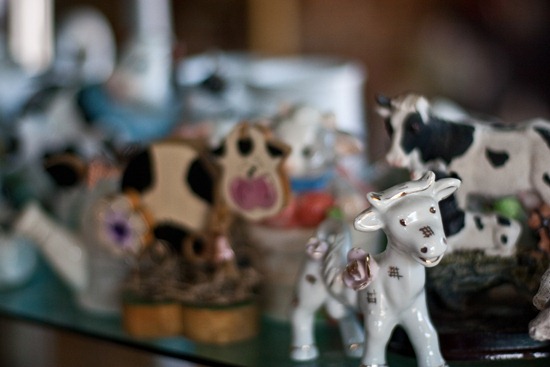 I used to have this cash register!!!!!
GOSH I loved it- especially the plastic coins inside!
I debated buying it for our future children…but I was distracted by this…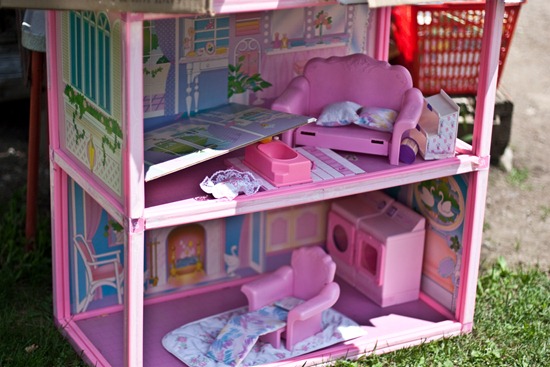 I'm pretty sure I had this too (or something like it). Maybe OSGMOM can verify? :)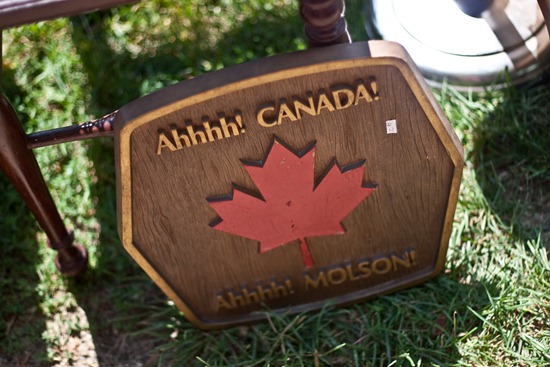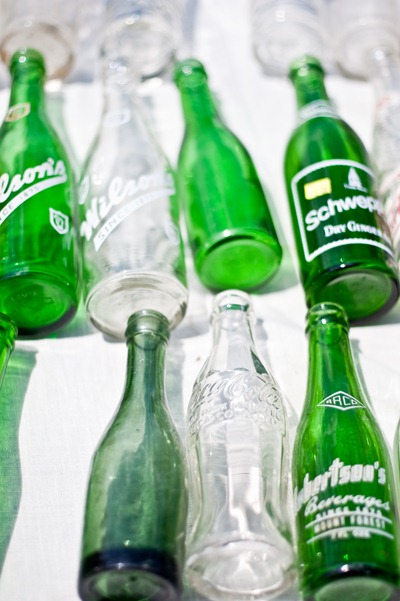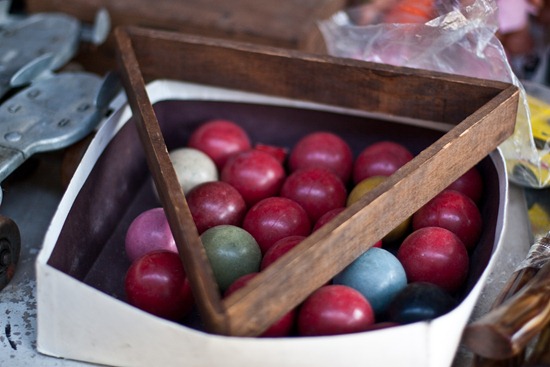 I love snowshoeing!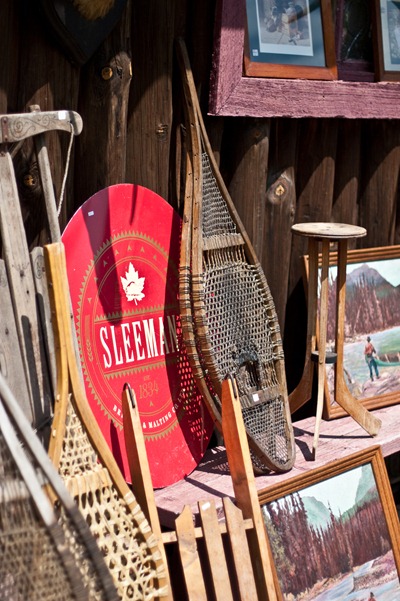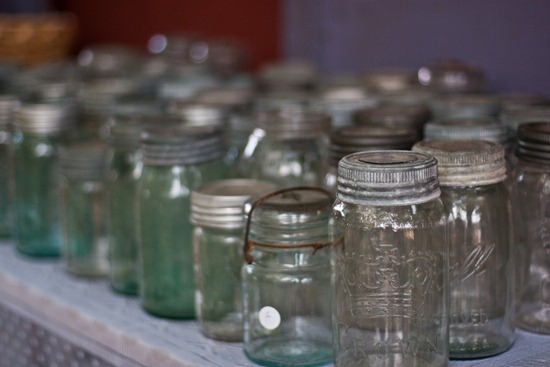 She be chillin'.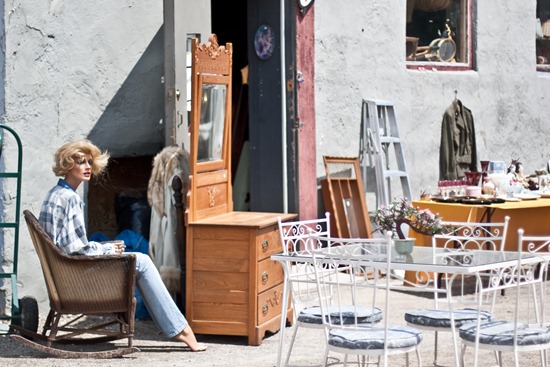 Eric and I saw this white & very 'rough' china cabinet that would have been PERFECT to refinish and fix-up for our kitchen dining area, but it wouldn't fit in our car. =( It was marked down to just $50! We were so sad because we wanted it so badly and we were excited about having a piece of furniture to work on and bring back to life. It was gorgeous! I guess it wasn't meant to be though.
Afterwards, we drove by our old university!
Sorry the shots are so poor, I was in the passenger side of the moving car and had my macro lens on!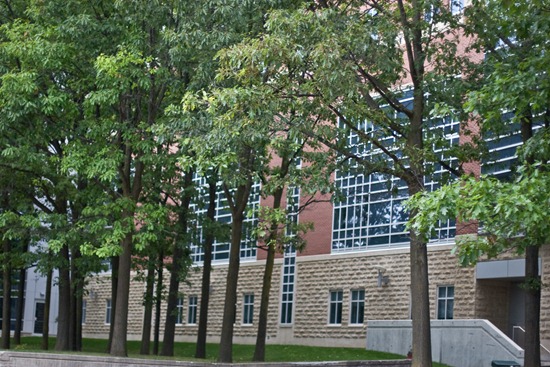 The thing I loved best about U of G is the beautiful campus, trees, and buildings.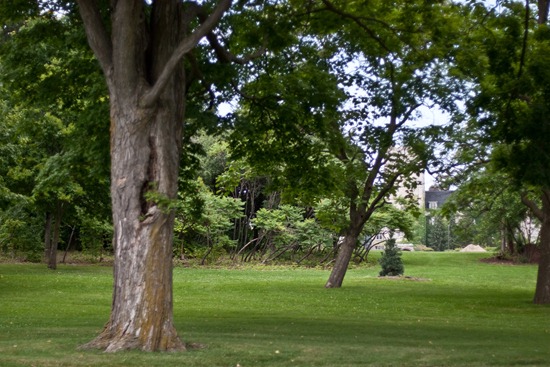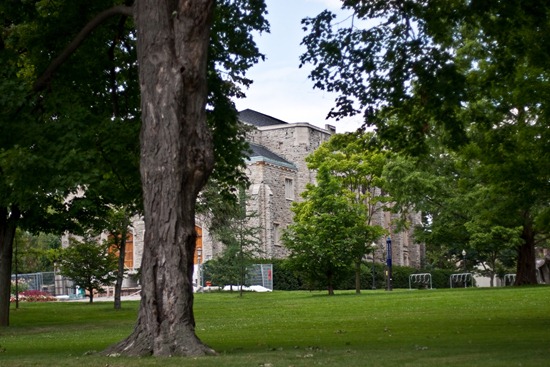 Then we drove downtown to go out for lunch.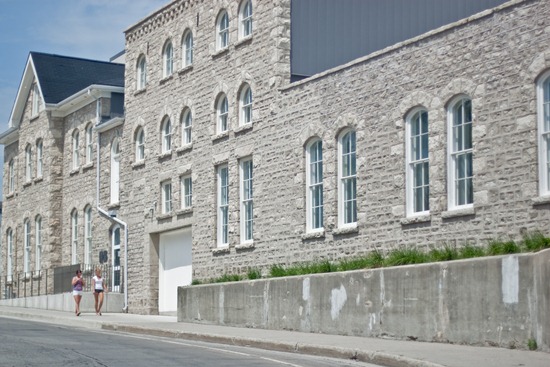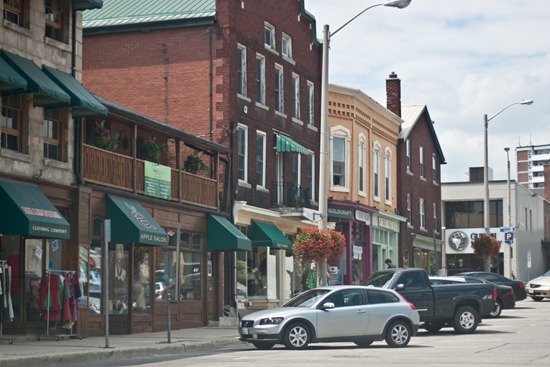 We tried out a vegetarian restaurant in Guelph called The Cornerstone. It was here the entire 5 years we lived in Guelph and we never once went to it! We both thought it was a coffee shop from the outside so we never bothered to go inside (we aren't coffee drinkers).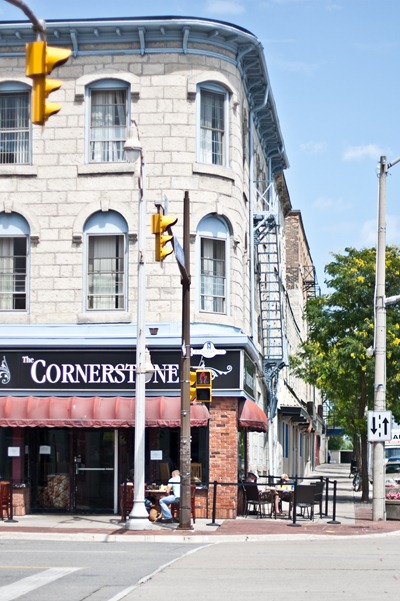 The inside decor was pretty cool. High industrial ceilings with an open kitchen and lots of bar tables and stools. The downside to this place was no air conditioning. With the open-kitchen, it must have been over 100 degrees in there today. We were very uncomfortable and sweating at our table.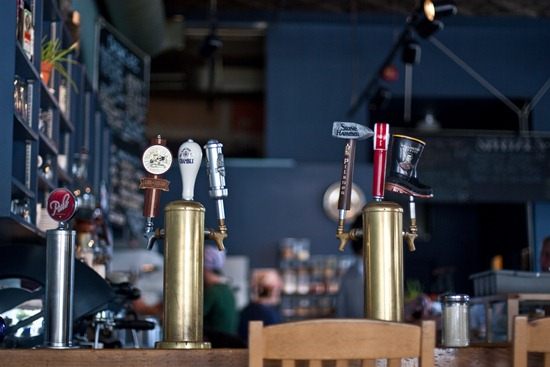 We guzzled this to stay cool…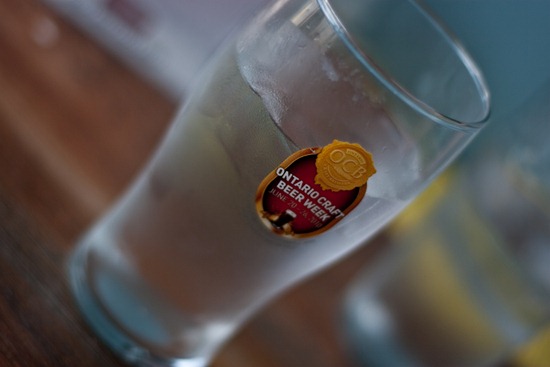 Poor Eric was so hot he said 'I'm sticking to my chair'.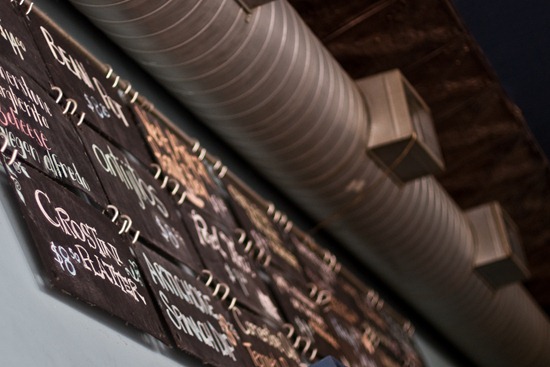 We got the Garlic costini along with sun-dried tomato, hummus, and artichoke spreads for an appetizer. It took about 45 minutes for our appetizers to arrive. It was already 2:30pm at this point and we were starving.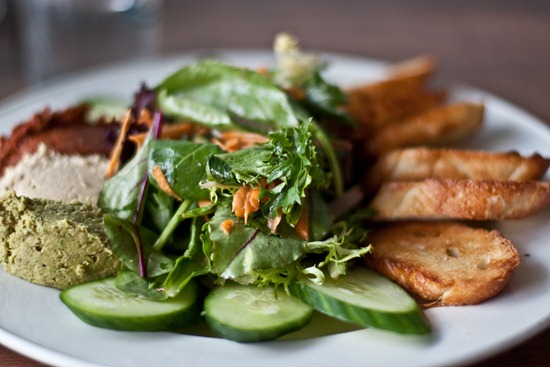 It was delicious and we ate 90% of it.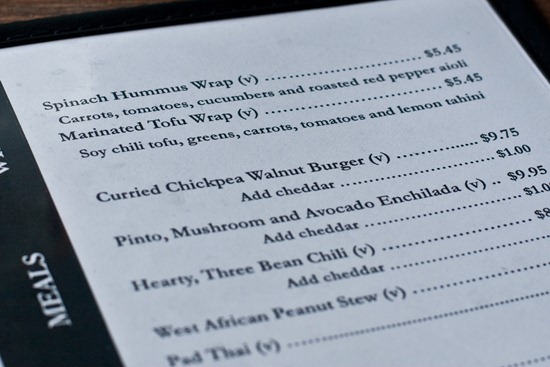 For my main, I had a spinach, hummus, carrot, cuke, and roasted red pepper aioli whole wheat wrap.  By the time our main courses arrived we had been waiting for 1 hour 20 minutes. It was clearly an issue of understaffing as all the servers seemed very flustered and rushed.
The wrap was pretty good (but I think anything would taste good after 1 hour 20 mins).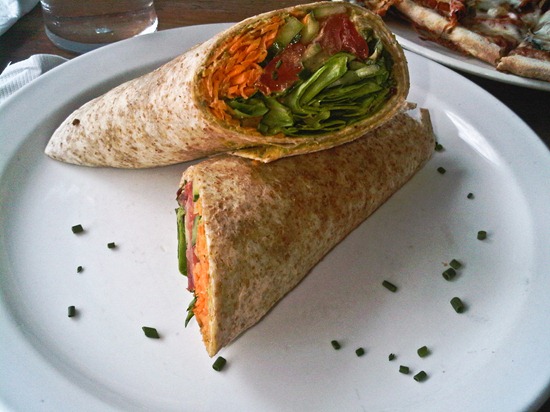 Eric got the veggie pizza and he enjoyed it too.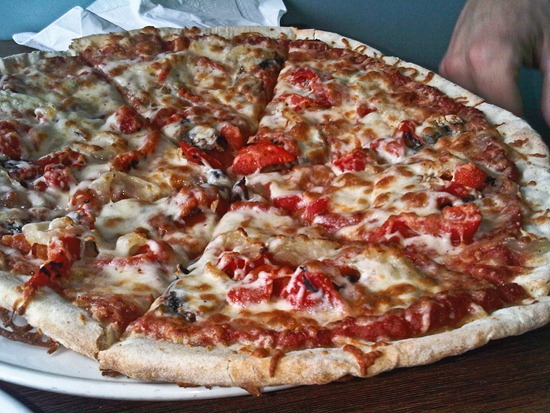 All in all The Cornerstone had good tasting food in a nicely presented manner. They also had several vegan options on the menu clearly indicated with a 'v' (loved that!). On the downside, we probably would not go back due to the long wait time and the uncomfortable & hot atmosphere.
Well, it is almost time to eat again. We are going to do a huge BBQ tonight! I am even BBQing a special dessert that I can't wait to show you. I hope it turns out.
Have a wonderful evening whatever you are up to!