Good morning!
I got up and got my long run out of the way this morning. It was a clear and crisp morning (around 19C). I had a Run Glo Bar before heading out for some fuel.
The run:
Distance: 8 miles
Time: 1 hour 12 mins 22 secs.
Avg pace: 9:02 min/mile
Mile splits are in the chart below…note that I ran each mile faster than the previous ones! This took some hard core sprinting at the end of miles 5-8 to achieve this goal.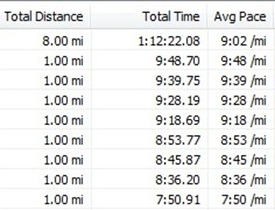 It might be the strongest run I have had since my 3rd half marathon on May 30th! My music highlight today was a way back play back- Castles in the Sky by Ian Van Dahl. Love it!
Fueling For Long Runs:
When I do a long run over 6 miles, I always bring some food with me for fuel. Today I brought two medjool dates (chopped and pitted and in a bag) and I had half at mile 6 and the rest at mile 7. It gave me such a boost!
I have been thinking about trying coconut water for my long runs because I have heard so many great things about it. Has anyone used it before and want to share their thoughts?
When I got home I made a huge, delicious, mouth-watering green monster in Her-Mix-A-Lot! Mmmmmmm.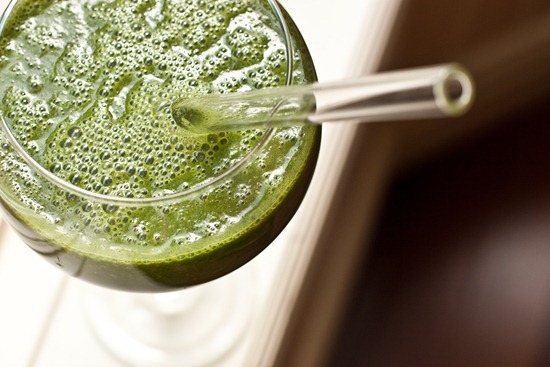 Post-Run Green Monster:
2 cups spinach
1 cup almond milk
1/2 scoop Amazing Grass Chocolate Amazing Meal Protein Powder
1 large frozen banana
1/4 cup frozen blueberries
1/2 tsp maca powder
1 tbsp chia seeds
1 tbsp coconut butter
It was INCREDIBLE! Highly recommended for post-run replenishment.
It's that time again. Some of my favourite health links over the past week…enjoy!
Health News Round Up
Spotted:
Today's question: How do you fuel for long-runs? What works for you?
Well, I'm off to get ready for the Antique Market. Very excited. I will bring the camera and show you what treasures we come across! Enjoy your day.