Top of the morning to you!
I had a fabulous 8 hours of sleep last night! Wheeeeee. No nicky nicky nine door antics. This is progress.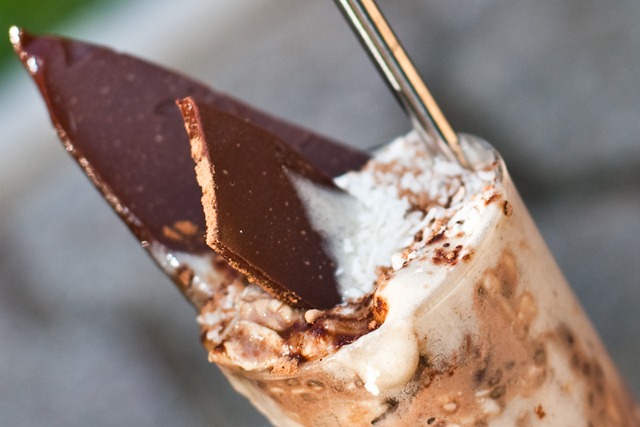 My Vegan Overnight Oat Parfait was killer this morning. I feel like I haven't had one in forever!!! Her Mix-A-Lot has been getting all of my love and adoration lately.
Carob, Cacao, & PB Vegan Overnight Oat Parfait
Ingredients:
Carob Vegan Overnight Oats (1/2 cup oats, 1.5 tbsp chia seeds, 1.25 cups almond milk, 1.5 tbsp carob powder)
Peanut Butter Banana Soft Serve (1 frozen banana processed with 1 tbsp peanut butter)
1/4 cup Rice Crisp cereal (for layering)
Cacao nibs (for layering)
Carob powder, for garnish
Homemade raw chocolate, for garnish
Unsweet. coconut, for garnish
Directions: Make the carob Vegan overnight oats by whisking the ingredients together in a small bowl and leaving in fridge overnight or for 1-2 hours. In the morning, Make the PB Banana Soft Serve. Layer the soft serve with the VOO, cacao nibs, and rice crisp. Sprinkle with carob powder and coconut. Add two chunks of homemade chocolate and enjoy!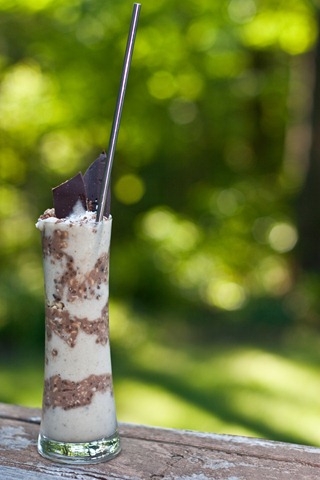 This was incredible! I love, love, love the rice crisp added as a layer in the middle. Same with the cacao nibs. So crunchy!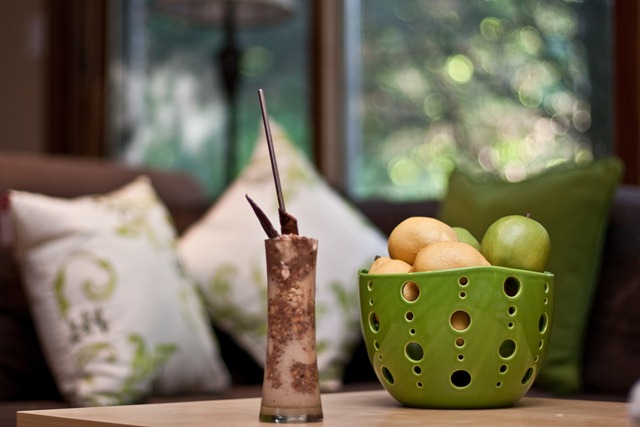 My Simple Decorating Trick: Pick a colour scheme!
Ok, so last night I promised you some decorating footage!
On Sunday, I realized that Eric and I still had gift cards that were given to us for wedding gifts almost 2 years ago! We had gift cards to William Sonoma, Pottery Barn, Winners, and Crate & Barrel. I asked Eric to come with me and he said he 'trusted me' to do it alone. aka…he hates shopping! So I tackled it myself like a champ. One of my favourite things to do is decorate, so I didn't mind.
We finished renovating and painting the family room in Fall 2009. And then we left it. No decor, no colour, nothing on the walls. We were scared.
It occurred to me that the reason why we never 'finish' decorating rooms is because we never develop a colour scheme to guide us.
I thought the colour scheme of chocolate, lime, and lemon would look awesome together (with yellow and green being the accent pieces). I picked those colours because there is a lot of chocolate already in the room (couch, wood, bricks) and I picked yellow and green because there are some engagement pictures I want to blow up that have yellow and green in them. The room naturally has lots of green in it with the large windows and the trees in he backyard too.
Now that I had three colours in mind, it automatically narrowed down a ton of options. I didn't feel overwhelmed as I usually do when looking for home decor. I just scanned the stores for those three colours and it was so much easier!
One great way to add accent colours is with fun and bright pillows…
The two pillows on the right are from Crate and Barrel and the one on the left is from Wal-mart.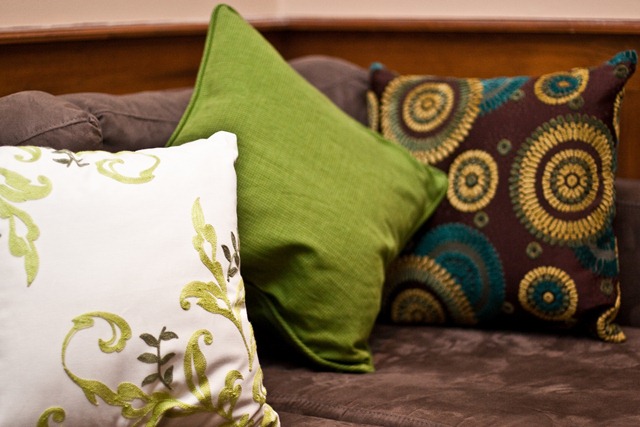 I got 6 so far and might pick up another 2 or 3 as I see fit.
I love how something as simple as pillows can transform a room!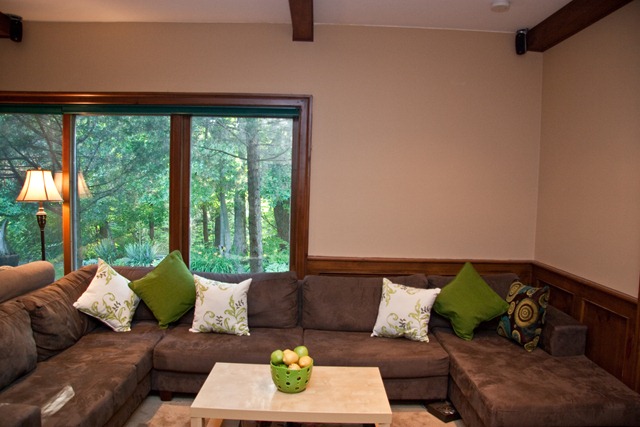 Then I bought some accent pieces to add to the room…
This lime green pot is from Winners and the faux fruit are from Pottery barn.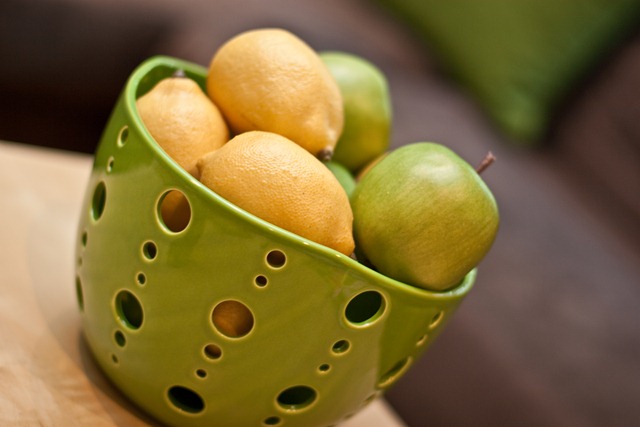 Love this sculpted piece from Winners.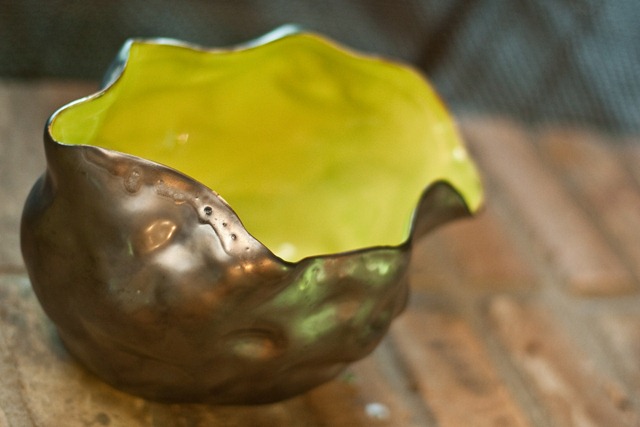 Also both from Winners!
The lemon tree is from Pottery Barn (sorry the pic is blurry!)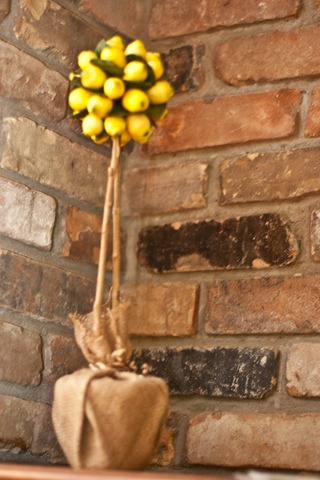 Right now all of that stuff above is on the fireplace because we don't have any family room furniture aside from the couch and the Ikea coffee table.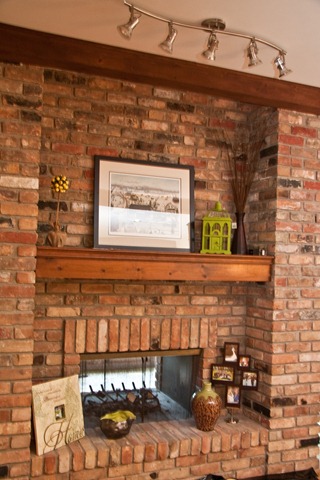 My plan for the fireplace is to remove the large picture on top and add a print with the accent colours to give it more of a pop of colour. Maybe one of our wedding or travel pictures would work there?
I would love to purchase a nice coffee table, corner chest, and small table, but that won't be for a while. I drooled at all of Crate and Barrel's furniture…they have some gorgeous things in there.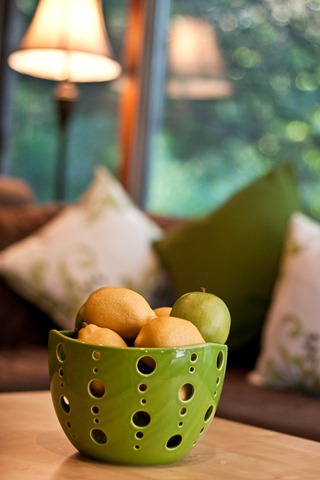 What I am focusing on right now:
1) Prints for walls (see below)
2) Coffee table
3) Decorative Curtains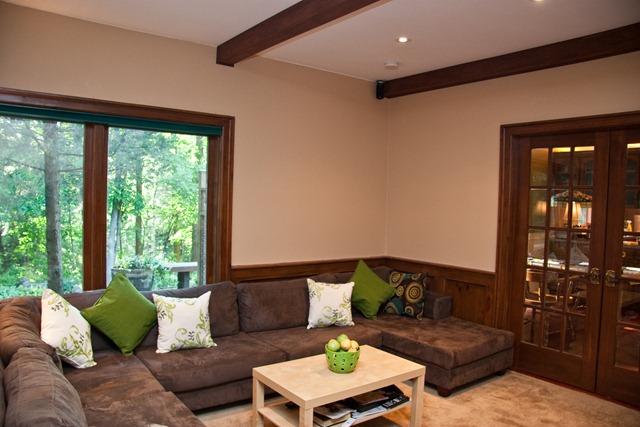 Something is definitely still missing to pull this room together!
We will also eventually be putting hardwood on the floors and removing the carpet.
I want to do prints of a few of our engagement pictures. I am going to pick some with the most vibrant green backgrounds. Luckily we have a lot of engagement pictures with bright green in the background so it works perfectly! I am going to do one huge one and 2 smaller ones.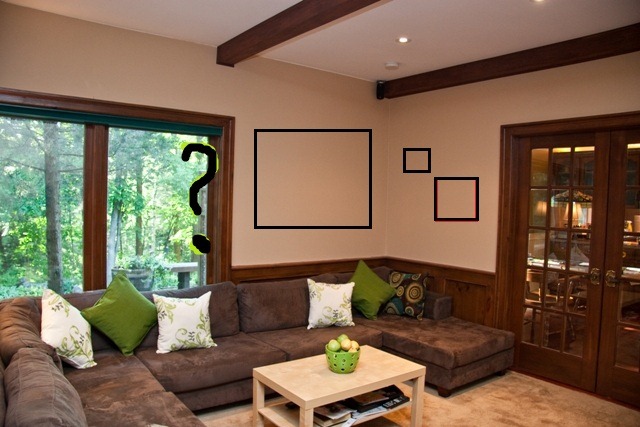 I also want to hang curtains, but I find it so difficult to figure out what would look good!
Ideas?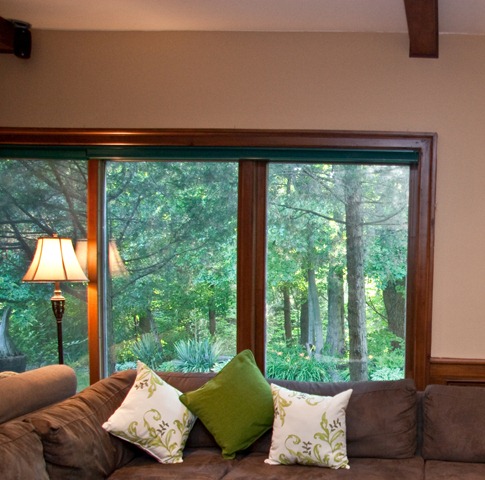 I really dislike the hunter green blinds that are up right now. I would like to keep them up though because they were custom made and they are good when you need to block out the light. I would just like something to cover them up.
I also haven't showed you the other side of the room with a fireplace. I will do that in another post.
Today's question: Do you have a favourite room right now in your living space? Do you have a favourite colour scheme or colours that you are drawn to for home decor?
I am also looking for a colour scheme for the entry way and eventually dining room. Right now we have Biscuit by Sherwin Williams on the walls of the entry way, but that is it.
I've got a busy day of work and I am going to squeeze in a run at some point. See you later and enjoy your day!