Greetings!
Wow all your Fright in the Night stories totally creeped me out today! I can't believe what some of you have been through. I think all of my replies were along the lines of…OMG!!!!
As for our own Fright in the Night situation, I did some detective work today. I emailed the entire street and told them what happened and asked them if they experienced anything out of the ordinary.
You know you are in a small town when your street sends out email blasts to each other.
I got a reply from our neighbour at the end of our street saying that the same thing happened to him at 4am!!! Him and his wife actually saw two people hiding in the bushes in their yard after they rang the bell. They were teenage boys…and you know, boys will be boys. Especially teenage boys…in the summer…in a small town. It is boring around here let me tell you. My husband was a boy in this neighbourhood and I have heard some stories that I shall not repeat on this blog.
I just hope this wake-up call doesn't become a weekly occurrence or I am going to have to start dumping Green Monsters from the second floor window!! Kind of like when the kids used to get 'slimed' on Nickelodeon. It doesn't get much better.
~~~~
Today was a rest day from exercise and I say the word 'rest' quite loosely because I baked for 8 hours today! I was on my feet all day long and I am feeling quite drained from last night's lack of sleep.
As a result, dinner tonight was quick and easy…
Leftover Anything Goes Veggie Roast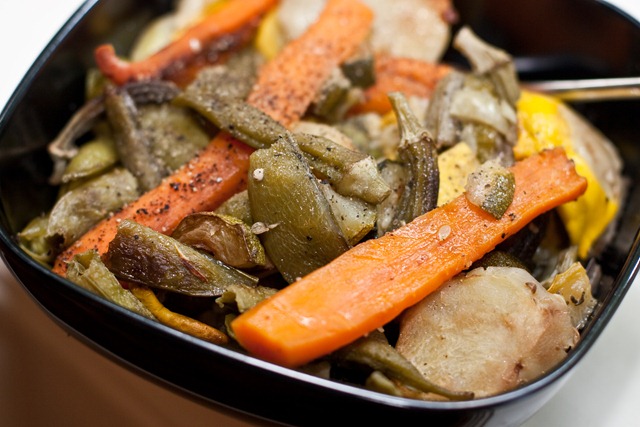 YUM!!!
And an Amy's veggie burger with hummus, tomato paste, spinach, basil, and toasted Ezekiel bread.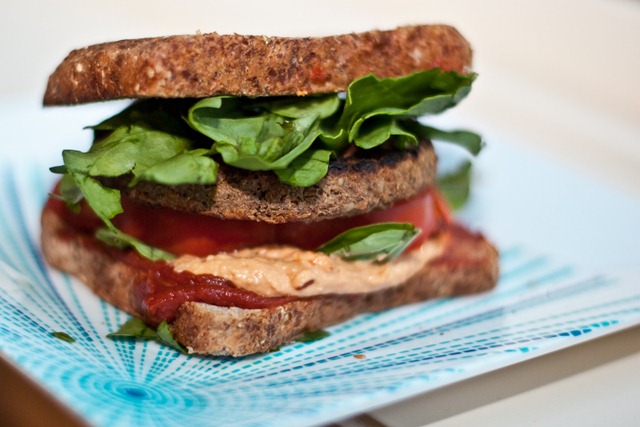 Double yum.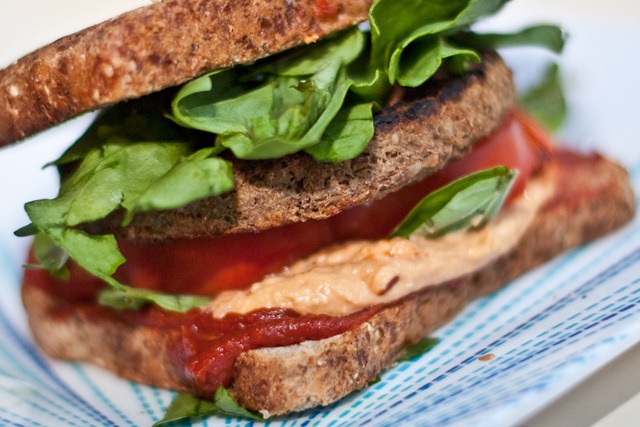 Simple and satisfying.
I am off to get caught up on some emails and comments. After that, I hope to read EPL (never had time last night) and then get a good night's sleep (*knocks on wood).
See you tomorrow morning for some decorating pictures of our family room. I will also tell you what easy trick finally allowed us to move forward with the decorating process.
Sweet Dreams!