Good evening!
Hope you have had a great weekend. My day off has been good (but too short!).
Eric was short on time this morning as he had to go into Toronto, so we skipped the brick workout and just did a bike-run with him on bike and me on foot! He left me about 2/3 of the way through so he could leave for Toronto.
I wanted to do a long run today (7-8 miles) as I am thinking about running one of the half marathons I did last September and October (Half marathon #1 and half marathon #2 recaps). Jess has almost talked me into it! ;) I do love me a good half marathon. They don't take an insane amount of time to train for, which is good news because I am going to be traveling overseas in September. I will tell you all about it as soon as everything is booked!
I have been doing long runs all summer long (up to 7 miles), but I want to start gradually increasing my distance. I have some time, so there is no rush.
The run today was AWESOME! Perhaps, one of my strongest runs to date. Eric and I did Murder Hill route today. I set a difficult challenge today of running each of my 7 miles faster than the previous. I find it is really hard to increase speed in combination with an uphill portion of the route. Miles 3-6 are pretty much all uphill, so I found that it was much more difficult than I thought it would be.
The run:
Time: 1 hour 4 mins 3 secs
Distance: 7.11 miles
Avg pace: 9 min/mile
Max pace: 7:25 min/mile
Eric took these pics on his Blackberry!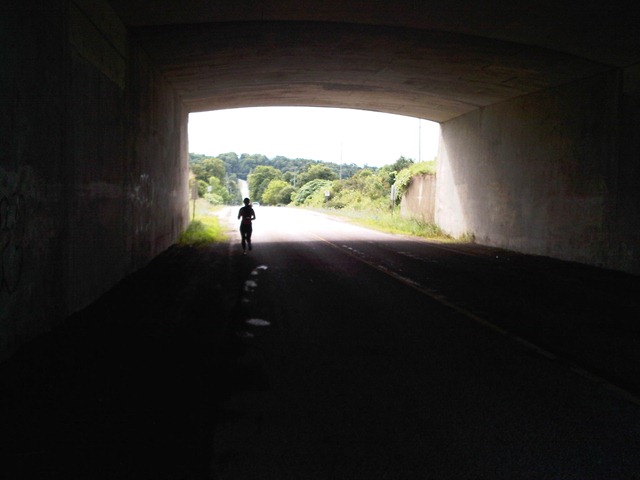 Mile splits:
Mile 1: 9:41
Mile 2: 9:38
Mile 3: 9:06:37
Mile 4: 9:06:30 (still faster!!!!)
Mile 5: 8:52
Mile 6: 8:43
Mile 7: 8:04
Mile 7-7.11: 50 secs (7:25 min/mile pace)
Goal accomplished!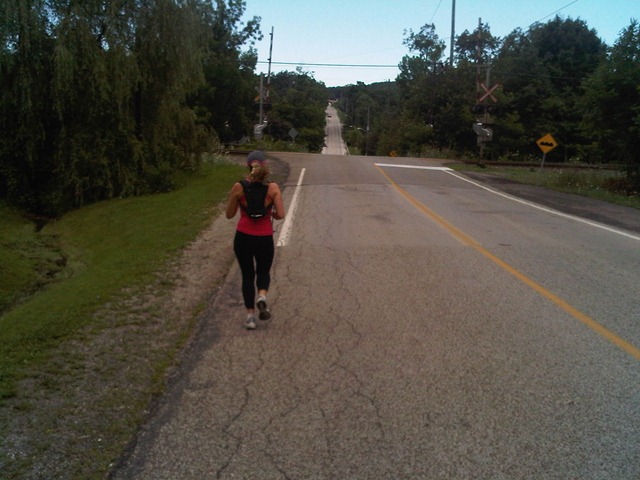 I was pretty much cursing the hills today, but I felt so accomplished when I was finished!
When I got home, I decided that I wanted ice cream cake. I had a sliver of cake with chunky peanut butter banana soft serve, followed by a huge lunch of leftovers after my shower.
Ice cream cake!!!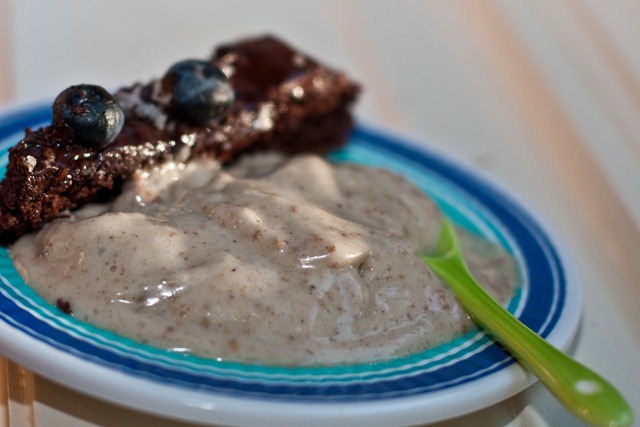 Gosh, it was so good! I left the peanut butter chunky and it was even better than when processed smooth.
Ok, so let me get right to this Blueberry Chocolate Cake recipe I teased you with earlier…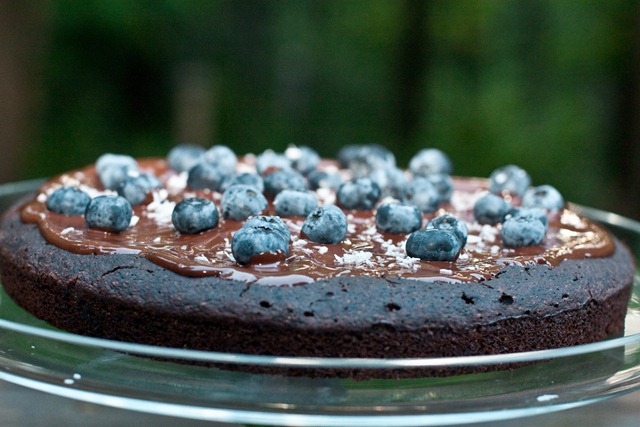 Healthy Blueberry Chocolate Glaze Cake
Adapted from Fat Free Vegan.
Ingredients:
1 1/4 cup whole grain spelt flour
6 tablespoons unsweetened cocoa powder
1 teaspoon baking powder
1/2 teaspoon baking soda
1 teaspoon ground chia seeds or flax seeds
1/4 teaspoon sea salt
2/3 cup water
1/2 cup blueberries
1 teaspoon balsamic vinegar
1/2 cup maple syrup
Chocolate glaze (1/2 cup dark chocolate chips + 1 tbsp coconut oil, melted in micro for 30 seconds or so)
Blueberries, for garnish
Unsweet. shredded coconut, for garnish
Directions: Preheat oven to 350 F. In a medium bowl, mix spelt flour, cocoa powder, baking powder, baking soda, chia (or flax), and sea salt. Set aside. In a blender, combine water, 1/2 cup blueberries, and balsamic vinegar and blend until smooth, for about 60 seconds. Add the maple syrup and the blueberry mixture to the dry ingredients. Stir until completely mixed, being careful not to overmix.  Pour into an oiled 9-inch round cake pan. Bake 20-25 minutes. Cool for at least 15 minutes. Prepare the chocolate glaze by taking a small bowl and adding the chocolate chips and coconut oil. Heat in micro on high for about 30 seconds. Stir to get all the clumps out and immediately pour onto cake, spreading evenly with a spoon. Top with blueberries and coconut. *Note change below that I would make to this recipe.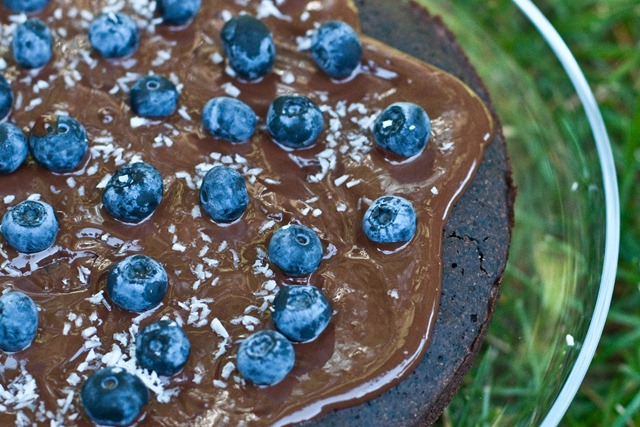 Yes please!
This cake is not only delicious, but it comes with super healthy nutritional stats too.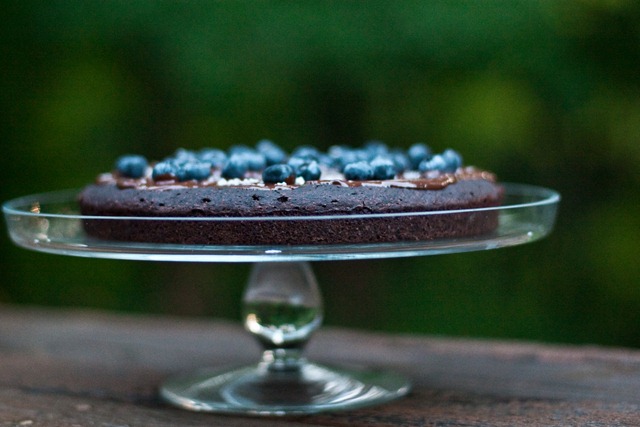 The result is a very delicious and very dainty cake! It is a very thin cake so you can always double the recipe and make a two-layer cake (with a middle layer of blueberries!) or you can just use as is.
Eric and I thought it was perfect- very light and not over powering. No sugar coma here. It is so healthy you can even have some for breakfast as I did today with a green monster.
I used whole grain spelt flour instead of white whole wheat flour, so I reduced the water a bit (you need to reduce by 25% when subbing spelt). If you use white or whole wheat flour, be sure to use 3/4 cup water as the original recipe calls for.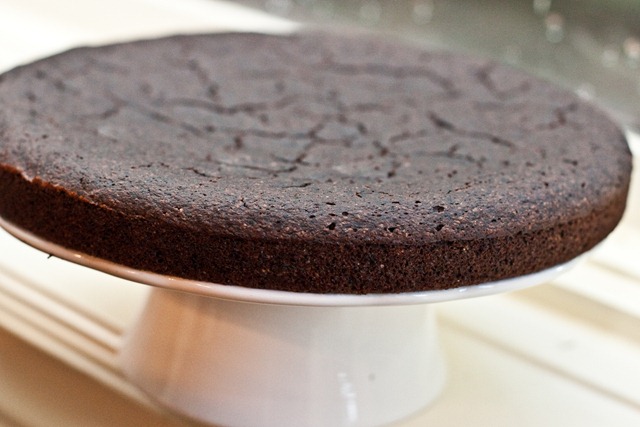 What I would change the next time I make this recipe:
I would add a mashed banana to the batter. I would have preferred if the cake was a bit more moist. I think I overcooked mine a bit, but I would still probably add a mashed banana to add a bit of moistness as there is no oil in this cake. Spelt flour also produces more of a 'crumbly' texture, so I think it needs a bit more moistness.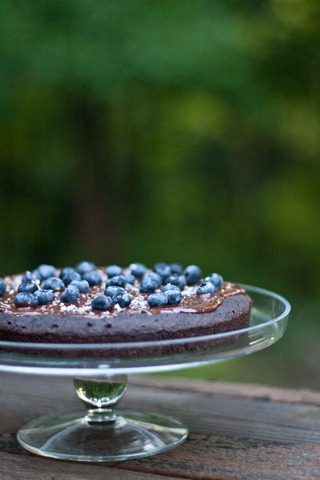 A good use of blueberries I would say!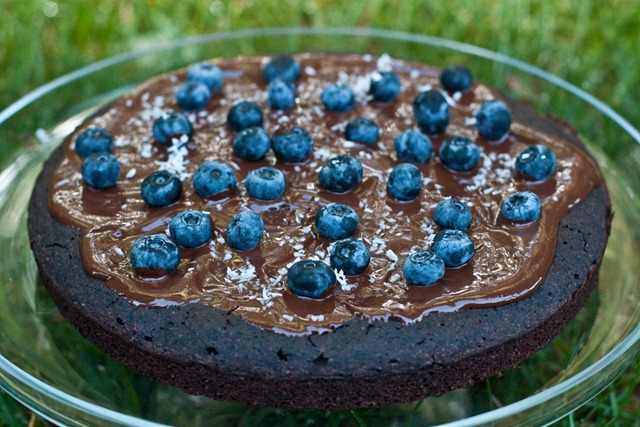 We had some family over today and between all of us we polished it off! It was so yummy and everyone enjoyed it.
Well, I'm off to do some prep for the week ahead and then hopefully have some time to read Eat Pray Love before bed. I haven't had time to read for 3-4 days and I am in withdrawal! I can't wait to see the movie. Anyone know when it comes out? I think Julia Roberts is the perfect actress to play Elizabeth.
Night!