Happy Monday!
I was just reading through the new comments on yesterday's 'life question'– what a great way to start the week. I am constantly inspired by the journey that you share with me on the blog!
I also appreciated that some of you voiced your honest opinion of the book. Some of you said that you couldn't get through the book and you didn't like how the tone/message changed after Italy. I got about 1/3 of the way through the India book last night and I did notice a shift. The tone got more serious and Elizabeth really delved into meditation, yoga and the history behind it. While I did find a couple parts have been slow in India, I found the part about where she struggles with meditation absolutely captivating as I have struggled with meditation and quieting my mind for a long time. I found that I was taking a few notes for myself and I hope to re-visit meditation in my own life (I will blog about it!). It will be interesting to see how my opinion of the book changes as I read through India and Bali. I hope I will enjoy it!
I told you last night that I would be sharing with you this fun raw cookie recipe that I made yesterday! They are so yummy, I hope you will enjoy them as well.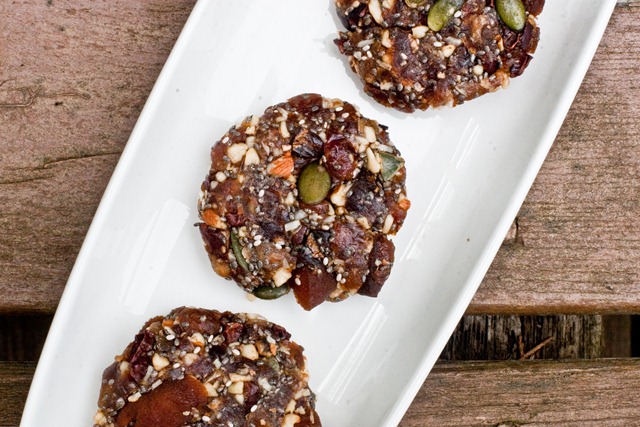 Raw Energy Cookie Bites
Inspired by That's Fit.ca's Raw Seed Cookies.
Ingredients:
1/4 cup of almonds
1 tbsp chia seeds
1 tbsp sunflower seeds
9 medjool dates, pitted
4-5 dried apricots, chopped
2 tbsp cacao nibs 
1/2 tbsp pepita seeds (pumpkin seeds)
Pinch or two of sea salt
1/2 tsp cinnamon
Directions: Place pitted dates and almonds into a food processor and process until the mixture is ground up. You can leave a few larger pieces if you prefer. Remove mixture from the processor and place into a medium sized bowl. Add the rest of the ingredients and mix well with your hands. Form into mini cookies or balls. Makes 8 mini cookies.
Nutritional information (per mini cookie): 136 calories, 4 grams fibre, 5 grams fat, 2 grams protein.
I am in love with these mini energy cookies! So delicious and packed with so many healthy foods.
You can also double the recipe and pop them in the freezer for quick snacks!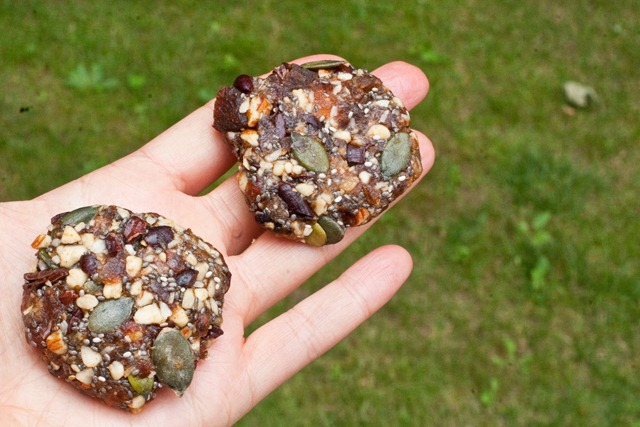 Here is another quote that I loved from Eat Pray Love, page 115. Elizabeth is talking about pleasure and how our society typically feels guilty for pursuing pleasure in our lives. In this quote she speaks to a 'glimmer of happiness' that she started to feel after being in a deep depression for a couple years. She was on the path to 'mending her soul'.
"It was in a bathtub back in New York, reading Italian words aloud from a dictionary, that I first started mending my soul. My life had gone to bits and I was so unrecognizable to myself that I probably couldn't have picked me out from a police line-up. But I felt a glimmer of happiness when I started studying Italian, and when you sense a faint potentiality for happiness after such dark times you must grab onto the ankles of that happiness and not let go until it drags you face-first out of the dirt– this is not selfishness, but obligation. You were given life; it is your duty (and also your entitlement as a human being) to find something beautiful within life, no matter how slight.

I came to Italy pinched and thin. I did not know yet what I deserved. I still maybe don't know fully what I deserve. But I do know that I have collected myself of late- through the enjoyment of harmless pleasures- into somebody more intact. The easiest, most fundamentally human way to say it is that I have put on weight. I exist more now than I did four months ago. I will leave Italy noticeably bigger than when I arrived here. And I will leave with the hope and the expansion of one person- the magnification of one life- is indeed an act of worth in this world. Even if that life, just this one time, happens to be nobody's but my own."
I thought that was one of the more powerful quotes in the book so far. I absolutely loved this quote 'you must grab onto the ankles of that happiness and not let go until it drags you face-first out of the dirt' it gave me such a great visual and helped me understand her sentiment. I also agree that sometimes happiness comes from the little things in life. I think many of us get overwhelmed by assuming that we need to do all of these huge and crazy changes to be happy, but sometimes happiness comes from a small decision to just pursue something that you enjoy- even if it has no practical purpose.
For me, my glimmer of happiness was starting Oh She Glows. On October 31, 2008, I started Oh She Glows. It was one of the most difficult times of my life and I was struggling with my career and graduate school. I was depressed and I cried in bed so many nights. The blog was my glimmer of hope each day- a distraction from the unhappiness that I felt with my career choice. It was something so simple as writing a few words each day and hoping for that connection with others to help guide me though.
Little did I know that something as simple as writing a blog would have been the thing that gave me the courage, confidence, and desire to seek out happiness, not just for a few moments every day, but for my entire day. Sometimes, these little glimmers of happiness can be the seeds for amazing change and transformation in our lives.
I also loved her analogy about 'putting on weight'. When Elizabeth went through her divorce she lost about 25-30 pounds and was skeletal. Putting on weight was not just a representation that she was getting healthier, but it was a metaphor for the growth that was happening on the inside of her as well. I thought it was so interesting because so many women denote weight gain with a negative emotion or loss of control, but sometimes weight gain represents a time in your life when you are enjoying the pleasures of life and just…happy.
I appreciate hearing your own thoughts on this quote…Do you have any 'glimmers of hope' in your life right now? Have you ever experienced any small pleasurable activity that got you though a difficult time, like the blog did for me? Are there things in your life that you could do to create these small bits of happiness in your day?