Good evening!
Another Saturday, another Farmer's market…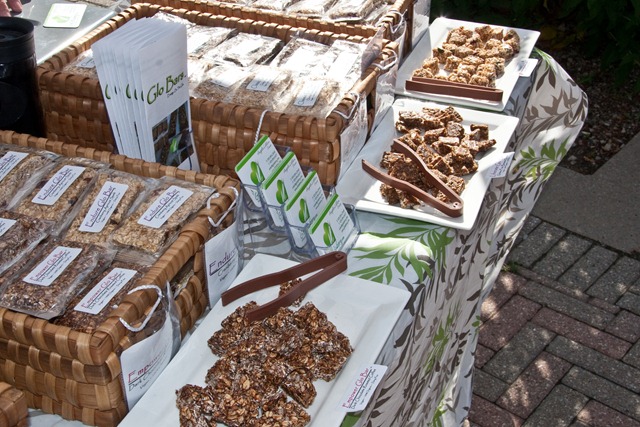 We were blessed with another gorgeous, sunny, and hot day! Unlike the past few weeks, the humidity was very low and there was a nice breeze today. It was just perfection!!!
Setting up…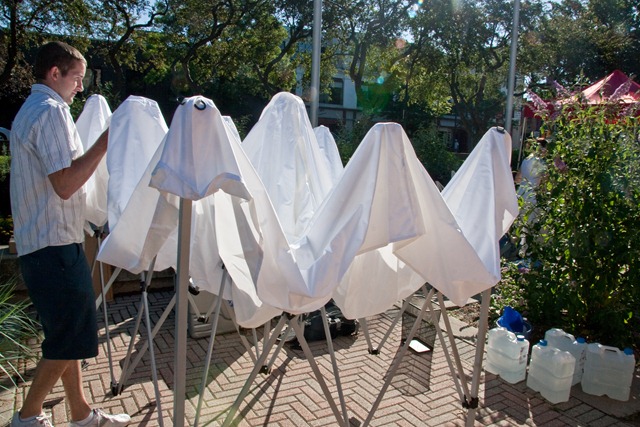 Let's just say packing and unpacking takes a loooong time. It takes us a good hour to set up.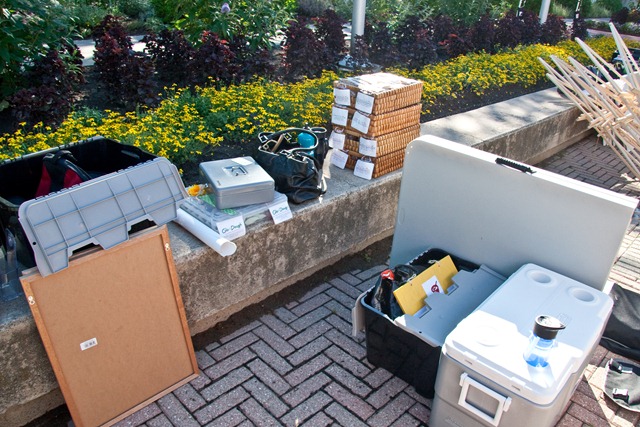 Eric made a Market Checklist and he makes us go through it together every Friday night! It is hilarious.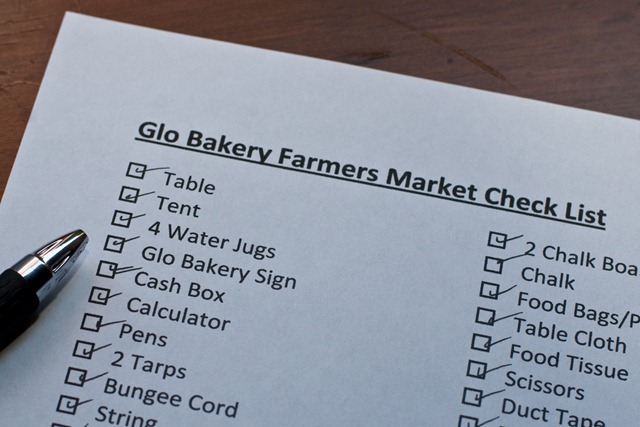 He gets really into it!  :biggrin:
He doesn't strike me as the 'list maker type', however he just informed me that he makes lists at work too. Just when I thought I knew the man who sleeps next to me each night he throws this curve ball at me.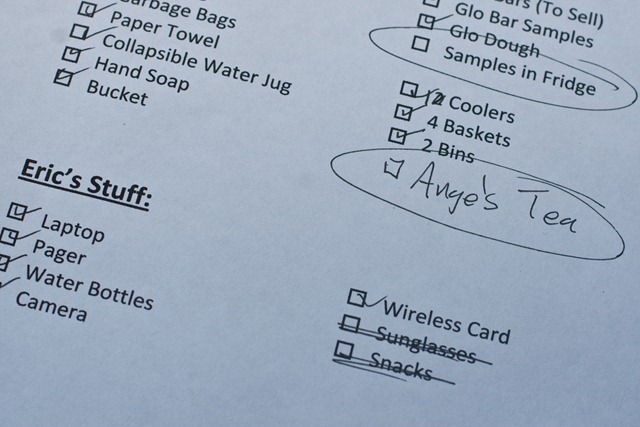 I love that he gave himself his own section on the list. He is always on call for work on weekends so he always has to bring his laptop, pager, and internet card. He actually got paged twice today and had to leave for a bit. When he returned there were about 10 people around our table and I was feeling the pressure! lol.
FYI- Sunglasses and Snacks are crossed off because 1) He lost his sunglasses and 2) He can just eat Glo Bars. There is a method to his madness I tell you!
I always giggle to myself when I see him going over the checklist and ticking things off and writing notes to himself.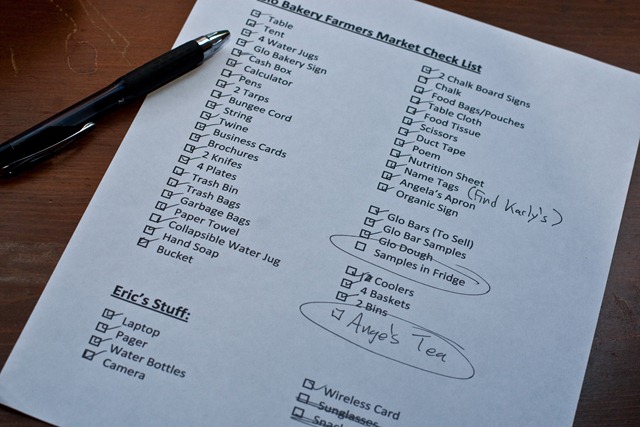 Love that he wrote 'Ange's Tea' and circled it. I guess it is not a secret that I need it to function in the morning!  :tongue: Happy wife = happy life….
Here are the pictures of the Chocolate Peanut Butter Macaroons! They sold out very fast. Next week I will have to make more. I wish I still had one to eat right now…I would inhale it.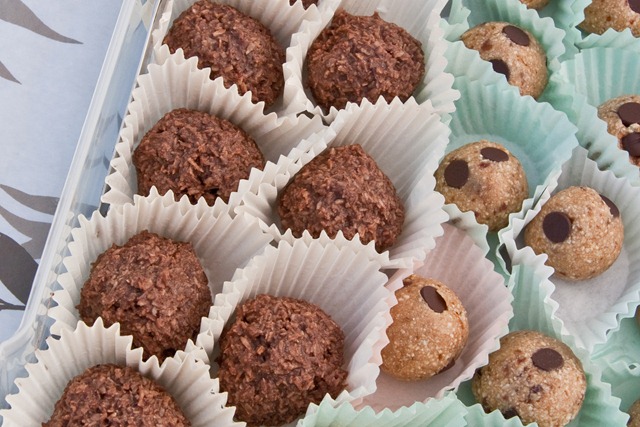 Funny fact: Several children run up to the Glo Dough and grab a ball and inhale them! It is hilarious. We hear a lot of the kids chanting, 'Glo Dough, Glo Dough, Glo Dough'!!! You can't put a price on that kind of entertainment. 
We had about 4 plates of Glo Bar samples today- Adore, Empower, Liberate, and Present, along with samples of chocolate chip cookie Glo Dough, Chocolate PB macaroons, and chocolate coffee macaroons.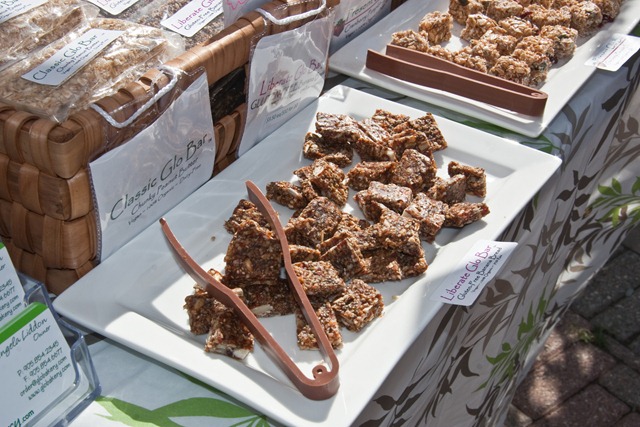 Dooooooogies! There were lots today.
As predicted, it died off at noon…like clockwork! However, we still had an excellent morning of sales. Each week we sell more and see more return customers (and lots of new friendly faces!). I met several more blog readers today too, but didn't get any pictures as it was super busy at the time. I wish I could chat the day away with these awesome ladies. I also told some new ladies about my blog today so hopefully we have some new readers stopping by!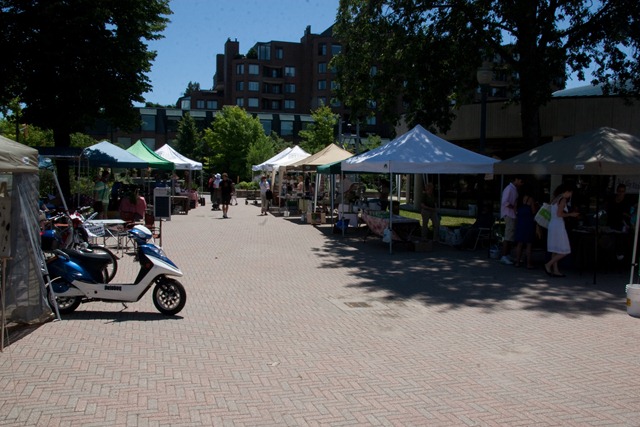 Where the magic happens…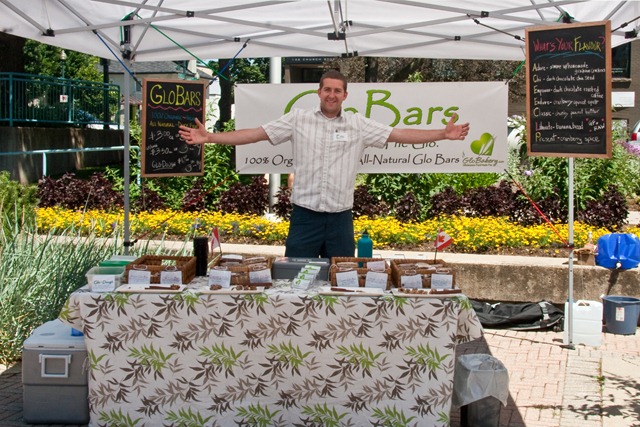 A man asked Eric if he 'loved yoga' (as my Lululemon water bottle says!) his response was, 'Ummm I love when my wife does yoga…'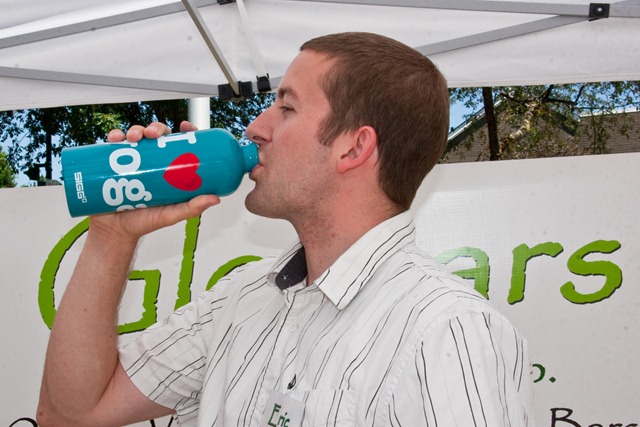 Eric is actually a natural at yoga. He tried a downward dog once and would have put Rodney Yee to shame. I was so jealous.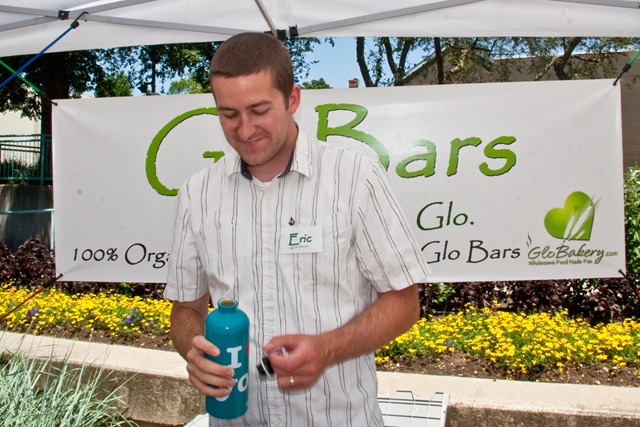 [PS- News will be forthcoming about Eric's guest post.]
The only produce I purchased at the market was fresh mint for my Green Monsters…can't wait! I was going to buy cherries, but they informed me that their organic cherries were no longer organic as they had to spray them with pesticides to keep them alive. Total bummer.
Lunch was soooo late- not until about 4pm! Hunger monster was full force.
I snipped some fresh basil from the plant in the backyard for my open-faced sandwich. Not only have I not killed the basil plant yet, but I am happy to report to you that it has NEW GROWTH. *Swoon. I know, pictures will follow shortly. I almost shed a tear.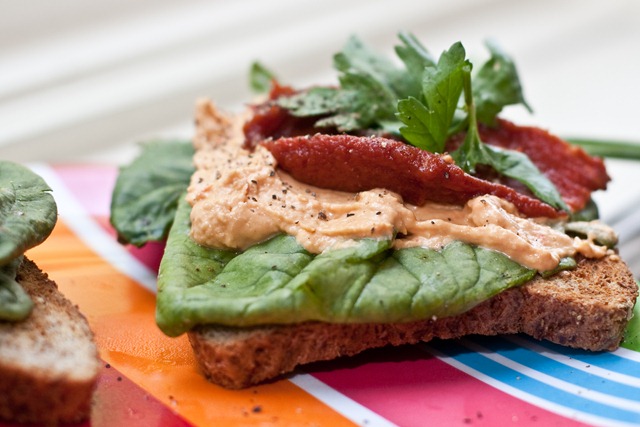 This Sandwich featured two slices of toasted Ezekiel bread, spinach, roasted red pepper hummus, tomato paste, sea salt, ground black pepper, and basil. Perfecto!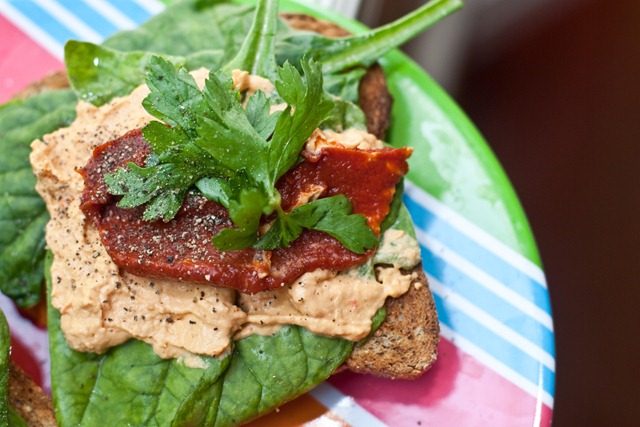 I also had a huuuuge salad composed of mixed greens, carrots, tomato, Aduki beans, green onions, and snow peas.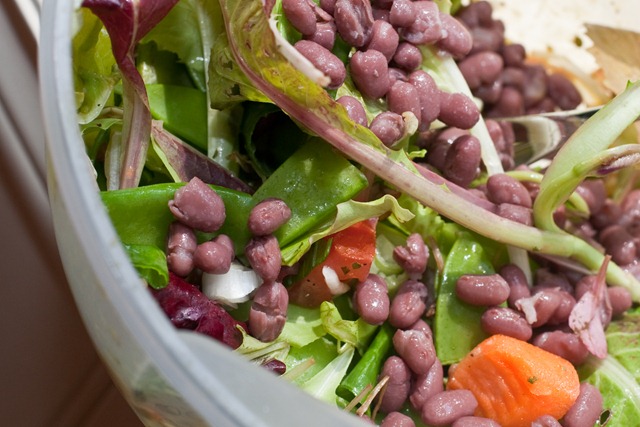 This was my first time trying Aduki Beans and I must say I was not wowed. At least not eating them plain. They might be nice in my Maple Baked Beans. (Totally just got a craving for those baked beans again).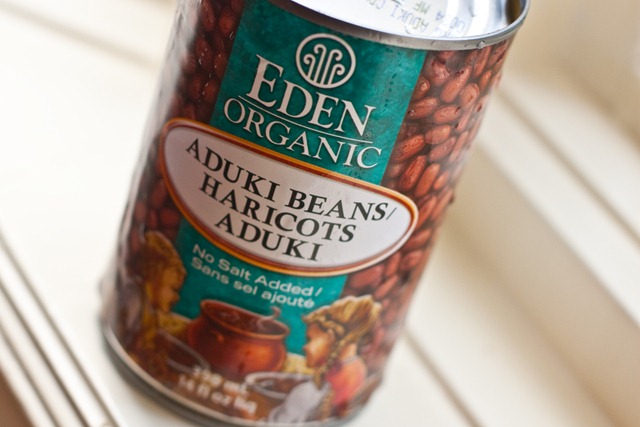 The salad was still good though and I gobbled it up.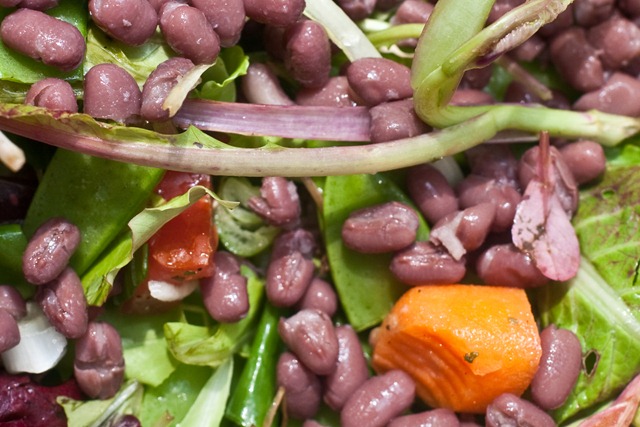 However the hunger monster was not tamed yet, I proceeded to have a Cherry, Banana, and Coconut Butter mini loaf heated up in the microwave for 10 seconds. It was much more moist after being heated up.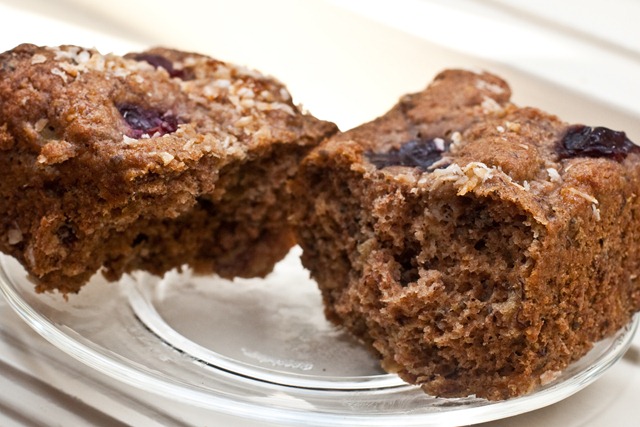 And even more delicious with some Earth Balance…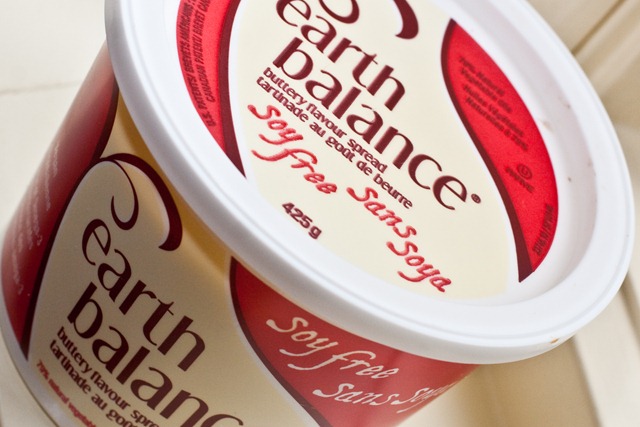 Yum.
Well, it's time for a late dinner and then we are off to visit with some friends for the evening. Have a great night and I will see you tomorrow!