You may have heard the saying that goes something like, 'Horses sweat, men perspire, but women merely glow.'  (or is it glisten?)
If this saying is true, I was surely glowing & glistening today!
Our crazy heat wave continues here in Ontario. With humidity, it felt like 41C today. I was thanking my lucky stars that I got my run in early this morning. I don't even think an evening run after sunset would work in this crazy humid weather- it is now 7:30pm and still 31C outside.
When it is hot outside the only thing I want is cold, light, and healthy food, specifically cold treats (muhauha) and the only appliance I want to use is the freezer! :biggrin:
I have been thinking of a way I could make a healthy and tasty frozen treat that would be great for summer and before I knew it these Frosty No Bake Glo Cakes were born!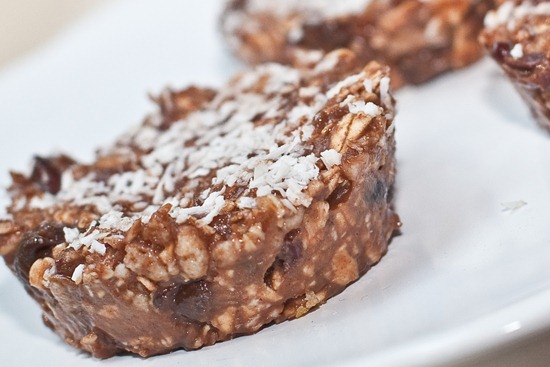 Mmmmmmm. Oh yes, I did!
This is only TRIAL 1, but I thought I would share it anyways because I know how much you guys love playing around with recipes just like I do. There will be many more versions of these Glo Cakes, I can assure you that!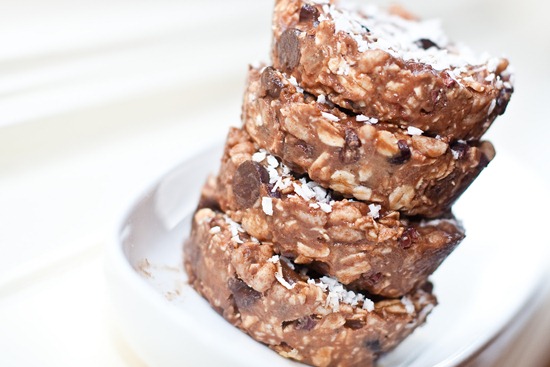 Frosty No-Bake Glo Cakes (Trial 1: Chocolate peanut butter with cacao nibs)
Prep time is just 2-3 minutes for these healthy & addicting frozen treats. It doesn't get much quicker than that! I would suggest making a batch before you start cooking dinner as they take over 1 hour to firm in the freezer. If you want to make a full dozen, just triple this recipe below.
Ingredients:
1 large banana
1/2 cup oats
1/4 cup crisp rice cereal
1 tbsp pure maple syrup
1/2 tbsp peanut butter
1-2 tbsp cacao nibs (optional, but they give it a great crunch)
1-2 tbsp dark chocolate chips (optional, See notes below)
1 tsp cocoa powder
Shredded unsweet. coconut, for garnish
Directions: Mash banana in a medium sized bowl (I use a potato masher!). Add cocoa powder, peanut butter, and maple syrup and stir until fully mixed. Now stir in oats, cacao nibs, and rice crisp. Divide into 4 Glo Cakes by spooning the batter into a muffin liner or just in a muffin tin. I used an ungreased muffin tin and I had no problems getting them to come out. Sprinkle with coconut and place in the freezer for 60-80 minutes. Do not over-freeze them. You want them a bit chewy. They will however melt quite fast so please serve immediately.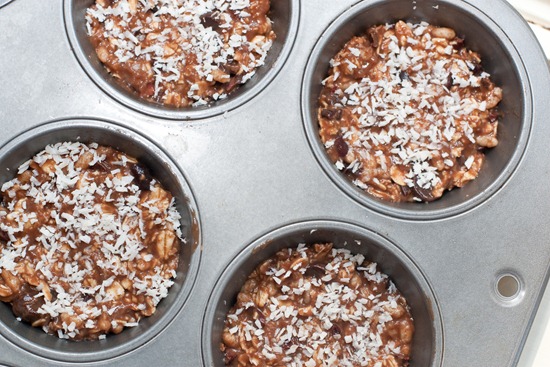 These took much longer to freeze than I anticipated- just over 1 hour, but they were worth the wait! I really enjoyed them. Very fun. They do melt fast though! I estimated them to be around 100 calories each, but once I firm up the recipe a bit I will likely do the full nutritional info for those who are interested.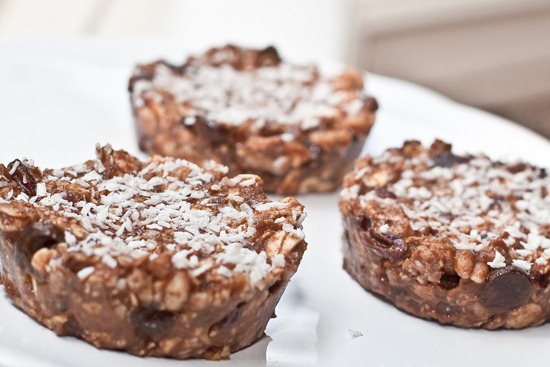 Changes I will make for Trial 2:
No chocolate chips next time: Trust me, I didn't think I would ever say those words either! I am not a fan of frozen chunks of chocolate so next time I will leave out the chocolate chips. I prefer my chocolate to be melty and soft and feel that the taste is wasted when it is frozen! However if you enjoy frozen chocolate you might want to add some chips to yours. I found the cocoa powder was enough to give it a slight hint of chocolate flavour.
Muffin Liner instead of muffin tin: I used a muffin tin and while it worked great, I think next time I will try using my reusable muffin liners to save me washing a dish! Alternatively, you could take a plate, some parchment paper, and make frozen drop cookies! That would be fun.
Fun add ins: The options are endless with what goodies you could add to these! You could make peanut butter, jam, and banana, raisin spice, carob, maple butter, coconut butter, other nut butters, etc. The sky is the limit, have fun with the experimentation and let me know what you make!
Other options for rice crisp: I expected the rice crisp to be crispy, but I found that it actually got soft and didn't provide any crunch. You might want to play around for other substitutions!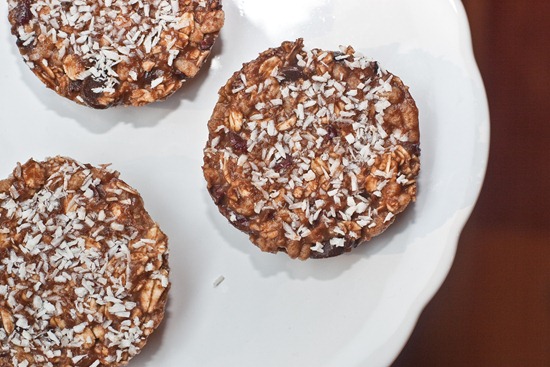 I will definitely be playing around with these fun Glo Cakes! I had three cakes and it took all of my will power to save one for Eric.  :tongue:
Updates:
I'm shutting down the laptop for the night and disconnecting. This gal needs some down time!
I have some new Farmer's Market goodies to show you tomorrow. Enjoy your evening!  :biggrin: