Greetings!
I loved reading your I Believe comments from this morning…what an amazing bunch you are.
I forgot something from my I Believe list this morning…
I Believe…
The key to a happy relationship is telling your partner one specific thing you appreciate about them and why, every single day.
This applies to all kinds of relationships…romantic, family, friendship, co-workers, etc. Everyone loves to be appreciated!
When I tell Eric something that I appreciate about him I can literally see his entire face light up with pride. Sometimes all someone needs is a 'I notice what you do and I thank you for it.' Now, go on and tell someone in your life how much you appreciate them!
In other news, I could not fathom eating anything cooked/hot/heated up today. It was another scorcher! I was cooking myself and needed to be cooled off…
LUNCH:
2 pieces of Eziekel bread with 1 cup of tomato curry chickpeas. I used 1 cup chickpeas + 2-3 tbsp tomato paste + 1/4 tsp Arvinda's curry masala spice.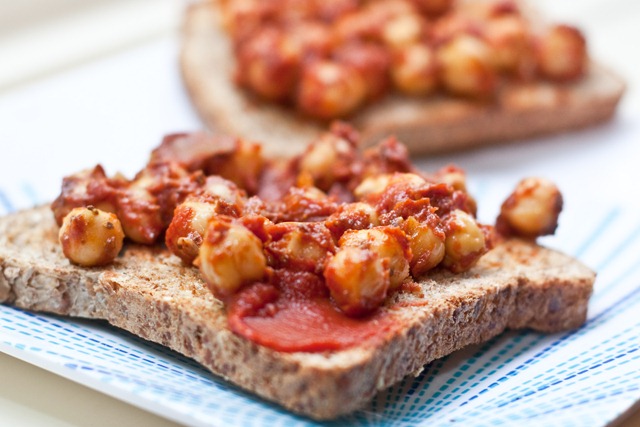 [Ok, ok I lied…the bread was toasted!]
+ Purslane Green Monster made up of 2 cups of Purslane, 1 cup almond milk, 1.5 tsp cinnamon, 2 tsp raw maca powder, ice, ice baby. The cinnamon was fabulous and I didn't even need any fruit! I can't believe I have not been adding cinnamon to my Green Monsters all this time. I will also be adding some cinnamon to my next batch of Vegan Overnight Oats too. I remember how much I enjoyed it when Eric made me some and I totally forgot about it.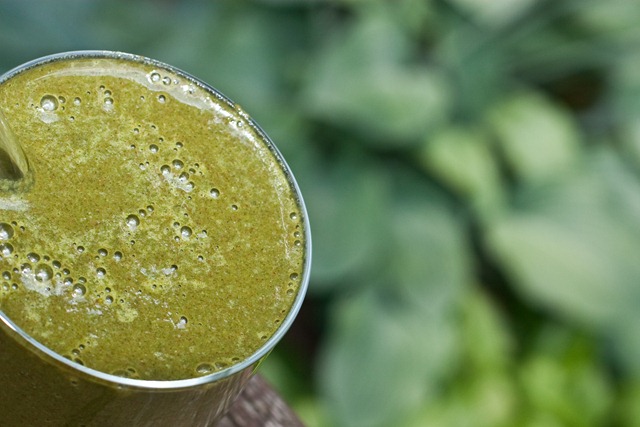 I am loving Purslane greens in my Green Monsters!
The Purslane is so energizing, largely in part to all the wonderful omega oils and antioxidants it provides. I felt on fire this afternoon and cranked through over 200 Glo Bars baked, packaged, labeled, and boxed up!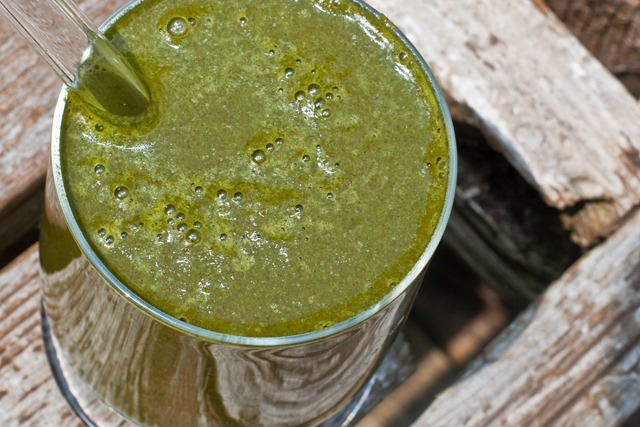 Today is our Plan B CSA day which means scarfing some major veggies to make room for the new box! If you need some motivation to eat more veggies I highly recommend getting a CSA share. Eric and I eat more veggies now than we ever have. Surprisingly, I think we have ended up saving money because we have cut down our grocery store trips by half and we aren't making those impulse purchases like before.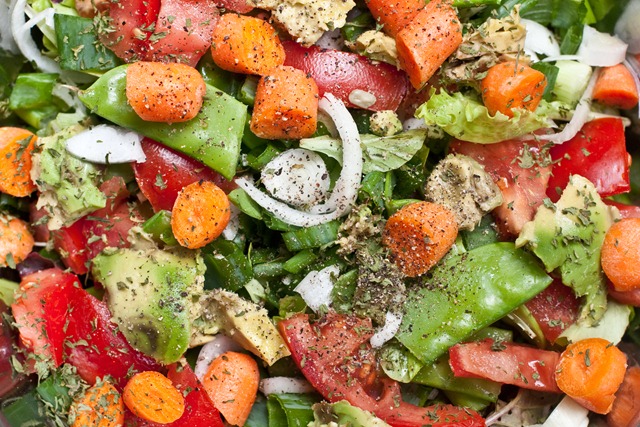 Everything But The Kitchen Sink Salad
Ingredients:
Greens = Spinach + Mixed greens
2 small carrots
1 large tomato
1 large avocado
1 huge green onion stalk
1.5 cups snow peas
Dried parsley, to garnish
Freshly ground black pepper, to garnish
Awesome salad! The snow peas were a nice addition!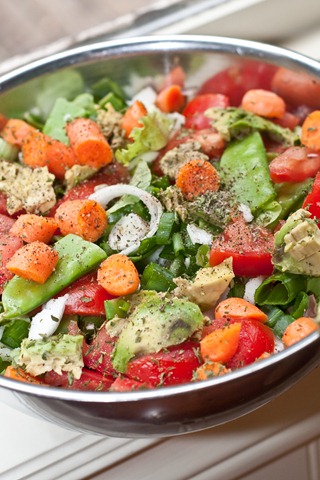 On the side we each had a slice of cold pie…IN A JIFFY VEGGIE PIE!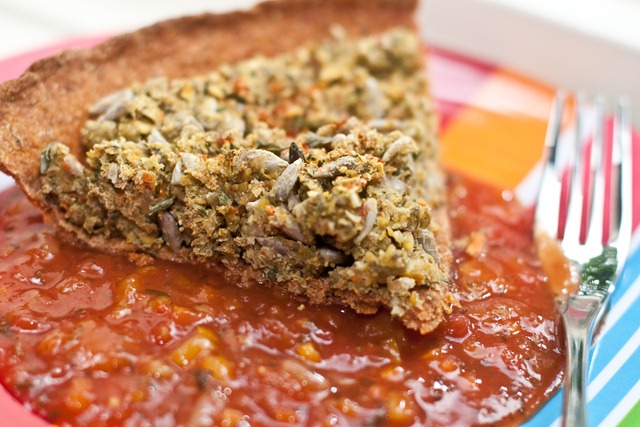 I had mine on a bed of TJ's Habanero and lime salsa.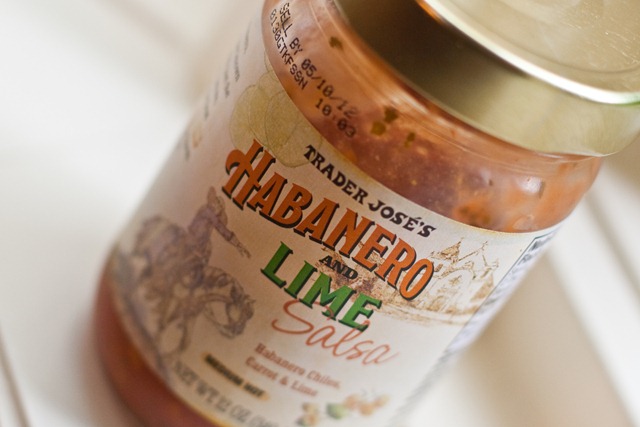 It was a great dinner!
Dessert was the last of the Cherry, Banana, and coconut butter bread. I am fighting tears as I type this.
This was the defrosted leftovers and it was even more moist and gooey than before. It was so doughy…I was in love!   
Just look at that gooey bread!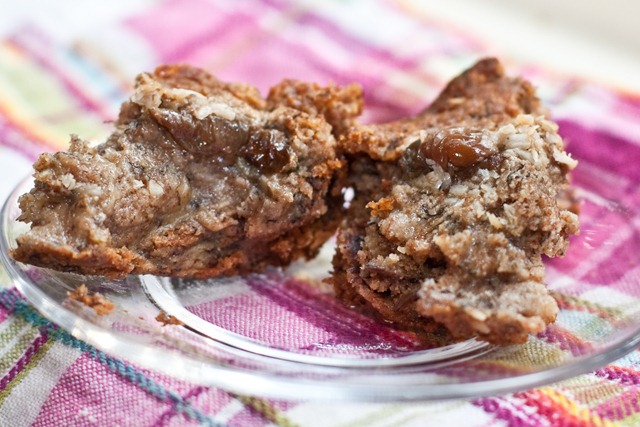 For Eric, this gooey bread was a texture nightmare. 
He stuck to his 'dry' mini loaves that I cooked the hell out of last week (he just loves them though!).
To each their own.  :tongue:
Healthy Eating: A Love Affair With The Kitchen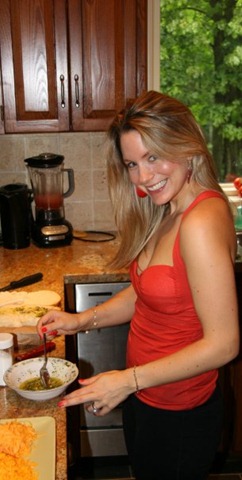 Recently, I received an email from a reader named 'Krista' telling me about all of these wonderful changes she has made to her health. One of the things that Krista mentioned was that since she has started eating healthier, she spends so much more time in the kitchen prepping vegetables, washing dishes/new appliances, and cooking among other things. She didn't say that this was a bad thing necessarily, as she enjoys it for the most part, she just thought it was interesting to point out how much more time is required to eat healthy.
Oh did this email hit home with me!
I thought this was such an interesting point about how healthy eating requires not only a commitment to EAT healthier foods, but it involves a commitment to spend the time to prepare healthier foods.
As you can imagine, I spend hours and hours in the kitchen, not only because I run a bakery, but because I prepare and cook most of my meals. Eating healthy is a huge time commitment- there is the washing, drying, chopping, roasting, sautéing, prepping, packing, planning, shopping, DISH WASHING, APPLIANCE WASHING (damn you, juicer!!!!!!), cooking flops (story of my life), etc. Eric always jokes that I should put Professional Dish Washer (P.D.W.) on my resume because I wash so many dishes and so many appliances each day. 
Because my time is limited, I rely on very quick and simple recipes. That is why you will rarely see me whip up a meal that takes longer than 15-20 minutes. Over time, I have figured out what will work for me. While some days the last thing I want to do is prepare a healthy meal for myself, often I enjoy the satisfaction that comes with creating healthy meals that I can feel good about.
Can you relate to having to spend more time in the kitchen to eat healthier? Do you spend more time in the kitchen now than in the past? What are your time-saving tricks to limit the amount of time it takes to eat healthy?
One of the very nicest things about life is the way we must regularly stop whatever it is we are doing and devote our attention to eating.  ~Luciano Pavarotti and William Wright, Pavarotti, My Own Story